Pepe Coin Price Prediction as PEPE Approaches Top 50 in Global Market Cap Rankings – Can PEPE Reach $1?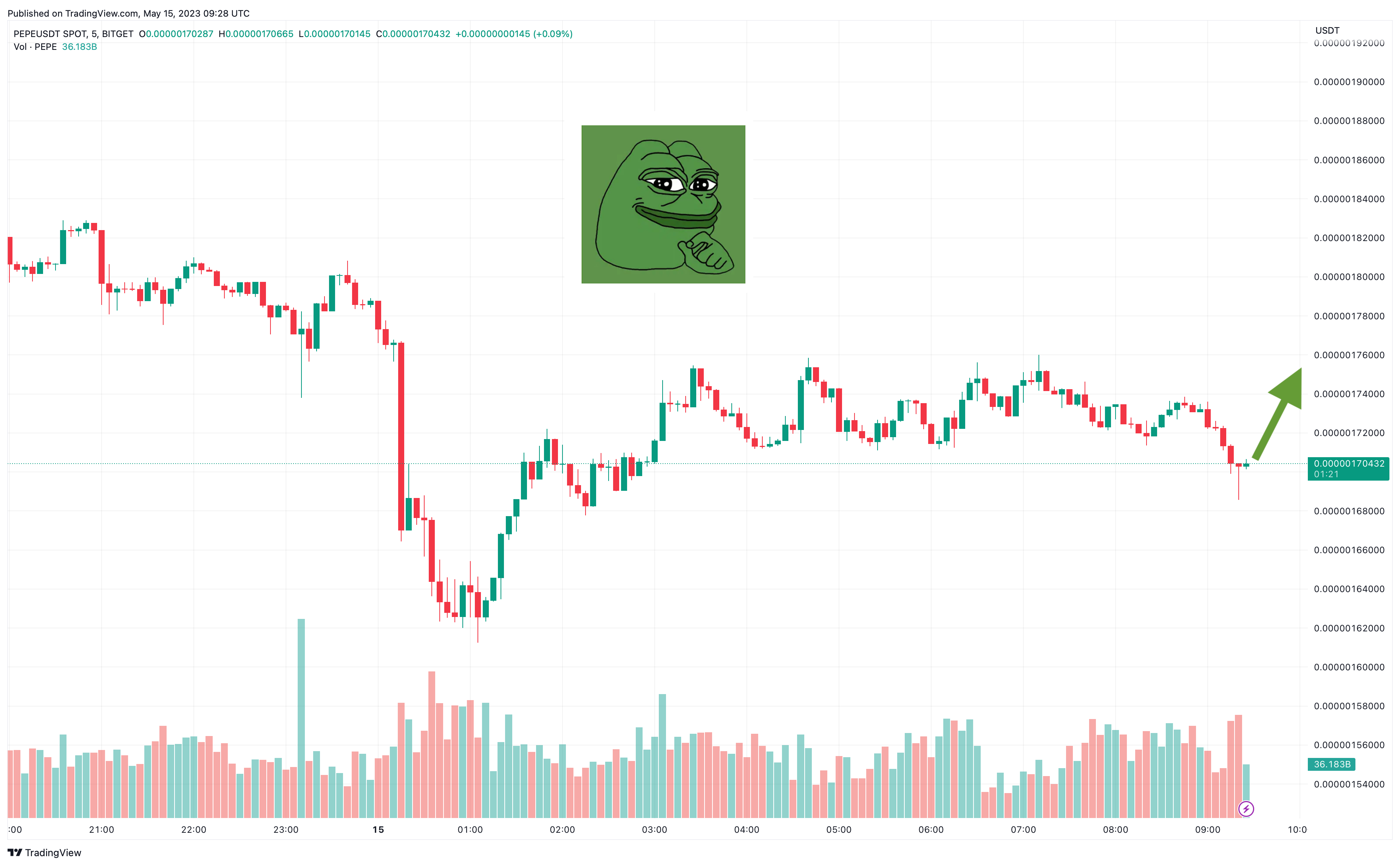 The Pepe Coin price has dropped by 10% in the past 24 hours, falling to $0.00000173 as the cryptocurrency market as a whole enjoys a 1.5% gain.
Its current price means that it has declined by 25% in a week, although it remains up by 59% in a fortnight and by over 6,000% since CoinMarketCap began tracking it (on April 17).
Its dizzying rise has also meant that it's now very close to entering the top 50 cryptocurrencies by market cap, with the token currently at 64th, according to CoinGecko.
And with more exchange listings likely to arrive in the coming weeks, PEPE could easily enjoy a few more big rallies in the near future.
Pepe Coin Price Prediction as PEPE Approaches Top 50 in Global Market Cap Rankings – Can PEPE Reach $1?
PEPE's chart suggests that it could be about to recover again after a bout of losses, with its relative strength index (purple) rising back up to 40 and dropping to 30 earlier this morning.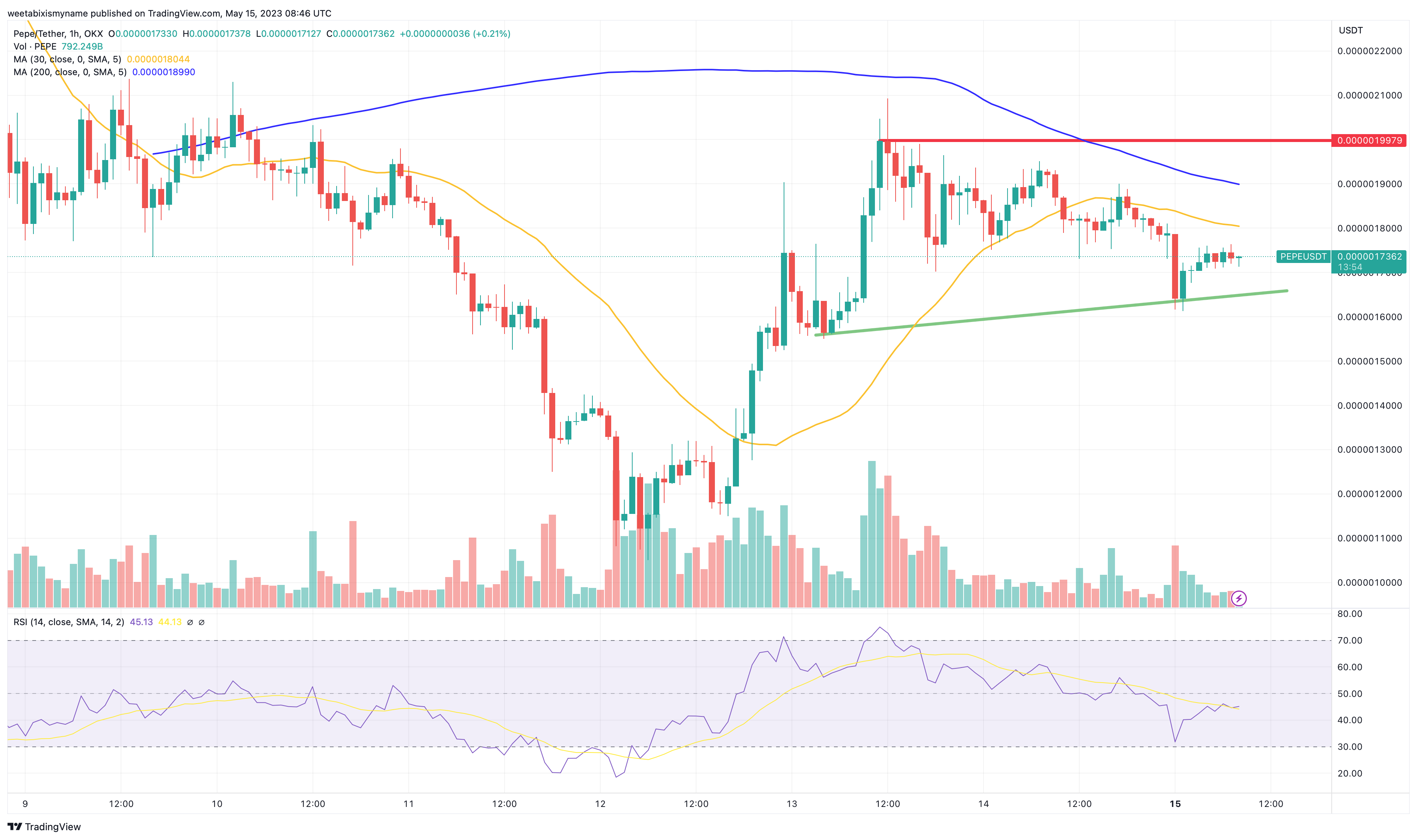 And while PEPE's short-term moving average (yellow) has sagged since yesterday, it has been on a general rise back towards its long-term average (blue) since Friday, something which signals a recovery of momentum.
Also signaling a recovery is PEPE's support level (green), which appears to have begun rising again after a few days of declines.
As such, it's likely that PEPE could be in for a positive week, one which provides an upwards correction to the last week's losses.
Indeed, when a bigger picture is taken of PEPE's emergence a couple of weeks ago, it remains clear that the new meme token is still on the up with regards to the medium term.
What's encouraging for PEPE is that whales appear to still be buying the new meme token, suggesting that they expect it to rise again very soon.
As we've mentioned before, PEPE is also attracting a semi-regular stream of new exchange listings, with Binance, BitMart, KuCoin, and OKX recently announcing trading pairs and services involving the meme token.
Such growth makes it apparent that PEPE has moved beyond its beginnings as a yet another dubious meme token with possibly rug-pulling founders, although the fact that a number of Twitter influencers have recently posted identical tweets (e.g. here, here, here and here) suggests that some people are still trying to manipulate retail investors.
Still, PEPE now has over 112,000 holders, up from only a few thousand a week or so ago.
Given this momentum, PEPE is likely to rise in the coming weeks, potentially returning to 0.000002 en route to surpassing its current all-time high of $0.00000431.
Of course, this will depend on further exchange listings, as well as on the wider market and investor sentiment, but with all the necessary ingredients in place for a successful meme token, PEPE is likely to have some more rallies in store.
AiDoge is a Meme Token with Utility
On the other hand, there's always a chance that PEPE's biggest gains have already been posted, and that most of its momentum has already ebbed away.
As such, some traders may prefer to look towards newer altcoins and meme tokens that haven't yet surged, and in this respect, presale tokens are among the most promising.
One of the most interesting presale tokens in the market right now is AiDoge, an AI-powered meme-generating platform that has already raised over $7.4 million since the presale for its native token $AI began at the end of April.
Due to launch in the next few months, AiDoge's platform wields advanced algorithms and big data to generate memes, with users needing only to enter a brief text-based description at their end.
Users can also vote on created memes, with the most-rated memes earning their creators rewards in $AI, which can be used for staking and for paying to generate more memes.
This provides $AI with real utility, something which will help it to grow in parallel with the popularity of the AiDoge platform.
AiDoge has also recently begun a collaboration with SpongeBob (SPONGE), which is another very new and exciting meme token.
This is promising for AiDoge insofar as it suggests extra publicity for the new token, although with its presale having raised more than $7.4 million, it probably doesn't need all that much extra publicity.
Investors can join its presale by visiting AiDoge's official website and connecting their wallets, before using ETH, BNB, USDT or fiat currency to buy $AI.
1 $AI currently costs $0.00003, a price which will rise to 0.0000304 during the sale's next stage, which is due to begin in just under four days.
This means that investors have only a limited amount of time to buy $AI at the lowest amounts, before it lists on exchanges and potentially rallies big.
---