Over USD 620M XRP Positions Liquidated While Ripple CTO Educates Investors
Over the past two days, more than USD 620m worth of XRP traders' overleveraged positions were liquidated, as XRP fans became too optimistic about the recent rally, while David Schwartz, Chief Technology Officer of Ripple, reached out to crypto holders with a piece of advice to sell some of their cryptoassets and reduce their risk and exposure to market fluctuations.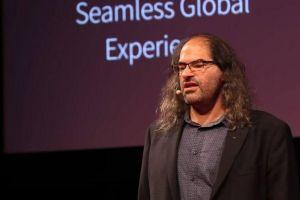 Out of USD 620m worth of liquidations on April 13-14, 80% of them were long positions, meaning that traders were hoping that XRP will continue its rally. XRP, ranked 4th by market capitalization, surpassed USD 1.9 yesterday, before correcting to USD 1.62. At 10:06 UTC, it trades at USD 1.7 and is down by 4% in a day, trimming its weekly gains to less than 88%. The price is up by almost 296% in a month and 829% in a year.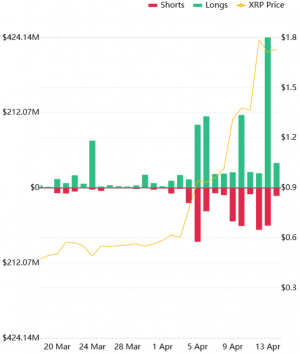 Meanwhile, after suggesting that crypto investors should reduce their risk by selling some of their coins and taking profits if they have "life-changing amounts of cryptocurrency" earlier this week, today, Schwartz addressed the "nonsense" "that you can't lose money if you don't sell."
"So if you bought USD 1,000 worth of crypto and its price dropped to USD 500, you went from no better and no worse off than someone with USD 1,000 to no better and no worse off than someone with USD 500. To say that that's not losing money is completely absurd," according to Schwartz.
Schwartz's advice has won him some praise among the crypto commentariat.
This is not the first time Schwartz shared his thoughts on crypto investing. Last November, he admitted to investing his own funds in more than 11 tokens that have since plummeted in value. Schwartz recognized he had "absolutely" lost money trading crypto, but the figure was "not as much as I've made."
Also, he previously admitted to selling all of his ethereum (ETH) for some USD 40,000 to put solar panels on his house right before the start of a run that would have fueled the value of his crypto to about USD 40m.
"I still can't really understand why I sold all of it. I guess I was thinking it would go back down and I'd buy back in. But it didn't. You can regret taking too little risk too, of course," he said.
____
Learn more:
- Have Crypto Traders Learned? "Only" USD 600M Liquidated In One Hour
- This Is The Biggest Risk To Crypto Market According to Pantera Capital CIO
- XRP Doubles as Ripple Scores Victory, 'XRP' Overtakes 'Ethereum' On Google
- Settlement Is Most Likely Outcome in Ripple vs. SEC Case - Attorney

---