Other Dog (and Cat)-Themed Coins Pump as Shiba Inu and Dogecoin Keep Fighting
Disclosure: Crypto is a high-risk asset class. This article is provided for informational purposes and does not constitute investment advice. By using this website, you agree to our terms and conditions. We may utilise affiliate links within our content, and receive commission.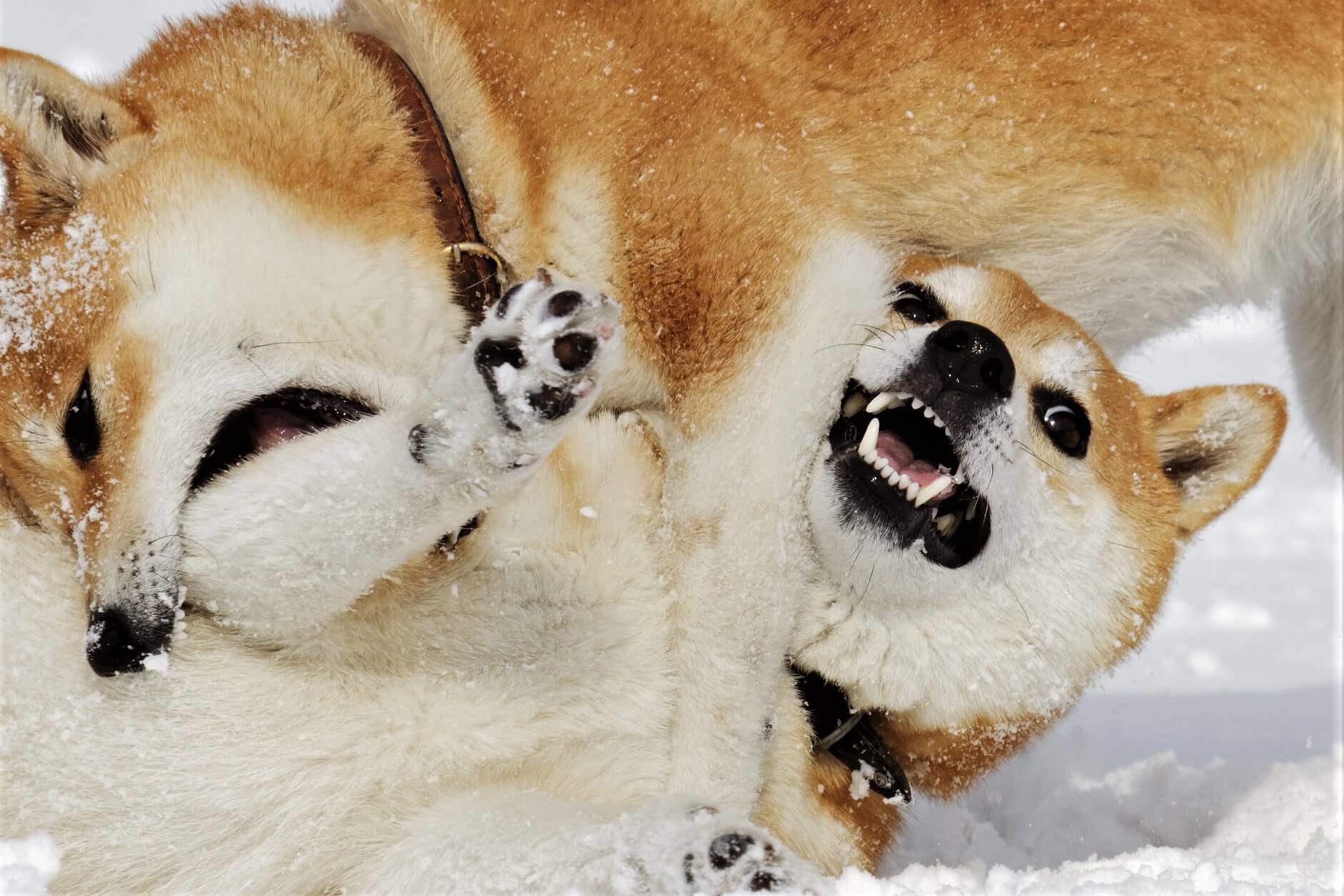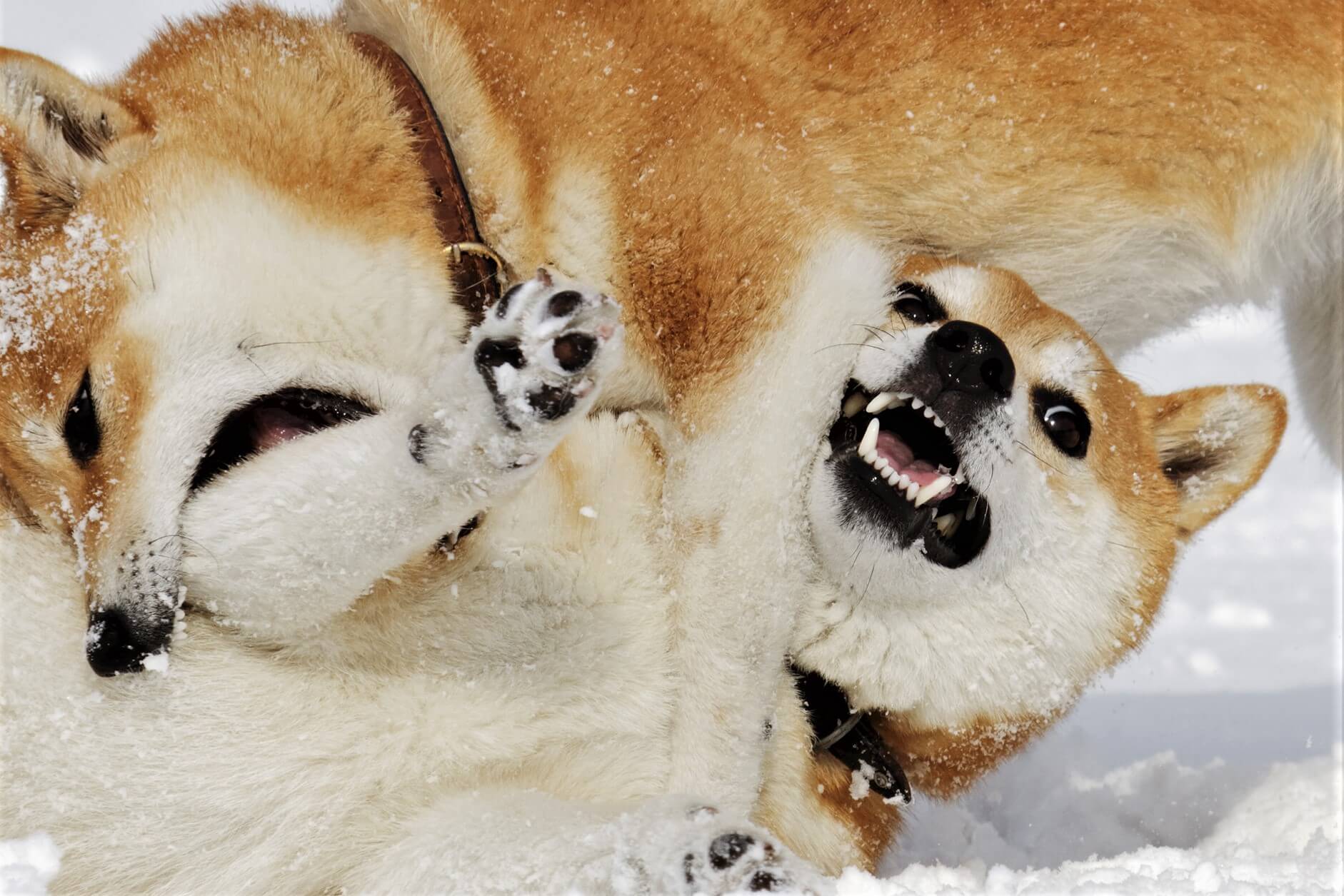 Although the 'flippening' of dogecoin (DOGE) by shiba inu (SHIB) on Wednesday proved to be more complicated than SHIB fans would like to, it has not deterred other dog-themed coins from pumping in price.
DOGE and SHIB keep flipping each other, moving up and down among the top 10 coins today.
At 10:11 UTC, SHIB was still up by 36% over the past 24 hours, trading at USD 0.000074. Meanwhile, DOGE was up by 28% in a day and 9.5% over the past hour, to trade at a price of USD 0.302.
And while coins across the meme coin category pumped in price, trading volumes in the sector have also surged.
The 24-hour SHIB trading volume surpassed USD 41bn, almost reaching bitcoin (BTC) (USD 43bn), and surpassing not only DOGE (USD 12.8bn), but ethereum (ETH) (USD 26bn) also.
"This year has definitely been the weirdest in crypto, we had jpeg rocks selling for millions, 2 dog coins in top 10… the next bear market is gonna be brutal, I can feel it," one user on Reddit's r/CryptoCurrency subreddit said, asking "Is this a simulation?"
SHIB price chart: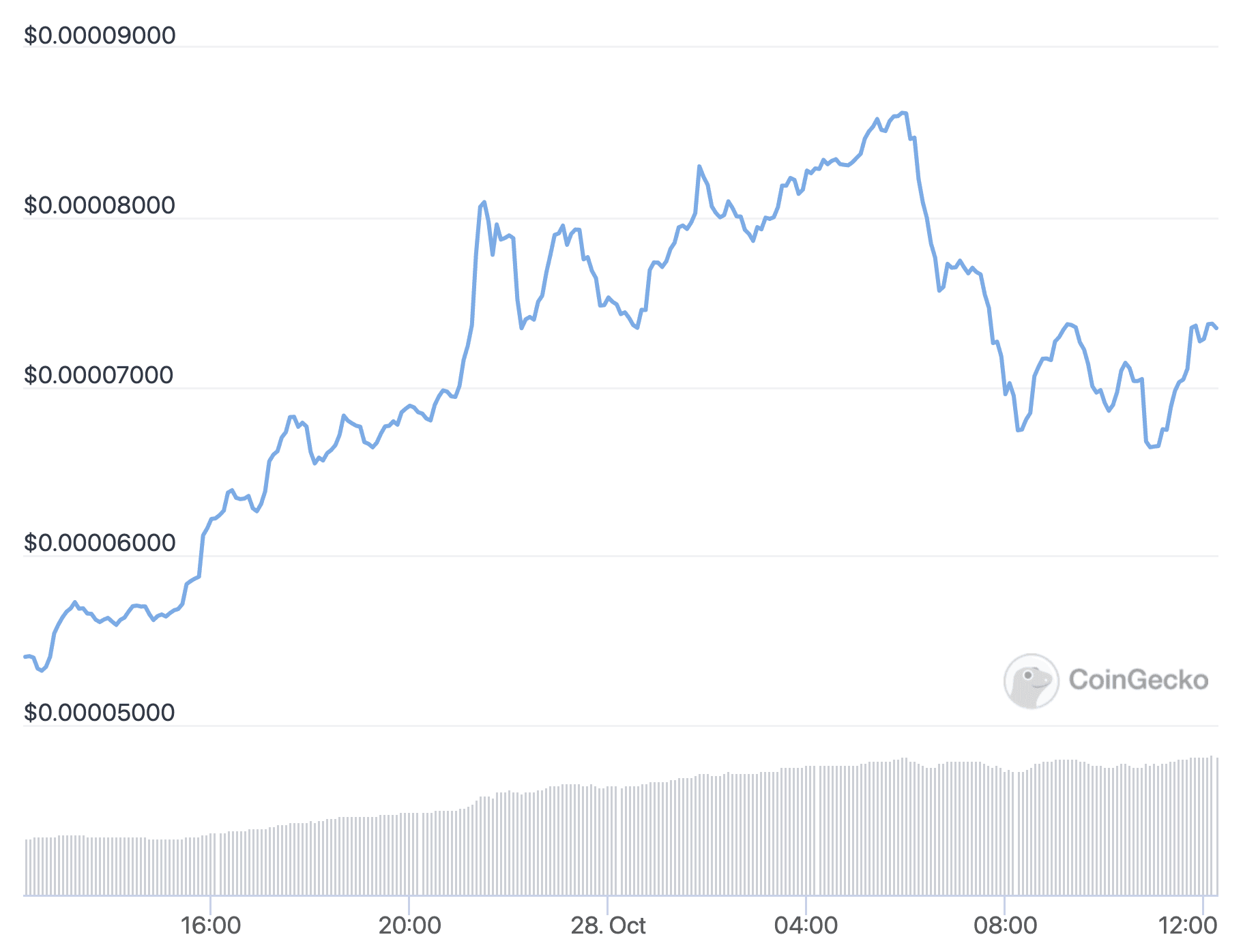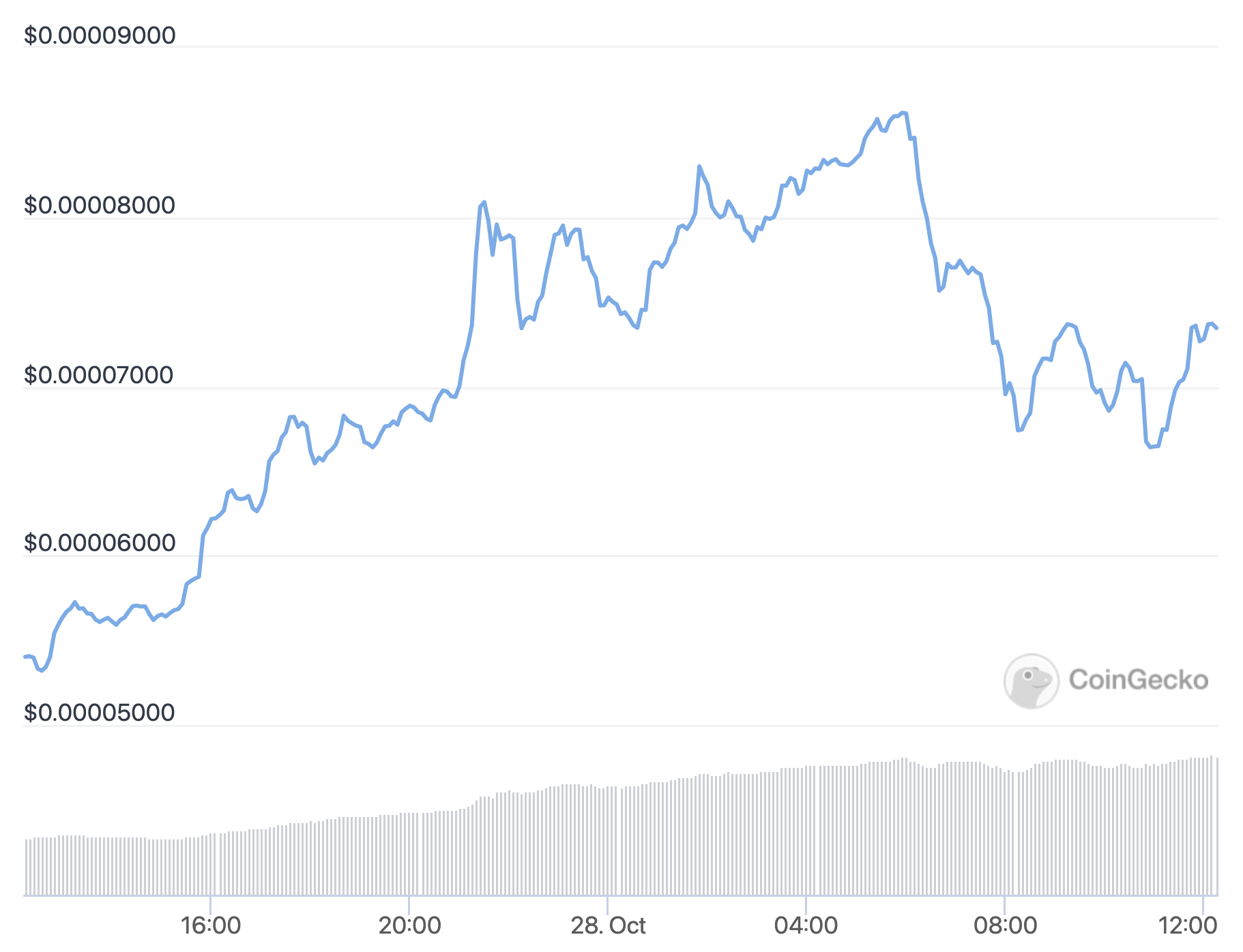 DOGE price chart: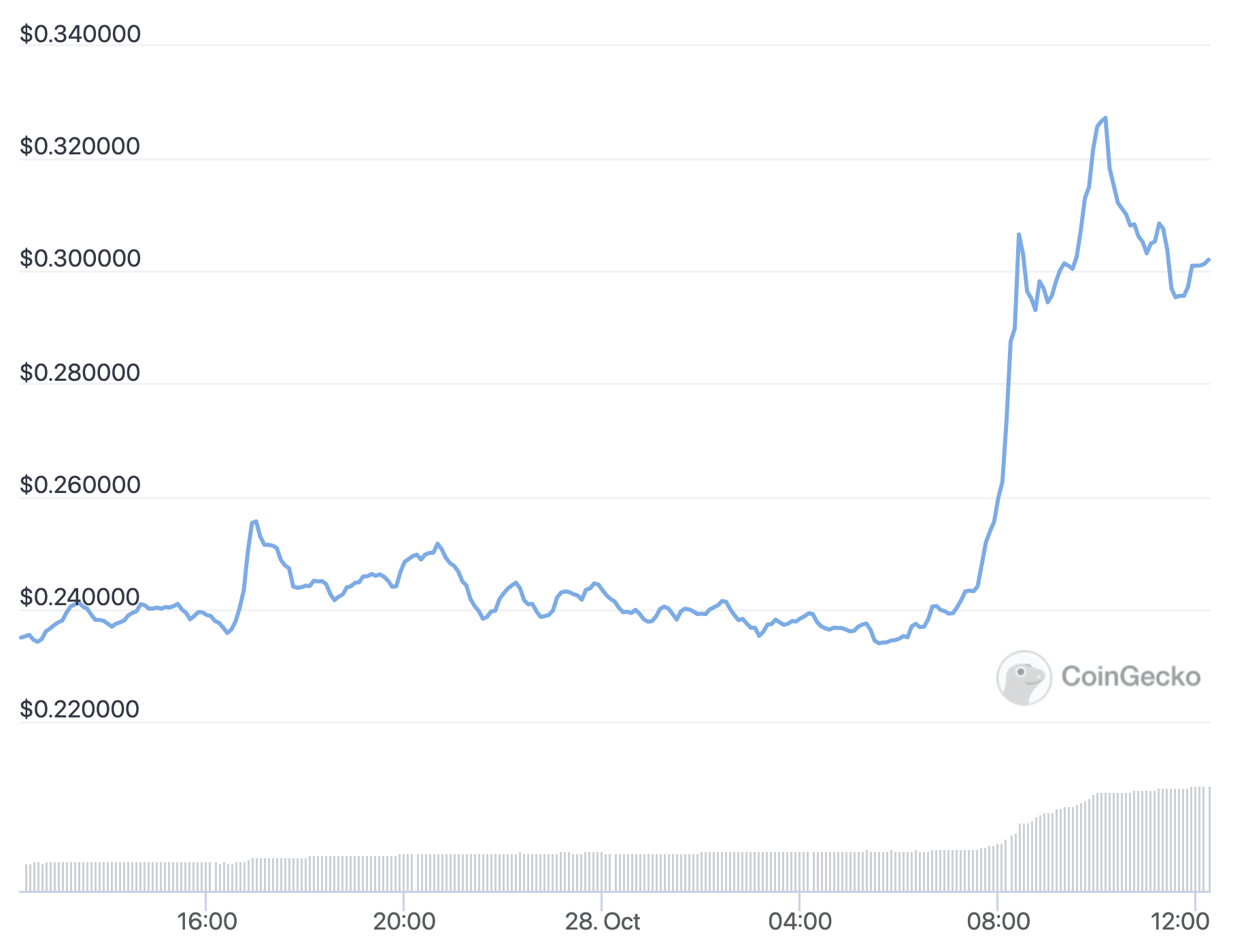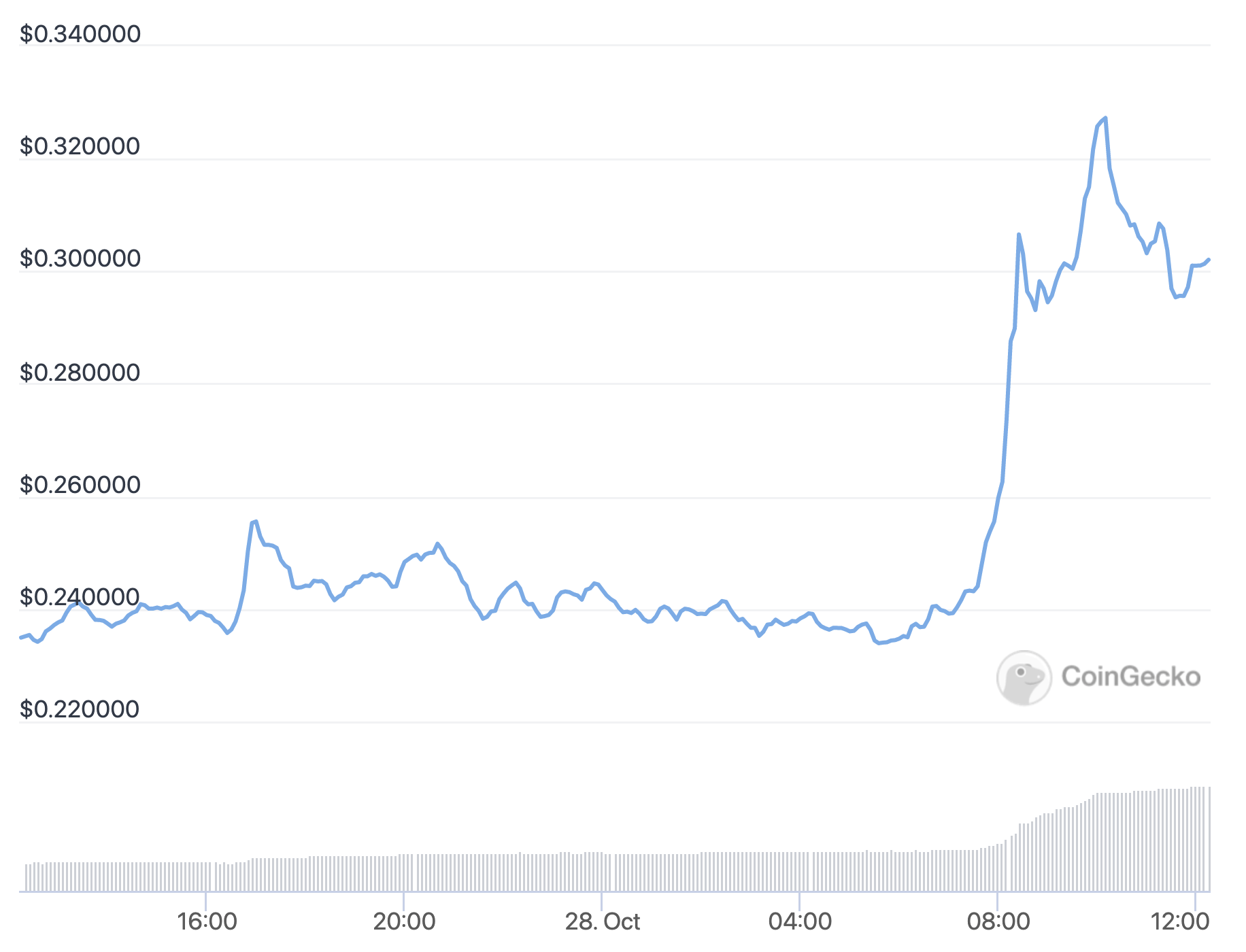 But although most of the attention has been focused on the two contenders for dog-related meme coin dominance, a whole host of other dog and cat coins are now also seeing huge gains in the market.
Following dogecoin and shiba inu, coins with names such as samoyedcoin (SAMO), baby doge coin (BABYDOGE), and floki inu (FLOKI) are all seeing massive rallies today, rising by between 20% and 120% over the past 24 hours.
Among these, FLOKI saw the largest gain today of more than 120%. The coin is named after and inspired by Elon Musk's own Shiba Inu puppy named Floki, and has seen ads for it appear all around London in recent days.
In addition to the dog-themed meme coins mentioned above, cat-themed coins such as catecoin (CATE), cat token (CAT), and all sorts of other meme coins were also rallying today.
Joking about the current market on Twitter earlier on Thursday, the user @nondualrandy wrote that "Institutional investors are turning their attention to the dog sector:"
institutional investors are turning their attention to the dog sector pic.twitter.com/1Z5A49HXsn

— randy.xbt (@nondualrandy) October 28, 2021
However, a closer look at what investors who could be considered "institutional" are thinking about reveals that perhaps it wasn't so much of a joke after all, with Galaxy Digital CEO Mike Novogratz seemingly interested in the space:
What are the top 10 meme coins? Who qualifies? https://t.co/LWpQ6JToQG

— Mike Novogratz (@novogratz) October 28, 2021
The SHIB craze also comes as speculation has intensified in the community over whether the popular trading app Robinhood will list SHIB for trading on its platform. The platform, which mainly caters to US stock traders, has already listed DOGE, as well as several crypto blue-chips like BTC and ETH.
During an earnings call on Tuesday this week, analysts asked Robinhood's management about their plans for an expansion into the crypto space. To this, Chief Financial Officer Jason Warnick replied that they are being "very mindful and diligent," about cryptocurrencies. He added that "we're going to be working, you know, as fast as we can with the right balance of safety and compliance to make sure that we don't make missteps here."
Not surprisingly, shiba inu's rise from being virtually unknown to becoming one of the top 10 most valuable cryptoassets has also made fortunes along the way.
One such story that has gotten a lot of attention is that of an address that bought USD 8,000 worth of SHIB last August, only to see the value of the same coins grow to a massive USD 5.7bn today, about 400 days later.
"Many millionaires have already been made, possibly even a few billionaires. Will shiba inu reach a value of USD 0.01 and a USD 30 trillion market cap? Probably not, but there's clearly no shortage of people who think it's worth a shot," Mati Greenspan, Founder & CEO of Quantum Economics, wrote in his newsletter yesterday.
_____
Reactions:
88e-6 $shib touched

rotatooor to .88 $doge now? pic.twitter.com/AqRd85rCSk

— 朱溯 🐂 (@zhusu) October 28, 2021
not saying shib can't keep going up fwiw, wtf do i know, it just felt like an obvious blow off top so holding it felt needlessly risky

never regret taking profits

— Udi Wertheimer (@udiWertheimer) October 28, 2021
Most people don't want sound anything. They want to have their egos pumped while letting someone else take the blame when they fuck up.

— Eric Lombrozo (@eric_lombrozo) October 28, 2021
$SHIB seems like playing a lottery

But remember Americans voluntarily spend, and lose, $75B a year on lotteries

— Hunter Horsley (@HHorsley) October 28, 2021
October 28, 2021
____
Learn more:
– Floki Inu Floods London With Ads While Shiba Inu Nears Dogecoin
– Shiba Inu Speculators Could Learn This Lesson from Dogecoin

– Dogecoin Wannabes Flood The Market With Pumps & Dumps

– DOGE's Rally Has Revived Dogecoin Development, But For How Long?
– Are GameStop-Style Surges In Crypto Any Different From Old Pumps & Dumps?
---