Ontology Rises by 24% Thanks to Giveaway
Blockchain project Ontology saw its primary native coin ONT rise by 24% in the past 24 hours (UTC 09:33 AM) following the announcement of a giveaway. Today marks the last day that the traders have to generate volume on cryptocurrency exchange Binance, which will be the basis for determining which traders win the giveaway.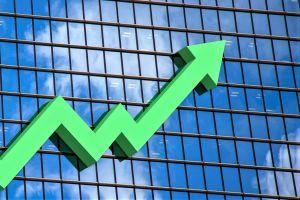 ONT price chart: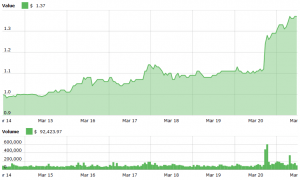 A week ago, on March 13th, Binance announced a trading competition for Ontology Gas (ONG) following the listing of Ontology's secondary token on the exchange. According to the announcement, Binance has partnered with the Ontology team to give away a total of ONG 200,000 (around USD 130,000 at the current rate) to the top 50 users based on total trading volume during the competition period, which runs until today, March 21st.
ONG was listed on Binance last month, sending the token up 90% in a single day. Ontology Gas functions the same as gas does on other platforms like Ethereum or EOS - designed to be used solely on the Ontology network and is required to fuel functionality and transactions. Holders of the token generate yearly returns of around 12% of ONG.
The surge of ONT could be, at least in part, attributed to the hype surrounding the project due to the end of the ONG competition drawing near - even though the two are separate coins.
However, a lot of Ontology's success still rides on their partnership with MovieBloc, a new participant-centric film distribution platform, announced on the TOKEN2049 event in Hong Kong. The video company will use Ontology infrastructure for their new platform, while Ontology promises to support them with capital, marketing, and operations as a core partner.
MovieBloc is driven by Korean video streaming platform Pandora.tv, which is also the parent company of KMPlayer, one of the most popular multimedia players with over 800 million downloads. MovieBloc is looking to build on top of blockchain in order to have creators get a transparent revenue share, audience data, and equal screening opportunity, while the viewers will access diverse films and content, and get rewarded for providing curation, subtitles, and marketing materials to the community.
---