NiceHash Review 2023
Disclosure: Crypto is a high-risk asset class. This article is provided for informational purposes and does not constitute investment advice. By using this website, you agree to our terms and conditions. We may utilise affiliate links within our content, and receive commission.
The booming crypto industry has given rise to many cloud mining platforms and hashpower marketplaces. However, few have what it takes to meet the needs of an average crypto buyer or blockchain novice. Thanks to its simplicity, reliability, and robust service offer, NiceHash falls within this small group.
If you're interested in what this platform has to offer, the following NiceHash review has all the answers. Read on to learn about NiceHash's background, features, fees, user experience, pros and cons, and more. 
NiceHash Review: Advantages and Disadvantages
Let's explore some of the pros and cons of NiceHash in 2023 for those interested in cloud mining with this provider. 
Pros
Over a decade of experience and millions of active users ensure a secure and reliable service
User-friendly desktop and mobile platforms cater to beginners and experienced users alike.
Miners have access to 90+ tokens and numerous popular algorithms and mining pools.
QuickMiner and EasyMining features facilitate the mining process, offering registration-free, quick, and secure hash power purchases.
The platform works with third-party mining software and supports mining rigs and farms, allowing remote monitoring.
NiceHash profitability calculator, e-wallet, and crypto exchange help users make lucrative crypto investments and store their coins hassle-free.
Cons
The platform only accepts Bitcoin payments.
Built-in crypto exchange covers a small selection of popular coins.
The marketplace bidding system may be overwhelming for newbies.
What Is NiceHash?
NiceHash is one of the blockchain industry's best-known hash power marketplaces and cloud mining platforms. It's a decentralized finance (DeFi) solution that provides access to crypto-mining by connecting hash power miners/sellers and buyers through a marketplace.
The company was founded in 2014 when the sector began gaining traction with the general public. It was the brainchild of two Slovenian university students with a background in computer programming. They registered it in the British Virgin Isles and opened offices in Maribor. The existing market gap propelled the brand's success, making it a global sensation in no time. 
Today, after almost a decade in operation, NiceHash boasts more than 3 million delivered orders and 181,000 BTC paid out. It has servers in Europe and the US, with over 2.5 million active users in more than 190 countries. A multitude of NiceHash reviews recognize it as one of the largest hash power marketplaces globally.

How Does NiceHash Operate?
NiceHash uses the shared economy model to operate. The system leverages technology, specifically computational power and blockchain, to help users create, produce, distribute, and trade hashing power. This power drives various (Proof-of-Work) algorithms that generate cryptos and facilitate crypto transactions.
As we already mentioned, the platform serves two groups of users — hash power buyers and hash power miners/sellers. The process is circular, but for clarity, we'll start with the demand. Buyers register at NiceHash and use the open marketplace to choose the cryptocurrency they wish to purchase. 
The network is well-equipped and vast, so a range of NiceHash mining algorithms and mining pools are available, from SHA-2 and Blake to Slush Pool and F2Pool. They offer a plethora of popular minable coins, catering to users with different needs and tastes. You can rely on profitability and popularity reports to choose the best option at the time of your purchase.
Once buyers select the crypto, algorithm, and mining pool, they also set the price they're willing to pay for their order and place it on the US or EU marketplace. To complete these orders, miners/sellers connect their mining hardware (ASICs, GPUs, or CPUs) to NiceHash Stratum servers. This system allows for the hashing power they produce to reach the mining pool the buyer has chosen. NiceHash pays out for each valid share they submit. 
The hash power price is based on the current weighted average and fluctuates frequently, making it challenging to calculate the amount you'll get in advance. However, the platform updates these figures every minute, aiming to provide you with as close an estimate as possible.
The process is automatic, eliminating the need for technical knowledge or skills. The buyers get the crypto they ordered from the pool without running complex operations or investing in mining hardware.
NiceHash Features and Capabilities
The previous NiceHash review sections cover the basics of this platform's operations. However, this provider has plenty of other features that make it popular among hash power buyers and sellers worldwide. For your convenience, we will list and break them down below.
NiceHash Marketplace
The hash power marketplace is the foundation of NiceHash. It's the place where buyers and sellers connect, trade, and turn a profit. Its design and simplicity make it straightforward to use, whichever group you belong to. 
The NiceHash marketplace lists orders by available algorithms in the EU and US markets. The two categories appear in separate tables featuring columns with data like order ID, price, number of miners, limit, and speed. Miners can browse the offer and bid on any market, regardless of location. However, they should choose between algorithms and token orders based on their mining hardware and prevailing coin profitability.
The platform updates regularly, keeping orders, prices, hash power availability, and demand fresh. You can sign up and start mining or find hash power within minutes.
NiceHash Profitability Calculator
One of the primary objectives of crypto-mining is getting good value for your money. To help you in this task, NiceHash offers a profit calculator. This tool is designed to help potential miners determine the profit they can expect for their services over a day, week, or month.
The NiceHash profitability calculator requires you to plug in the hardware you plan to use for mining and enter your average electricity cost. The calculator uses this data and the current Bitcoin price to estimate your hashing power profitability. It covers CPU, GPU, and ASIC mining rigs, so you can compare different devices and algorithms and choose the combination that will help you maximize your mining efficiency.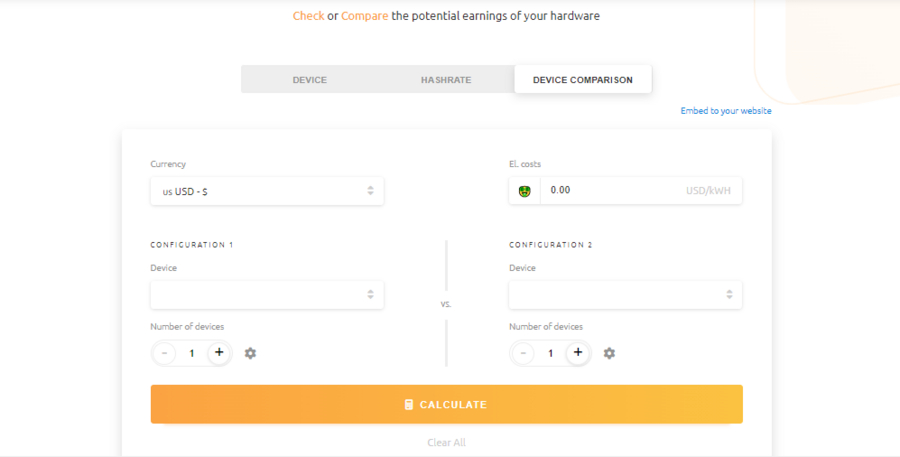 NiceHash QuickMiner
If you'd like to use the NiceHash miner but are unsure whether the system suits you, QuickMiner is the solution. The tool lets newbies try the NiceHash platform without registration and commitment. It also provides a 60-second introduction to an otherwise long and complex process.
Unlike its primary miner system, NiceHash QuickMiner leverages Excavator for GPU mining and XMRig for CPU mining. The former is in-house, and the latter an open-source system, but both are easily accessible and malware-free. The feature is convenient and safe to use on your PC. Plus, it reduces power consumption, manages overclocking, and includes auto-recovery and regular system updates. Users can enjoy a streamlined mining experience, whatever their prior experience with the industry.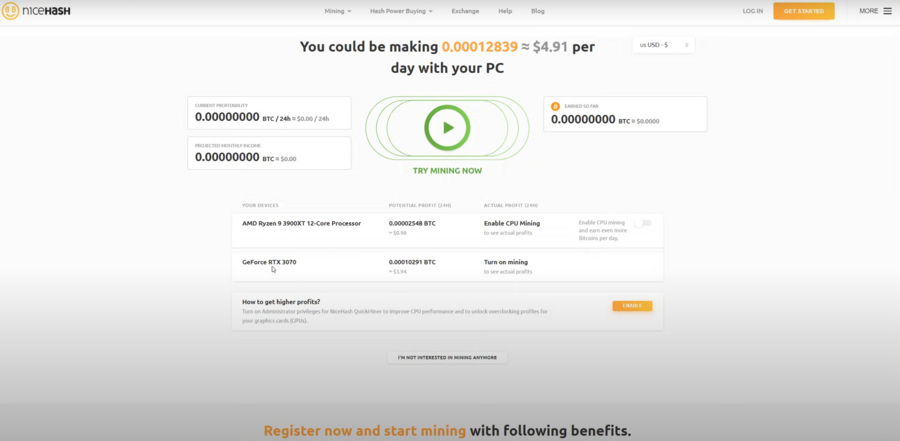 NiceHash ASIC Mining
NiceHash allows patrons to mine using a range of devices. All you need to do is set up a NiceHash account so you can use the built-in wallet to receive your mining profits. You can leverage the NiceHash miner or connect your mining software to NiceHash Stratum servers and generate hashing power from there. As you may know, ASIC provides the best results, so it's an excellent choice if you own this rig. The Help Center offers a step-by-step video guide on connecting your ASIC machine to your account if you need help. 
NiceHash will let you manage your mining rig from its website or app, regardless of location. You'll have access to data like operating temperature, profitability, balance, payout times, and more. These features can help you monitor your activity and boost profitability with ease.
NiceHash Private Endpoints
NiceHash doesn't limit the number of mining rigs you can connect to your account to turn a profit. If you have the necessary hardware, the platform will let you sell hashing power from large mining farms. NiceHash Private Endpoints solution can help make the process as secure and profitable as possible.
The network interface feature lets users connect to NiceHash Stratum servers through a private IP address. This approach offers several advantages:
It sets up a secure connection within less than 24 hours.
It eliminates DDOS attack risks without sacrificing your data safety.
It gives you an edge when submitting shares.
It offers prices starting from 200 EUR + VAT/month per location.
It lets you choose between 24 private mining proxy server locations around the world.
NiceHash EasyMining
As you can see from this NiceHash review, this platform's marketplace bidding works like an auction. The system is not overly complicated, but it might take some getting used to, especially if you're just getting started. If you feel intimidated by it, NiceHash offers EasyMining as a beginner-friendly alternative.
NiceHash's EasyMining lets users purchase a hash power mining service for a fixed price. The platform uses your deposit to place an order on the NiceHash exchange and buys hash power for you. If that power discovers and validates a block, you can keep the entire reward for yourself. This approach lacks the payout consistency pool mining boasts but has a higher profit potential.

NiceHash Exchange
The online crypto exchange is one of NiceHash's latest additions. The platform works like all the best crypto exchanges out there. It offers a quick and easy way to buy and sell coins and features two views, accommodating beginners and seasoned users. 
The Simple view displays a clean listing of trading pairs and their prices, with market rates and instant transactions. It's perfect for newbies and casual traders looking to get in and out without too much fuss. The Trade view provides a more complex representation of available pairs involving graphs, statistics, and analytics. It requires more experience to maneuver, but it also allows users to assess upcoming market fluctuations and profitability better.
Both exchange views connect to the NiceHash wallet, ensuring smooth and quick transactions. Supported cryptos include around 50 popular tokens, which isn't the best selection but still a great start for such a new feature.
NiceHash Fees and Other Expenses
Like all online service providers, NiceHash incurs fees for its offerings. However, the expenses patrons are subject to vary depending on the features they use. The following guide should help you understand all of them.
Buyer Fees
NiceHash buyers are charged fees depending on their chosen purchase model — bidding or EasyMining. Bidding doesn't come at a fixed price. The only constant in this model is the non-refundable new order fee (0.00001 BTC) and the 3% order processing fee. The total amount you'll invest in hash power will depend on the current demand and availability. However, you'll always have control over your spending. 
As this NiceHash review discussed above, EasyMining offers hash power at a fixed price. Your initial payment will be higher than the starting bid would be, and the order will expire in 24 hours. However, you won't need to worry about whether your price is competitive enough to secure the desired hash power. NiceHash's EasyMining features a 1% pool fee plus regular withdrawal fees.
Seller Fees
NiceHash hash power sellers are subject to two types of fees, depending on the e-wallet they choose to receive their earnings:
Payments to NiceHash wallet — 2%
Payments to external Bitcoin wallets — 2% + 0.00003 BTC weekly for balances over 0.001 BTC and daily for balances over 0.1 BTC
On top of these costs, NiceHash charges deposit and withdrawal fees. These costs vary depending on the coin you use, the amount you transfer, and whether you're connected to a NiceHash BTC Lightning Network node. You can learn the details from NiceHash's official Help Center.
Exchange Fees
NiceHash crypto exchange's fee structure is comparable to most of its competitors. The amount you'll be subject to varies depending on your trading activity. The fee is 0.5% until you've traded at least €1000 but decreases to 0.4% after you pass this threshold.
If you're an avid trader, your fees will dip even lower with time. However, most users' NiceHash exchange expenses remain within the 0.5% – 0.3% range.
NiceHash UX
The user-friendly interface is one of NiceHash's biggest strengths. Patrons are in for a streamlined journey from registration to cashout. The company allows its users to test its services without creating an account in order to maintain their anonymity. 
The website is minimalistic, featuring a clean layout and easy-to-navigate features. Most complex tasks are automated, saving users time and energy. The platform offers tools for beginners and experienced miners. QuickMiner has an intuitive GUI, which completes tasks with a few simple clicks. NiceHash Miner is slightly more complex but highly customizable and configurable. 
Whether you're using a NiceHash mining calculator, one of these Miners, or the crypto exchange, you'll have an excellent knowledge database at your disposal. The Help Center abounds with information, tackling every topic imaginable. Many guides include visual aids, like YouTube videos, to make your onboarding process seamless and efficient. 
NiceHash Mobile App
NiceHash offers a well-rounded mobile app compatible with iOS and Android devices. The app is available on the App Store and the Play Store and is free to download. It replicates the simplicity of its desktop platform, offering easy access to three NiceHash services — e-wallet, marketplace, and rig manager.
The NiceHash mobile wallet provides the same benefits as its desktop counterpart. Users have round-the-clock access to their finances. They can deposit and withdraw cryptos and check their balance anytime, anywhere. Moreover, you don't need to worry about security risks, as the wallet doesn't store seed phrases on your device.
The app grants full access to NiceHash's marketplace and rig manager. Patrons can create and place orders or check, manage, and cancel existing ones. They can monitor rigs, start and halt mining processes, and modify power settings with a few taps.
The NiceHash mobile app doubles down on its convenience through push notifications. These alerts allow users to stay on top of their activities and the latest news on the platform. Whatever features you gravitate to, you should have a positive experience. Tests show all components work well across the board, with few lags and glitches.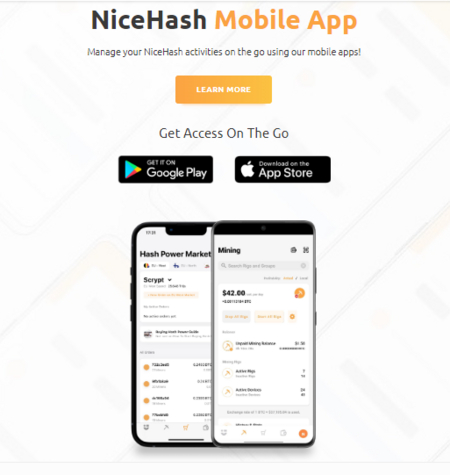 Is NiceHash Safe?
Back in 2017, Reuters reported that NiceHash lost around $60M worth of BTC after its payment system was hacked, emphasizing the underlying risks that lurk around trending cryptocurrencies.
Since then, NiceHash has gone all out when it comes to security. From SSL encryption to account activity email alerts, the company covers all grounds. Here are a few other protocols that can help you preserve your data safety:
Logging in and withdrawing funds are protected by two-factor authentication (2FA).
The platform allows patrons to use a Yubico OTP device — a single-use, 128-bit encrypted, 44-character ID and password.
Users get instructions for setting up an anti-phishing code that will appear at the bottom of all emails from the company.
NiceHash QuickMiner uses an in-house Excavator for GPU mining with a digital signature, guaranteeing that the code has not been altered or corrupted.
The platform complies with the General Data Protection Regulation (GDPR), allowing users to access and request correction and deletion of personal data and restrict its processing.
NiceHash Support and Reputation
NiceHash has an elaborate Help Center. This knowledge base covers various topics, from mining instructions and account settings to security and service fees. The pages comprise written explanations accompanied by imagery and video aids to facilitate understanding.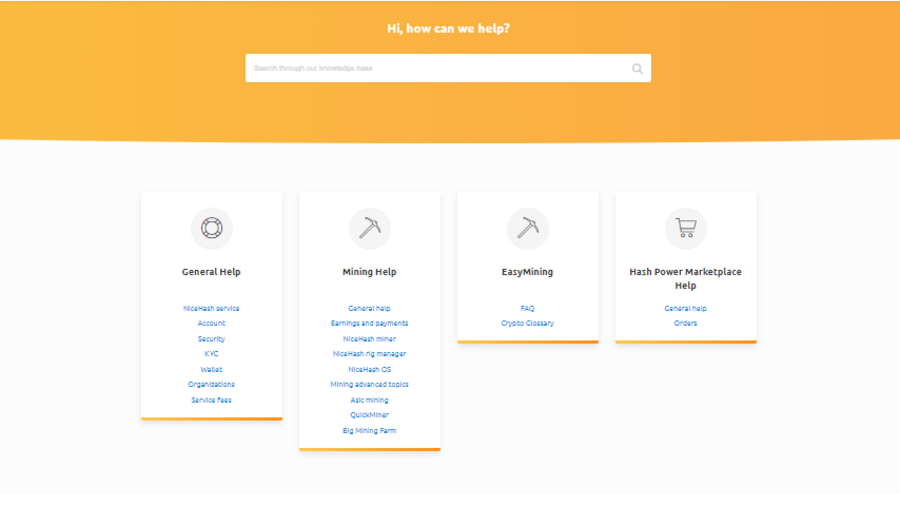 Unfortunately, the customer service isn't robust. The platform features two communication channels — email ([email protected]) and an on-site ticketing system. The latter is available only after registering, so you'll have to rely on emails if you use the platform without an account. However, the support agents are professional and responsive, so you should get help promptly. If not, the brand's extensive social media community on sites like Reddit may provide some insight.
The provider is very popular, so there's no shortage of NiceHash reviews and ratings online. Most paint a positive picture of the service, highlighting its efficiency, feature scope, and security. TrustPilot offers a seemingly low rating of the brand (3.3 stars), but some famous brands like Binance rate even worse (2.1 stars).  
Most negative reviews come from new customers unfamiliar with the brand's rules and regulations. The comment section shows that NiceHash representatives address and strive to resolve burning issues.
How Does NiceHash Compare to Bitcoin Minetrix?
If you like what NiceHash brings to the table, check out Bitcoin Minetrix. This cloud mining platform launched in 2023 but already ranks among the best Bitcoin mining software out there. 
Bitcoin Minetrix shares many positive features with NiceHash, offering a safe, transparent, and accessible method of maximizing profit through crypto mining. However, the two platforms run on different infrastructures and employ different methodologies.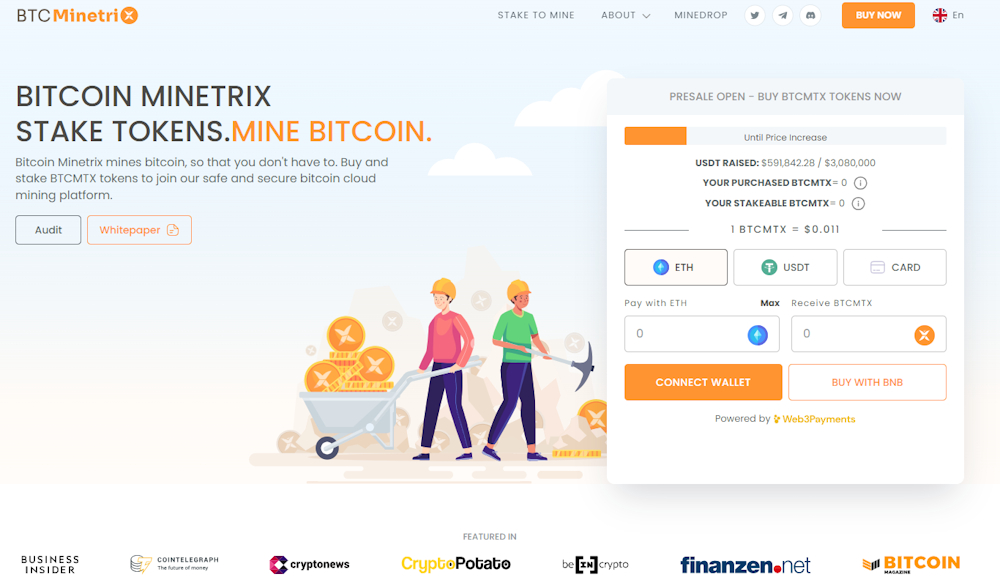 Bitcoin Minetrix works through a stake-to-mine mechanism — a tokenized approach to cloud mining. The system funds itself by selling BTCMTX, the platform's native token, to investors. Coin holders who stake their coins receive non-transferable mining credits that they can burn for mining power and BTC rewards. They won't need to commit to cash-based contracts, pay fixed minimum deposits, or permanently lock their tokens for staking. Unlike NiceHash, Bitcoin MTX gives users complete control of their funds around the clock without compromising its features.
Bitcoin Minetrix plans to launch a few other features to help users make the most of their mining experience. The company is raising funds to develop its own mining farm and rent hash power from renowned data centers. These two features will eliminate the need for bidding on hash power, a process many NiceHash miners find daunting.
The brand is also working on making accessible desktop and mobile platforms available to all users. The two apps will ensure that customers have easy access to their funds and mining activities at all times, much like NiceHash users do. 
These features and capabilities have helped the project raise over $400,000 in less than two weeks, which bodes well for the future. If you'd like a share, you can get on board by purchasing their first BTCMTX tokens at a discounted price in the presale phase. However, if you're still on the fence, check out Bitcoin Minetrix's wallpaper and Telegram to learn more about the network's structure and roadmap.
Final Thoughts
As our NiceHash review shows, this crypto-mining platform is well worth checking out. It offers easily configurable desktop and mobile apps, a coin-rich marketplace, and a range of unique features, from the in-house QuickMiner to the profitability calculator. On top of that, the platform's equipped with a crypto exchange and wallet, secured through several cutting-edge protocols, and available in 190 countries worldwide.
However, the NiceHash bidding system, upfront payments, and Bitcoin-only deposits don't work for all users. If you're one of them, Bitcoin Minetrix might be a better choice. This stake-to-mine-driven platform allows users to earn hash power by staking Ethereum-based native tokens with round-the-clock control over their assets.
Invest in BTCMTX during its presale phase, and join the community at a discounted price today!
References:
FAQs
Can I make money through NiceHash?
Definitely. The NiceHash marketplace lets miners offer their hash power to the highest bidders and turn a profit. Features like the NiceHash profitability calculator and Rig Manager help them make the most of the current market state and available mining equipment.
Is NiceHash legit and safe?
It is. NiceHash boasts close to a decade of experience and over 2 million active users. It has offices in the EU and the US, adhering to both regions' financial laws and regulations. Plus, it implements several state-of-the-art protocols to keep its users and their data safe.
How much can I mine with NiceHash?
NiceHash doesn't limit your mining activities. You're free to use as much hash power as possible to attain your favorite cryptos.
Is NiceHash more profitable than a traditional mining pool?
NiceHash mining profitability depends on factors like market conditions, coin choice, and mining hardware. Nevertheless, the platform's beginner-friendly design and revenue-geared mechanisms give it the edge over most traditional mining pools.
Why does NiceHash pay so low?
Your NiceHash payouts depend on the marketplace's hashing power availability and demand. The more hash power available, the lower the buyers will bid for it. If you're unsatisfied with your earnings, the NiceHash mining calculator might help.
---