Next Meme Coin to Explode? Thug Life Token $2 Million Presale Expected to Sell Out Fast
Wednesday, 28th of June - A brand-new meme coin project called Thug Life Token ($THUG) is making waves on social media and within web3 circles.
Despite only launching its token presale a few hours ago, the project has already raised a whopping $45,000 via $THUG sales.
As the word of $THUG spreads, more meme coin-hunting degenerates are expected to pile cash into the project.
Indeed, analysts have been tipping $THUG to be a major success given the refreshing take it brings to the meme coin space.
Rather than being based around dog memes or short-term social media fads, like meme coins created in response to Elon Musk or Andrew Tate tweets, $THUG is based on the timeless Thug Life movement that was first popularized by hip hop stars such as Snoop Dogg back in the 80s.
$THUG is the "baller's meme coin," the project says on its website.
"Get gangsta in this market and pimp out your money game," the website reads.
Meme coin degens have no time to lose when it comes to getting involved in the project early.
That's because the $THUG presale will sell out once $2.058 million is hit, much smaller than most other comparable presales.
After that, the only way to secure $THUG tokens will be via the project's airdrop and community rewards campaign or at a potentially elevated price on major decentralized exchanges (DEXs).
$THUG – A Community Focused Meme Coin
The Thug Life Token promotes itself as a "second chance for those who have been played, influenced, and used as a cash out."
More than just another meme coin, $THUG is "a movement fueled by humor, brotherhood, and the shared struggle of hustling in this web3 world."
In fitting with the meme coin project's strong focus on community before all else.
70% of the token's 4.2 billion supply is being made available during the presale, all for a price of $0.0007.
That means investors won't get caught out unfairly by price rises.
15% of the token supply is dedicated to community rewards once the token launches on DEXs.
Assuming the token is at least able to hold its presale price of $0.0007, that means the community will receive giveaways worth over $400,000 – another reason why meme coins degens have been getting so excited about the project.
The remaining 15% of the token supply is reserved for marketing, with the project keen to get a wave of influencers on board to help pump the $THUG price.
The team behind $THUG has also pledged to immediately lock liquidity upon the DEX launch, which should ease concerns about any potential token dump.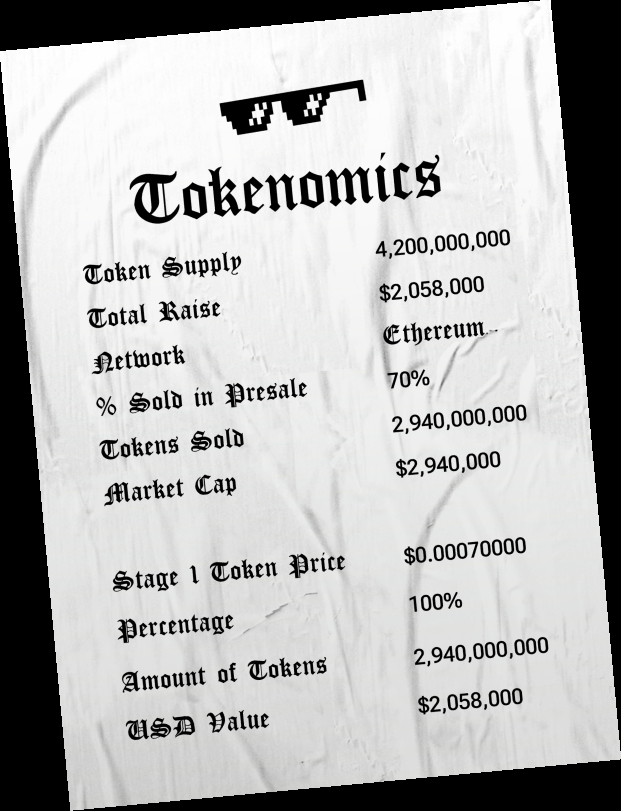 2023's Best Small Cap Meme Coin Gem?
With tokens currently available in the presale for just $0.0007, the Thug Life Token is currently a less than $3 million fully diluted market cap meme coin project.
That leaves huge room for potential upside.
Think about it: Pepe coin, based on the also timeless Pepe the frog meme, was able to reach a market cap of nearly $2 billion, despite offering no utility.
$THUG plays on a similarly popular "Thug Life" theme and could easily catch fire.
Even if $THUG only reaches a market cap say $60 million, that would still mean potential gains of more than 20x for presale investors.
$THUG can be purchased using ETH or USDT via the Ethereum blockchain on the Thug Life Token website.
Follow Thug Life Token on Telegram here and on Twitter here for timely updates as to the project's plans and next moves.
Join the $THUG movement, get that FOMO and turn screw-ups into profits now.
---