The Next Dogecoin or Shiba Inu? New Meme Coin Meme Kombat Raises $230,000 During Crypto ICO
Disclosure: Crypto is a high-risk asset class. This article is provided for informational purposes and does not constitute investment advice. By using this website, you agree to our terms and conditions. We may utilise affiliate links within our content, and receive commission.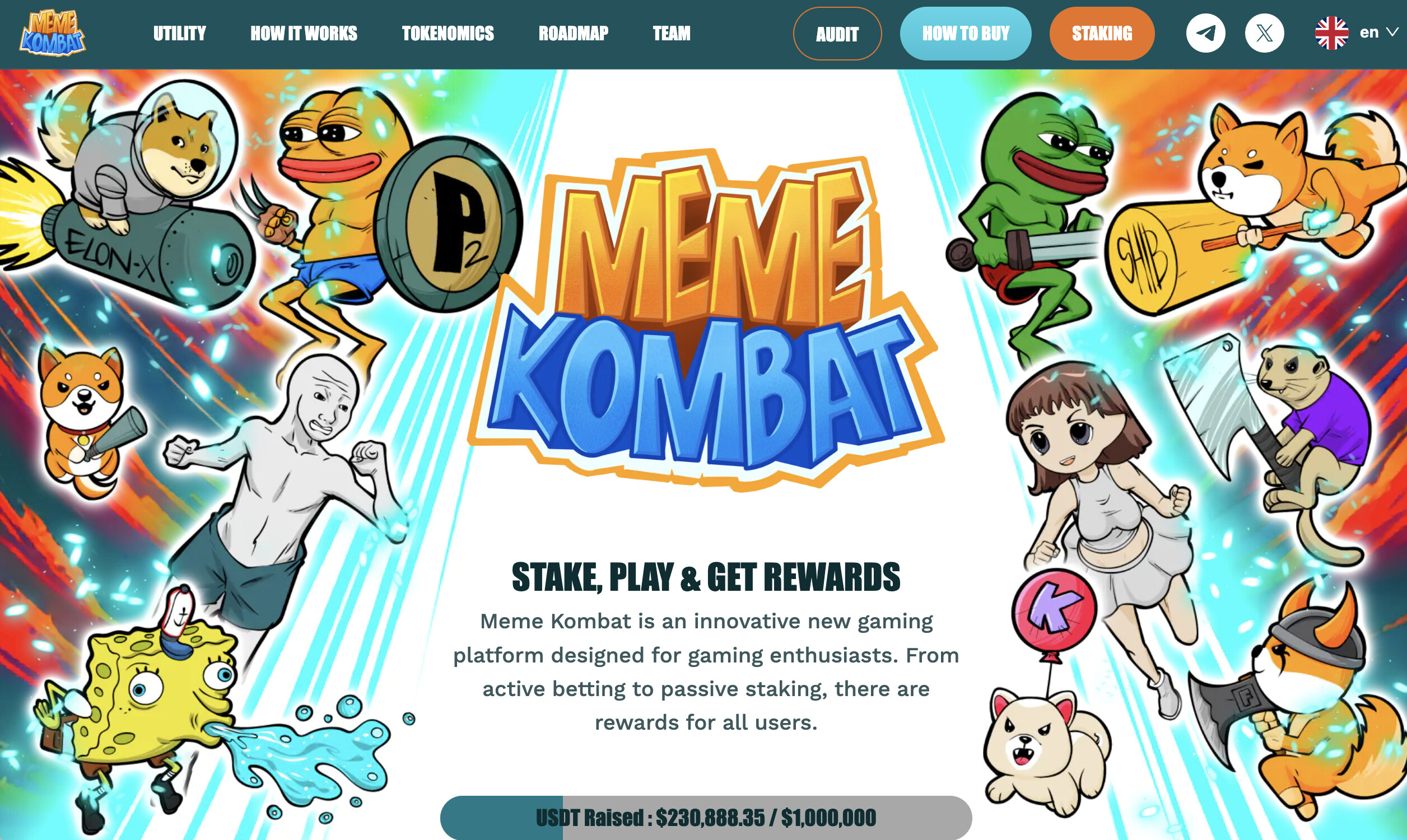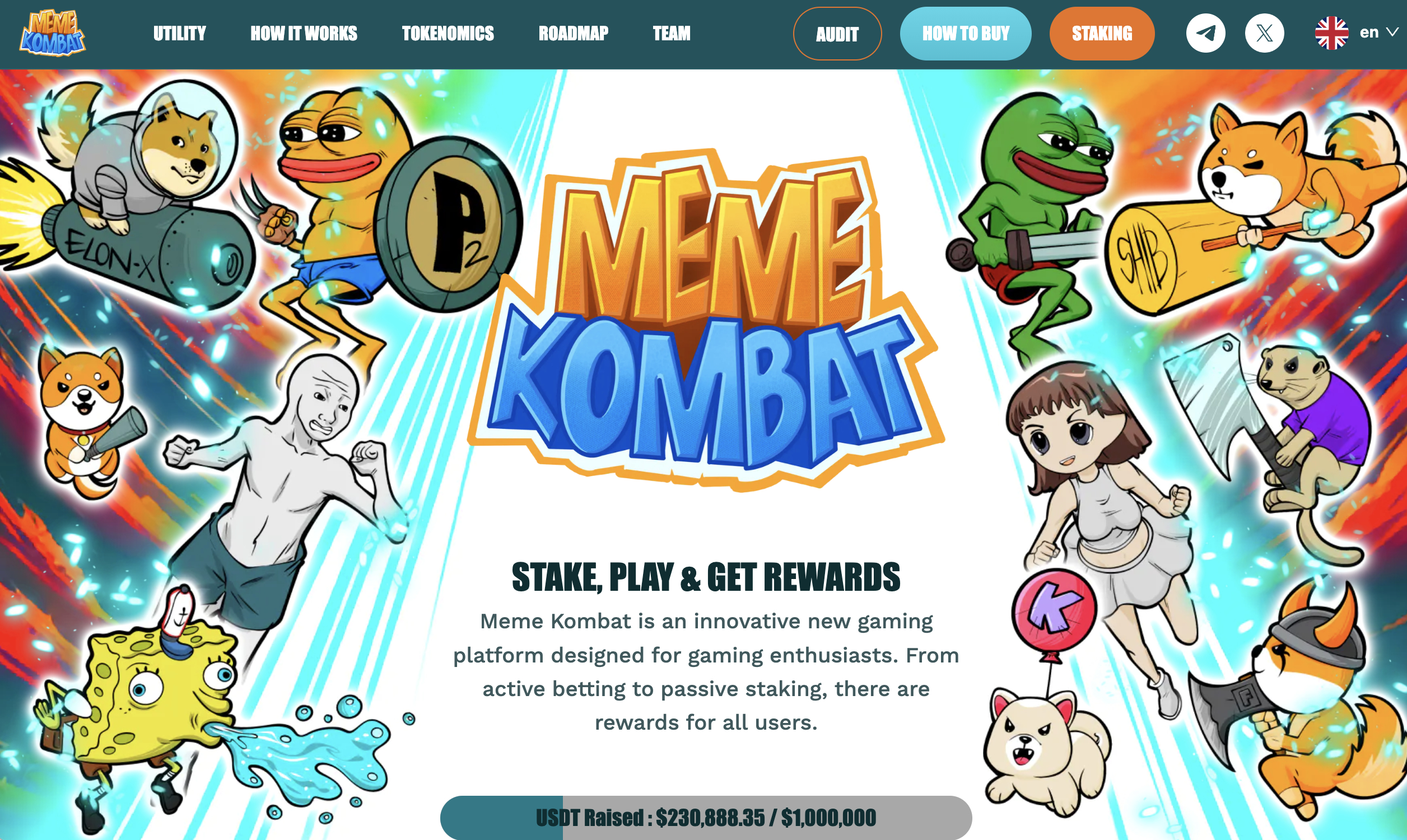 Crypto's next Dogecoin or Shiba Inu could be meme coin battling platform Meme Kombat, after it raised $230,000 to kick off its ICO.
Already a quarter of the way to its initial $1 million raise target, Meme Kombat targets three of the most lucrative sectors in crypto: gaming, meme coins and gambling.
It is building a gaming ecosystem where popular meme characters come together to battle it out, and users wager on the outcomes.
Meme Kombat's product offering stands in stark contrast to meme coins like Dogecoin, which has no redeeming utility features. Shiba Inu fairs better in that regard, but even in its case, the pivot to gaming has been a slow and tortuous affair.
As a battling platform for meme characters, Meme Kombat appeals right across the meme spectrum, whichever community, or none, that someone might be invested in.
The platform is built on a fully decentralized Web3 architecture, which means trust and transparency are robustly integrated at the base layer.
The heat is turning up for all the memes in the first season of #MemeKombat pic.twitter.com/VSK7OD62tX

— Meme Kombat (@Meme_Kombat) September 30, 2023
Meme Kombat's gaming and gambling platform also offers a low-risk passive income stream
Unlike utility-lite Dogecoin, with Meme Kombat you can stake-to-earn to lock-in a passive income stream.
Stakers currently earn an enticing annual percentage yield (APY) of 112% (see more on staking below). In finance, of which crypto is a subset, generally speaking, the higher the yield the higher the risk.
But with Meme Kombat the risk remains low because the yield is paid out of the tokens allocated to community rewards.
A staking dashboard to show the real-time tally of staked coins in the pool is coming soon. In the meantime, presale buyers can choose to stake their coins immediately and start earning.
Meme Kombat token ($MK) can be bought today for $1.667.
Also, interested parties can stay up to date with Meme Kombat on X (formerly Twitter) and Telegram.
Season 1 launches immediately after the presale ends, featuring 11 meme characters
Season 1 of Meme Kombat rolls out immediately after the presale ends.
There are 11 meme characters available to battle with in Season 1: Milady, Baby Doge, Doge, Floki, Kishu, Mong, Pepe, Pepe2, Shiba, Sponge and Wojak.
Players bet on any meme character they fancy as a winner – go with the favorite or play the odds, it's entirely up to you.


Gambling is a huge industry. According to data compiled by Statista, the online gambling industry's market size is estimated at $95 billion for 2023.
The projected compound annual growth rate for the next four years is forecast to be 8.54%, for a projected market size in 2027 of US$131.90 billion.
With blockchain technology playing a critical role in verifiable randomness and other trust and security-enhancing roles, Meme Kombat's market positioning is uniquely optimal.
Usually absent from most meme coin projects, in Meme Kombat's case a security audit of its smart contract has been carried out. Prospective buyers will be happy to know that the audit was passed with flying colors, with no major issues detected.
Season 1 battle cards will be followed in short order by Season 2, scheduled to be launched in December 2023.
Altogether, 50% of the total token supply is being sold in the presale, 30% for staking and battler rewards, 10% for community rewards, and 10% for decentralized exchange liquidity. The total token supply is 12,000,000.
The hard cap raise target is only $10 million, a relatively modest amount for a project with such a huge total addressable market, so investors should move fast to get skin in the game.
Meme Kombat has a huge marketing campaign behind it – stake-to-bet news spreads fast
News about the strong upside potential of Meme Kombat is spreading fast. The new coin project has already been featured across a range of top crypto news sites, including FXStreet, Decrypt, Coincodex, Cointelegraph and CryptoSlate.
YouTube crypto analyst Joe Parys, with 382,000 subscribers to his channel, has picked Meme Kombat as one of his 'top 5 meme crypto coins for 2024 and beyond'.
Michael Wrubel is equally bullish on Meme Kombat's prospects in a recent video he published for his 310,000 subscribers on YouTube.
Meanwhile, the folks at the Crypto Gains channel are penciling in a 10x gain for buyers of the $MK token.
Yet another analyst – this time on-the-money presale expert JacobCryptoBury – has Meme Kombat as one of the top 3 crypto presales to buy in October 2023.
Another video highlighting #MemeKombat 👊🚀https://t.co/jMmPjunG7M

— Meme Kombat (@Meme_Kombat) October 2, 2023
It is also good to know that Meme Kombat is doxxed. Its founder is Matt Whiteman, chief operations officer of Netherlands-based North Technologies, an NFT trading and analytics company.
Probably because of Whiteman's existing presence in the NFT space, Meme Kombat is reported to be generating significant interest in Web3 venture circles.
Meme Kombat rewards players for time staked and engagement on the platform
Meme Kombat's innovative ecosystem and $MK token makes staking and betting a seamless affair. Winners receive $MK tokens in addition to the opportunity to win valuable prizes.
Long-term token stakers earn passive income in the form of an annual percentage yield. However, APY is not calculated only by the time period tokens are held but also by measuring the level of engagement of the staker on the platform.
You can start earning rewards while the presale is on. After the presale ends, presale stakers can re-stake their tokens via the claim page.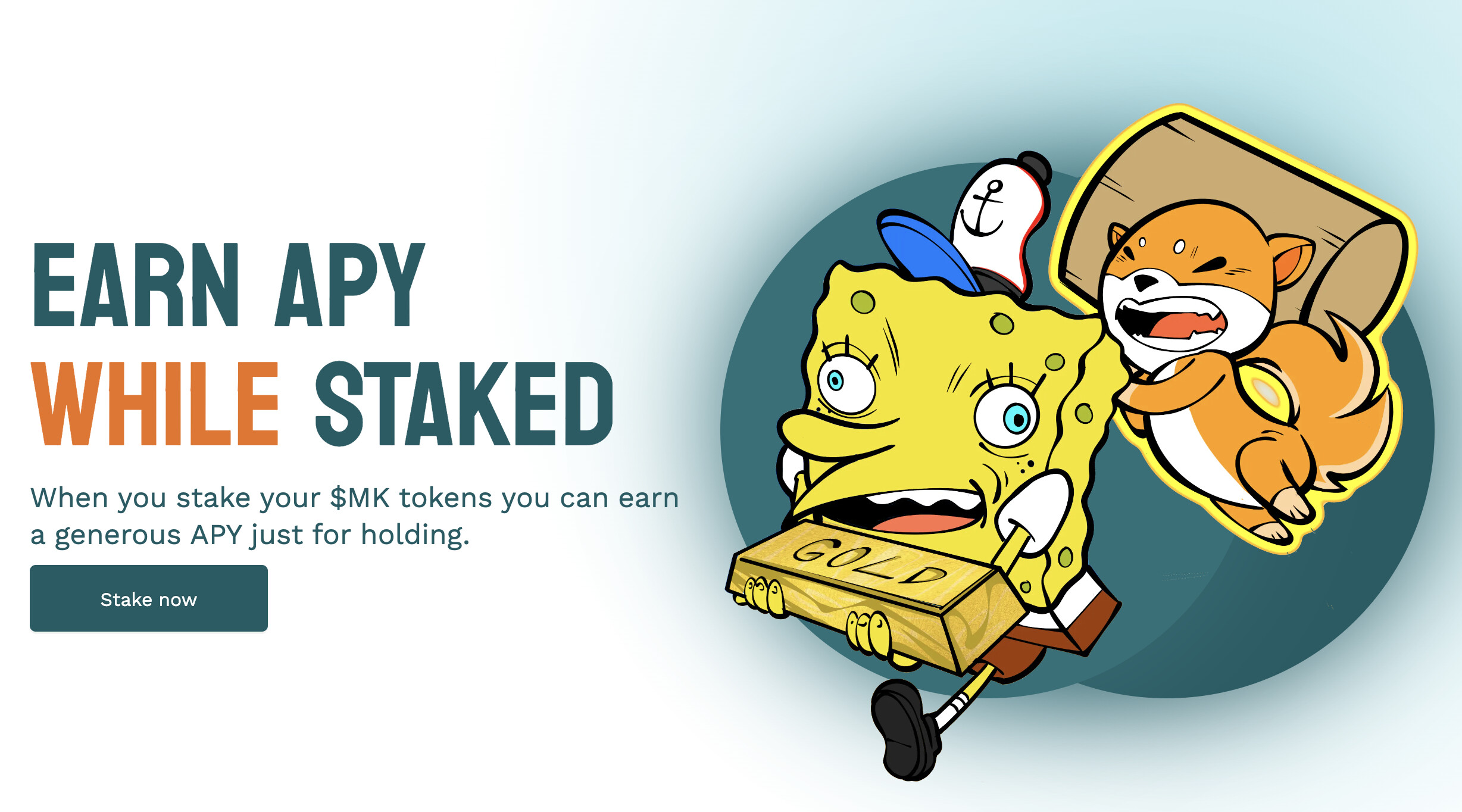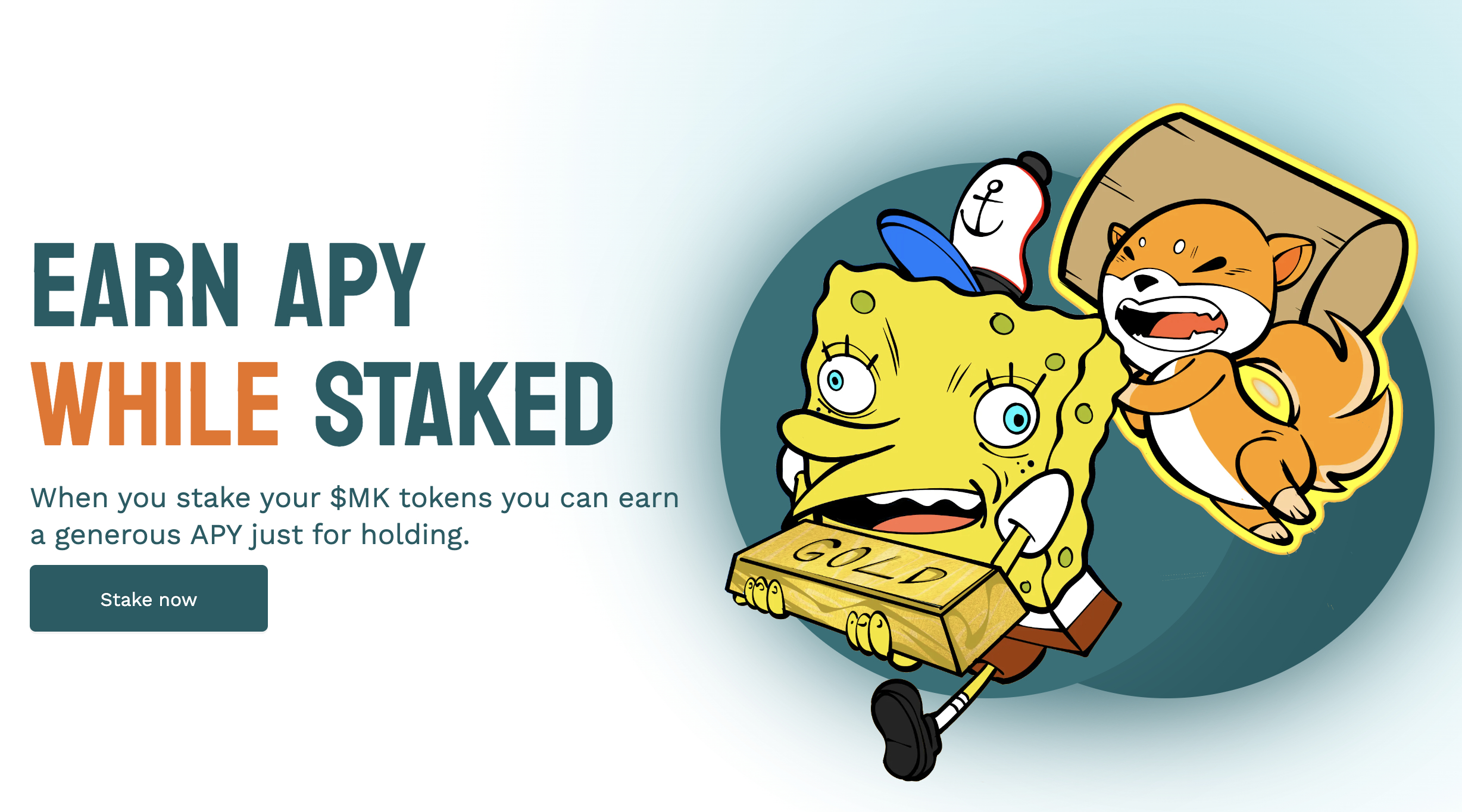 Stakers can withdraw their $MK tokens from the pool at the end of the presale, but those who do so will forfeit the rewards earned during that time.
In a big win for stakers, the staking rewards compound on a daily basis, further magnifying potential rewards.
Although not yet operable, the dynamically updated yield will be available in real-time on the website three to four weeks after the presale has begun, according to information provided in the Meme Kombat whitepaper.
If you stake today, you will be in a position to start betting when the battling system goes live after the end of the presale. Only staked tokens can be used for wagering in order to encourage long-term commitment to the project.
As the platform expands in size the value of the ecosystem will grow, boosting the value of the $MK token.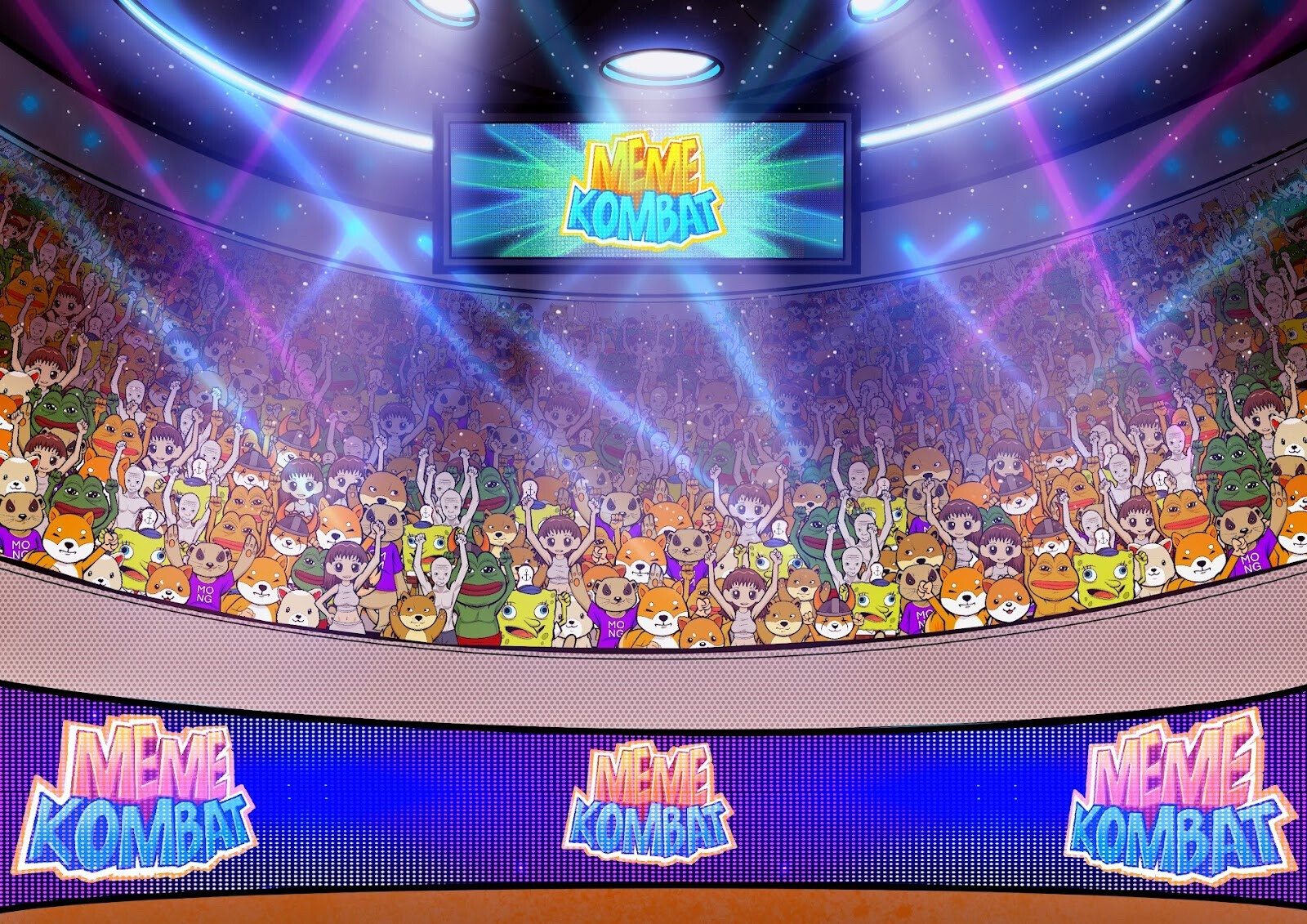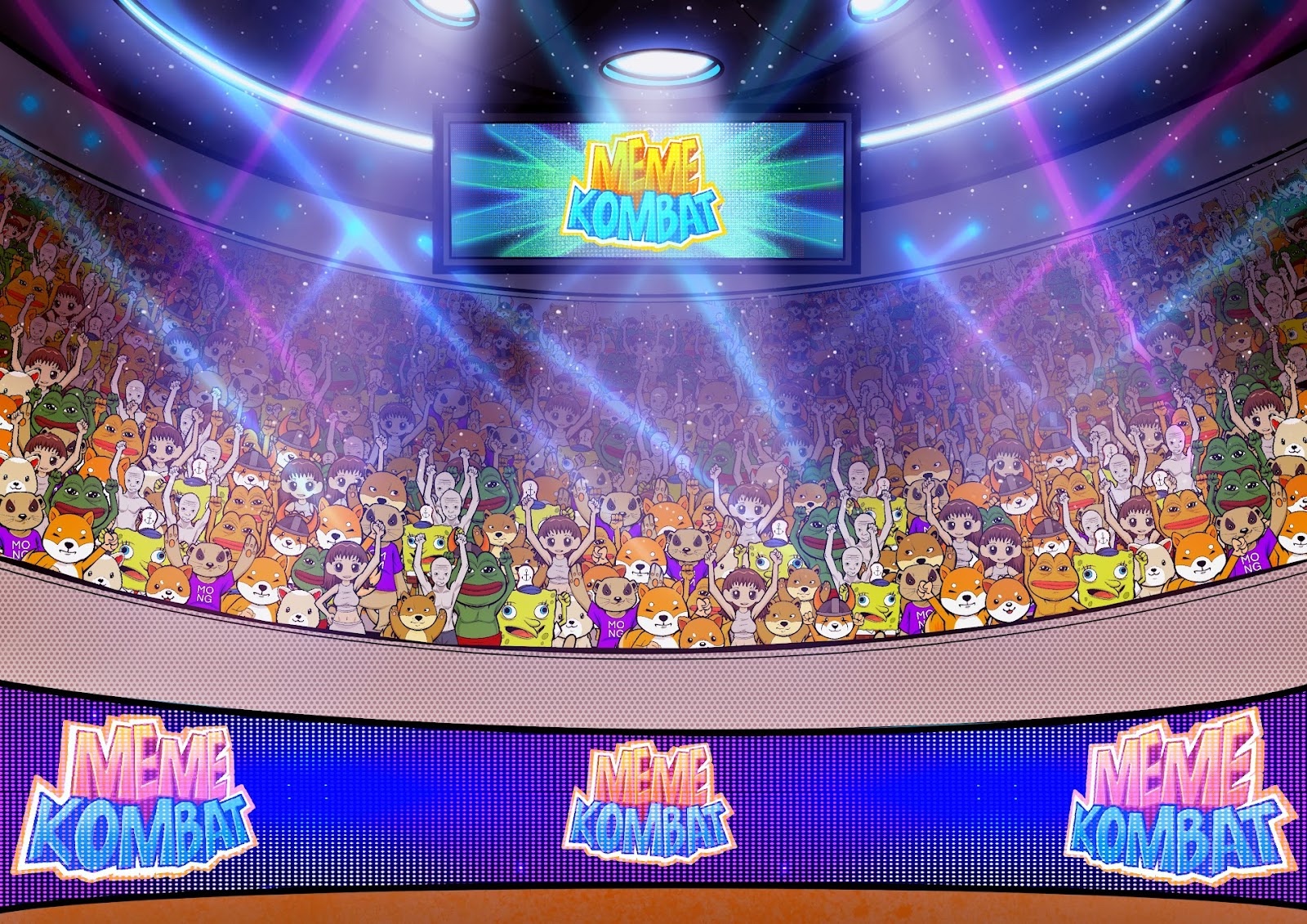 The Meme Kombat Arena is in the vanguard of crypto gaming
At the heart of the platform are automated battles between various meme coin characters. All the outcomes are determined transparently on-chain for tamper-resistant results.
Meme Kombat deploys cutting-edge AI to enable battles to take place in an engaging battle imaging environment for a captivating and provably unpredictable gaming experience.
As well as underpinning the imaging, AI also guarantees that battles are truly randomized and unpredictable. With meme Kombat battles are not just exciting, they are also always fair.
Ethereum blockchain technology means that results, wagers, and rewards are reflected instantly for all players.
Stake-to-bet is a paradigm shift that could make $MK owners millions of dollars
Meme Kombat is at the forefront of the intersection between gaming and gambling in the crypto space.
By freeing up staked tokens for use as gambling chips, Meme Kombat allows network participants to earn from staking as well as simultaneously partaking in the opportunity to win at the gambling table – or rather in the Meme Kombat Arena.
This double-headed play makes investing in Meme Kombat the hottest ticket in the meme coin sector right now.
Priced at $1.667, Meme Kombat token can be purchased today with ETH, BNB or USDT (ERC-20 and BEP-20 versions).
Disclaimer: The Industry Talk section features insights by crypto industry players and is not a part of the editorial content of Cryptonews.com.
---