Newest Top Meme Coin Wall Street Memes Set to Be No.1 Revenue and Profit Generator And Could Outshine Rollbit and Pepe
Disclosure: Crypto is a high-risk asset class. This article is provided for informational purposes and does not constitute investment advice. By using this website, you agree to our terms and conditions. We may utilise affiliate links within our content, and receive commission.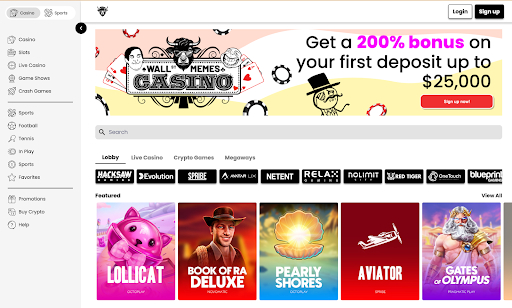 Thursday, October 19th, 2023 – GambleFi is generating revenue at an astounding rate and top meme coin Wall Street Memes has just staked out its ground in the highly profitable casino and sportsbook betting sector.
Wall Street Memes' announcement yesterday means it is the first major meme coin to actually have a use case that is generating revenue, as can be seen on the Wall Street Memes Casino real-time report of wagers and payouts.
$WSM token holders welcomed the revenue sharing implicit in the buyback program the Wall Street Memes team also announced. The program will see 10% of revenues used to buy the native token on the open market, in a price-supportive move that benefits all coin holders.
The tokens acquired through the buyback will be put into community rewards and the staking pool in a win-win for $WSM.
If you wanted to come up with a way of marrying the virality of meme coins with the rebellious instincts of the meme stocks movement and the business opportunity of crypto gambling, you would end up in the same place as Wall Street Memes.
Rollbit hits $38 million a month revenue in September – Wall Street Memes can do even better
Exact figures on the size and profitability of the crypto gambling sector (GambleFi) are hard to come by, but the continuing success of Rollbit provides a gauge to measure the potential of Wall Street Memes.
Data shared on X by a co-founder who goes by the handle @Lucky_Rolllbit shows that Rollbit amassed revenue of $38 million in the month of September alone.
The revenue breaks down into $24.9 million in the casino, $7.9 million in crypto futures trading, and $4.8 million in sports betting.
Crypto gambling watchers will know the metric that really counts is net gaming revenue (NGR), and Rollbit hasn't revealed that.
NGR is the revenue after deductions for the costs of doing business, such as paying out winnings, promotions, sponsorships, and for commissions and licenses.
Wall Street Memes community demographic is a perfect market fit for a $263 billion opportunity
We can look beyond NGR to find other points of reference to help triangulate the lay of the land in terms of the profitability of the sector.
Consider first the demographics of the customer base of crypto-focused gambling platforms, be it the likes of Stake.com, Duelbits or Rollbit.
The most glaring characteristic is the skew toward predominantly male individuals under 40 years of age and the strong correlation with video gamers and financial traders.
Also, take note that when it comes to financial traders, Wall Street Memes sits at the intersection of crypto and stocks trading as well as being one of the top digital assets in the red-hot meme coin sector.
Put simply, Wall Street Memes is the ideal market fit for a crypto gambling platform.
Well-positioned then for the target audience, what is the size of the total addressable market Wall Street Memes is pitching to?
In 2023 the casino and online gambling industry is estimated to be valued at $263 billion worldwide, employing around two million people, according to data from IBIS World.
In the US alone, online gambling revenue for online betting is expected to continue to expand into 2027, to reach $31 billion. Crypto gambling is thought to be a growing segment of the whole.
Source: Statista
But there has been something much more interesting happening, as far as $WSM token holders are concerned, perhaps spurred on by the Covid pandemic.
Online gambling, like stock and crypto trading, got a huge boost from the lockdowns and work-from-home regimes, some of which have stuck.
Conversely, brick-and-mortar casinos took a hit as venues were forced to close their doors to comply with social distancing rules and tourism dried up, impacting gambling centers such as Las Vegas and Macau.
Is Wall Street Memes' next move crypto gambling streaming?
Mention the word Twitch and despite its popularity the majority of people will not know what it is. But if you are a gamer, you know all about it.
Twitch is the most popular streaming service, where you can watch gamers play Fortnite, League of Legends, and Grand Theft Auto 5 (the three most popular games among streamers) in real-time.
The super interesting part about the rise of Twitch, which has 140 million active users, was how crypto gambling infiltrated its way into the top 10 most popular activities on the platform.
Cecilia D'Anastasio, Bloomberg video game reporter, says crypto gambling had become the 7th most popular activity on Twitch, as of September 15, 2023.
But then, almost exactly a year ago (October 18, 2022), Twitch banned crypto gambling streams.
The draconian move on the part of Amazon-owned Twitch spoke to the success of crypto gambling as something people wanted to watch and get involved in.
Let's leave aside the issue of gambling addiction, which was what motivated Twitch's clampdown, and concentrate on the business opportunity. Wall Street Memes supports responsible gambling best practice.
The connections between gaming and crypto gambling are seen, for instance, in how the growth of the skins market in first-person-shooter video game Counterstrike led to the creation of roulette games to win skins elsewhere.
In turn, those developments incentivized a number of the players in the skins marketplaces to become full-blown crypto gambling operators.
Despite the Twitch ban, the number of people who want to watch crypto gambling streams has not abated. Instead, the eyeballs have just moved elsewhere, to platforms such as Kick.com.
To provide an idea of the amount of money sloshing around the sector, rapper Drake is a Stake.com partner. He famously turned $9 million worth of crypto into a winning stash of $25 million. His average bet size was anywhere between $300,000 and $1 million.
There are also reports of how one streamer lost $12.9 million in a month. Another high-roller, who was once thought to be the most popular streamer on Twitch, lost $164,000 in 139 seconds.
But the streamers are extremely influential in helping to onboard new users; so much so that a bidding war has broken out among some crypto gambling operators.
Recently a top streamer named Gainzy left Rollbit to join Stake.com. The Rollbit Coin ($RLB) fell in response to the news.
Future plans for Wall Street Memes are thought to include a focus on leveraging streaming but in more innovative ways than simply throwing money at the wall and seeing what sticks.
All told, the exploding popularity of the crypto betting streamers is yet another point of triangulation to show just what a profitable opportunity crypto gambling is for $WSM.
$WSM is at the cutting edge of para-social trends and headed for a multi-billion dollar valuation
In many ways the industry is at the cutting edge of how people use the internet today. The chats that people get involved with when watching streamers are immensely popular and lead the way in so-called para-social relationships.
In broader identifiable trends crypto gambling appeals because it is seen as easy to use and as "gritty and cool to some people", according to D'Anastasio.
You can even gamble in metaverse virtual worlds such as Decentraland, where playing Ice Poker is the most popular activity there. Still, the on- and off-ramps for crypto gambling in Decentraland are pain points, although that problem is not in evidence at Wall Street Memes.
Indeed, with its Telegram messaging app version, users of Wall Street Memes Casino need only click on a start button and make a crypto deposit to get going. It literally takes seconds to onboard, with instant payouts too.
Currently, $WSM has a market capitalization of $43 million, while Rollbit is more than 10x that at $531 million.
However, Rollbit is in many ways similar to Wall Street Memes, although it lacks the meme coin virality and highly engaged 1.1 million-strong social community of the $WSM crowd. There is every reason to expect Wall Street Memes to rival if not surpass the achievement of Rollbit.
Only days old, yet the advent of the Wall Street Memes Casino could be the beginning of the march to a $1 billion valuation. But with a target market of $263 billion, why stop at single-figure billions?
And of course at an individual level, you don't have to be a gambler to profit from being a $WSM token holder. In addition to the buyback there is also a staking facility, which is currently earning depositors a 41% annual percentage yield.
Wall Street Memes is a better opportunity than Rollbit
Alongside all of the advantages of its meme provenance and mission to democratize finance for the little guy, the casino and sportsbook transform the future growth story for Wall Street Memes.
The platform boasts a repertoire of over 5,000 high-octane games, and, especially for Wall Street Memes token holders, there is a new and exclusive suite of special games launching soon.
But the thrill doesn't end with the virtual casino table; an avalanche of live sports betting opportunities awaits the sports fans.
The casino accepts a wide range of cryptos – whether you hold your crypto wealth in Bitcoin (BTC), Ethereum (ETH), Dogecoin (DOGE), or a stablecoin.
However, the real highlight is the integration of the platform's native $WSM token, with players making first-time $WSM deposits receiving 200 free spins on the most popular slot game.
There's also a first-time deposit welcome bonus of 200%, so, for example, you can deposit 1 ETH and get 2 ETH for free.
Forget about Pepe, Shiba Inu and the rest. If you want to make money in crypto, get exposure to the fast-growing and profitable gambling sector and consider investing in $WSM today. Remember to do your own research before committing your capital.
Visit Wall Street Memes Casino
---