New Shiba Inu, China-Japan INU Meme Coin Price Explodes 40,000%, Wall St Memes Pumps to $4.5m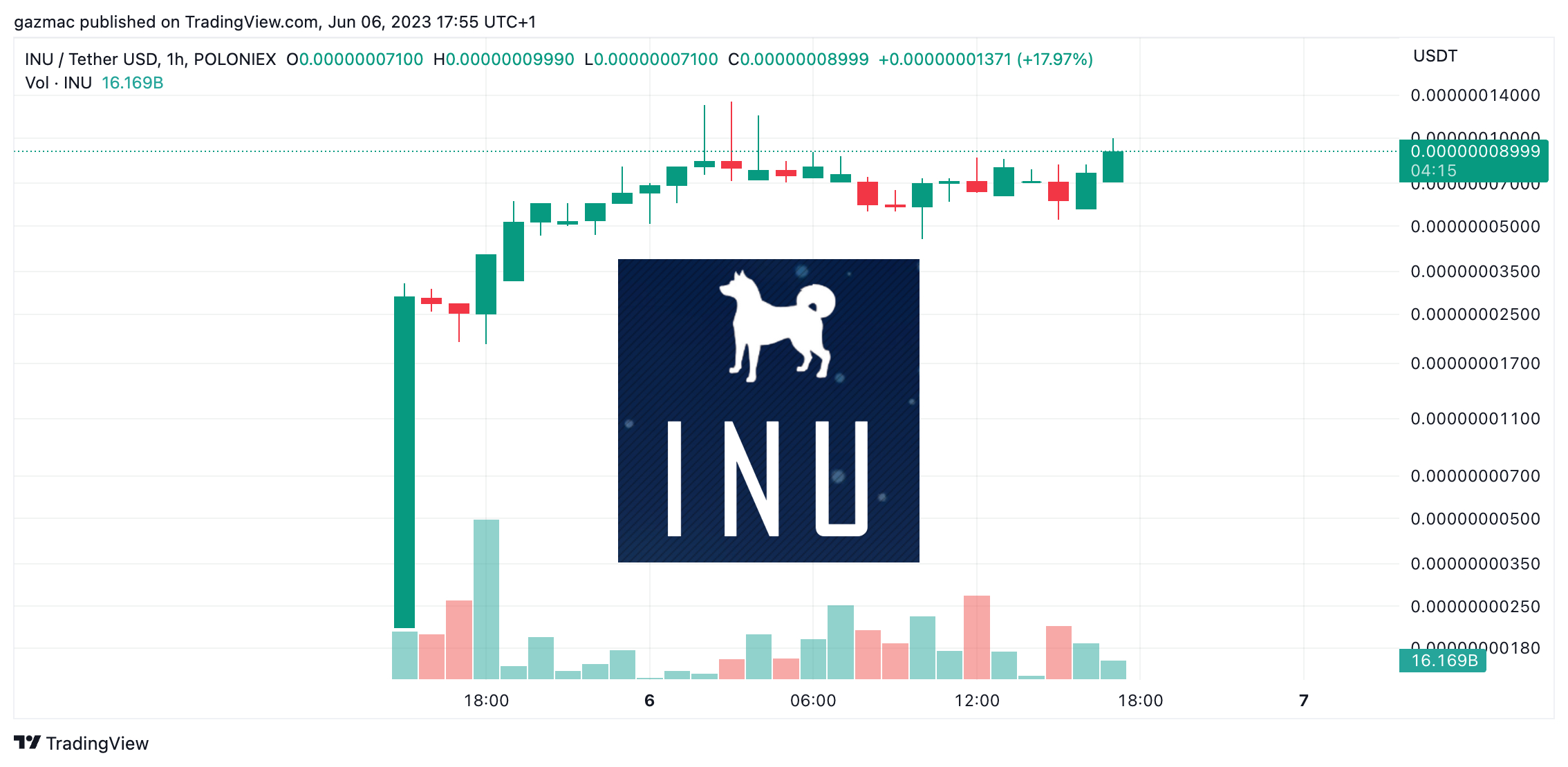 The latest meme coin to challenge for the Shiba Inu crown by grabbing buyers' dollars is $INU, which launched two days ago and has risen 40,000%.
$INU is trading at $0.000000008840 and reached a high yesterday of $0.000000009831, according to Dextools price data.
24-hour volume is around $20 million and the market cap is a little over $8 million.
The token's DEX liquidity is $1.29 million. When it launched on June 4, total liquidity was just 20 ETH.
$INU – another China coin but with Japanese characteristics?
Although the coin has a Japanese language website, the lack of engagement (yet) from Japanese crypto communities suggests that its provenance lies elsewhere.
Suspicions are further aroused by the link to join the Telegram group:
Chinese 🇨🇳 tg- https://t.me/INU_ERC2_cn
So it is perhaps more likely that this is another China coin, although this time with a Japanese theme. And perhaps therein lies the joke …somewhere.
The coin description written in Japanese on its website reads (Google Translates): "Distributed. Many have tried, but few have succeeded. I am here to start a new era of decentralized currencies."
Ryoshi shout out hints at INU coin's Shiba Inu connection
Adding to the mystery, the website address includes the word Ryoshi (ryoshi.guru), which is thought to be the name of the founder of the wildly successful Shiba Inu coin – is there a connection to that august team?
Toni on Twitter thinks so. He reckons that the compiler version designations of the two coins may give the game away:
There are currently 7,260 followers of the $INU token Twitter account at @The_real_inu, which shows impressive traction for a two day existence. The token now has 3,000 holders.
$INU, while launched on DEX first, is now also listed on Bitget and Poloniex centralized exchanges, with listings expected on LBank and Bitrue soon, according to the meme coin website.
As with most of its peers, $INU coin does nothing at all, but utility is not the point or the attraction when it comes to meme coins.
A great name and an enthusiastic community are far more important, as recent meme coin example Pick and Rick illustrates. It looks like $INU has the first and is working hard on the second.
SEC lawsuits give DEXs a helping hand – and gets $GENSLR coin pumping again
Although the rest of the market is witnessing blood on the carpet after a one-two jabs from the US Securities and Exchange Commission (SEC) and its combative chairman Gary Gensler, in suing Binance and Coinbase.
That hasn't exactly put Gensler in the crypto community good books, but it has helped to spawn the $GENSLR coin, which is also showing a lot of green today.
However, the woes afflicting Binance and Coinbase, and what that might mean for CEXs based in the US, are having no negative effect in the DEX world.
Quite the contrary perhaps. Recent developments could be helpful in shining a light on the benefits of decentralized exchanges over their centralized counterparts.
Alternatives to $INU to buy today
In addition to INU and possibly GENSLR, two other meme coins to consider buying into are Wall Street Memes and AiDoge, both of which can be bought by connecting your wallet on their websites.
Wall Street Memes ($WSM) is the meme coin of the community with the same. Wall Street Memes is a 1 million strong community of highly engaged retail investors who cut their teeth in the meme stocks craze during the Covid pandemic.
The Wall Street Memes token represents the tokenization of the movement to help the little guy beat Wall Street and the other financial masters of the universe.
Youtube influencers and analysts are already predicting the coin to be a 100x opportunity, but it could do much better than that – it has a very strong chance of being the next Shiba Inu or Pepecoin.
$WSM has raised $4.5 million in a mere 11 days and is on sale for $0.0274. However, the price will rise soon as the coin continues to progress rapidly through the stages of its presale, so there's no time to lose.
Visit Wall Street Memes website
Second up on the alternatives list is AiDoge.com. Officially its presale has finished but you can still buy the coin at its list price direct from its website. AiDoge is a mashup of a meme coin and an artificial intelligence coin.
The token's USP is its meme generator. Simply enter a text prompt and it will create a meme image and caption. It's a great idea, which is why it was able to raise more than $10 million from token buyers.
You can get in now before it starts trading on DEXs and CEXs at the list price of $0.0000336.
---