MyCointainer – The Ultimate Staking and Masternode Platform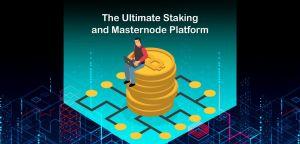 Disclaimer: The text below is a sponsored article that was not written by Cryptonews.com journalists.
_________
For many people Bitcoin is the synonym of cryptocurrency and the forefront of decentralization regarding blockchain technology. To certain degree it's true, as the original crypto asset still owns most of the total market capitalization in the industry.
Due to high price of BTC it earning bitcoin is a challenge for those that don't have access to powerful mining rigs – as it's the only serious way of earning BTC. Bitcoin is Proof-of-Work (PoW) type of coin and can be obtained only if you mine it using a significant computing power.
What about cryptocurrency enthusiasts who want to eat piece of digital cake but cannot afford to mine Bitcoin? There is a way. Recently, we've seen that coins based on Proof of Stake (PoS) algorithm are on the rise and are rapidly gaining popularity, mostly because PoS-powered blockchains don't consume energy or require an expensive hardware to validate transactions.
What is even more interesting with PoS coin users can earn piece of coin while utilize coin staking. So, investing in a Proof of Stake coins could potentially result in significant profits, the only downside of staking coins yourself is potentially complicated setup process and requirement to be online all the time. However, all staking difficulties no longer apply when you can find a solid crypto staking pool to join.
MyCointainer's is a revolutionary PoS staking pool which provides extremely easy to use ecosystem that allows everyone to take advantage of rewards distributions in the decentralized economy.
MyCointainer - Ultimate Crypto Staking Solution
With MyCointainer staking pool earning rewards from Proof-of-Stake (PoS) coins has never been so easy. The MyCointainer Crypto Investing Platform gives you unrestricted access to MyCointainer always and wherever you are.
One-stop Solution - Staking, Buying and Investing
Cryptocurrencies in one place
MyCointainer staking platform is the easiest and safest way to stake and earn Proof-of-Stake cryptocurrency. The service is a simple one-in-all platform where people can choose best PoS coins and get staking rewards from multiple crypto assets at once. Advanced automatic Masternode staking is also available for selected altcoins as well, so customers can be sure they will get the most of their invested money. The main theme of MyCointainer is to bring the potential of decentralized economy to the masses, make crypto investing and earning as simple as web browsing.
Easy access, anyone can be part of the new crypto economy.
MyCointainer automatic staking system offers a unique option to invest in the best PoS coins and earn stable profit. With a world-class staking rewards distribution engine MyCointainer is able to support a huge variety of PoS based crypto assets. What is more Mycointainer's UX team ensured smooth user experience. Every element of automatic staking service is designed in a way that even a newbie cryptocurrency user can invest, receive staking rewards or buy Bitcoin in matter of seconds.
Plenty of coins to choose from and variety of investing options.
MyCointainer is offering a wide range of cryptocurrencies (over 50, number still growing!) and with new assets added every week, MyCointainer covers the whole PoS staking spectrum. Customers can choose from wide range of their favorite cryptocurrencies and digital assets and stake all major PoS coins using free crypto staking service.
Always online, no technical knowledge or hardware needed
MyCointainer enables easy access to users staking dashboard, allowing everyone to keep track of digital assets portfolio. Checking rewards generation and account balances directly from the MyCointainer app or website is easy and intuitive.
Build in cryptocurrency exchange
MyCointainer simplifies cryptocurrency trading for everyone providing the most advanced, yet simple to use crypto trading platform. Now everyone can buy Bitcoin and other altcoins with Euro and other Fiat money in matter of seconds.
MyCointainer's exchange is utilizing multiple API points to always get the lowest prices so you don't have to hop between exchanges to find the best deal. Buying cryptocurrency with fiat money and coin swapping your BTC to other coins and vice versa was never that easy.
Officially regulated and licensed to handle online money management
MyCointainer is a financially regulated service. They obtained a legal license to provide e-wallet service and fiat to crypto transfers. What is more, all funds are protected by SAFU (Secure Asset Fund for Users). Finally, their safety protocols will ensure that your funds are always protected by multiple layers of security so that users can safely store digital assets and stake securely.
MyCointainer POWER
MyCointainer POWER is a subscription service which introduces cryptocurrency enthusiasts to new, interesting and way of earning money. For a subscription of 3.90€ per month, users receive the best staking deal, receive access to limited Masternodes hosted specially for subscribers and will earn 100% staking rewards. Usually at that price you're able to get 1, max 2 servers on which you can host a masternode. With MyCointianer you gain access to all of them. Also, MyCointainer will no longer collect fees for staking. MyCointainer POWER is groundbreaking way cryptocurrency can be used to redefine passive income systems.
Why MyCointainer is different than other staking platforms
First of all, MyCointainer is a hub-like platform, where users can buy, exchange and stake PoS and masternode coins. In addition, MyCointainer Insight, a blog-like service is a great source of crypto related information - both about the most rewarding Airdrops and the interesting crypto guides, economy and blockchain news.
Due to integrated cryptocurrency exchange users can buy Bitcoin and other types of crypto. Then exchange it with another cryptocurrency and finally stake it. Another worth mention difference is increased earning potential compared to other platforms. Other staking platforms are offering PoS staking only while MyCointainer is offering mixed and completed PoS and Masternode staking whenever the coin's ecosystem is supporting Masternode technology.
The staking fee MyCointainer is collecting is totally transparent and extremely low. Even to the point that some coins can be staked with no fee at all! Another factor to consider while choosing the best available staking platform is the security of your account and all coins you are staking.
MyCointainer is fully aware of the risk of centralized services and exactly because of that reason SAFU (Secure Asset Fund for Users) system has been introduced. This means that funds deposited are always covered by insurance against coin loss caused by a global hacking incident.
Great support team
So, you have questions or need help? MyCointainer's dedicated customer support team is always ready to help whenever any difficulties may arise. It doesn't matter if you have any issues with crypto staking or simply have questions regarding their customer support is excellent.
MyCointainer's mission and features:
- Bringing the amazing possibilities of blockchain and cryptocurrency technology to the masses.
- Offering the most professional, secure and easy one-step crypto staking service to users in the digital assets industry.
- Support team which is both fast and ready to solve every issue.
- Manage and check your profit, rewards, balance on one dashboard
- Deposit and withdraw at any-time, anywhere.
- Build in cryptocurrency exchange – buy bitcoin for Fiat money with the best rates
- Community platform – bringing together everyone who wants to make impact do something good
PR Contact: [email protected]