Mining Giant Terminates Unprofitable Customers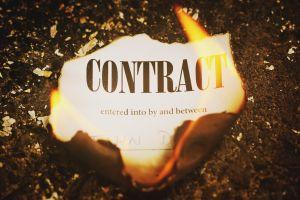 Cloud mining operator Genesis Mining is terminating customers who are unable to cover their "service fee" because of low mining profitability.
In an email to their clients, the company writes that the decline in bitcoin prices that started in January have coincided with "heavily rising difficulty" of bitcoin mining in April in May.
"As a result," the company writes, "some user contracts are now mining less than the daily maintenance fee requires to be covered, and thus they entered the 60 days grace period, after which open-ended contracts will get terminated."
Also, the company has offered a USD 105 discount to existing customers after upgrading to its premium service, known as Radiant.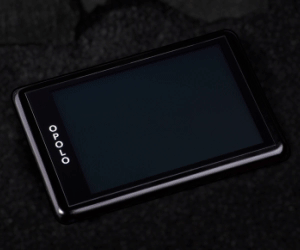 Cloud mining is the process of hosting mining hardware for clients in a remote location in exchange for a fixed fee usually denominated in fiat currency. This way, the cloud mining operator takes virtually no risk, while the client is left with the risk of the mining contract becoming unprofitable due to increasing mining difficulty or lower cryptocurrency prices.
Although Genesis Mining's FAQ section does specify that the company reserves the right to terminate a contract should the mining rewards of the contract be insufficient to cover the service fee, many users have voiced their frustration with the company.
The company is now requesting existing users to upgrade their contracts in order to continue mining with Genesis, but has received mixed reactions from the community.
Some are wondering why the company is now asking for more money to pay for the same hashrate as they had before:
Strange you make it sound like I can upgrade my current btc contract, but in fact I'm paying paying twice for the same hashrate!? 🤔 the real deal would be if you gave us the option to convert our contracts without extra costs! #unbelievable

— Breastjar ⚡️ (@CBreastjar) August 15, 2018
Others, however, are questioning the company's customer service:
I am an early BTC customer! I'm so glad you can hear me! 😆
SO HEAR THIS:
MY TICKET #226915 REGARDING 0.1 BTC YOU ERASED FROM MY BALANCE WITHOUT SENDING TO MY WALLET IS OVER 1 YEAR OLD AND YOU STILL DIDN'T REFUND ME OR OFFERED A NEW CONTRACT IN THAT VALUE!
DID YOU HEAR THAT?

— Dubravko Tomasovic (@Dubravko72) August 16, 2018
The company replied that "When you're asking us to upgrade you for free, technically you're asking us to connect you to the new set of miners we built out and unplug your current hardware. This isn't sustainable."
3/3 With this offer we want our old customers to get a fair price for new capacities, but we also understand if this is not feasible for everyone. We really hope the Bitcoin price will recover, and with it, your open ended BTC contracts. Thank you.

— Genesis Mining (@GenesisMining) August 16, 2018
As bitcoin hash rate — which measures computing power - is growing, so does mining difficulty.
Difficulty chart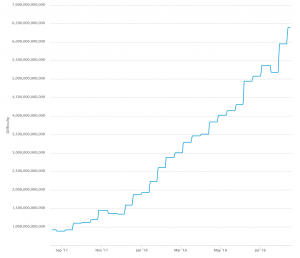 ______
Hash rate chart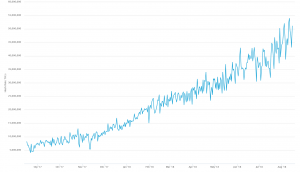 "The increased hash rate means people are here for the long-term because they're happy to just accumulate what they have, potentially even run at a loss," David Sapper, chief operating officer at cryptocurrency exchange Blockbid Pty Ltd. in Melbourne told Bloomberg. At the same time, "they do sometimes have to clear house and dump."
According to various analysts, the break-even price for miners is in a range of USD 6.400 and USD 8.000 per bitcoin and varies depending on the miner's efficiency.
Bitcoin price chart