MicroStrategy's Bitcoin Bet About To Surpass USD 1 Billion
US-based business intelligence company MicroStrategy is looking to raise up to USD 460m in order to buy more bitcoin (BTC), which would increase the value of its BTC stash to over USD 1bn (at today's prices).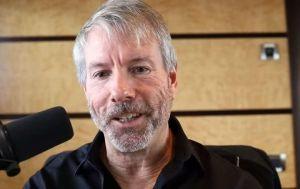 On Monday, the company announced it intends to offer USD 400m aggregate principal amount of convertible senior notes due 2025 in a private offering to qualified institutional buyers. Moreover, the initial purchasers might have an option to purchase up to an additional USD 60m aggregate principal amount of the notes.
"MicroStrategy intends to invest the net proceeds from the sale of the notes in bitcoin in accordance with its Treasury Reserve Policy pending the identification of working capital needs and other general corporate purposes," the company said, adding that the notes will be convertible into cash, shares of MicroStrategy's class A common stock, or a combination of cash and shares.
As reported, in August this year, the company said that they recognized BTC as a legitimate investment asset that can be superior to cash and accordingly made BTC the principal holding in its treasury reserve strategy.
Their decision to invest in BTC was driven in part by macro factors such as the economic and public health crisis precipitated by COVID-19, unprecedented government financial stimulus measures including quantitative easing adopted around the world, and global political and economic uncertainty.
Since then, the company acquired approximately BTC 40,824 (USD 783m). Meanwhile, in October, MicroStrategy's CEO Michael Saylor revealed that he spent around USD 175m on his personal BTC stash.
Shares in MicroStrategy have been moving up since they started buying BTC.

"At what point does a securities offering that raises dollars with the purpose of investing in Bitcoin make a publicly listed company to be a listed fund/investment company?" Gabor Gurbacs, Digital Asset Strategist and Director at VanEck, US-headquartered major US asset manager, reacted.
At pixel time (03:52 UTC), BTC trades at USD 19,185 and is almost unchanged in a day. The price dropped by 2% in a week, trimming its monthly gains to 28%. It rallied by 155% in a year.
___
Learn more:
Crypto in 2021: Bitcoin To Ride The Same Wave Of Macroeconomic Problems
Corporate Treasuries Caught Between an Inflation Rock and Bitcoin
MicroStrategy Shares Accelerate on New Bitcoin Strategy
---