Microsoft and Bitcoin Now Have Something In Common
Major news for all in cryptoland today as the tech giant Microsoft announced that they will be launching ION (Identity Overlay Network), a decentralized, public infrastructure which runs right atop the Bitcoin blockchain, enabling tens-of-thousands of operations per second.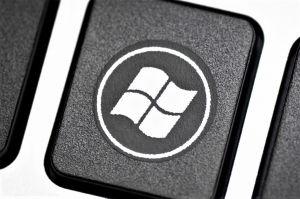 Developed in collaboration with the Decentralized Identity Foundation (DIF), the speed is increased due to the improvements on the decentralized identity (DID) systems. This also means that ION is an open network that can be used by any person to create DIDs and, via DID, manage their Public Key Infrastructure (PKI) state. ION is designed to deliver the scale required for a world of DIDs, while inheriting and preserving the attributes of decentralization present in the Bitcoin blockchain. Based in blockchain, DID replaces identifiers like usernames and email addresses – many of which are provided by apps or organizations to their users – allowing people greater control over their identity and manner in which they access and share their personal information.
"Our goal is to create a decentralized identity ecosystem where millions of organizations, billions of people, and countless devices can securely interact over an interoperable system built on standards and open source components," said Daniel Buchner, Senior Program Manager in Microsoft Identity Division.
This speaks to cryptofans on several different levels: greater speed of transactions, as well as greater privacy and security in the first place, but also in the long run, spread of awareness of Bitcoin, and overall possibility for greater familiarity and acceptability of cryptocurrency in general, thanks to the increasing number of large companies incorporating crypto technology or collaborating with crypto platforms.
It doesn't stop at Microsoft though, since the number of other companies currently using and those that will be using Microsoft products should be taken into account to – all of which are potential ION users, meaning they'd also be using Bitcoin's blockchain.
Thus, the magnitude of this wasn't lost on the cryptoverse.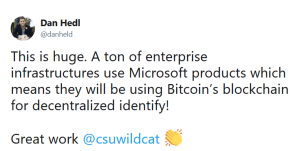 Since even the strongest of blockchains can't operate at the volume countless DIDs would require, Microsoft says that they will be working "with various members of the identity and blockchain communities to address the performance and scale needs of DID systems, while maintaining the properties of decentralization and self-ownership that differentiate them from existing identity technologies."
Furthermore, the company invites collaborations with open source contributors and members of identity community, including experienced developers who wish to contribute, in order to have the ION network ready for its public launch on the Bitcoin mainnet as soon as possible.
Meanwhile, Microsoft has been working with members of the DIF, such as ConsenSys and Transmute, to develop a protocol for creating scalable DID networks, called Sidetree. Ten days ago a specification document has been published, describing the Sidetree protocol, which can be applied to any decentralized ledger system to improve the transactional performance.
Furthermore, as another step towards a decentralized, digital identity for each user "backed by self-owned identifiers that enable secure, privacy preserving interactions", the company has introduced Identity Hubs in March, which is "a decentralized, off-chain, personal data stores that put control over personal data in the hands of users."
---