Metropoly Crypto Presale Review – Should you Invest?
Disclosure: Crypto is a high-risk asset class. This article is provided for informational purposes and does not constitute investment advice. By using this website, you agree to our terms and conditions. We may utilise affiliate links within our content, and receive commission.

Disclaimer: The text below is an advertorial article and not part of Cryptonews.com editorial content.
Metropoly is an upcoming cryptocurrency project that adds real-life utilities to NFTs by tying them to real estate properties. Devs have envisioned this project to let all interested parties participate in the thriving real-estate economy without the need for roadblocks such as paperwork and overly zealous regulations.
The Metropoly project features an NFT marketplace through which users can buy a fraction of the Real Estate NFTs (REN) and, in the process, gain perks such as passive income.
Metropoly presents itself as the world's first decentralized real estate marketplace offering people fractional ownership of properties located across the globe without the need for banks, paperwork, or hidden fees.
In this Metropoly crypto presale review, our team has gone through all the aspects of this project, from the marketplace to fundamentals to tokenomics, to assess whether this crypto project is a good investment. We also include the steps one can take to participate in the Metropoly presale.
What is Metropoly?
Metropoly is a decentralized NFT marketplace featuring non-fungible tokens backed by real-world assets, which are real estate properties. The project aims to democratize real estate investment by providing fractional ownership of these properties by fragmenting the NFTs attached to them. Buying these fractional NFTs, which cost as low as $100, will allow the NFT owners to share the revenue generated through the said properties.
Real-world utilities for NFTs have always been a matter of discussion – and Metropoly is making it real by attaching NFTs with income-generating assets. All properties are hand-selected by The Metropoly Trust, which houses highly professional realtors. The properties will then be tokenized – and then the NFTs attached to them will be put on sale in a decentralized marketplace.
Real Estate continues to be a thriving sector that has flourished despite the recent economic downturn. However, accessing real estate investments has not always been within the capacity of most people. Sometimes, the entity barriers are too high, and other times, the attached regulations deter people from investing. Metropoly aims to deal with all these issues through the power of blockchain technology.
With Metropoly, investors can
Buy REN (Real Estate NFTs) and earn monthly rental income,
Sell or auction their tokens,
Put their NFTs as collateral to borrow against them.
Participate in Metropoly DAO to decide whether to sell a property or increase rent.
The Metropoly Ecosystem has four pillars – Marketplace, Launchpad, Mortgage Platform, and DAO.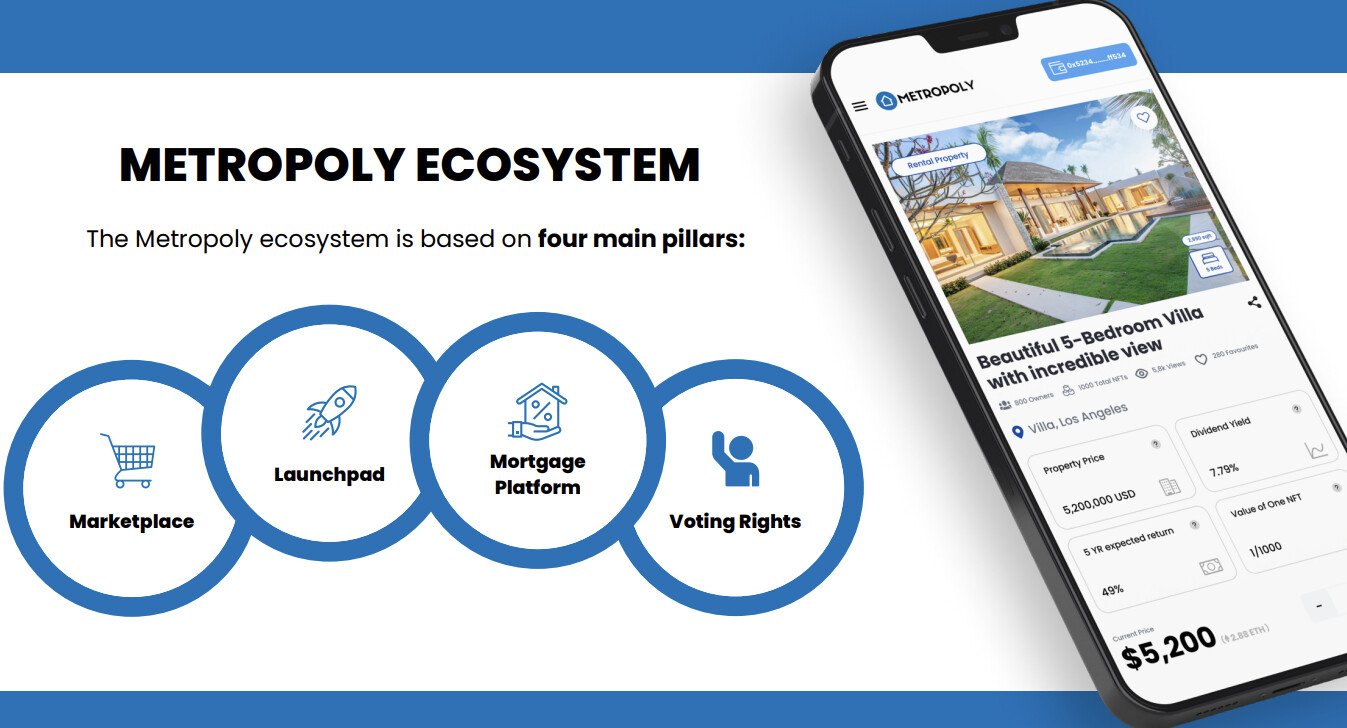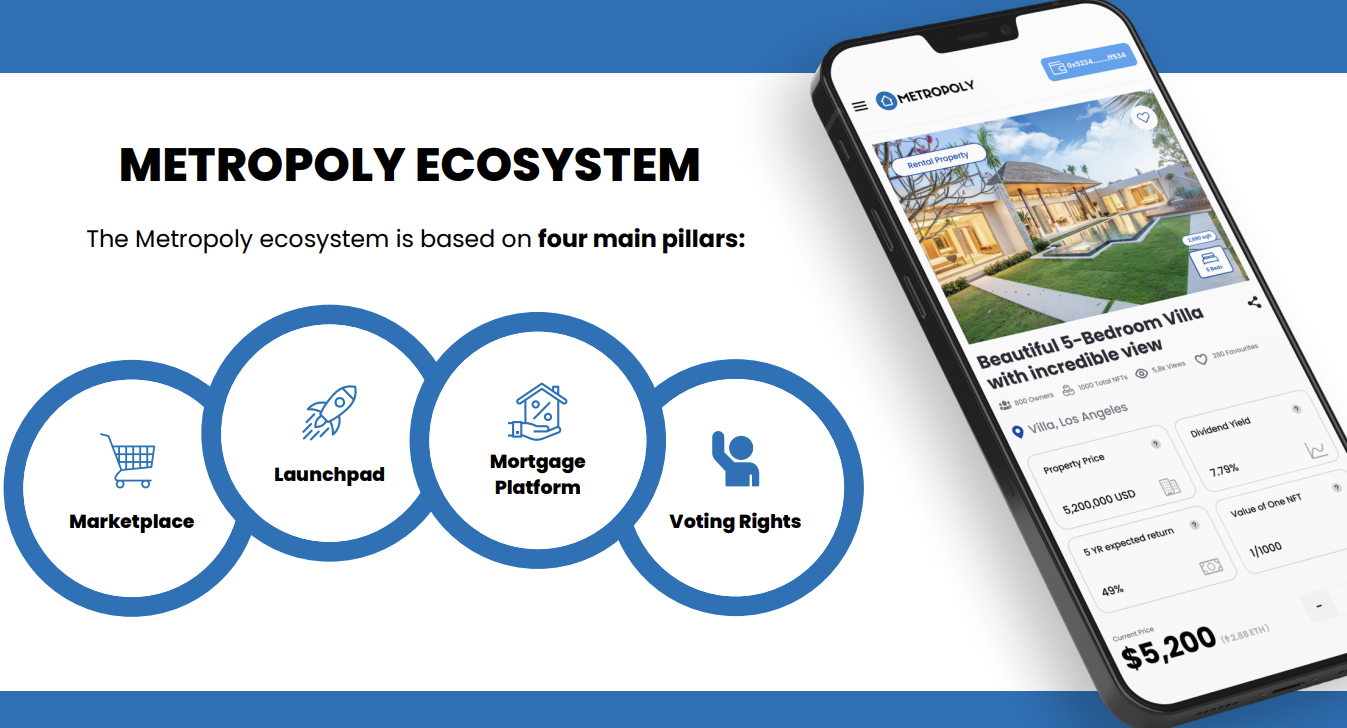 The marketplace is where Real Estate NFTs are bought and sold. Users can also auction them at a lower-than-market-value price or put them on Emergency Sale. The emergency sale allows them to sell the NFT at 75% of its original value. Also, 25% of the net profits generated go to charitable organizations.
The launchpad is a way to incentivize early adopters – the Metropoly Platinum Members. These people get early access to Real Estate Mints at a price 5% lower than the listing price.
The NFT holders can leverage the mortgage platform to put their NFTs as collateral and borrow against it.
Finally, the fourth pillar, Voting Rights, is a way for Metropoly to democratize the Real Estate Space by letting NFT holders make important decisions about the properties represented by the fractional NFTS.
Inclusive, democratized, and accessible are three descriptors that perfectly encapsulate what Metropoly is all about. But what are the exact issues it is trying to fix?
What issues of the Real Estate Industry Metropoly Wants to Tackle?
Real Estate investment should be accessible to everyone. It is a perfect investment for the risk-averse because, in the end, people will always need a place to stay. However, the current bottlenecks stop this sector from reaching its full potential. These issues include.
Complications in Buying Properties in Foreign Lands
Foreign investments can bring huge profits for all the people involved – provided the exchange rate is right. That said, going by the traditional way to buy a property in a foreign country comes with its own set of complications – including a VISA. That document is hard to come by, and for a person who is just buying real Estate for investment purposes and with no intention of visiting the location – applying for a VISA is a waste of time.
Tax Involved in the Purchase and Sale of Real Estate
Real Estate tax rates have increased, and they are continuing with this trend. A high tax rate can offset the gains that can be made from selling the property. And since much of it is undefined, people end up paying more taxes than they need to.
Getting a Mortgage is Cumbersome
Getting loans from banks and money lenders come with a lot of caveats – most of which are hidden from the investor when taking loans.
High Brokerage Fees
Other than taxes, brokerage fees are another additional cost that can offset the profits generated through a property sale. Furthermore, the intrusion of a broker can often diminish the worth of a property; investors often feel like they aren't being paid the exact worth of their properties when proper is involved.
Dealing with the Tenants
The government rules regarding tenants have become more tenant-centric – especially in western countries. In light of this, the duties of a landlord have become that much more complicated.
Time Taken For Buying and Selling Real Estate Properties
Buying and selling property takes a lot of time. The long lines, coupled with a bunch of paperwork, lead to many days wasted.
Metropoly is providing a solution to these issues by building the world's first marketplace to invest in income-generating properties. These properties are attached to NFTs that investors can become fractional owners of by spending only $100.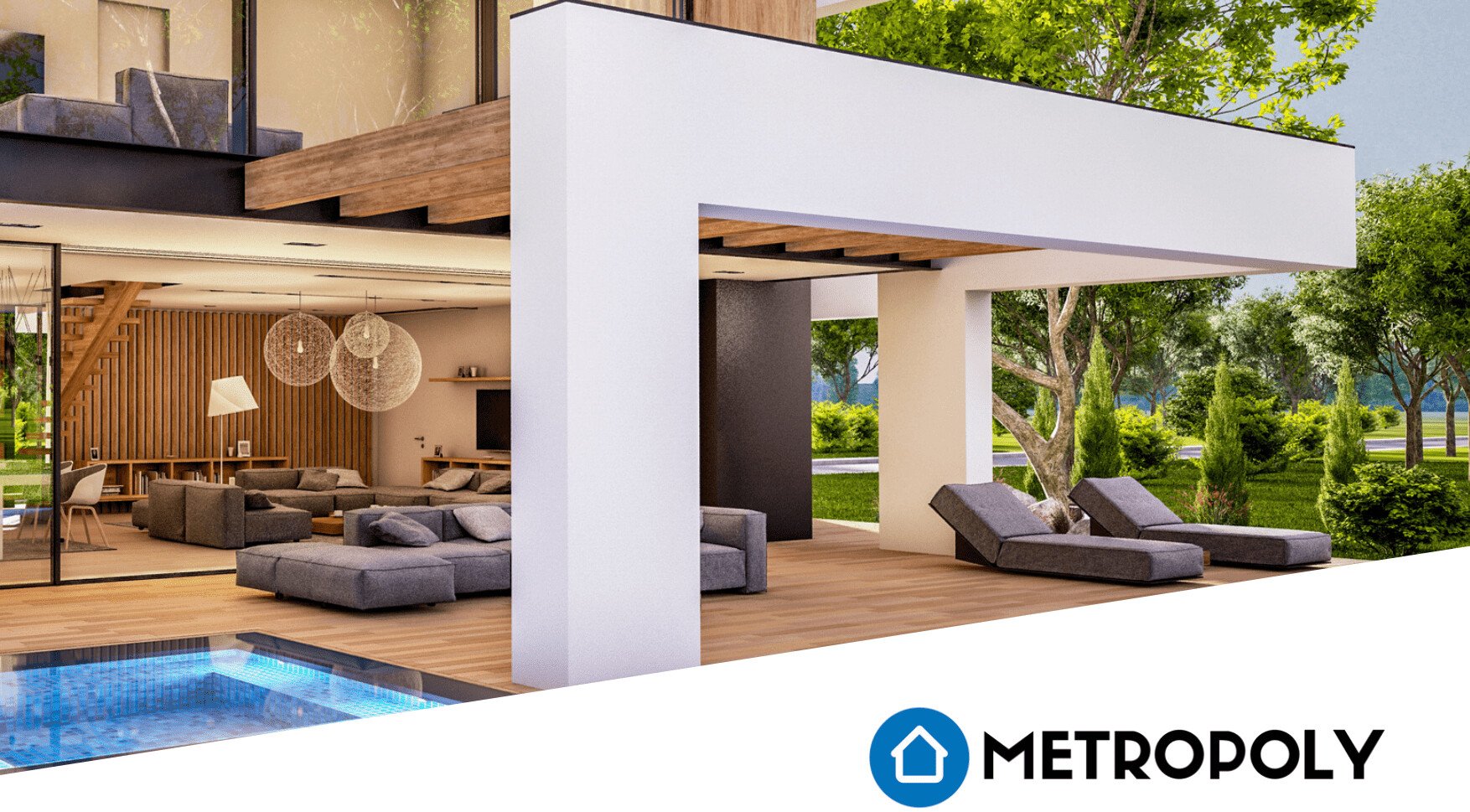 Metropoly Mechanics
Metropoly vets each property based on several parameters before creating a Real Estate NFT. These real estate NFTs – RENs – will be fractionalized, divided, and their contracts will be made public.
The fractional NFTS will then be listed on the Metropoly Marketplace or the Opensea throughout the day and will serve as proof of authenticity and ownership.
With each NFT, a note will be linked that will specify how much has been invested in the property. In order to change the ownership of a particular property, one has to buy all the fractional NFTS representing that property. Metropoly then supports users with the necessary steps and documents.
What is So Special About Metropoly?
Most NFT projects have been trying to find their footing regarding utility. Metropoly is a new cryptocurrency project that resolves that issue by tying these NFTs to real-world assets. And not just any real-world assets, but real estate properties that offer users access to multiple benefits, including passive income.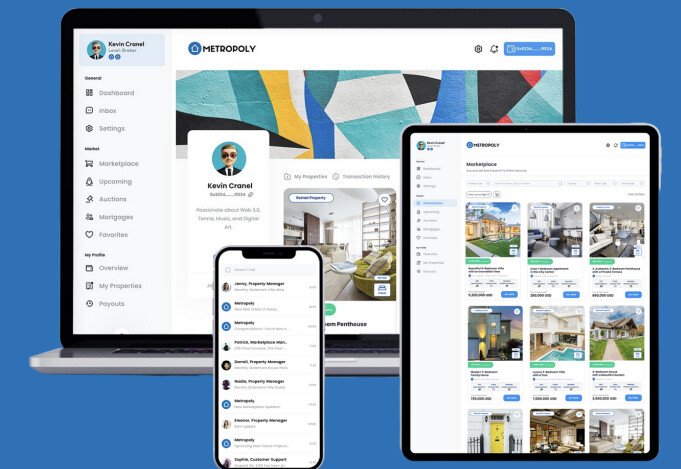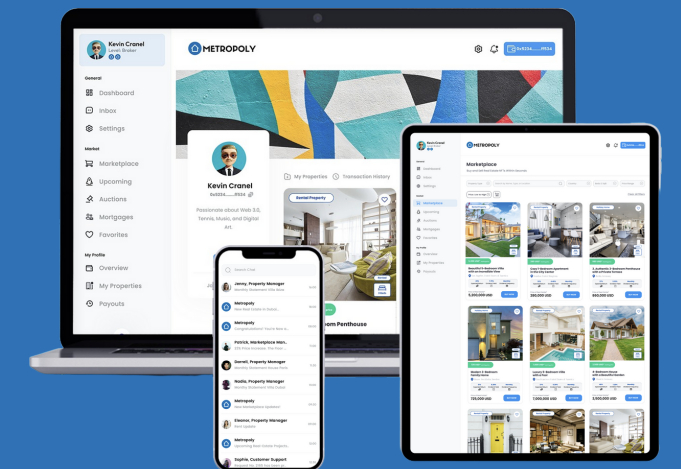 Two Ways to Generate Passive Income
Owners of these asset-backed NFTs will get not one but two different income venues. The first one comes in the form of rent.
All properties that Metropoly will tokenize into NFTs will either be long-term rental properties or holiday homes. The monthly income generated from rent will then be divided among the owners of the fractional NFTS that this property represents.
The second way is through price appreciation. Most properties listed on the Metropoly Marketplace are available in popular regions like Dubai. These uber-popular regions have seen an increase in the price of properties in the past, and there are no signs that the increase will slow down anytime soon. Property price appreciation will equivalently increase the value of NFTs that their owners can sell or auction for additional income.
Access to Real Estate Property Investments Worldwide
Metropoly handpicks the properties before adding them to the blockchain. Helping in that effort is a specialized team of realtors that assess these properties on different fronts, including the value appreciation they can receive in the future.
Investors gain access to these properties without dealing with the tribulations of paperwork, credit scores, or a middleman.
Borrowing And Lending Against NFTs
RENs are NFTs and financial instruments that investors can use as collateral to borrow against. Those wanting to borrow can add their NFT to the liquidity pool and borrow money from it. In the event that the user is unable to pay, the NFT is taken away from the borrower and added permanently to the said pool.
Hedging Against Inflation
Real Estate investments are always thought of as investments for the risk-averse. Since people will always need a place to stay, the demand for real estate properties will never subside. And thanks to the population increase, we will instead see property prices going up. As such, the fractional NFT will allow users to run increasing monthly returns depending on the market conditions.
Property Management Services
The NFT marketplace by Metropoly is just one part of the ecosystem. There are many underlying facilities available as well – including property management. Accountable, professional, and full of integrity, the property management professionals by Metropoly will make rounds to the property that the NFTs are attached to assess the structure's quality and the quality of the tenants. It is akin to having a maintenance service provider for a property overseas.
Metropoly DAO
Metropoly DAO is one of the unique crypto DAO projects we have covered. It allows NFT holders to have voting rights equivalent to the number of fractional NFTs they hold. NFT holders can decide whether to sell a property or increase the rent.
Is Metropoly A Worthwhile Investment?
Metropoly is one of many presale crypto investments to have landed this year, and people have a right to know about the factors that make it a worthwhile investment.
Low Entry Barrier To Participate in The Real Estate
Real Estate is a thriving sector, but most of its investor crowd consists of institutional investors. Retail investors are deterred from joining up thanks to the high entry barrier. With fractional ownership of Real Estate NFTs, Metropoly aims to make real estate investment more inclusive. At just $100, investors can buy 0.1% of the NFTs.
Furthermore, the real estate sector is far more stable than its competitor industries – making it a way to Hedge against the risk of the volatile market.
NFTs with Real World Utilities
The Real Estate NFTs aren't just novelty purchases that one can trade when the price inflates; they are financial instruments that tie people to the real estate property it represents. It gives users a wide array of facilities, including passive income through monthly rentals and price appreciation.
This reason has contributed to Metropoly being discussed in major publications, including Bloomberg.
Bonus on Purchase
Early movers have a lot to gain from investing in this asset. Metropoly has provided a bonus code, "Launch20," which will reward investors with 20% extra METRO tokens when participating in the presale.
The Market is not Competitive
While much has been said about attaching NFTs with Real Estate, not much has been done in the practical sense. The lack of competition right now has huge potential upsides for those who move in early. They will be able to benefit from the pump, which will subsequently happen once more such projects arrive.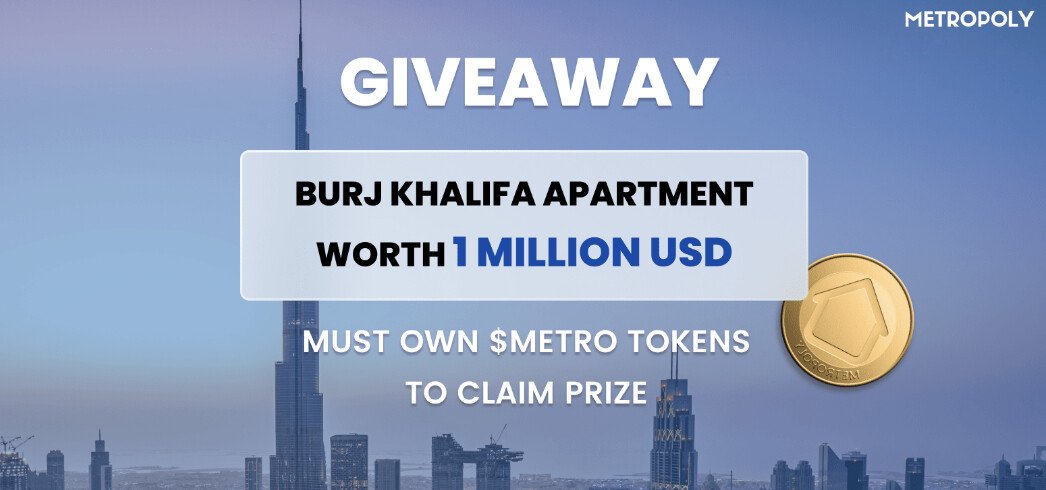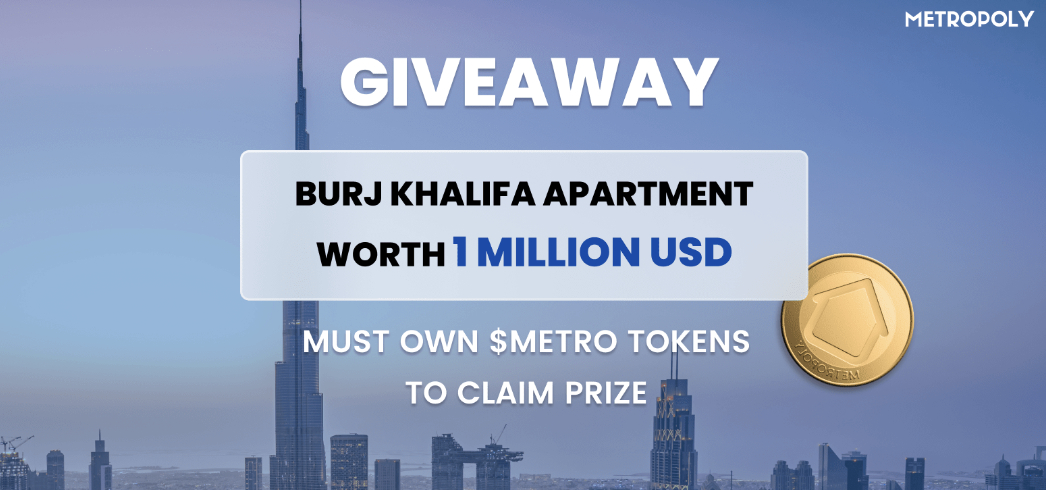 Burj Khalifa Apartment Giveaway
Metropoly is launching the biggest giveaway we have come across; an apartment in Burj Khalifa worth $1 million. The condition to participate in this giveaway is that users must buy at least $100 worth of METRO tokens during the presale. Users can increase their entries by completing the tasks specified on the official website.
Audited Smart Contract and Doxxed Founders
Metropoly is going for 100% transparency, with its smart contract audited by Certik, and founders have been doxxed by SolidProof.
Future Developments are Bullish
Metropoly is not the one to rest. The platform is being constantly developed, and the beta version of the Real Estate NFT marketplace is already live. The release of beta resulted in the presale gaining major momentum, leading to Metropoly raising $300k.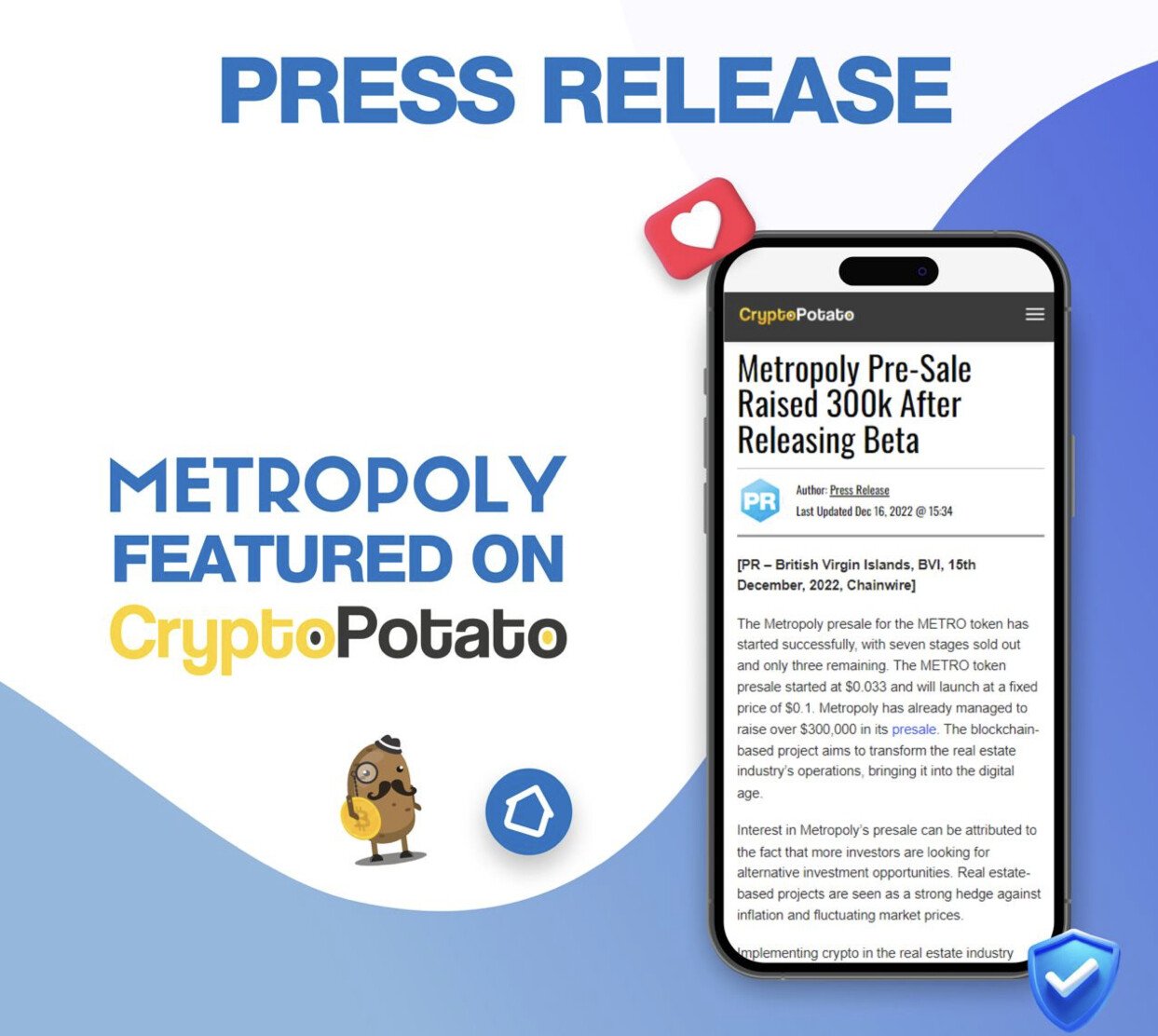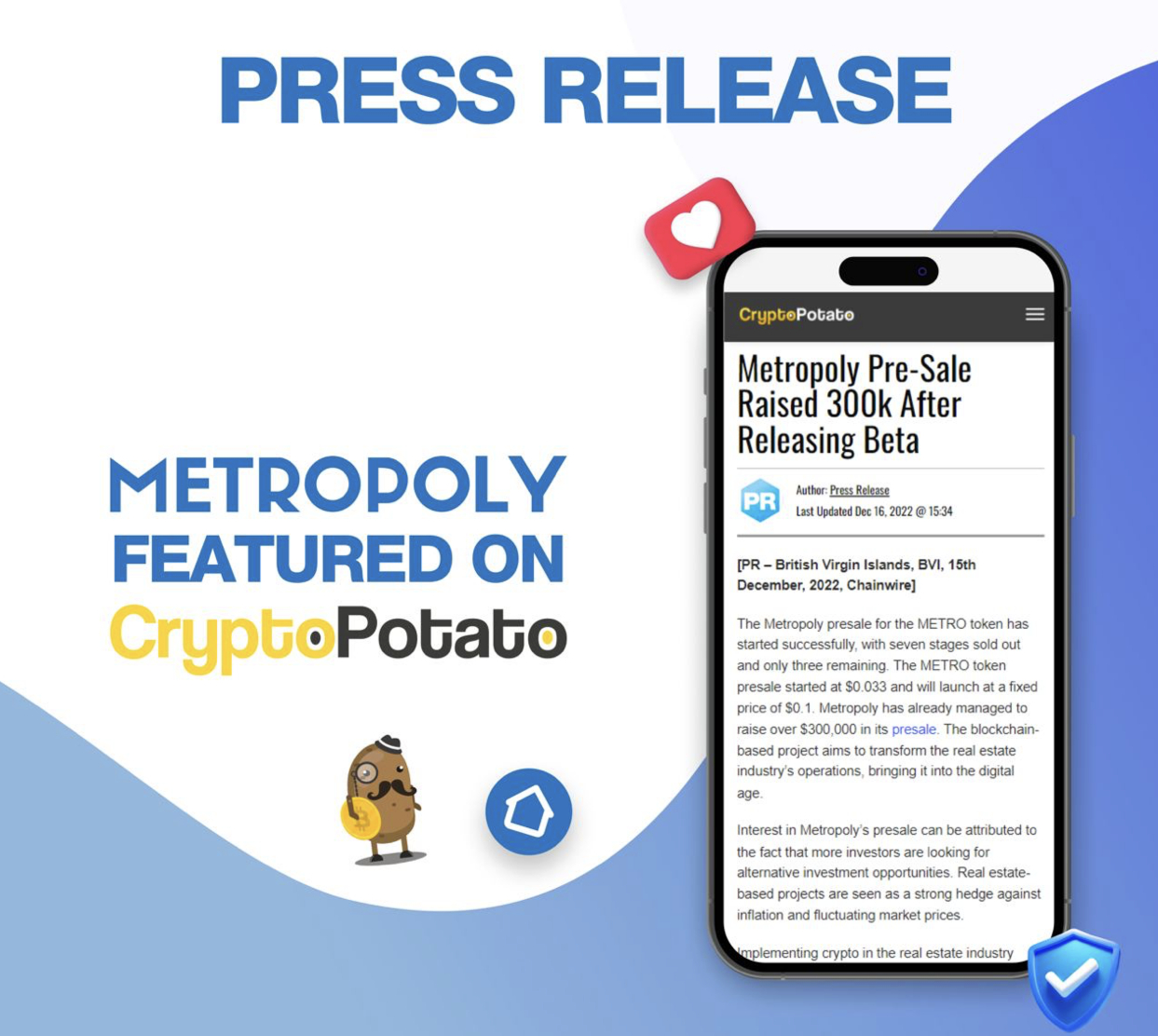 The same goes for Beta App 2.0, the mobile version of the application. That has already been made live recently.
Q2 of 2023 will see Metropoly adding a GameFi element to Metropoly MarketplaceA customer support system and a way for external companies to list their Real Estate NFTs will also be added in the second quarter.
The arrival of Q3-2023 will see Metropoly implementing the in-app leveling system, trading function, credit card payment system, and other GameFi elements.
Q4-2023 will open the route to VIP customer services. Metropoly will also release a training course during this time as well as a decentralized wallet to buy $METRO. A cash-back option is also in the works, which will incentivize holders with exciting offers.
As a project that combines NFTs with real estate properties and offers low-barrier entry for beginners to invest in real Estate, Metropoly has a lot of positives working in its favor. The cryptocurrency crowd is more than bullish about its offerings – and considering the pace at which the presale is going, devs believe that it has the potential to 3x once the project launches.
So, is Metropoly a worthwhile investment? Yes, it is. The project is transparent and has a realistic take on NFT potential. It doesn't oversell itself and implores all investors to do their own research before investing. That is more than we could say about other projects that have come forward with their overly-bullish attitude, only failing to deliver later.
To check the project out, interested parties can follow Metropoly's Telegram and Discord groups.
Who are the People Behind Metropoly?
A cryptocurrency project's potential can be gleaned from the experience of the professionals behind it. On that note, we are happy to report that Metropoly is in good hands.
The Metropoly project is backed by a team of diverse professionals based in London, Dubai, and Ontario. They bring their immense knowledge about institutional real estate investments and blockchain to make this project truly inclusive the way it is set out to be.
Mark Dave leads the project; he is the Chief Technical Officer and a Senior Blockchain developer. Joining him are Lisa Mark and Hamza Bleich. The former is the Head of Community at Metropoly, a licensed realtor, and the latter is the Head of Content and a professional cinematographer.
Other Real Estate Experts Include Santiago Saracho, Amin Mansouri, and Talal Raad. Also, as we already mentioned, all the team members have been KYC verified by SolidProof, and have links to their LinkedIn profiles on the official website.
Metropoly Presale
Metropoly's native token, $METRO, is what maintains and grows the Metropoly ecosystem. It is an ERC-20 token built on the Ethereum blockchain and is primarily used as payment to buy the listed Real Estate NFTs or as rewards on the platform.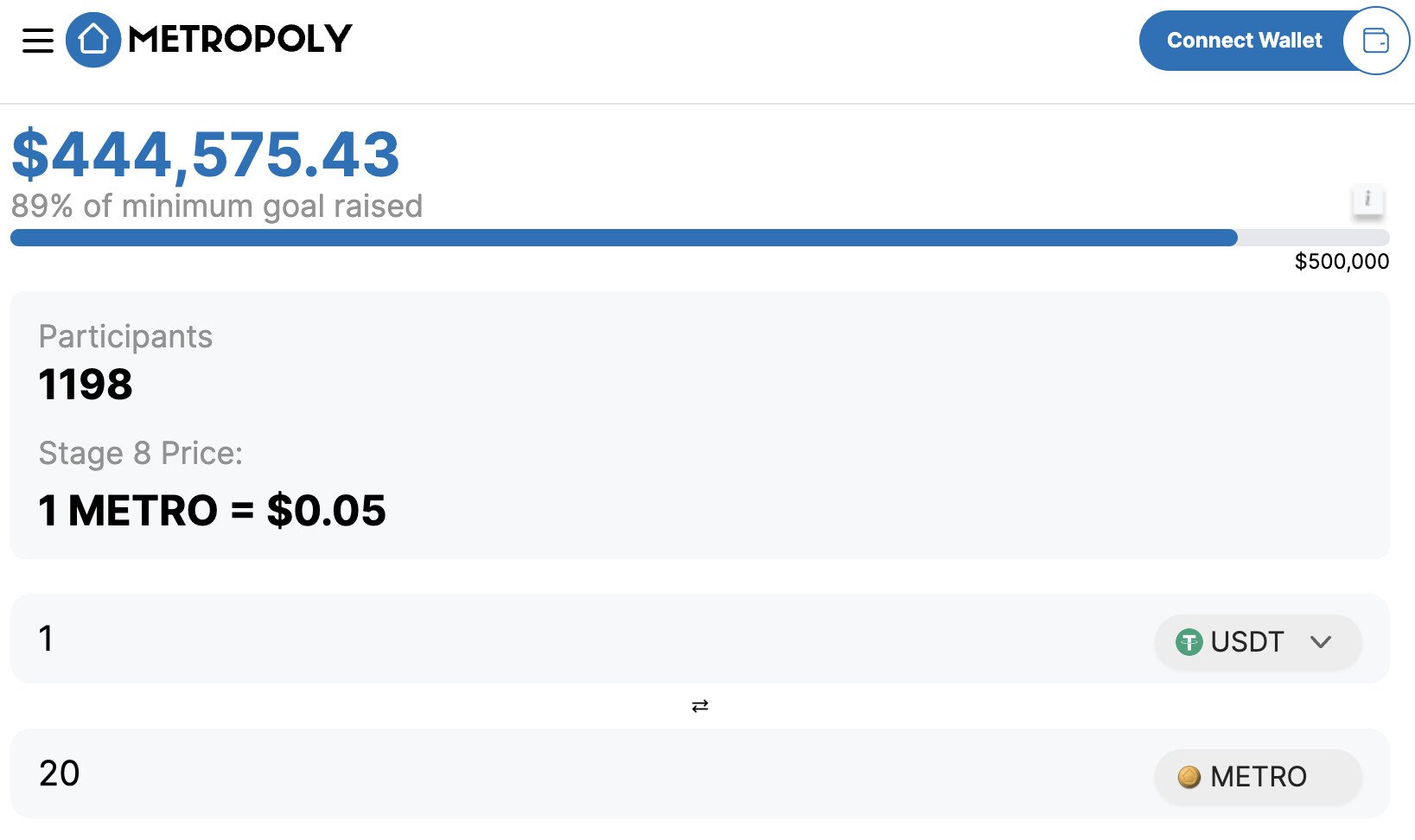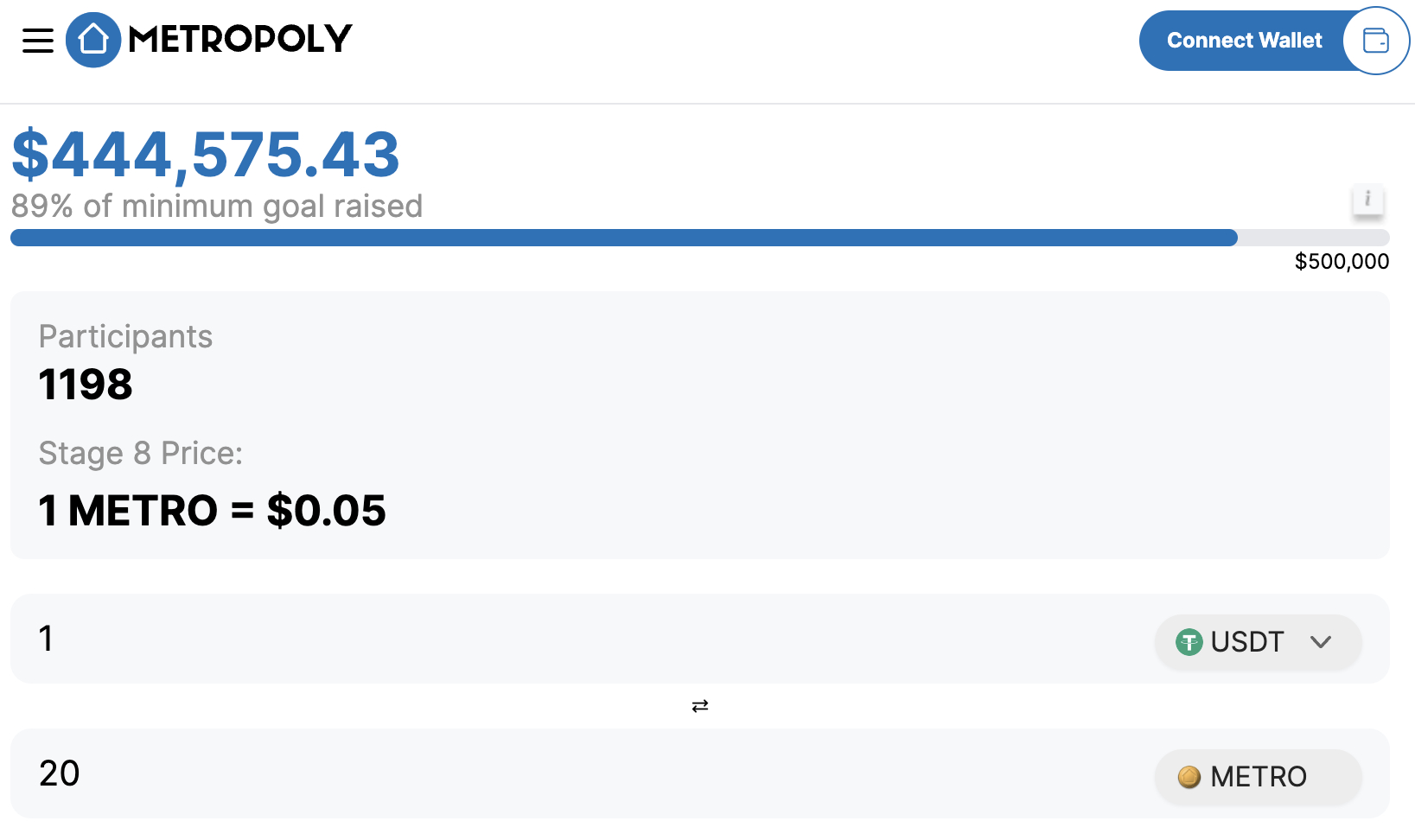 What makes this token special is that it has been audited by Certik and has no taxes – which means that devs have full faith in the ecosystem to generate income. It is a confident outlook backed by NFTs with real-world utilities.
There are a total of 1 billion $METRO tokens in total out of which 300 million have been dedicated to the presale. Following is the breakdown of the rest of the tokens.
30% of all tokens are dedicated to being given out as rewards once the level system is introduced
20% of the tokens are added to the liquidity pool
8% of tokens are committed to the team and advisors
1% of the tokens are reserved for the airdrop
Another 1% of the tokens are funneled into the referral program
And the final 30% of the tokens are dedicated to the presale.
Metropoly Presale has eight stages, with the price of the token appreciating with each stage. So far, the token has raised upwards of $400k of its $500k target – which it will hit soon, considering the value of this asset.
The presale will be over on April 1st, 2023, or when it has met its presale target – whichever comes first. Given the current state of Metropoly, it has the potential to be one of the best presale cryptos of 2023.
How to Invest in Metropoly
Here is the step-by-step guide to investing in $METRO tokens without any hassle.
Step 1 – Set Up a Wallet
The first step one must take is to set up a wallet to store their tokens. This wallet will be used to swat cryptos for $METRO. Metropoly recommends going either with Metamask or Trust Wallet. But other options that support ETH are also allowed.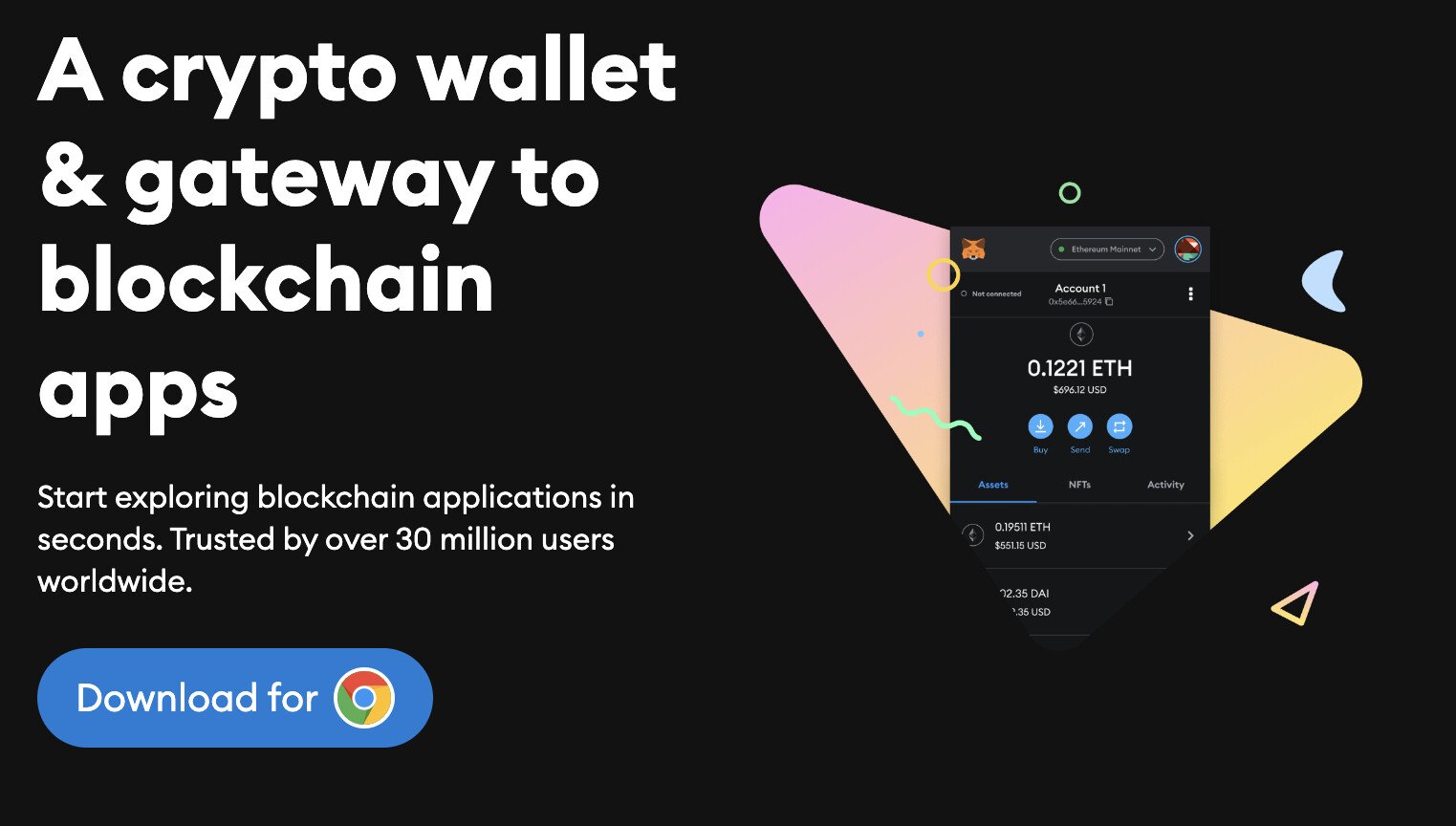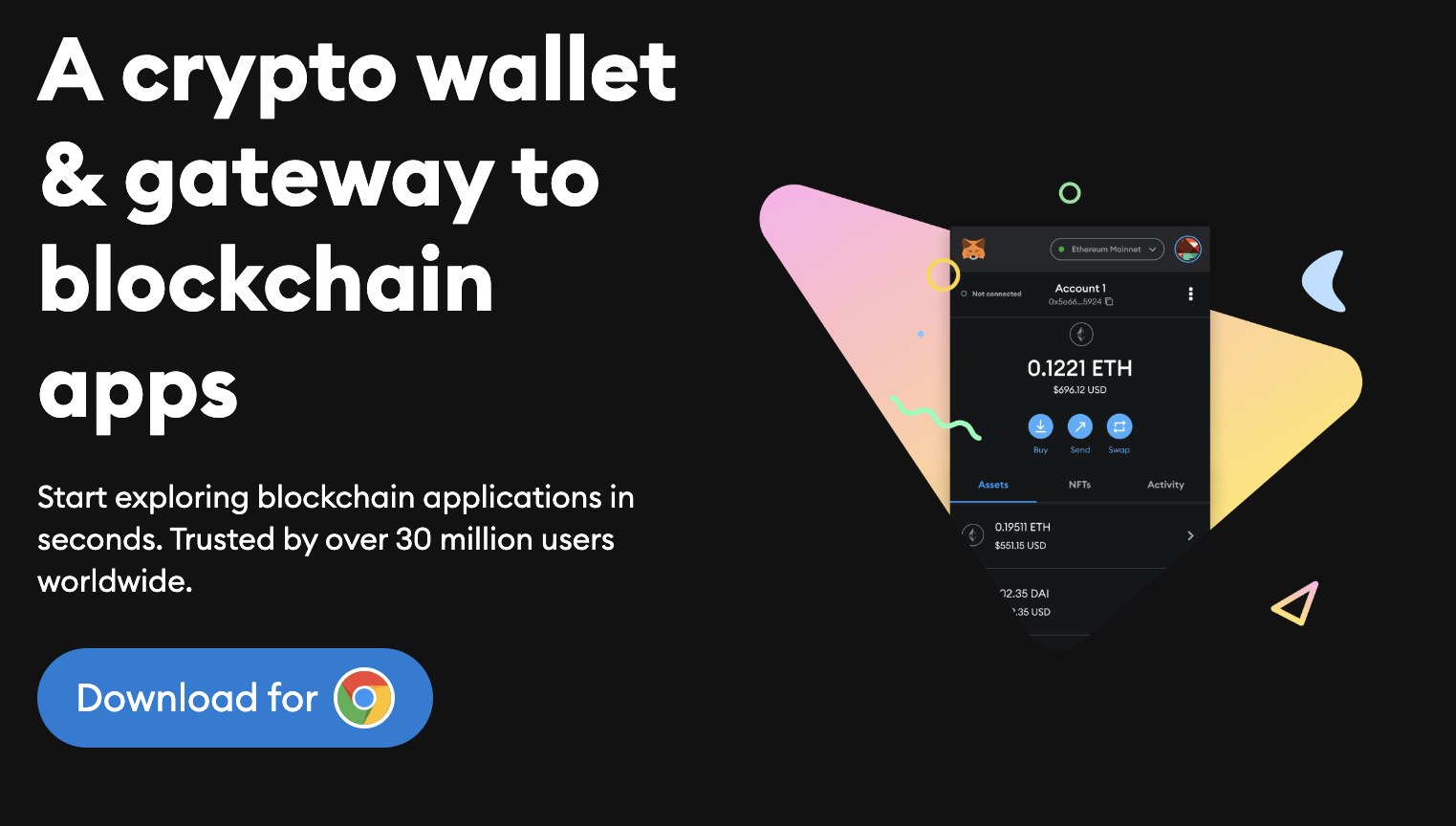 Step 2 – Connect the Wallet
Go to the Metropoly crypto presale website and click on the "Connect Wallet" button. Select the appropriate wallet provider and pick the wallet that has been set up in the step before this one.
Step 3 – Choose a Payment Option
$METRO tokens can be swapped for ETH. USDT, or BNB. Before connecting the wallet, investors must ensure that their wallets have one of these three crypto assets.
Step 4 – Buy $METRO tokens
The final step is to buy METRO tokens. Enter the amount of the $METRO tokens to purchase. Swap the tokens and claim them when the presale ends.
Conclusion
Metropoly is a novel concept that involves blending real Estate and NFTs together. It naturally adds real-world use cases to NFTs, which gives the potential to have major upsides even during the current market downturns.
But the factor that makes this project truly distinguish from others is the fractionalization of an NFT. An NFT representing the ownership of real estate can be divided into fractional NFTs, which can then be sold to give fractional ownership to the NFT holder. Access to fractional ownership will reward owners with fractional rewards in the form of passive income through monthly rents and price appreciation.
The lending utility is another way Metropoly treats NFTs as investment instruments, allowing holders to put them as collateral and borrow from the liquidity.
While all of these measures look to be of a tall order, the project's development so far shows promise. The beta version of the app featuring the Metropoly Marketplace is already out, and so is the mobile version – and that's all in the early stages of the presale.
We believe that the remaining developments of the roadmap may be done ahead of time if Metropoly devs keep up, and included Metropoly on our list of the best cryptos to buy in 2023.
Metropoly's native crypto is on presale at a discount price of 0.05 USDT. Becoming an early mover by participating today will give many a chance to make gains resulting from price appreciation across the presale stages even before the token lists on cryptocurrency exchanges.
FAQs on Metropoly Crypto
What is Metropoly?
Metropoly is the world's first decentralized marketplace featuring NFTs tied to income-generating properties. It gives an inclusive space for those who want to invest in real estate without the legal, financial, and technical requirements that come with it. Users can own a fraction of these NFTs and, in doing so, become fractional owners of the properties they represent. That way, the holder can earn passive income at a rapid pace.
What is $METRO?
$METRO is an ERC-20 token powering the Metrpoly ecosystem. It has a supply of 1 billion and will be used as a payment method to buy NFTs from the Metropoly Marketplace. It will also be used as reward tokens on the Metropoly ecosystem.

---