McDonald's, Starbucks, Subway May Take Part in Digital Yuan Tests - Reports
McDonald's, Starbucks and Subway branches could be set to take part in the Chinese central bank's digital yuan pilots, with Beijing's efforts to roll out the world's first central bank digital currency (CBDC) intensifying.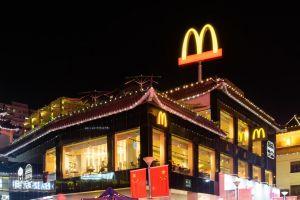 Multiple Chinese outlets, including the likes of Sina (via JRJ and Ciajing) have reported on an unconfirmed story from Chainnews.
Chainnews says it has unearthed evidence that a total of 19 restaurants and retail stores in a commercial district of Xiongan will take part in the tests.
The media outlet stated that it had seen central bank-approved documentation that had been circulated at a meeting on Wednesday held at Xiongan a local authority office.
The media outlets stated that attendees at the meeting included executives from the Agricultural Bank of China and the three other state-run banks believed to be participating in the tests. Store managers from McDonald's, Starbucks, Subway and more were also reportedly in attendance, as were representatives of Alibaba's blockchain and fintech subsidiary Ant Financial and tech giant Tencent.
The list of participating outlets allegedly also contains a number of Chinese company-run unmanned convenience stores and supermarkets, including one run by Chinese financial giant UnionPay. The stores are all located in a smart city development of a new part of Xiongan.
The central People's Bank of China (PBoC) has previously confirmed that Xiongan is one of a rapidly growing number of digital yuan testbed sites that will likely begin processing the CBDC from next month, with public sector workers likely to receive digital yuan transport subsidies in the next few weeks.
Cryptonews.com has contacted many of the companies mentioned in this report, and will update should responses be forthcoming.
The new currency, which doesn't have an official name but is known by its internal shorthand "DC/EP," or "digital currency/electronic payment," will share some features with cryptocurrencies including bitcoin and Facebook Inc.'s Libra, the Wall Street Journal reported this week, citing PBoC officials. The intention, China's central bankers have said, is to replace some of China's monetary base, or cash in circulation. It won't replace other parts of the country's money supply, such as bank deposits and balances held by privately-run payment platforms, the report added.
As reported, while it won't boast the anonymity that bitcoin and other cryptocurrencies tout, China's central bankers have vowed to protect users' privacy.
---