McAfee Says Extradition Request Prevents Him From Revealing Satoshi
Entrepreneur and Bitcoin bull John McAfee says he knows who the mysterious creator of Bitcoin, Satoshi Nakamoto, is and promises to tell - just not right now, the moment is not exactly right. Apparently, his "imminent" extradition request to the United States means his attorney believes revealing Nakamoto's identity would currently be too dangerous for McAfee himself.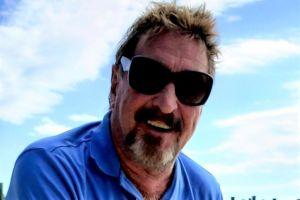 "The US extradition request to the Bahamas is imminent. I met with Mario Gray, my extradition lawyer, and it is now clear <...> that releasing the identity of Satoshi at this time could influence the trial and risk my extradition. I cannot risk that. I'll wait," McAfee wrote on Twitter. Additionally, he told Bloomberg that Satoshi is not thrilled about the outing: "I've spoken with him, and he is not a happy camper about my attempt to out him."
Although very few in the community seem to believe him, they are still humoring him in order to debate the merits of having Satoshi's true identity revealed to the public. "Wouldn't this be a negative development? Unless [Satoshi Nakamoto] has passed away already…" tweets Tom Lee, another famous Bitcoin enthusiast and head of research at Fundstrat Global Advisors.
"You've spoken well about the importance of privacy in the past, describing it as foundational to universal human rights. It's not clear how 'outing' Satoshi Nakamoto is consistent with those ideas, either for the individual concerned or in general," adds A. Hannan Ismail, Senior Adviser for South-South and Triangular Cooperation at the United Nations. Additionally, many wonder how McAfee managed to unmask Nakamoto when so many before him failed. "People forget that I am a technologist," he told Bloomberg. "I am one of the best."
But there is a silver lining: if what McAfee is claiming is true and he has indeed found Satoshi, at least McAfee additionally claims it's not Craig Wright, commonly dubbed Faketoshi. The whole story was prompted by Wright serving legal papers to the individual behind the Twitter account @Hodlonaut and threatening to sue them for libel due to them calling him "Faketoshi" and a "fraud." Partly in response to this, McAfee decided to go on a hunt for the real Satoshi.
"My entire life I've been tracking people who are the best in the world, and hiding their identity," he added. "Finding Satoshi was a piece of cake for me."
---