Massa Ecosystem's record-breaking growth in Q1 2023
Disclaimer: The text below is an advertorial article that is not part of Cryptonews.com editorial content.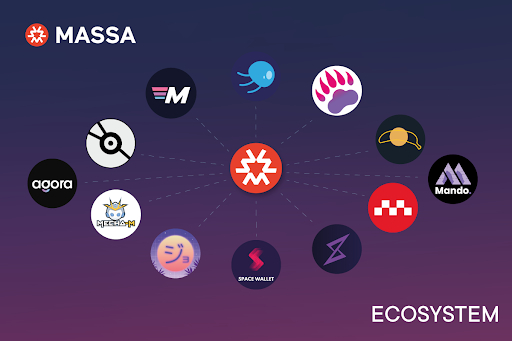 With 16+ projects having already joined the Massa testnet, it is perhaps time to pay attention to this thriving ecosystem.
But first, what is Massa? Massa is a high-performance blockchain designed to be truly decentralized from the start. Massa testnet was released in July 2021, providing an easy way for anyone to test the protocol, and has been constantly improving since then.
Perfectly balancing security and scalability while maintaining true decentralization is just one of the factors that explain why the Massa ecosystem has been experiencing such rapid growth since the beginning of 2023. Another reason Massa has been attracting so many new projects is that it eliminates the common obstacles that most Layer 1 blockchain networks face and enables both developers and regular users of the network to contribute and support the team's ultimate vision of reaching and maintaining maximum decentralization.
It is quite clear by now that web3 pioneers have embraced Massa. The enthusiastic response from the crypto developer community has a lot to do with the ethos of the Massa core team itself, which is completely dedicated to building a truly decentralized future. Blockchain developers are a particularly demanding bunch and they tend to gravitate towards building on blockchains with a vision to remain fully independent and free from influences by any small group of people. This might explain why Massa has onboarded so many projects on its testnet with only one seed round of just 5 million USD. In a world where most Layer 1 blockchains rely on millions of USD in ecosystem grants to attract projects, Massa's ecosystem success is a bit of an outlier.
Massa's vision is a project magnet
Massa has a dual vision for the future of Web3. On one hand, it aims to create a scalable and robust infrastructure that enables dApps to run in a fully decentralized and censorship-resistant way. On the other, it strives to ensure that smart contracts can persist on the blockchain even if the project behind them ceases to exist. The Massa team achieves this by hosting smart contracts on-chain and making them serverless forever.
Massa also lowers the entry barrier for web2 developers who want to join the web3 revolution. By using AssemblyScript as its smart contract language, Massa allows any web developer to easily write and deploy smart contracts without additional unnecessary hassle. Moreover, Massa offers a few innovative features that make it stand out from other blockchains, including autonomous smart contracts and web3-on-chain. These features serve to enhance the potential and appeal of Massa for both developers and users. The team believes that Massa will be the platform where some of the most exciting and impactful dApps will emerge during 2023.
Projects building on Massa benefit from various forms of support
Another reason why Massa is gaining popularity is that it provides tailored support for each project and developer that wants to build and contribute to its ecosystem. Projects can reach out to the Massa community tech support, which is composed of friendly and helpful people who are eager to assist newcomers with the ins and outs of the technology. The official Discord server is always open for questions.
The Massa team offers two main types of support for projects that aim to enhance and utilize the Massa chain:
Grants

Funding for projects that is open to anyone in and around the community. All they need is a creative idea. The team has the capacity and the willingness to provide some financial assistance to the most innovative projects.

Incubation

Mentoring for projects that require more fundamental support, such as initial funding or developer resources. If the Massa team sees a project with strong long-term potential, it will carefully evaluate it and decide if it qualifies for the Massa mentoring program.
Massa also offers a variety of other valuable services to projects in development, such as:
- Guidance on legal matters
- Assistance with the incorporation process
- Access to useful development resources
- Additional funding opportunities
- Marketing services
- Support with creating a pitch deck, business model and tokenomics
But most importantly, the team behind Massa has single-handedly solved the blockchain trilemma, presenting the world with a network that is simultaneously secure, scalable and decentralized. This is a true precedent in the blockchain space and it's hardly surprising that the developers around the world are starting to take notice and to participate in the Massa ecosystem. There seem to be some very exciting things on the horizon for Massa, so be sure to follow their social media.
---