Mark Cuban: Don't Convince Me, Convince Your Neighbor About Bitcoin
Disclosure: Crypto is a high-risk asset class. This article is provided for informational purposes and does not constitute investment advice. By using this website, you agree to our terms and conditions. We may utilise affiliate links within our content, and receive commission.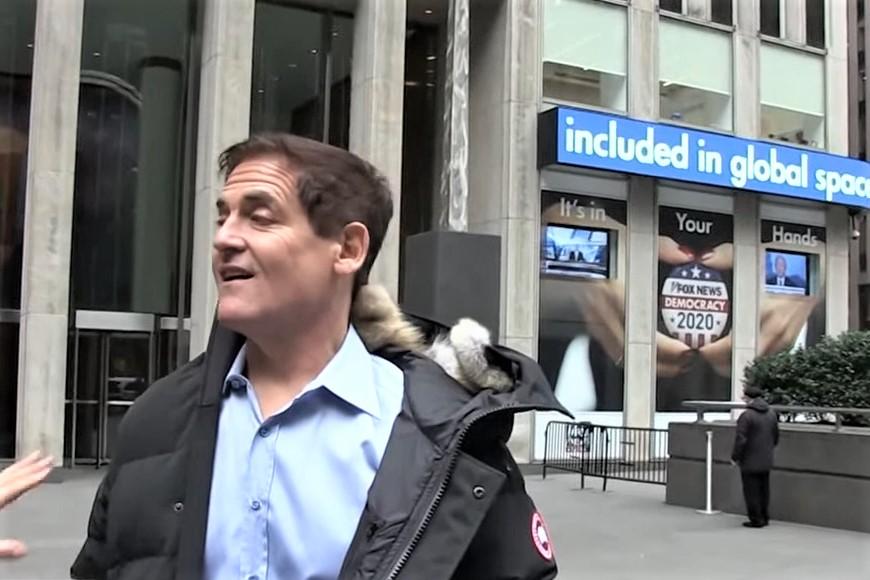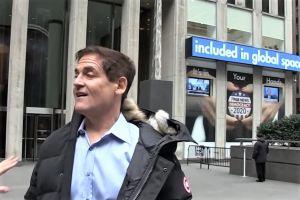 Mark Cuban. Source: a video screenshot, Youtube, TMZSports
Crypto supporters need to show their neighbors its value, not rely on the academic discussions to bring the consumers in, believes billionaire Mark Cuban, an American businessman and investor, and the owner of the NBA's Dallas Mavericks. Crypto supporters, however, find flaws in his arguments.
In a discussion on Twitter, Cuban says that he's not opposed to Bitcoin (BTC) and understands the arguments around it, but if those who support Bitcoin have neighbors who "don't see value, that is the problem you need to solve" as "the world is littered with great products/services that failed for lack of consumers," he says.
"Lots of people are trying to change my mind. My mind will be changed not by technical discussions about fiat currency, sharpe ratios, valuation projections, protocol comparisons, etc. It will be changed by actual usage by consumers, who choose BTC over the many other options," he adds.
The thread, however, saw a number of discussions being led, which are at the heart of the Cryptosphere.
Whom and how to convince?
People debate who it is that "we" really need to convince and how. It's not defined who "we/you" are exactly, but from the talk, it's likely safe to say it's all crypto supporters. Cuban argues that he's not the one that these crypto supporters need to convince, after Anthony Pompliano, co-founder of digital asset manager Morgan Creek, offered to fly to Dallas and explain to Cuban the information that is currently available and that refute the claims he is making, asking "what would make you change your mind on Bitcoin?"
Cuban, however, refused the offer, finding Pompliano too subjective for such a discussion, and saying that technical and academic discussions on crypto and fiat – perhaps like the counterarguments aerospace and investor Preston Pysh kept on providing – "rarely change hearts and minds of consumers."
https://www.twitter.com/mcuban/status/1205141177818898432?ref_src=twsrc%5Etfw
However, people didn't find this argument particularly convincing for a number of reasons, asking what he means by "neighbors"? Some found it a misleading term, as they weren't sure if Cuban meant it literally or not. Those that are important here, says blockchain and smart contracts pioneer Nick Szabo, are "those we exchange substantial funds with: e.g. major suppliers & customers, bosses, employees."
David Nage, Principal at Arca Funds, an investment management firm, also joined the discussion, telling Cuban that "There's a 1B who play games", adding, "they all have in-game digital currencies in them For too long we've been trying to jam a square peg in a round hole. It's this demographic/consumer group that, in my opinion, will be the mass 2nd wave adopters of Bitcoin & other digital assets." With massive advancement in the game and blockchain industry, others too believe that "in-game currencies can be issued in crypto form with native settlement in BTC," pushing the adoption forward.
Meanwhile, some, like Dan Smith who is Director of Product and Operations at Lightning Network application company Suredbits, find that "the first real "users" of crypto are likely at recess right now (or younger)," adding "BTC is a longer term play than most investors are comfortable with."
4) Capitalism harnesses the best product that meets demand, but my argument with tech is that it starts with younger generations & extends to older ones to scale. So yes, we need more adoption, but I think the generational interest is a critical factor you miss

— Alex Von Schulze (@avonschulze) December 13, 2019
Either way, people seem to agree that tech jargon is not helpful when trying to onboard people. It's also important to note that Cuban's very own worries are rather tech-related, such as "quantum computing and legacy keys and the cost of creating more advanced keys" – and these are already far from any regular neighbor Joe would know about. So there's also a discussion to be had on how to approach people when explaining complex topics.
Besides, one could also argue that Cuban too is a 'neighbor' of sorts, especially since he's in the midst of these discussions (and he's likely some bitcoiner's real neighbor), so there's certainly merit then in convincing him as well by Cuban's own logic.
Price, reliability and gold
Though majority of supporters believe that BTC price will go higher, it's still a question of how and when. Nonetheless, Pysh added that the neighbors don't have money and that "the people that are going to drive the price up are the ones that try to sell their 19 trillion dollars of negative yield fixed income debt (and aggressively growing) that exists in the world."
Cuban though, finds that the price is not a reflection of anything but supply and demand now. "Expected scarcity and cost of production in the future are not predictive of anything. Nothing. So much can and will change and that is the point I'm making," he says.
That said, there's at least one BTC supporter, a popular crypto analyst, who seems to agree with Cuban.
I second this. If you think Bitcoin is
– easy to use
– easy to protect
– easy to understand
– easy to value (referencing s2f, lmao)

*today*

then sorry, you live in a fairyland. Even more true for the rest of crypto. https://t.co/QwK7buFjov

— Hasu⚡️🤖 (@hasufl) December 12, 2019
Meanwhile, the discussion touched on the topic of fiat and gold again. Previously, Cuban said that he hates gold and that it's a religion.
https://www.twitter.com/mcuban/status/1204497234802466816?ref_src=twsrc%5Etfw
In the meantime, Cuban also said recently that there is 'no chance' for BTC to become a reliable currency. "Not because it can't work technically, although there are challenges, it could, but rather because it's too difficult to use, too easy to hack, way too easy to lose, too hard to understand, too hard to assess a value," and it's "too much work for people to know why BTC over" all other cryptos, he is quoted as saying in an article by a Forbes contributor.
In the end, nothing was solved and everything's back to square one, but it can be argued that having some sort of a discussion is still a positive thing.
One more opinion for the end:
This thread touches on the importance of improving education not only surrounding Bitcoin, but finance/economics in general. Financial illiteracy is a serious problem.

— Sam Callahan (@samcallah) December 12, 2019
---