Lympo to Dedicate Part of the Profit to Purchase Tokens From the Market
Disclaimer: The text below is a press release that was not written by Cryptonews.com
________________
We started Lympo two years ago with the vision of a healthier and happier world with token-based incentives for healthy choices. At the heart of our innovation is Lympo health data and incentivization platform which serves as a tool to gather and analyze data of millions of healthy actions.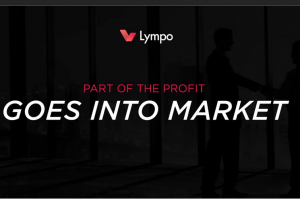 We have gone a long way since that vision:
– We have built and released the public Lympo app, available in the U.S., South Korea, and Lithuania. Lympo app users walked and ran more than 1.3 billion miles and finished more than 10 million healthy lifestyle challenges in just a year.
– Lympo became one of the first apps that have seamless integration with the Samsung Blockchain Wallet.
– Working alongside Samsung Health U.S. we have launched Healthy Habits Month and successfully reached Samsung Health incentivization, which shows that Lympo model works well, and users are motivated to aggregate the data for rewards in a gamified environment.
– This autumn we have launched a corporate version of the app which serves as a ground-breaking mobile-first corporate wellness and employee engagement solution.
– Most recently, we have signed a cooperation agreement with the South Korean biopharmaceutical giant GC Pharma to launch an incentives-based product to fight obesity.
Lympo will dedicate 10% of the company profit to purchase LYM tokens from the market
With all the development we have done so far, I strongly believe that 2020 is going to be a breakthrough year for Lympo. I feel that we are ready for more! I would like to make a commitment that Lympo will be dedicating 10% of monthly profit to purchasing LYM tokens from the market.
Why would we do that?
Since the token sale, Lympo ecosystem empowerment tokens have been unlocking yearly. These tokens go towards growing our community and rewarding our users. This will continue after this year's final unlock.
This year we will be launching the data exchange platform where businesses will be able to directly reward users with LYM tokens for their health data. To make the platform more accessible, businesses will have the option to purchase tokens directly from Lympo if required.
Lympo continues to be an innovator in the health and wellbeing sector and we are excited about the promising times ahead.
I wish everyone a healthy and happy 2020: January is the best month for the New Year's resolutions!
Best wishes,
Ada Jonuse
CEO of Lympo
---