Litecoin Price Prediction as Halving Event Scheduled for Today – Can LTC Reach $1,000?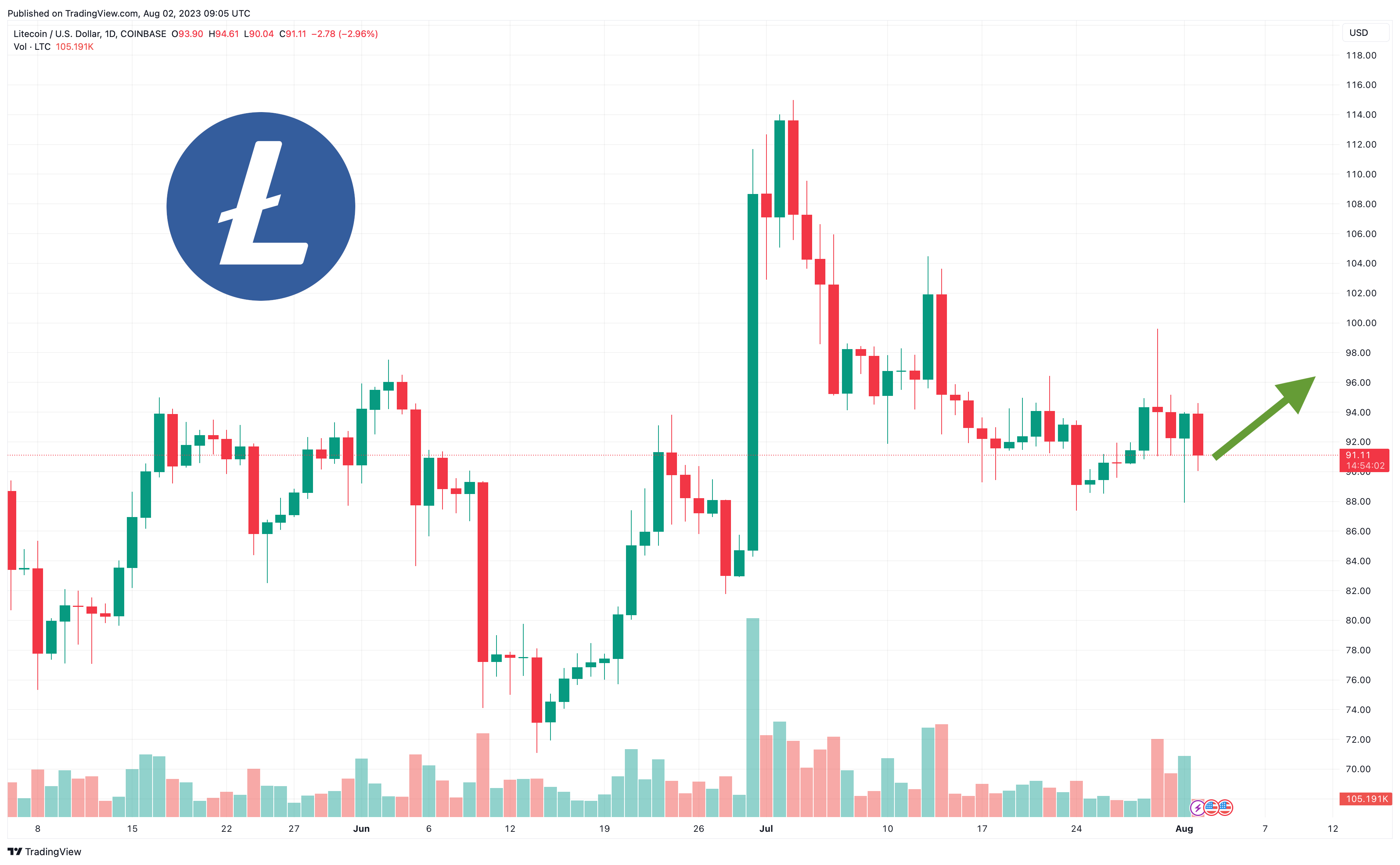 The Litecoin price has barely moved in the past 24 hours, sticking to the $90 level as the cryptocurrency awaits its latest halving event today.
The halving will reduce Litecoin's block reward from 12.5 LTC to 6.25 LTC, a reduction which, in theory, will tighten the altcoin's supply and thereby make it scarcer, at least in the longer term.
However, LTC is currently up by only 0.5% in the past week, with the altcoin also having declined by 19% in the last 30 days, a loss which may suggest that the market isn't particularly excited by this 50% reduction.
Litecoin Price Prediction as Halving Event Scheduled for Today – Can LTC Reach $1,000?
While Litecoin has had a disappointing couple of weeks, its chart is now in a position where it looks as though the coin could soon rise, with its indicators ready to rise up from oversold positions.
Firstly, LTC's 30-day moving average (yellow) has begun rising up again towards its 200-day average (blue), signalling a recovery that could last several days (given the ground the 30-day average has to make up).
On top of this, the altcoin's relative strength index (purple) has dropped to 40 today, meaning it's close to bottoming out and indicating a positive turnaround.
And while LTC's position still seems relatively mixed and uncertain, its rising support level (green) suggests that it won't fall much further again before recovering.
This analysis coincides nicely with the fact that Litecoin's halving is due to happen today, reducing the rate at which it issues new coins by 50%.
LTC holders are no doubt hoping that the successful completion of the halving will have a rallying effect on the coin's price, which remains subdued today.
However, some analysts are suggesting that the market has already priced in the halving, having done so when LTC rallied on Sunday, as well as when it rallied strongly at the end of June.
Based on this assumption, some have suggested that the event is a textbook example of the 'buy the rumor, sell the news' truism that often seems to operate in the cryptocurrency market.
And in this particular case, what seems to be happening is that the traders who bought LTC several weeks ago, in the hope of a big surge today, may now be cutting their losses and capitulating, worried that the halving won't really have any effect.
As such, traders perhaps shouldn't be surprised if we actually see the Litecoin price fall a little further today, as a result of disappointed expectations.
In the longer term, however, LTC could potentially return to $100 in the next few weeks, with a positive end to the year pushing it back up to $150.
New Altcoins With Higher Potential
Given the uncertainty surrounding just what LTC may do today, some investors may prefer to look to other altcoins that present better opportunities for gains in the near future.
While this year has brought no shortage of new junk coins with no real value or potential, there have been a number of very promising new tokens that have the ingredients needed to achieve big rallies.
One excellent example of this is Wall Street Memes (WSM), a new ERC-20 token that has already more than $20 million since beginning its presale in June.
Emerging out of the meme stocks movement that gave rise to the 2021 GameStop rally, Wall Street Memes has had such a successful presale precisely because it has been able to attract a growing community of supporters.
In fact, its Twitter profile now counts more than 255,000 followers, many of whom have likely contributed to the WSM presale, and many of whom will help support the meme token once it lists on exchanges.
WSM will have a maximum total supply of 2 billion, with 50% of this going to the sale and 30% being reserved for community rewards, making it a highly decentralized token.
New investors can get involved in the sale by going to the official Wall Street Memes website and connecting their crypto wallets, with 1 WSM currently being sold at $0.0328.
WSM will end the presale at a price of $0.0337, yet there's every chance that it could comfortable exceed such a level once a few trading platforms list it.
Disclaimer: Crypto is a high-risk asset class. This article is provided for informational purposes and does not constitute investment advice. You could lose all of your capital.
---