Litecoin Price Prediction as $1 Billion Trading Volume Comes In – Are Whales Buying Before the Halving?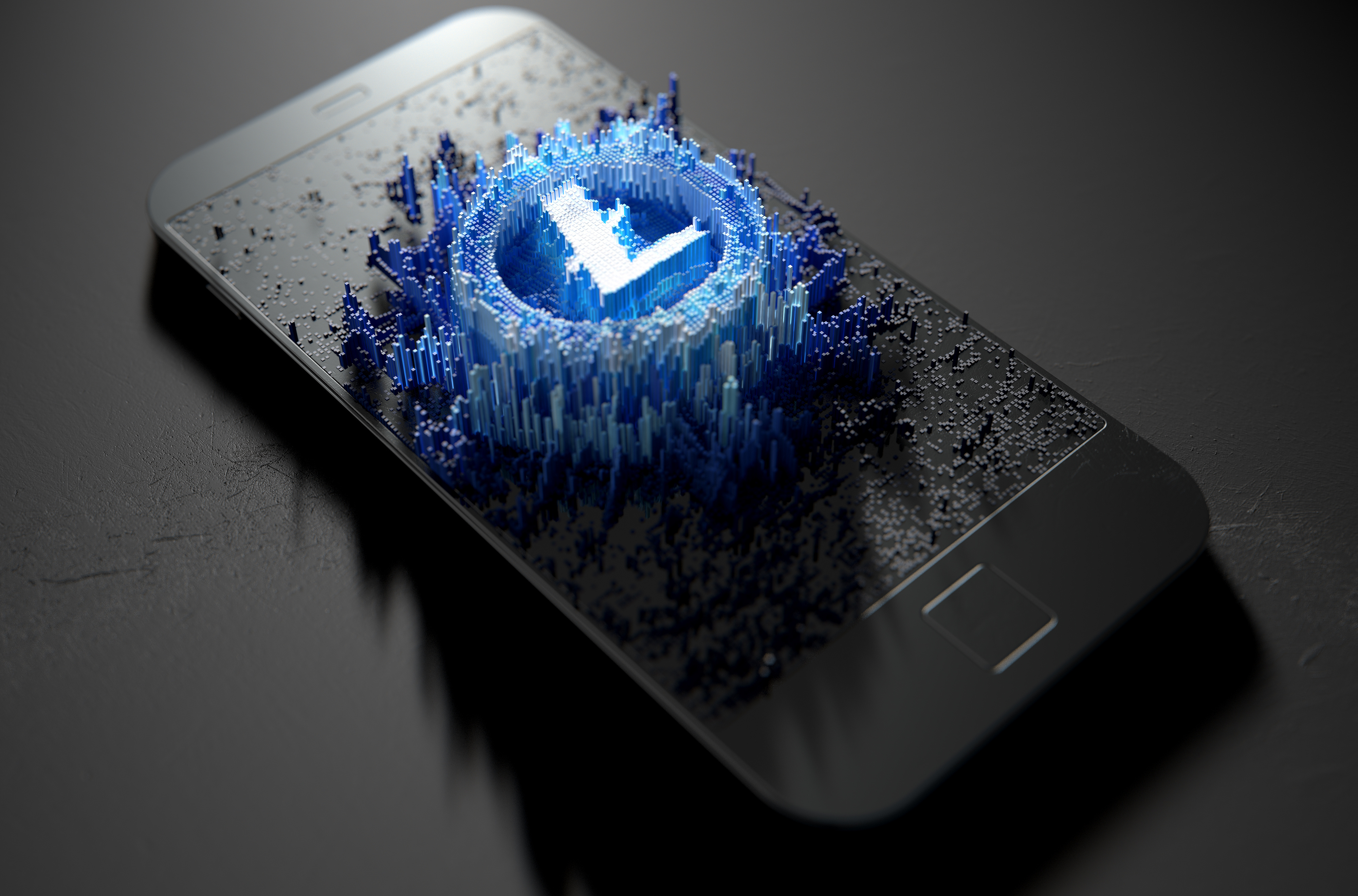 Litecoin (LTC) is on course for its first red day in five as the broader cryptocurrency market experiences a dip as US yields and the US dollar gain in wake of strong US data releases that push back against US recession bets, and after commentary from Fed speakers puts in doubt the idea that the central bank is done hiking interest rates.
LTC was last down just over 2% on the day and trading just under $92 amid a pick up in trading volumes that, according to CoinGecko, topped $1 billion in the last 24 hours.
Meanwhile, the likes of Bitcoin and Ether where both last down in the region of 1% and trading just above the respective $27,000 and $1,800 levels.
Despite this, price predictions remain upbeat.
Unlike Bitcoin and Ether, however, Litecoin has been able to post significant gains in the last few sessions.
Indeed, the cryptocurrency, which is often referred to as the digital silver to Bitcoin's digital gold, is still well over 20% up versus its earlier monthly lows.
Analysts have cited optimism about the upcoming halving of the Litecoin issuance rate to miners on the 2nd of August as a major driver of the cryptocurrency's recent gains, with some suggesting that Litecoin could continue to outperform the broader market as we go into summer.
Others have cited Litecoin's continued progress in terms of its adoption as a means of payment as helping its price, as can be seen in its rising transaction count and number of online merchants that accept it as a payment option.
Price Prediction – Where Next for Litecoin (LTC)?
For now, Litecoin is holding to the north of its 50 and 100-Day Moving Averages, a sign that the latest pump higher may continue, despite Thursday's broader pullback.
So long as broader crypto market sentiment doesn't crater too badly, a near-term return to the north of the $100 level is on the cards.
And that could set up a potential breakout from an ascending triangle pattern that Litecoin has spent the last few months consolidating within.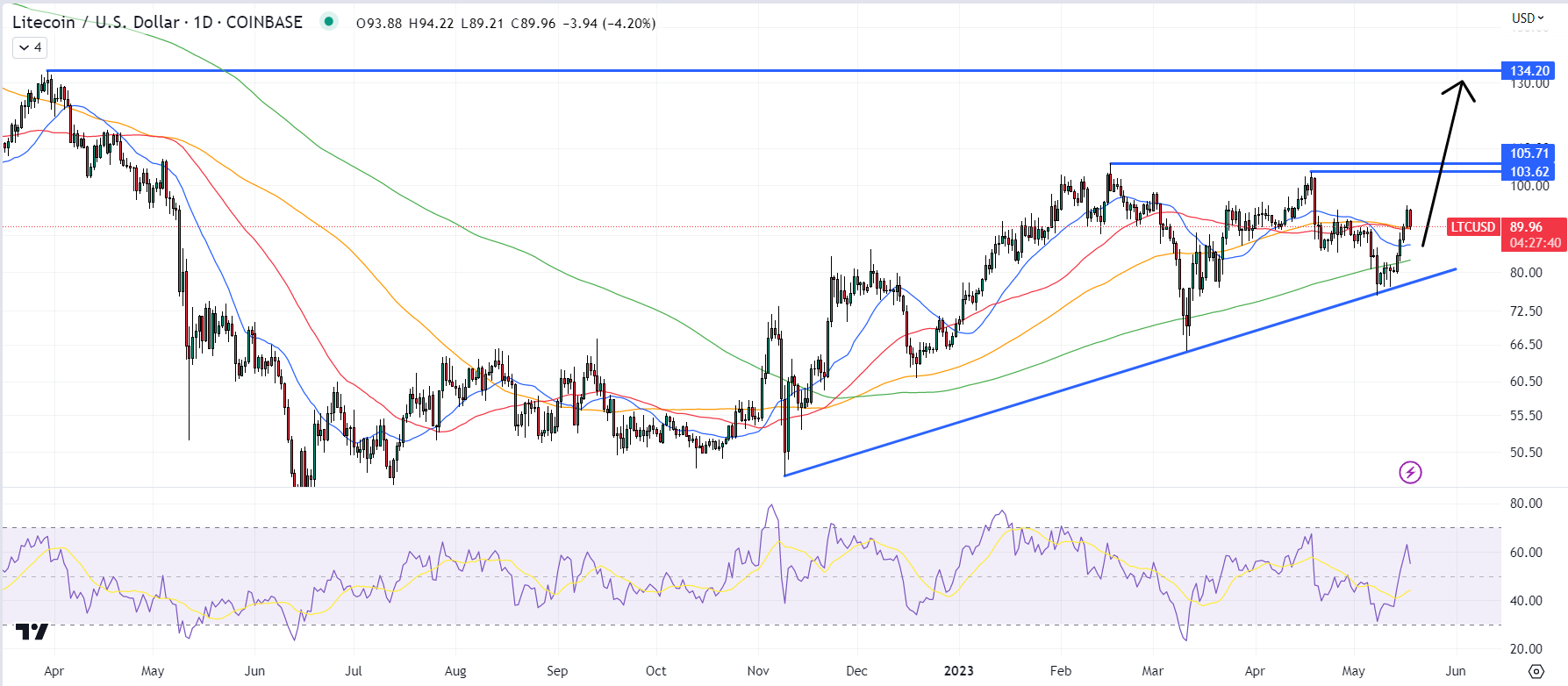 An upside break of this patter could open the door to a swift retest of the March 2022 highs in the mid-$130s, 50% up versus Litecoin's current levels.
Are Whales Buying Ahead of the Halving?
Whales do seem to be accumulating Litecoin.
As per data presented by crypto data analytics platform IntoTheBlock, wallets that hold 10,000-100,000 LTC tokens have increased in number by about 2% in the last 30 days, while the number of wallets holding between 100,000 and 1 million LTC tokens has gone up by close to 5%.

But looking at the longer-term trends for these two whale wallet cohorts, there hasn't bene that much change over the course of the last year.
Where there has been a much bigger change recently is in the number of Litecoin shrimp wallets that hold a zero to 0.1 LTC balance.
At around 6.66 million, this cohort has jumped by about 1 million in number in a month.

So while the mega whales appear to be accumulating ahead of the halving, so do the small-time investors who just want to hold onto a few dollars worth of LTC.
More than anything, that could represent Litecoin's adoption as a medium of exchange.
Litecoin Alternatives to Consider
While Litecoin has the possibility of performing very well in the medium term if it can break key resistance levels, investors should always be on the lookout to diversify their crypto holdings.
One high-risk-high-reward investment strategy that some investors might want to consider is getting involved in crypto presales.
This is where investors buy the tokens of up-start crypto projects to help fund their development.
These tokens are nearly always sold very cheap and there is a long history of presales delivering huge exponential gains to early investors.
Many of these projects have fantastic teams behind them and a great vision to deliver a revolutionary crypto application/platform.
If an investor can identify such projects, the risk/reward of their presale investment is very good.
The team at Cryptonews spends a lot of time combing through presale projects to help investors out.
Here is a list of 15 of what the project deems as the best crypto presales of 2023.
Disclaimer: The Industry Talk section features insights by crypto industry players and is not a part of the editorial content of Cryptonews.com.
---