Litecoin Price Prediction as Litecoin Halving Countdown Begins – Can LTC Reach $1,000 in 2023?
Disclosure: Crypto is a high-risk asset class. This article is provided for informational purposes and does not constitute investment advice. By using this website, you agree to our terms and conditions. We may utilise affiliate links within our content, and receive commission.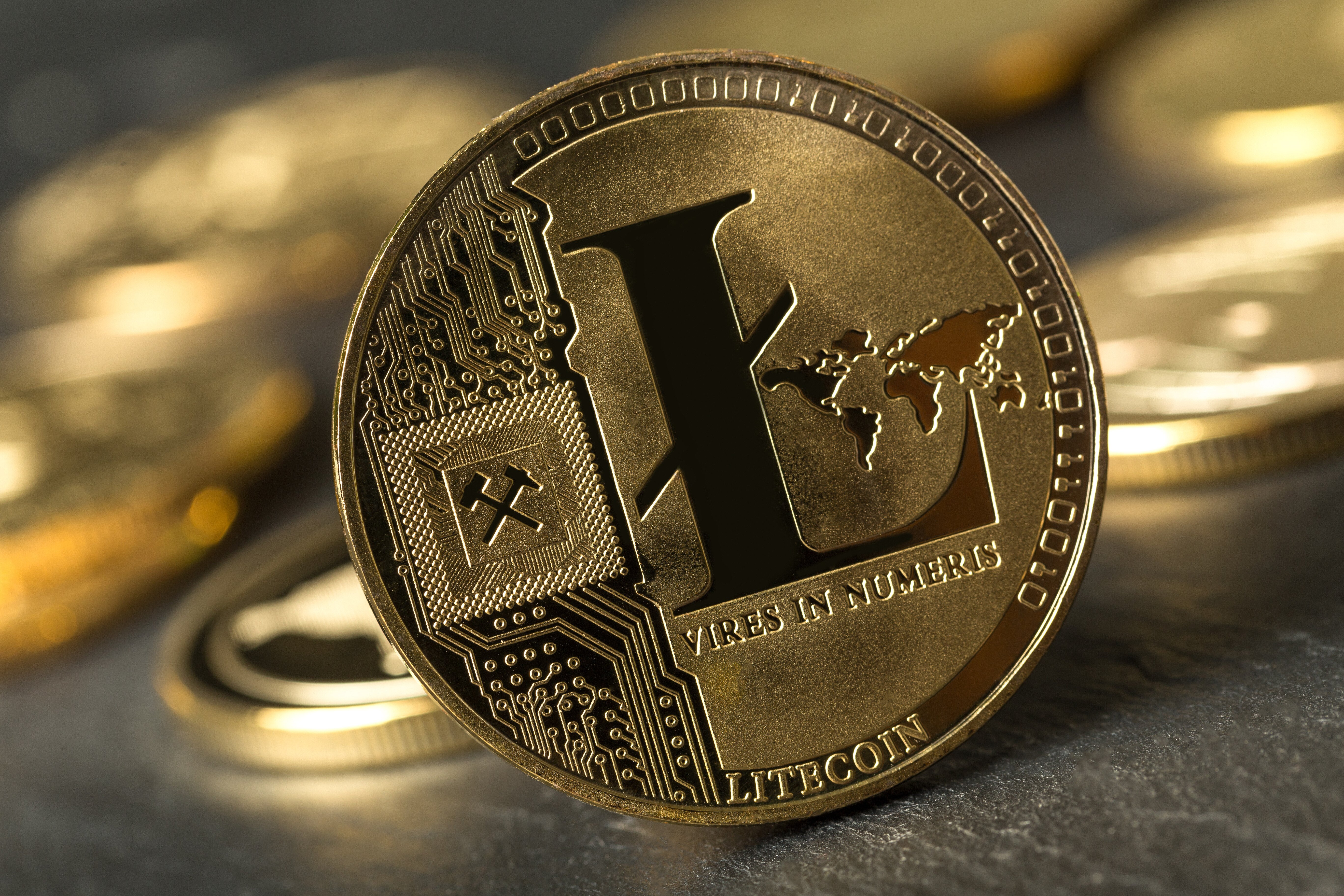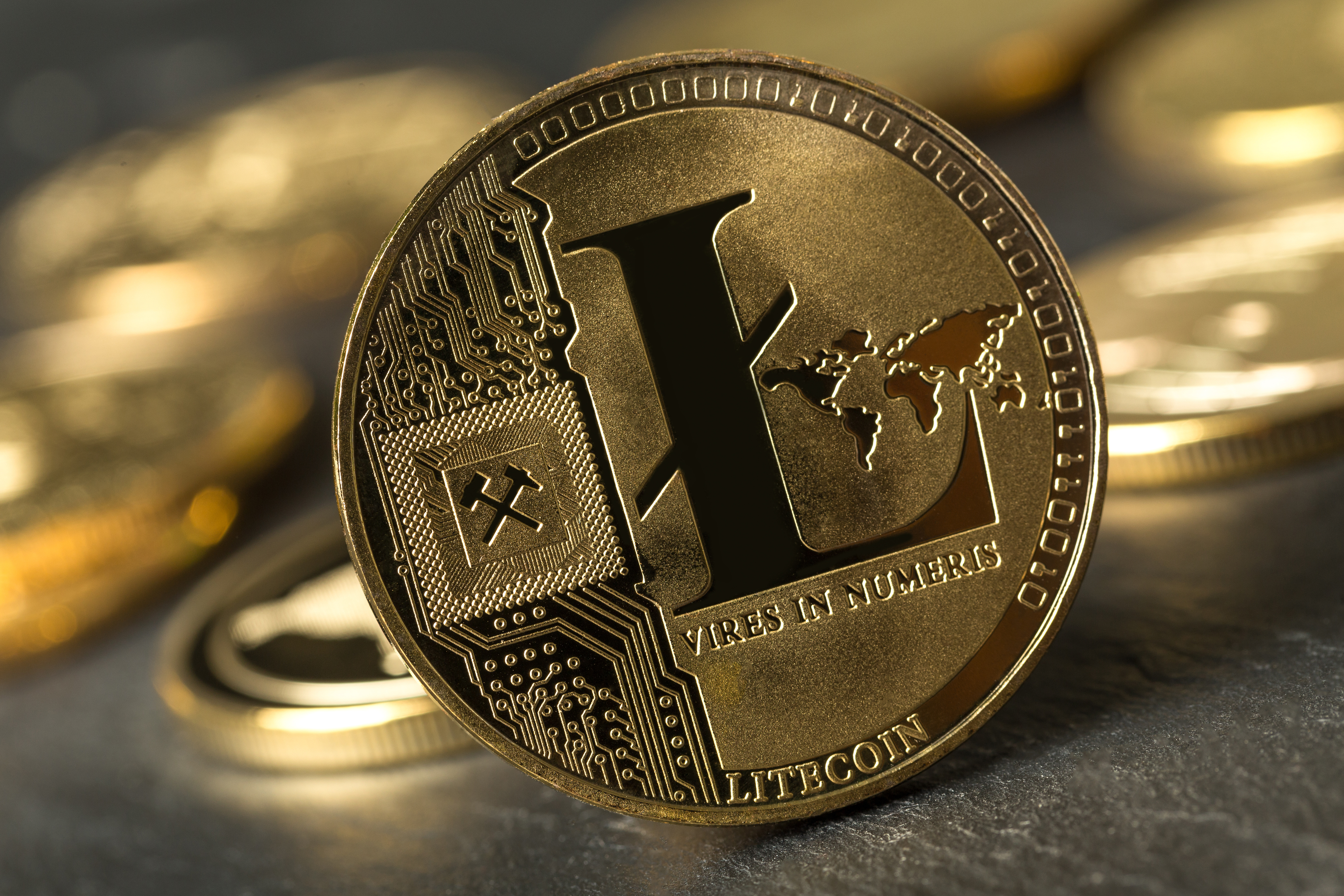 The price of Litecoin (LTC), the cryptocurrency that powers the payments-focused layer-1 Litecoin blockchain protocol, has been surging in the last few days, despite consolidation seen in the broader crypto market.
As such, price predictions are upbeat.
LTC/USD was last changing hands just under $90 per token, up another 3.5% on Tuesday and taking the cryptocurrency's three-day run of gains to nearly 12%.
Traders have been attributing a combination of technical buying, with LTC having recently found strong support at a long-term uptrend and optimism about the upcoming Litecoin halving on the 2nd of August as potential catalysts behind the cryptocurrency's ongoing outperformance versus the broader market.
Litecoin recently bounced from an uptrend that has been in play since last November, and has also recovered strongly back to the north of its 200-Day Moving Average.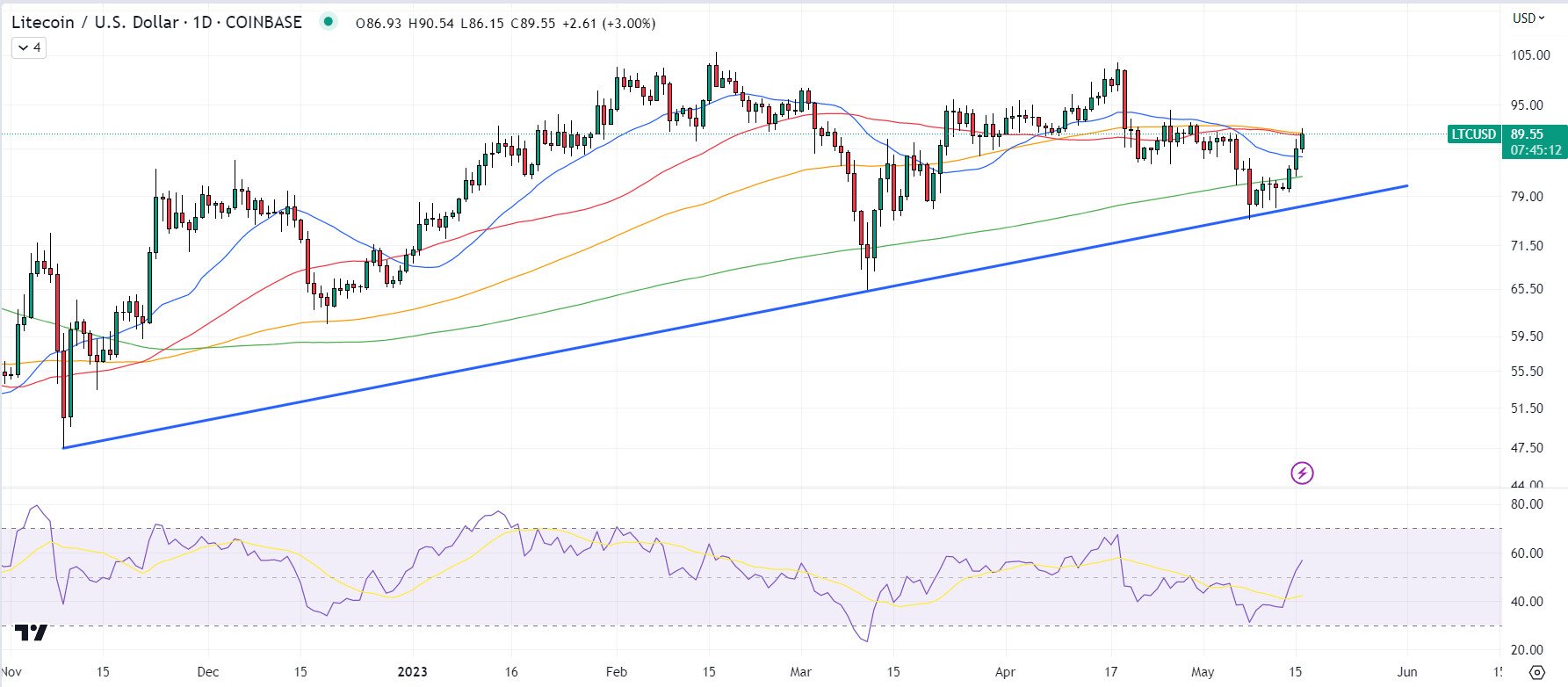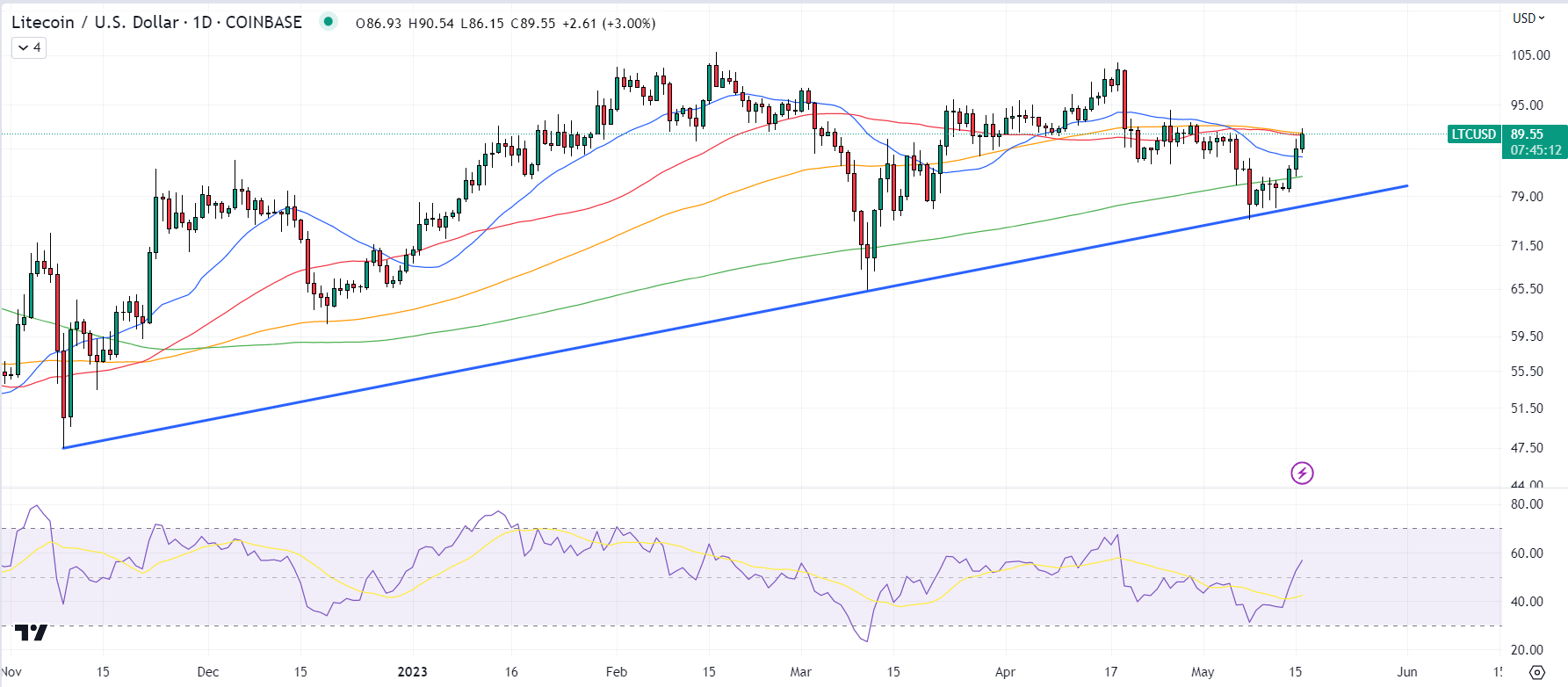 The halving, meanwhile, will see the Litecoin rate at which Litecoin is issued to miners halved, which will reduce the cryptocurrency's inflation rate.
Many analysts suspect a lower inflation rate should have a positive long-term price impact.
While Bitcoin halvings have historically coincided with bull markets, the linkage between Litecoin halvings and strong price performance has been somewhat weaker.
But still, very few would argue that the upcoming Litecoin halving is a bearish event for the LTC price.
The Litecoin halving will slow issuance from 12.5 LTC per block to 6.25 per block.
With the #Litecoin halving approaching, we created this video to explain more about this mathematical event, when it happens, how the reward system works and why is it so important. $LTC https://t.co/lnpjK6lsvX

— Litecoin (@litecoin) May 14, 2023
Litecoin Price Prediction – Where Next for the LTC Price?
If Litecoin can muster a sustained push to the north of the $90 level and its 50 and 100DMAs, both of which are close to $90, that should open the door to a retest of annual highs in the $103-105 area.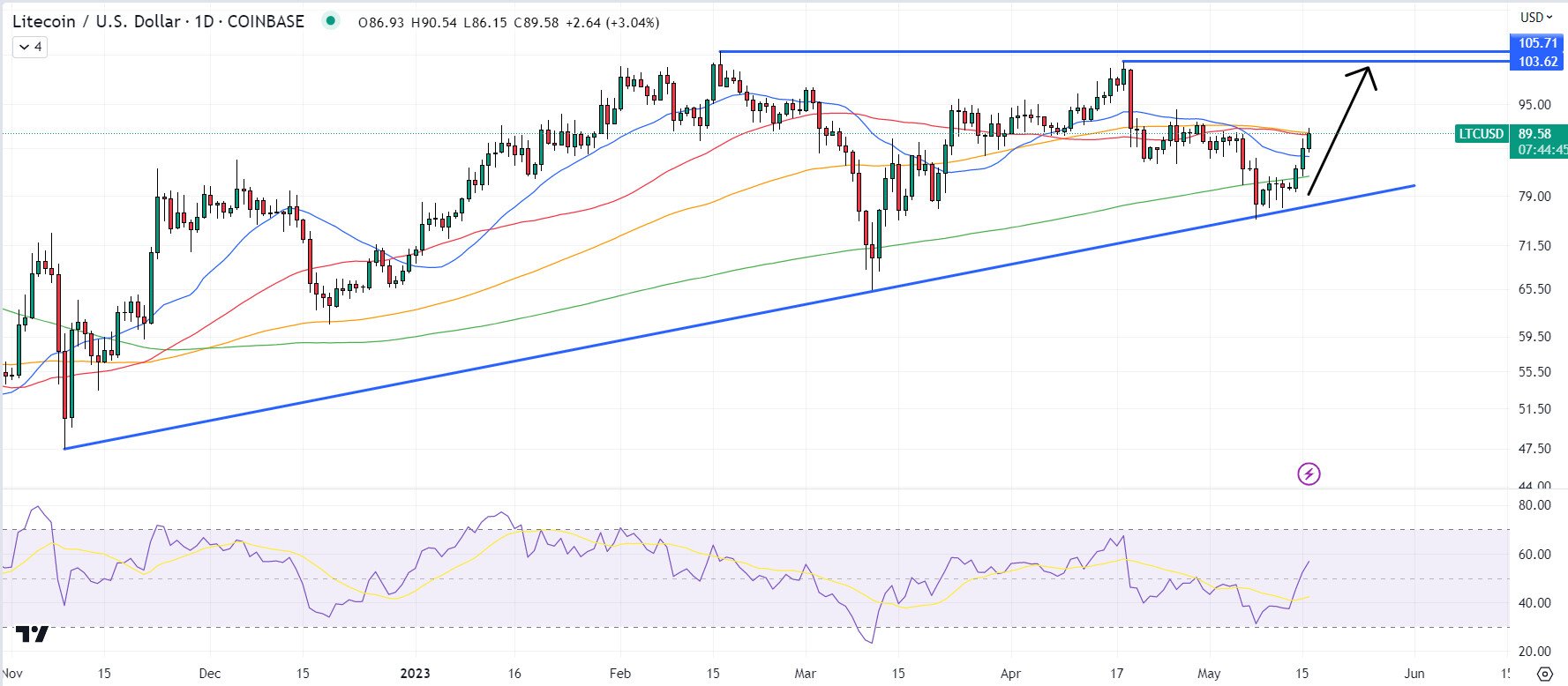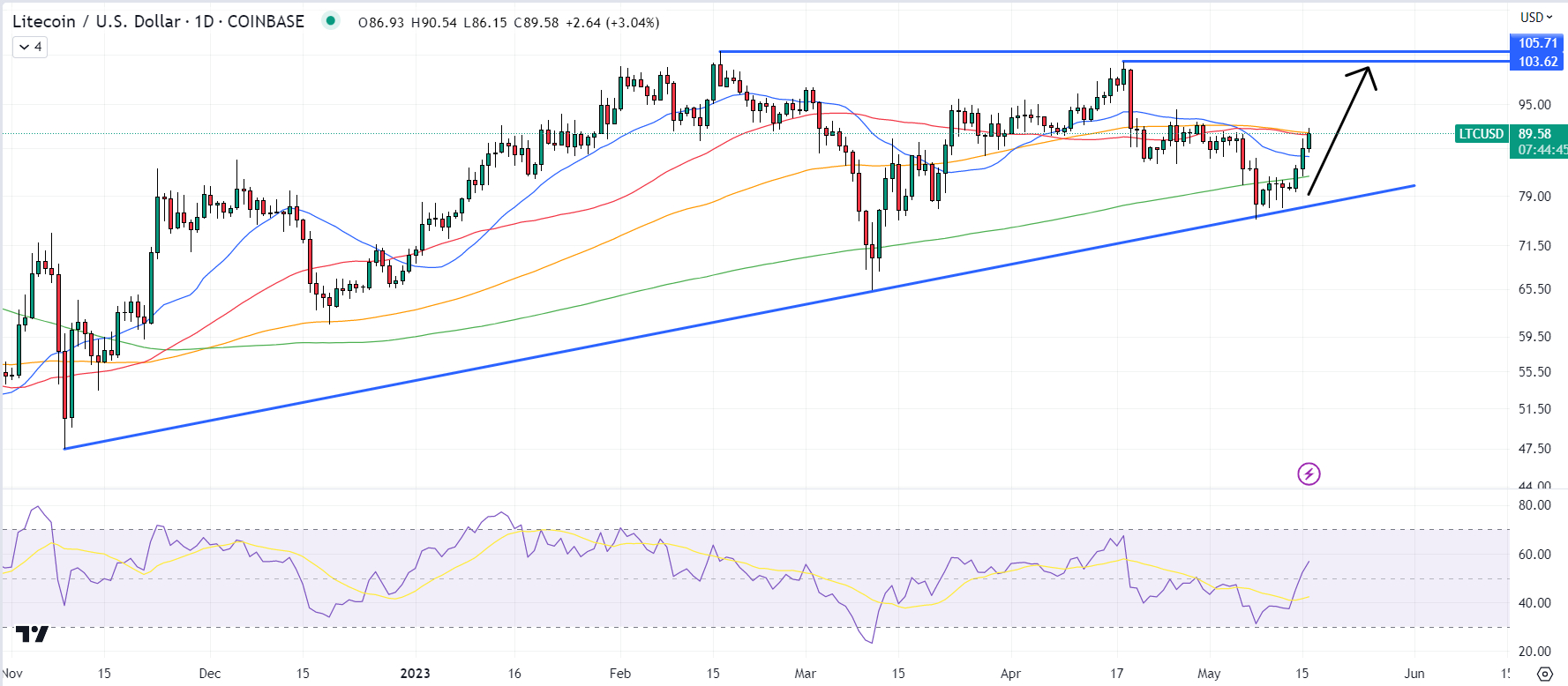 That could mean fairly quick and easy gains of around 15% from current levels.
Of course, if the broader crypto market continues to remain sluggish, with Bitcoin and Ether locked within recent ranges, this could act as a headwind for the LTC price in the near term.
In the absence of a resumption of the broader markets rally, it might be a bit optimistic to bet on a big near-term breakout for Litecoin into the mid-$100s.
Can LTC Hit $1,000 in 2023?
With cryptocurrency markets seemingly having entered the early stages of a new bull market, investors are thinking about what upside price levels they should be targeting for the years ahead.
Some Litecoin bulls might be hoping for the cryptocurrency to join the $1,000 per token or above club in 2023 – at the moment, only two cryptocurrencies are in this exclusive club, Bitcoin and Ether.
However, that would require Litecoin to 10x from current levels in the space of only around seven and a half months.
That shouldn't be ruled out as impossible.
Between November 2020 and May 2021, Litecoin posted near 8x gains to jump from around $55 to above $410 per token.
But that coincided with a massive run-up in broader crypto prices, driven by zero interest rates, massive fiscal stimulus and a rapid reopening-fuelled economic rebound, as well as a sudden surge in institutional interest into crypto as an asset class.
While it can be strongly argued that the trend towards greater societal and institutional investor adoption of crypto technology and crypto as an asset class has continued, those other economic conditions likely won't be in play for 2023.
Yes, the Fed is likely to pause its interest rate hikes and may do some rate cutting this year, meaning macro should no longer be the massive headwind that it was in 2022 when the Fed was aggressively hiking interest rates to get inflation under control.
But Litecoin bulls should temper their optimism about hitting $1,000 this year.
But Litecoin Still Set Up For a Good Year
That's not to say the cryptocurrency can't still perform well this year.
This year's more dovish Fed should be a tailwind for Litecoin and other cryptocurrencies, barring any further major inflationary shocks.
And if the ongoing bank crisis worsens, the demand for hard money alternatives like gold and Bitcoin will grow.
Litecoin doesn't capture the public's imagination in quite the same way as Bitcoin as an alternative form of money just yet, but it should – it is a highly decentralized, robust and censorship-resistant payment network just like Bitcoin and actually scales exponentially better for use as a currency in everyday payments.
The Litecoin network has over 11 years of continuous immutable, uncensorable, flawless uptime.$LTC ⚡ pic.twitter.com/1xWKle6lbp

— Litecoin (@litecoin) May 7, 2023
Indeed, according to a recent tweet by the official Litecoin Twitter account, the cryptocurrency can already be used in payments across a number of major platforms.
#PaywithLitecoin via:
🛒 Bitpay
🛒 PayPal
🛒 Coingate
🛒 Shopify
🛒 Flexa
🛒 CoinMe/CoinStar
🛒 CakePAY
🛒 Cryptocom Pay
🛒 Nowpayments
🛒 Coinbase Commerce
🛒 AlfaCoins
🛒 Coinpayments
🛒 CryptoBucks
🛒 Binance Pay
🛒 Moneygram
🛒 Venmo pic.twitter.com/eIXEwmdNgC

— Litecoin (@litecoin) May 7, 2023
With a surge in meme coin-related activity on the Ethereum and Bitcoin blockchains having resulted in a big spike in transaction fees on both, the Litecoin use case is further boosted.
The median fee for a Litecoin transaction is $0.001

— Litecoin (@litecoin) May 9, 2023
Indeed, Litecoin's median transaction fee is a stunningly low $0.001, despite transactions on the blockchain recently exceeding Bitcoin.
$LTC transactions and active addresses have reached new record highs, surpassing $BTC in both for the first time.

Making #Litecoin the most use blockchain on earth. pic.twitter.com/MGYTFZiBjj

— Litecoin (@litecoin) May 10, 2023
Meanwhile, just as the new BRC-20 token standard has arrived to the Bitcoin blockchain, essentially transforming into a smart-chain, LRC-20 has just arrived on Litecoin and is being developed on top of the Litecoin Ordinals protocol.
Current testing is on-going for an LRC20 equivalent system on @litecoin https://t.co/WfB7AMT6SC

— jake.xbt (@jakegallen_) May 1, 2023
All of the above, plus Litecoin's recent partnership with Mastercard that is expected to boost adoption and the upcoming halving event of 2023 suggests that Litecoin has a strong outlook for the upcoming crypto bull market.
---