L The Memecoin ($L) Price Explodes 7,500%, Trends on DEXTools With Crypto Airdrop For Twitter Blue Subscribers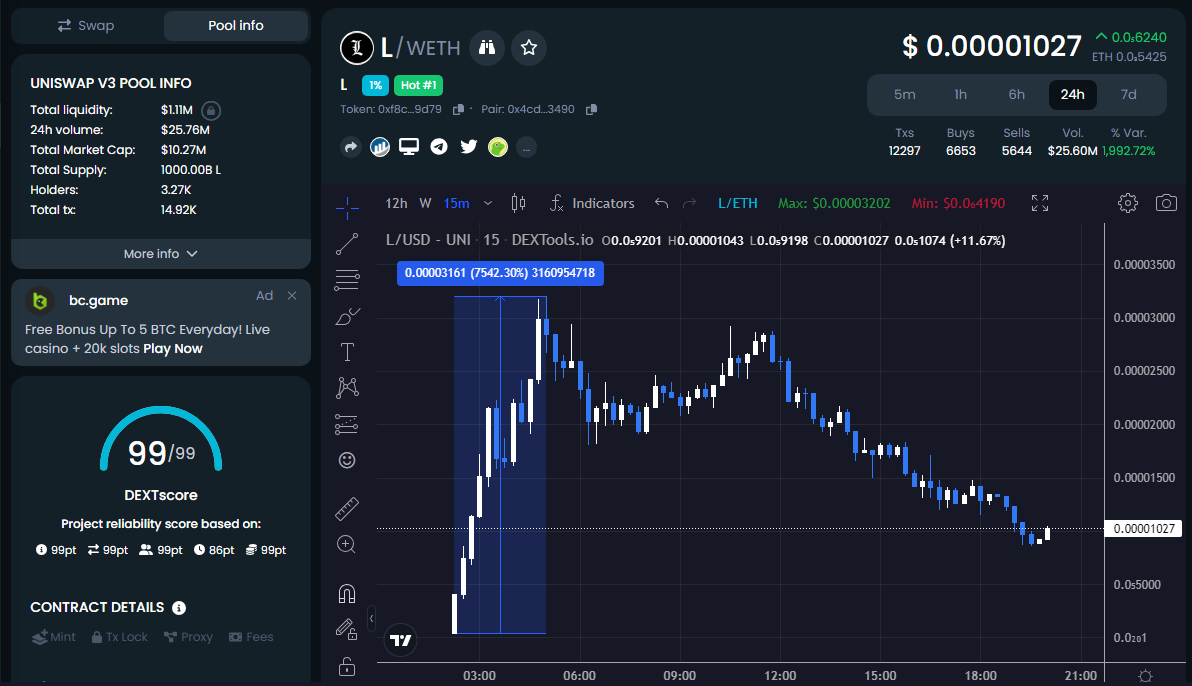 Inspired by a 2021 Elon Musk tweet, new cryptocurrency L The Memecoin (L) had an explosive initial exchange offering on Uniswap today, with the $L price pumping over 7,500% before a correction.
$L was a closely watched meme coin ICO thanks to its airdrop and a June 17 tweet from Bitmex founder Arthur Hayes even speculating it could be the next Shiba Inu (SHIB).
What Is L The Memecoin?
L The Memecoin's description on DEXTools, where it is one of the most trending cryptocurrencies - the #1 most viewed 'hot pair' right now - reads:
'$L is the first airdrop that rewards you for your Twitter usage: all Twitter Blue subscribers are eligible, and the more clout you have [the more L tokens received].'
The 'origin story' of L The Memecoin stems from an Elon Musk tweet in 2021 that he likes Japanese manga series Death Note, and the character L Lawliet, known just as 'L'.
$L is not yet listed on CoinMarketCap. According to DEXTools, the fully diluted L The Memecoin market cap is $10 million, with 3,200 holders at the time of writing.
Aiming to 'create a genuine community of real people, not bots' on Twitter, $L tokens will be airdropped to verified Twitter Blue accounts to 'incentivize more people to subscribe to Twitter Blue' and make use of Elon Musk's platform.
According to its official site lthememecoin.com, $L uses a 'proprietary algorithm' to score how much a user's Twitter account is worth in $L tokens.
Is L The Memecoin Airdrop Legit?
There has been some criticism of the L crypto project and its $L airdrop.
Crypto influencer Alex Krüger tweeted to his 154,000 followers that L The Memecoin was 'the latest Andrew Lee grift'.
He went on to add that Lee 'allegedly scammed people in other projects such as Quarkchain and Chromia' and that 'three of the projects Lee founded went to zero, two to almost zero'.
Elon Musk Tweets At New Meme Coin $WSM
While the billionaire Twitter CEO is yet to tweet about L The Memecoin, he has recently interacted with the Twitter account of upcoming meme coin presale Wall Street Memes (WSM).
Elon Musk has engaged with the @wallstmemes account on three occasions.
With a similar concept of creating a community of traders and investors - inspired by the 2021 meme stocks movement - $WSM is expected to have its IEO on Uniswap later this year.
The project is also hosting a $50,000 airdrop, which has attracted over 36,000 entries.
In its ongoing public presale which launched in late May, Wall Street Memes has raised over $10 million in seed round funding from early investors.
Disclaimer: The Industry Talk section features insights by crypto industry players and is not a part of the editorial content of Cryptonews.com.
---