Is It Too Late to Buy Solana? SOL Price Blasts Up 10% but Crypto Whales are Accumulating Another Coin Instead – Here's Why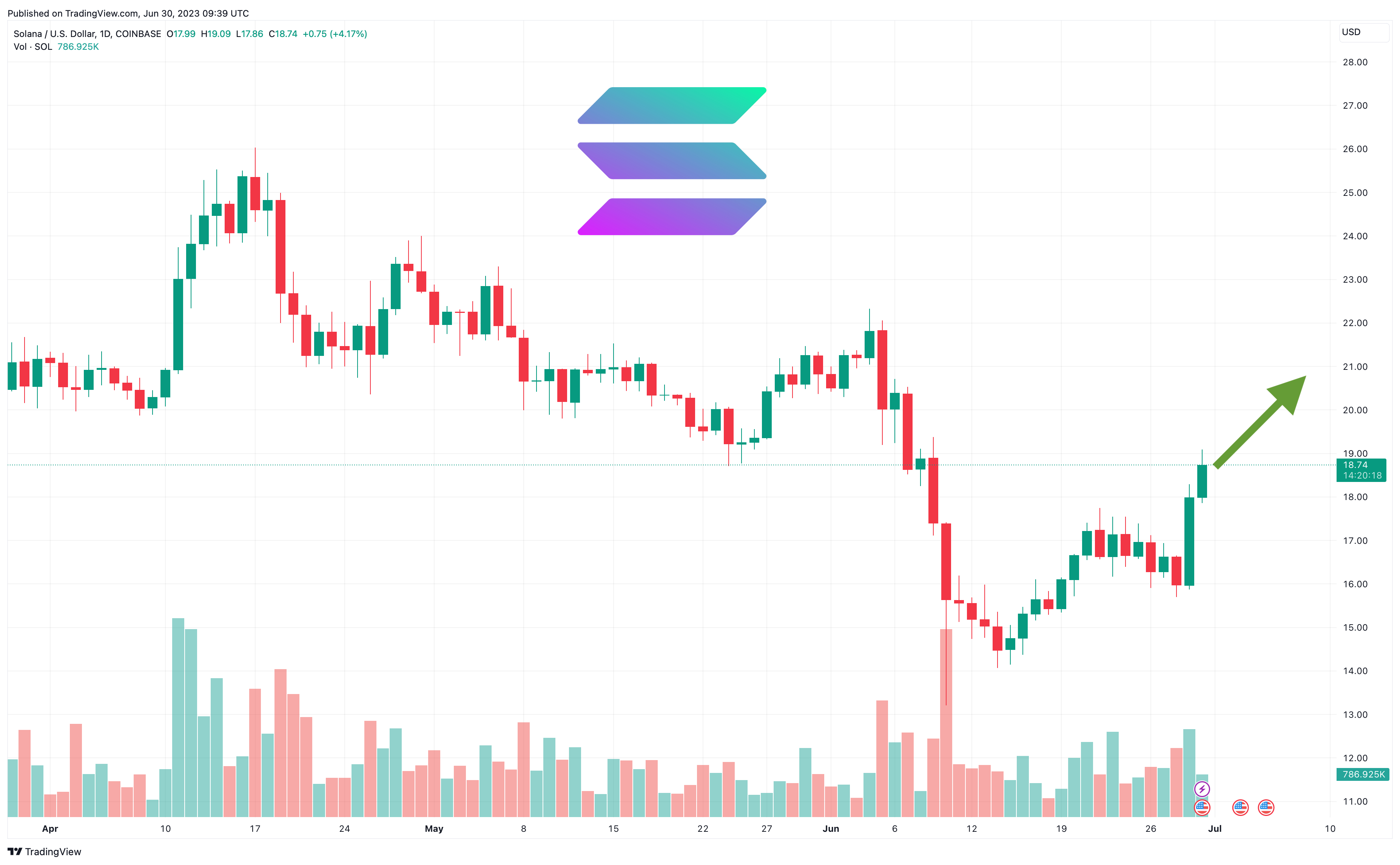 The price of Solana (SOL) has risen by more than 10% in the past 24 hours, surging to $18.89 after the launch of deBridge, a protocol enabling cross-chain transfers between Solana and Ethereum-compatible networks.
The bridge's launch has already been a big boost to SOL, which is now also up by 27% in the past two weeks, while remaining down by 9% in the last 30 days.
But as strong as SOL is right now, it's possible that the post-deBridge rally may have already peaked, and that the altcoin may not rise much again until the interoperability protocol actually results in sustained growth and adoption.
As such, some traders may prefer looking to other coins with more potential in the short-term, with Thug Life Token (THUG) being one presale coin in particular that seems to be attracting attention right now.
Is It Too Late to Buy Solana? SOL Price Blasts Up 10%
SOL's chart suggests that the altcoin's rally is very close to peaking, although there is still a chance that it may continue for one or two days more before correcting downwards or flatlining.
On the one hand, SOL's relative strength index (purple) has just reached 70, which is right on the edge of 'overbought' territory, but which is still open to further gains (i.e. 90 would be extremely overbought).
On the other hand, the altcoin's 30-day moving average (yellow) is rising towards its 200-day average (blue) but hasn't yet crossed over it, meaning that the rally may still have some space to continue before it runs out of steam.
It's worth noting that SOL's support level (green) has risen steadily over the past couple of weeks, which suggests that it won't fall too far back down if the rally peters out.
As noted above, the cause of today's surge is the launch of deBridge, which promises to open Solana up to much greater use and adoption, insofar as it makes the blockchain interoperable with Ethereum Virtual Machine-compatible networks.
In theory, the fact Solana apps will be operable on Ethereum-compatible networks should accelerate Solana development and expand its ecosystem, which in turn will result in more use and higher demand for SOL.
However, this is a very long-term process, and it's unlikely to have an immediate effect on SOL's price, beyond today's anticipation-fueled rally.
Crypto Whales are Accumulating Another Coin Instead – Here's Why
Because of this, many investors are already turning to other altcoins, particularly to those that look as though they'll rally big in the future.
This includes presale tokens, with one of the biggest sale's at the moment belonging to Thug Life Token (THUG), a meme coin that's rooted in the gangsta rap and hip-hop communities.
THUG's presale has already raised close to $150,000, despite launching only a few days ago.
This figure is already more than 7% on the way towards the sales hard cap of $2,058,000, with the speed of the early fundraising suggesting that THUG has already been successful in attracting a sizable cohort of investors.
Running on the Ethereum blockchain, THUG has a total maximum supply of 4.2 billion tokens, with 70% of this amount allocated to the presale.
In other words, 70% of THUG's supply is being allocated to its community, which will be vital if a meme token such as THUG is to have a long life complete with numerous rallies.
However, investors will need to act quickly if they want to participate in the sale, since the latter will have only one stage, which makes 1 THUG available at a price of $0.0007.
Buyers can get involved by visiting the official Thug Life Token website and connecting their MetaMask wallets, before using either USDT or ETH to buy the meme coin.
The sale will end as soon as it hits the $2,058,000 hard cap, with THUG listing on exchanges soon after, and potentially making its early investors a good profit.
Disclaimer: Crypto is a high-risk asset class. This article is provided for informational purposes and does not constitute investment advice. You could lose all of your capital.
---