Is it Too Late to Buy Shiba Inu? Crypto Experts Give Their SHIB Price Predictions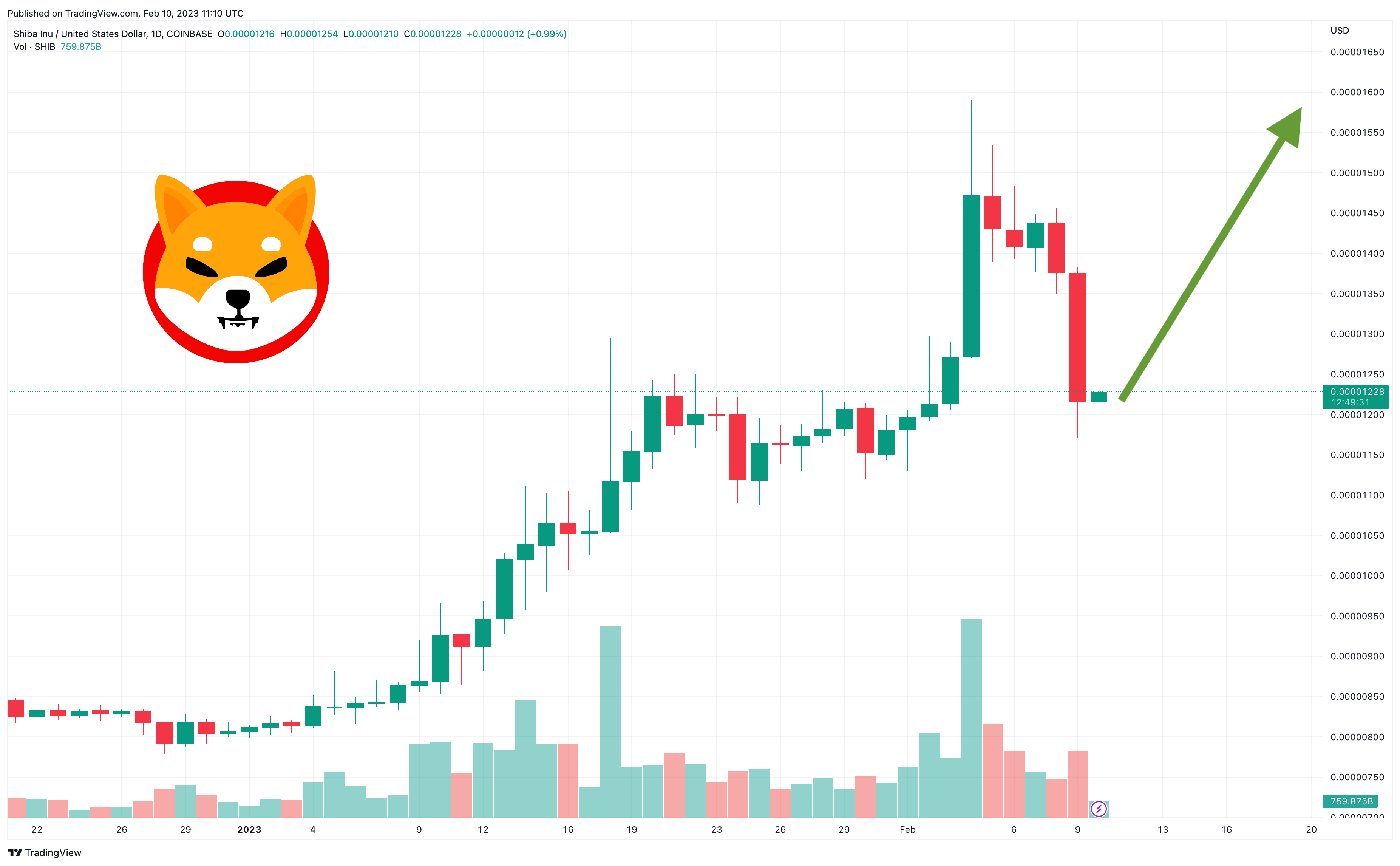 The Shiba Inu price has dropped to $0.00001232 in the past 24 hours, representing a fall of 7.5%. On the other hand, it remains up by 1% in a week and by 33% in the last 30 days, with the altcoin riding high due to expectation surrounding the incoming launch of Shiba Inu layer-two network Shibarium.
Given that Shibarium will help the Shiba Inu network become faster and cheaper, many observers and analysts are expecting SHIB to rise substantially following its launch. And while yesterday's news of Kraken's settlement with the SEC suggests that the market may still have a bumpy road ahead of it this year, SHIB is in a good position to post some solid gains as 2023 matures.
Is it Too Late to Buy Shiba Inu? Crypto Experts Give Their SHIB Price Predictions
SHIB's chart is in an ambiguous position, in that its indicators could go either way right now. Its 30-day moving average (red) has slowed its ascent above its 200-day (blue), and could begin falling again, particularly following today's selloff.
Similarly, SHIB's relative strength index (purple) has dropped to 50 in the past few days. It looks like it could fall further, especially if the $0.000012 support level is breached.
However, it's arguable that today's losses will be shortlived and that the altcoin will return to growth soon enough. This seems to be the opinion of numerous cryptocurrency analysts and SHIB supporters, who all predict significant gains for the altcoin this year.
Almost needless to say, some SHIB fans are forecasting massive gains. One such target is $0.1, which would entail a massive rise of more than 800,000%.
This is unlikely, given that SHIB has already risen by over 20,000,000% compared to its all-time low of $0.000000000056366, set back in November 2020. However, there's little doubt that the coin will experience some notable gains this year.
And the main driver of SHIB gains in the near future will be the aforementioned launch of the layer-two Shibarium network. According to a January 15 update from its developers, the sidechain is "about to be launched" in beta form, suggesting that it could be very close to going live.
According to a recent blog on Shibarium, the layer-two solution will operate over the Ethereum blockchain, which is what SHIB currently uses. It will reportedly provide "the benefits of scalability, faster transaction times, lower fees, and an expanded development framework," with the network focusing primarily on such areas as the "metaverse, web3 innovation, and gaming."
The arrival of Shibarium arguably marks a turning point for Shiba Inu, enabling it to move from being just a meme token to a platform that offers genuine utility to users. This impression is also strengthened by the development of SHIB: The Metaverse, which is due at some point later this year.
As its name implies, SHIB: The Metaverse will be a virtual, Shiba Inu-themed world that users can explore and own, consisting in 100,595 plots of land that will eventually be open to purchase.
These plots will be released in phases, with the metaverse's introductory phase opening up 36,431 plots of land, across four different districts: a growth district, a defense district, a technology district, and currencies district. From there, Shiba Inu's metaverse will witness regular development and growth, adding new features and areas that should potentially draw in more users.
In turn, this will expand Shiba Inu's ecosystem. This ecosystem has already experienced growth in recent years, what with the launch of the ShibaSwap DEX in July 2021.
However, it's now clear that Shiba Inu is set to grow even bigger. By extension, so too will SHIB, with the coin likely to recover the $0.000016 level in the coming months before potentially rising back above $0.00002 by the year's end.
Is Now A Good Time to Buy Shiba Inu?
While SHIB may be due a modest rally in the coming days, it's not likely to rise substantially until after the launch of Shibarium and SHIB: The Metaverse.
As a result, traders looking for quicker gains may prefer to consider other high-potential tokens. We've reviewed such tokens in this list of the top 15 cryptocurrencies for 2023, as analyzed by the CryptoNews Industry Talk team.

The list is updated weekly with new altcoins and ICO projects.
Disclaimer: The Industry Talk section features insights by crypto industry players and is not a part of the editorial content of Cryptonews.com.
---