Is It Too Late to Buy Bitcoin Cash? BCH Becomes Best Performer of the Week While Web3 Trading Alpha Platform LPX Raises $1,000,000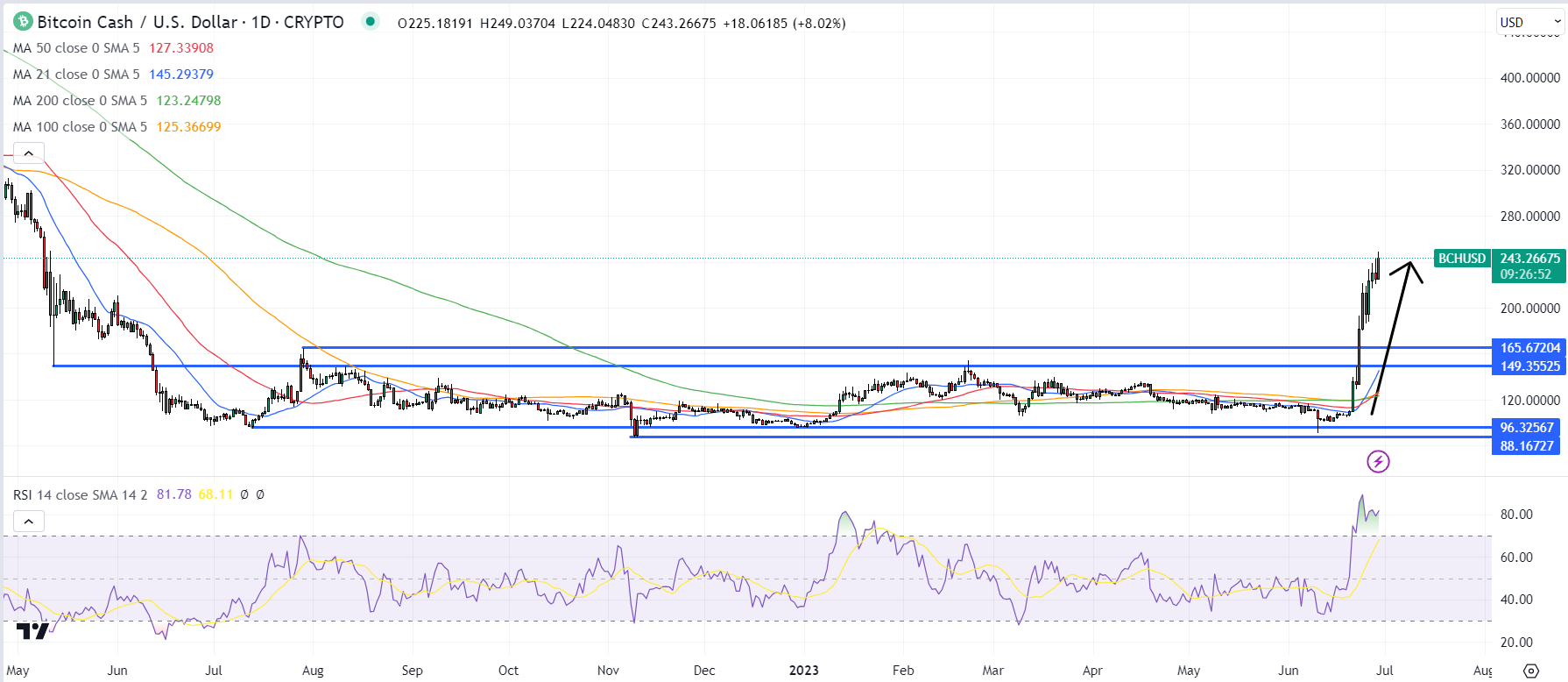 An intense price melt-up in Bitcoin Cash (BCH) that started just over a week ago has continued on Thursday.
BCHUSD was last changing hands to the north of $240 per token, up 120% versus its opening levels from last Wednesday around $110, having gained another 7% on the day.
The trigger for Bitcoin Cash's rally last week was its listing on a much-hyped new cryptocurrency exchange called EDX Markets, which has the backing of major financial institutions like Citadel, Fidelity and Sequoia Capital.
Bitcoin Cash was created back in August 2017 as a result of a hard fork from the original Bitcoin blockchain.
Its creators launched the new blockchain to address the limitations of bitcoin such as problems relating to its scalability and transaction speed.
Bitcoin Cash's strong recent performance means that it is the best-performing cryptocurrency in the top 100 by market capitalization over the past seven days, as per CoinGecko.
Is it Too Late to Buy Bitcoin Cash (BCH)?
The strong rally over the past week has some crypto investors concerned that they might have missed their chance to buy BCH on the cheap.
Is it too late to buy Bitcoin Cash, they might now be asking.
Well, while the cryptocurrency's strong breakout from the $90-$160ish range it was stuck within for around one year certainly seems to signal a longer-term bullish impulse, BCH is still a long way down from previous all-time highs.
Back in May 2021, Bitcoin Cash rose as high as the $1,600s, more than 6x up versus current levels.
Meanwhile, back in 2017, BCH at one point went as high as $4,300.
The cryptocurrency's struggles to keep pace with Bitcoin's adoption rate means that a return to these 2017 highs may never happen.
But if we are in the early stages of a new crypto bull market, BCH could still do very well.
With the cryptocurrency still looking cheap by historical comparison, it certainly isn't too late to buy BCH.
Bitcoin Cash (BCH) Alternative to Consider – Launchpad XYZ (LPX)
Investors seeking diversification in their crypto holdings should consider holding some of the viral new all-in-one web3 platform Launchpad XYZ's native $LPX token.
Experts think that $LPX could potentially be one of the best penny cryptos available in the current space, which is why analysts at Cryptonews.com rank the presale as one of 2023's best.
Launchpad XYZ is building a groundbreaking, all-encompassing web3 platform that, as stated in the project's Whitepaper, seeks to simplify the highly "fractured and intimidating" web3 realm, making it more readily accessible.
Firstly, Launchpad XYZ features all the tools a trader could need to trade and navigate the DeFi world.
The platform will include a cutting-edge trading terminal, with all transactions taking place through Launchpad XYZ's proprietary decentralized cryptocurrency exchange (DEX).
Additionally, the platform will provide a peer-to-peer (P2P) non-fungible token (NFT) exchange, as well as a presale analysis dashboard.
But the scope of its platform goes well beyond purely catering to crypto investors and traders.
The all-in-one platform seeks to establish a user-friendly, curated gateway that offers convenient entry to the best projects in the blockchain space, all while enabling self-custody of your digital assets.
Covering everything from NFTs to play-to-earn games, Launchpad XYZ will serve as an impartial gateway to the most cutting-edge and exciting Web3 experiences.
Launchpad XYZ is currently conducting an already hugely popular presale of its native $LPX token.
The web3 start-up's presale of its native $LPX crypto token is in its second stage and recently surpassed the $1 million milestone, despite only launching a few months ago.
The current $LPX price is $0.0445, but investors should move quickly to secure their tokens ahead of the next 3.3% price rise to $0.046 when the presale hits $1.55 million and enters its third stage.
Over a subsequent nine presale stages, the $LPX price will be gradually lifted to $0.0565, which is the price the token will list at on the Launchpad XYZ decentralized exchange in the third quarter of 2023.
That means that investors who get in now can be sat on paper gains of around 27% by the time the token ICOs later this year.
Disclaimer: Crypto is a high-risk asset class. This article is provided for informational purposes and does not constitute investment advice. You could lose all of your capital.
---