Bitcoin Cash (BCH) Surges by 82% in a Week, Late Investors are Flocking to Another AI Crypto Signal Platform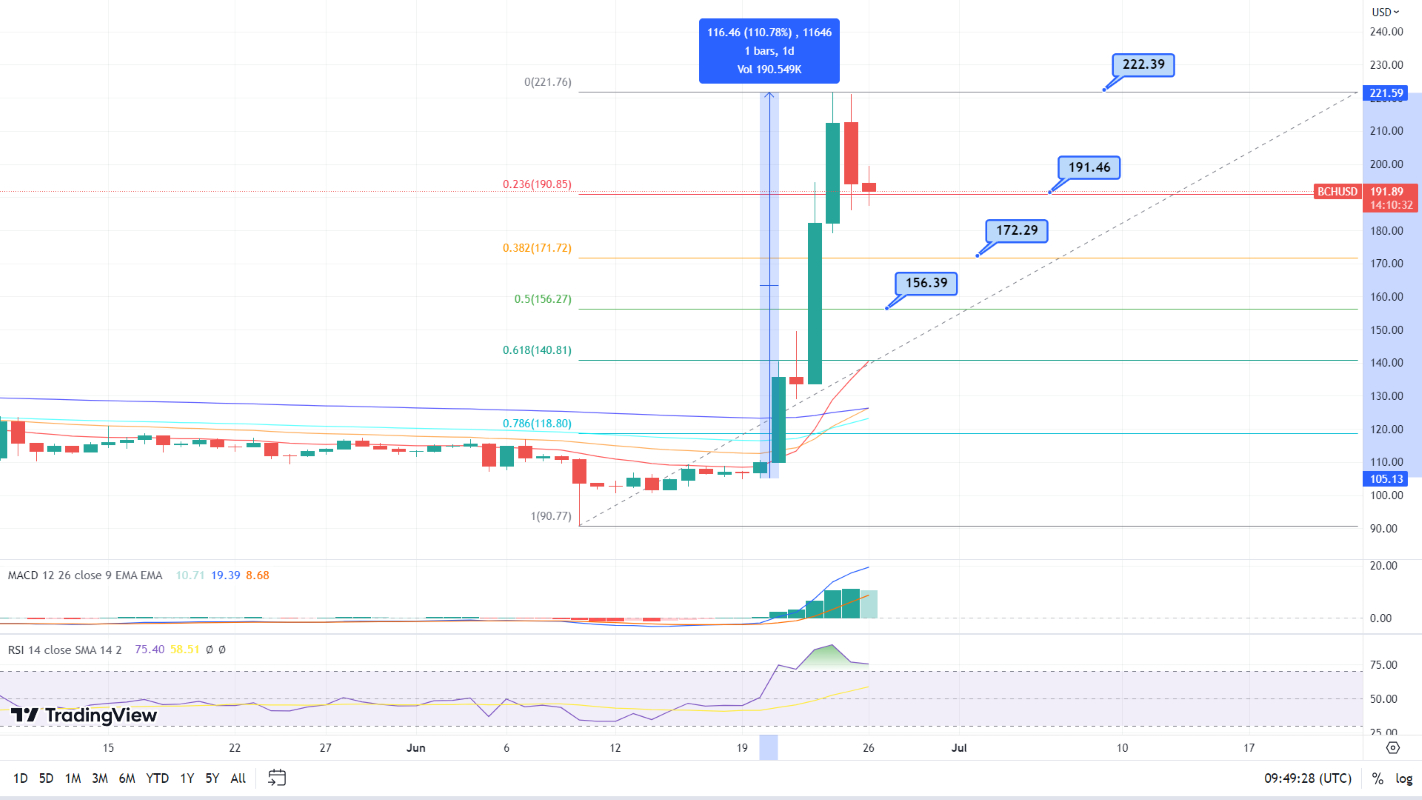 Bitcoin Cash (BCH) has witnessed a remarkable surge in price, skyrocketing by 82% in just one week. This surge was accompanied by a significant influx of $1.2 billion in trading volume.
The listing of Bitcoin Cash on the EDX exchange played a pivotal role in driving this impressive upward trend.
EDX Listing Amplifies Market Interest: for BCH
The EDX exchange, backed by prominent financial institutions like Fidelity, Schwab, and Citadel, listed Bitcoin Cash, contributing to heightened market interest. This listing has led to a surge of over 110% in the value of Bitcoin Cash in recent days.
Surging BCH Open Interest
Bitcoin Cash has witnessed a spike in open interest, indicating increased speculative and hedging activities surrounding BCH.
Traders and investors are taking positions in anticipation of further price appreciation. According to Coinalyze, BCH has experienced a 429.04% surge in open interest, reaching a 25-week high of $296.53 million.
The rise in open interest in Bitcoin Cash indicates growing optimism about its future, particularly in terms of institutional adoption.
The increasing confidence among institutional investors is expected to enhance BCH's liquidity, market demand, and overall value.
Institutional Interest and Market Sentiment
The upward trajectory of Bitcoin Cash and other cryptocurrencies can also be attributed to positive market sentiment and supportive industry developments.
The interest of institutional players such as BlackRock, with its $9 trillion assets under management, has been identified as a key driver for Bitcoin prices.
BlackRock's application for a Bitcoin spot exchange-traded fund (ETF) with the SEC further validates the increasing institutional interest.
BCH/USD Price Analysis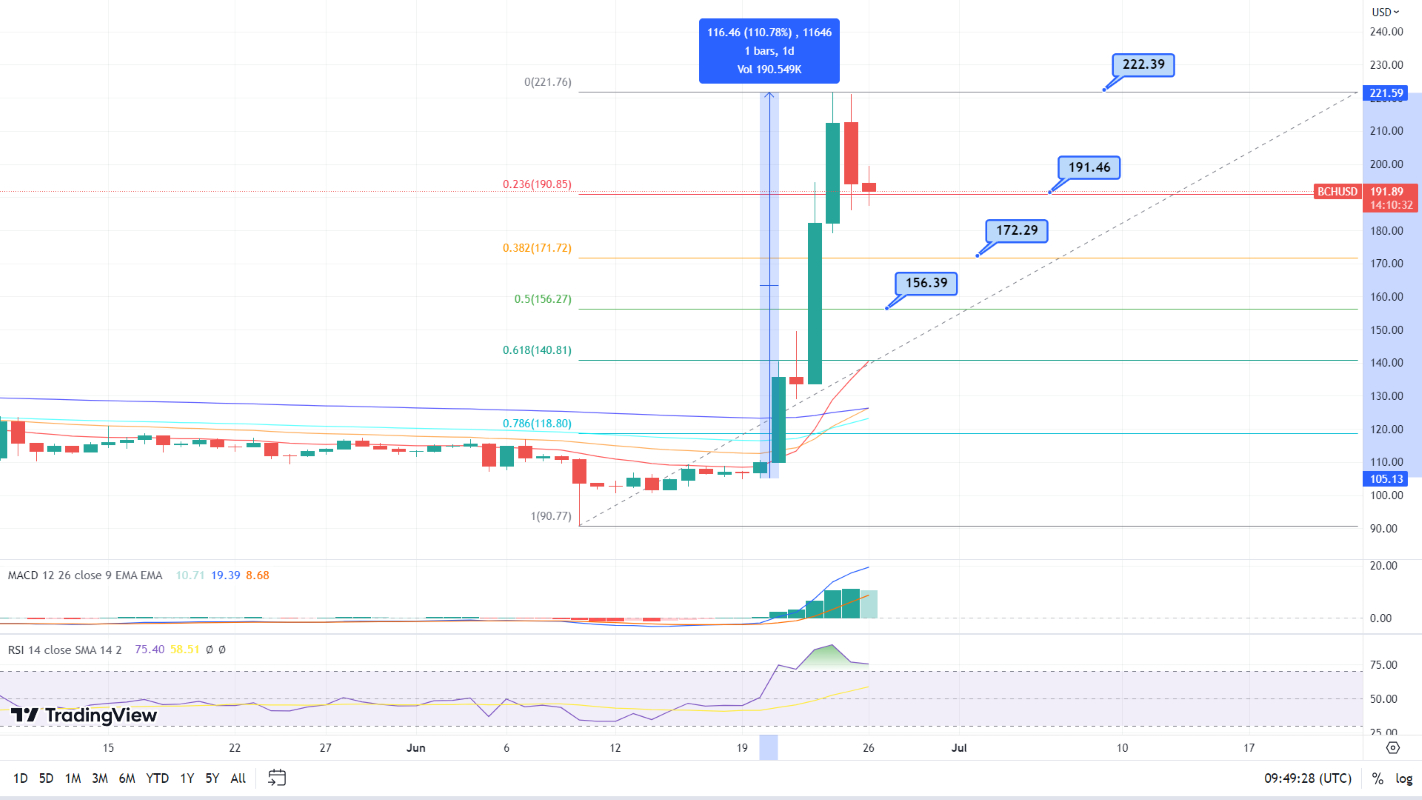 Last week, the BCH/USD pair experienced a significant surge of over 110% within a span of five days, propelling its price above $220 for the first time in 13 months.
Currently, the cryptocurrency is undergoing a price correction phase as traders take profit.
The MACD histograms remaining positioned above the zero line suggest continued buying momentum, indicating that the ongoing rally may have further potential.
The initial support level can be identified at $191.46, corresponding to the 23% Fibonacci Retracement level.
If the bulls regain control, there is potential for the prices to retrace towards the $222 level and potentially higher.
While Bitcoin Cash is displaying remarkable performance this week, traders are also keeping an eye on the AI Crypto platform, yPredict, as it progresses through its presale stages.
yPredict Presale Gains Momentum, Nearing $2.6 Million with Innovative AI Model
yPredict, a trailblazing project at the forefront of AI-powered trading and analytics, has achieved remarkable success during its presale launch.
With an impressive $2.6 million raised so far, yPredict has attracted a significant influx of investors who are captivated by the platform's innovative approach.
The recent testing of yPredict's AI model demonstrated its immense potential, as it received an overwhelming response with over 5000 queries within the initial 48 hours.
Driven by its thriving community and extensive social media engagement, yPredict is primed to leave a lasting impact on the cryptocurrency industry, solidifying its position as a pioneering force in the space.
Introducing the Enhanced yPredict Platform with a promising future
yPredict has undergone a remarkable transformation, introducing a sleek new user experience (UX) backed by lightning-fast server upgrades, ensuring a seamless and efficient platform performance.
To enhance its predictive capabilities, yPredict has enriched its Backlink estimator prediction model with new data, enabling users to access smarter insights and advanced optimization capabilities.
Moreover, yPredict has expanded its product offerings, equipping users with a comprehensive suite of cutting-edge tools.
The yPredict Editor facilitates effortless backlink editing, while yPredict Analytics provides in-depth website performance insights.
The yPredict Predictions feature empowers users with accurate forecasting, and the yPredict Marketplace serves as a vibrant community hub for connections and collaborations.
Leveraging AI and machine learning, the yPredict platform empowers traders with data-driven insights to optimize their market performance.
Operating on the Polygon network, the platform delivers scalability and cost-efficiency through its low fee structure. By adopting a decentralized autonomous organization (DAO) model, YPRED token holders actively participate in shaping project operations and decision-making.
The project has already achieved significant funding, with over $2.593 million raised during the presale phase. This continued interest and investment further establish yPredict as a pioneering force within the industry.
Disclaimer: The Industry Talk section features insights by crypto industry players and is not a part of the editorial content of Cryptonews.com.
---