Introducing BTC20: The Green Bitcoin on Ethereum Launching Tomorrow – How to Buy?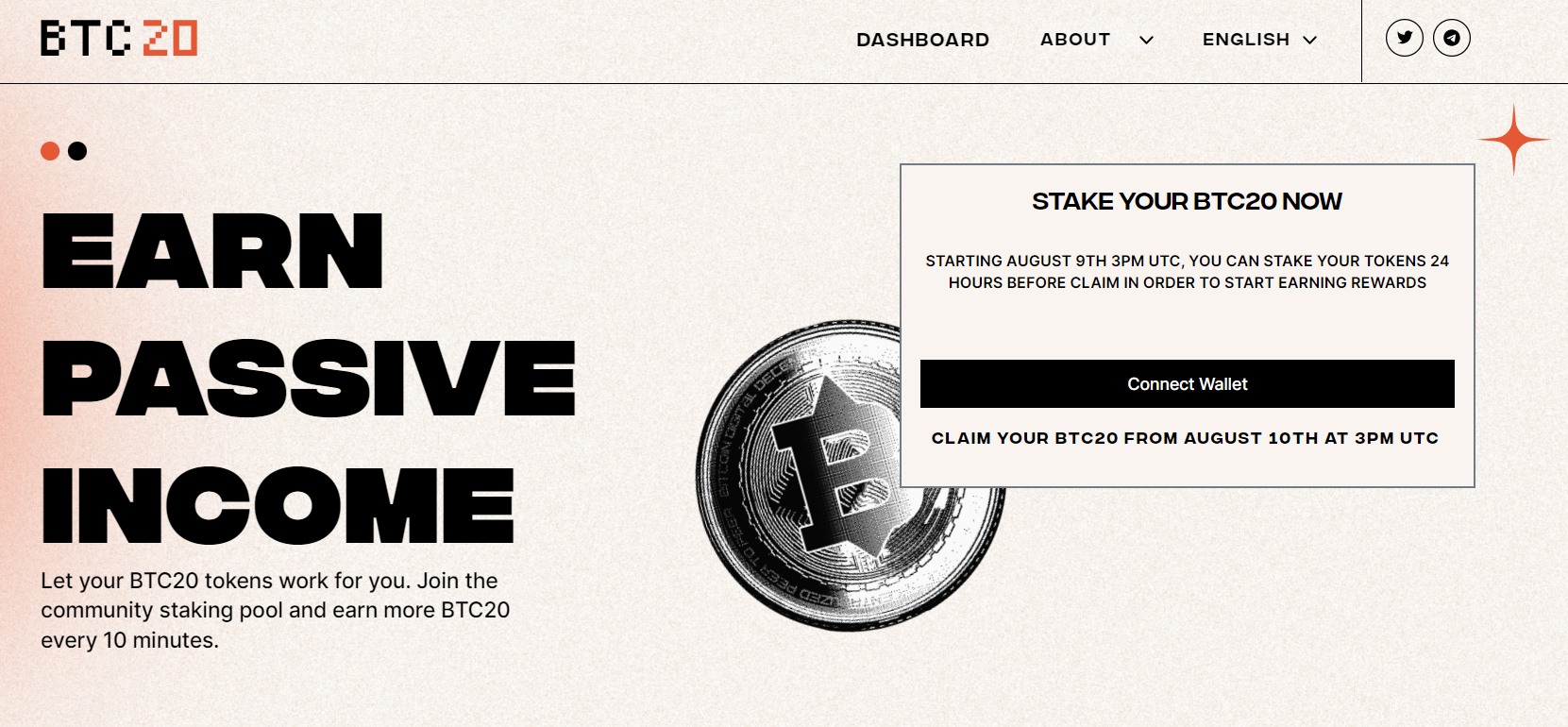 An exciting new "green" version of Bitcoin called BTC20 is about to launch on the Ethereum blockchain, and industry experts are already hailing it as a coin with massive potential.
BTC20 has the same tokenomics design as the original Bitcoin, with a maximum supply of 21 million tokens which follow the same issuance schedule.
However, given the fact that it runs on the highly energy-efficient proof-of-stake Ethereum blockchain, it is much greener than the energy-guzzling original Bitcoin, whose network is powered by the highly inefficient proof-of-work blockchain consensus mechanism.
BTC20 has other key advantages over Bitcoin.
The fact it runs on Ethereum means that transaction times are faster and that it has immediate access to the Ethereum network's massive ecosystem of Decentralized Finance applications.
That arguably gives it much greater utility, when compared to the original Bitcoin.
And that's not all.
BTC20 is also being hailed as a much better investment opportunity than Bitcoin.
That's because BTC20 winds the clock back to when the BTC price was $1 and supply was just 6.05 million token back in April 2011.
That means when the token launches on Ethereum-based decentralized exchanges (DEXs) on Thursday (at 1500 UTC), it will have a tiny market cap of only around $6 million.
Given the amount of hype the project has already been able to generate, it probably won't stay at a $6 million market cap for long.
2023's Best Passive Income Opportunity
BTC20 is also being hailed as an amazing passive income opportunity.
As noted above, BTC20 has the same tokenomics as Bitcoin, including the same issuance, but with the clock wound back to 2011.
Back in 2011, the Bitcoin issuance rate was significantly higher than it is now, meaning BTC20's issuance rate will be significantly higher than Bitcoin's current rate.
And all BTC20 investors need to do to benefit from BTC20 issuance is to stake their tokens.
BTC20 token staking went live a few hours ago, with traders who got in on the project's presale (which ended last week) able to deposit their tokens into the staking smart contract.
Investors have already deposited over 1.35 million of the BTC20 tokens they secured in the presale into the staking smart contract and the current yield on offer is a whopping near 200% per year, as can be verified by checking out BTC20's official staking dashboard.
One BTC20 whale deposited a huge 155,000 BTC20 tokens (worth $155,000 in the presale) into the staking contract.
Expect the high yields on offer to encourage more BTC20 presale investors to deposit their tokens into the staking contract ahead of Thursday's DEX listing.
That should substantially reduce any potential sell pressure at the time of the DEX launch, meaning the BTC20 price could quickly pop.
In terms of how to buy the coin; investors will need to find the official BTC20 token on Uniswap by pasting its token contract, which can be verified on Etherscan, connecting their wallet to the DEX (on the Ethereum network) and then they will be able to buy the token with their ETH.
Disclaimer: Crypto is a high-risk asset class. This article is provided for informational purposes and does not constitute investment advice. You could lose all of your capital.
---