How to Buy Pepe 2.0 Coin - Complete Guide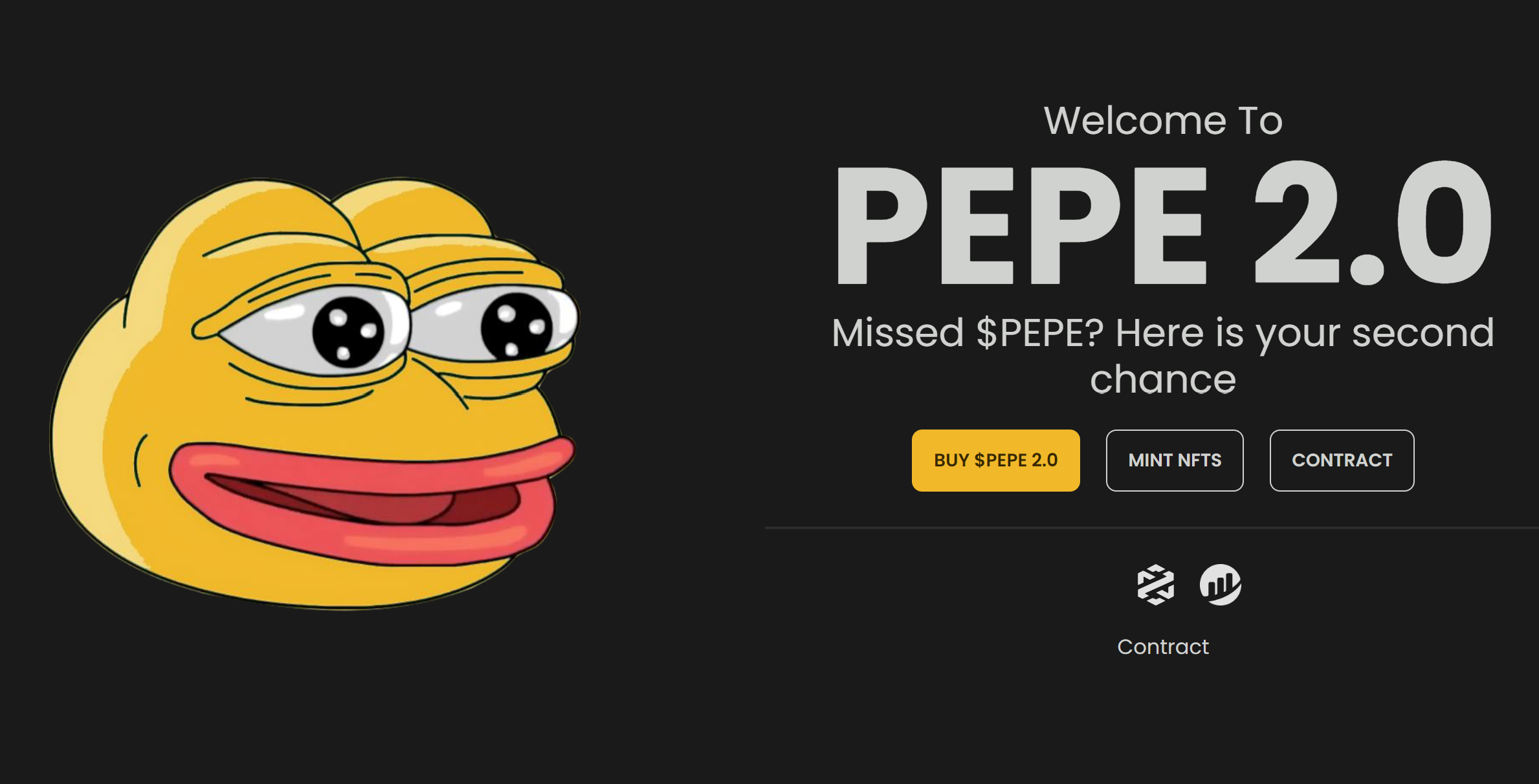 Disclaimer: The Industry Talk section features insights from crypto industry players and is not a part of the editorial content of Cryptonews.com.
PepeCoin was one of the breakout hits of this spring's meme coin season. It exploded more than 6,500% in early May, even surpassing Dogecoin and Shiba Inu in trading volume at its peak.
Now, a new version of PepeCoin is making crypto headlines — Pepe 2.0. In this guide, we'll explain how to buy Pepe 2.0 coin and take a closer look at whether Pepe 2.0 is a good buy right now.
How to Buy Pepe 2.0 in 4 Quick Steps
Pepe 2.0 is available to purchase on a variety of centralized and decentralized exchanges. We'll walk through the process with LBank, which lets investors buy Pepe 2.0 starting with fiat.
Step 1: Sign up for LBank. Visit the LBank crypto exchange and register a new account.
Step 2: Buy $USDT. Use a bank transfer, credit card, or debit card to purchase $USDT instantly on LBank.
Step 3: Find Pepe 2.0. Find the Pepe2/USDT trading pair and open LBank's trading terminal.
Step 4: Buy Pepe 2.0. Enter a market order with the amount of Pepe 2.0 to purchase, then click 'Buy' to complete the purchase.
What is Pepe 2.0?
Pepe 2.0 is a new meme coin that builds on the legacy of the original PepeCoin. It features the same meme, Pepe the Frog, but in a new orange hue that distinguishes the new Pepe from the old.
The new version of Pepe was created by wallet addresses that were blacklisted by the creator of the original PepeCoin. So, in some ways, Pepe 2.0 is a chance at revenge or redemption for some traders who were left out of the original PepeCoin rush.
Pepe 2.0 launched on June 27 with the goal of recreating PepeCoin's attempt at reaching a $1 billion market cap. The token currently trades on several centralized exchanges, including LBank, Bitrue, Bybit, Bitget, and BitMart.
Notably, the creators of Pepe 2.0 renounced ownership over the token's contract. This puts the project firmly in the hands of the community and significantly reduces the risk of a rug pull for investors.
Pepe 2.0's Twitter account has been suspended, but the project has amassed more than 7,000 members in its Telegram community since launching.
Pepe 2.0 Tokenomics
Pepe 2.0 has a total supply of 420,690,000,000,000 tokens. The entire supply is in circulation and the project has a market cap of $57,085,832 at the current token price of $0.0000001342.
All transactions involving Pepe 2.0 incur a 1% tax. Revenue from the tax is used to support community development and marketing, as well as support liquidity pools for Pepe 2.0 trading. The overall goal of the tax is to make Pepe 2.0 sustainable over the long run.
Pepe 2.0 currently does not support staking. The project cannot issue new coins and it does not have a built-in mechanism to burn existing tokens.
Pepe 2.0 Price Action - Why Has Pepe 2.0 Surged?
Since launching on June 28, Pepe 2.0 has soared from an initial price of 0.0000000040 to today's price of $0.0000001342. That's a nearly 100X gain, or more than 3,350%!
While the original PepeCoin surged more than 6,500%, it took several weeks to achieve that gain. Pepe 2.0 has jumped sharply after just 10 days of trading.
Meanwhile, trading volume in Pepe 2.0 has exploded alongside the price. According to CoinMarketCap, 24-hour trading volume is now more than $73 million.
In the last 24 hours alone, Pepe 2.0 is up more than 40%. However, the token's price has declined by 12% in the last few hours. It remains unclear whether this is a short-lived pullback or the beginning of a decline from the token's peak.
The main reason behind Pepe 2.0's surge is that investors are still enthusiastic about Pepe. Many traders and investors who missed out on the original PepeCoin pump saw Pepe 2.0 as a second chance. In fact, Pepe 2.0 promotes itself as an opportunity for anyone who missed the boat on the original PepeCoin.
The price of the original PepeCoin jumped in mid-June, before Pepe 2.0 launched, but has been mostly flat since Pepe 2.0 hit the market. Traders interested in making a profit have found much more price action in Pepe 2.0, further supporting trading volume and hype around this new coin.
The broader success of the meme coin market has also helped fuel the fire around Pepe 2.0. According to CoinCodex, meme coins now have a total market cap of more than $15.5 billion.
That's encouraged investors to look for meme coins that could be next to explode. Many investors saw Pepe 2.0 and thought it could be their ticket to becoming crypto millionaires. As more people pile into the token, the Pepe 2.0 price prediction of huge gains becomes a self-fulfilling prophecy.
Why Buy Pepe 2.0?
Traders and investors who buy Pepe 2.0 are speculating that the hype around this token is just getting started.
The original PepeCoin hit a peak market cap of $1.5 billion, but the market cap of Pepe 2.0 is still only $57 million. That suggests the token has a lot of room to run—potentially even room to 20X from today's price.
Whether that can happen depends on whether Pepe 2.0 has another pump in it. The token has already jumped nearly 100X from its launch price. The token's gains have slowed down in the past several hours, but this could just be a temporary break as traders catch their breath.
It's impossible to say for sure whether now is the perfect time to get in on Pepe 2.0 or whether today's investors will be buying at the peak. Some meme coins, like the original PepeCoin, surged far higher as they got a second wind. Many other meme coins have peaked and then fallen sharply, leaving anyone who bought at the top holding the bag.
Either way, it's important to note that Pepe 2.0's price depends entirely on demand. The project does not support staking and its tokenomics are not deflationary. So, once demand drops, there is nothing to sustain the price of the token.
Moreover, after witnessing the remarkable growth of Pepe Coin, investors are now focusing on early-stage alternatives such as Evil Pepe Coin.
Evil Pepe Coin: Community-Focused Meme Coin With A Potential DEX Listing Soon, Raised Over $130K in 48 Hours
Evil Pepe Coin ($EVILPEPE) is a new meme crypto that seeks to unite a community to challenge the traditional crypto norms. This coin is built with a community-centric model - an impressive 90% of its total supply is available in presale.
This approach creates an engaged and committed community, a critical success factor for meme coins. You can join the presale to buy $EVILPEPE using ETH, BNB, USDT, or Card. Stay updated on presale details by following Evil Pepe Coin on Twitter.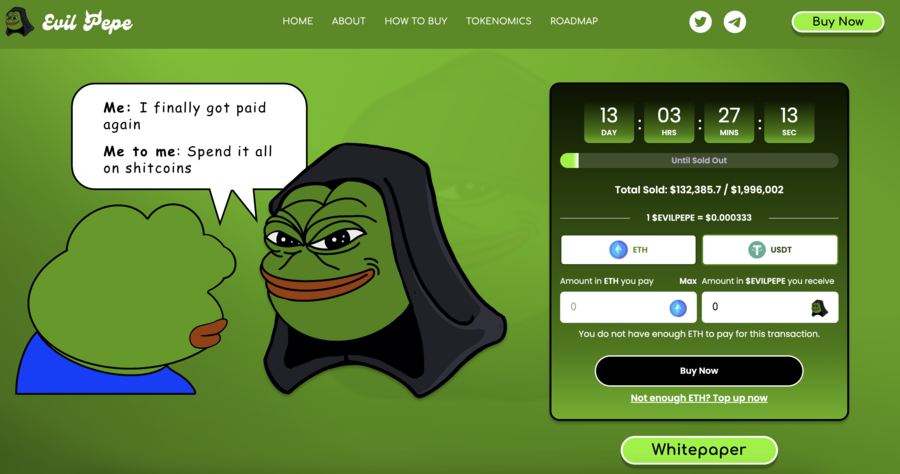 Once listed on a Decentralized Exchange (DEX), $EVILPEPE aims to prove its utility beyond just being a meme coin. Evil Pepe Coin's whitepaper expands on how the platform invites risk-takers to challenge the conventional norms, appealing to 'bold' investors.
Out of its total 6.66 billion tokens, 10% will be liquidity-locked for a month. Making investment decisions based on risk tolerance and financial goals is crucial. It's crucial to remember that platforms with solid community backing typically fare better long-term.
Amidst the meme coin boom, Evil Pepe Coin stands out for its community-driven method, rebellious nature, and an 'all-inclusive' approach.
Get the latest project updates by entering the Evil Pepe Coin Telegram channel.
Is Pepe 2.0 Legit or a Scam?
Pepe 2.0 is a widely traded token that's available on numerous centralized and decentralized crypto exchanges. Centralized exchanges that offer Pepe 2.0 include LBank, Bitrue, Bybit, Bitget, and BitMart. No Tier-1 exchanges have yet listed Pepe 2.0.
The creators of Pepe 2.0 are anonymous, although it's known that the coin was created by wallet addresses that were blacklisted by the founder of the original PepeCoin. The founders of meme coins often choose to remain anonymous, so this isn't unusual at all.
The developers behind Pepe 2.0 renounced ownership over the token's contract, putting the project in the hands of the community. This is important for trust and security. It means that the developers cannot suddenly create new Pepe 2.0 tokens or change the coin's tokenomics.
All of these factors suggest that Pepe 2.0 is a legit token. However, that's not a guarantee that the price will go up. Investors should remember that all money they invest in Pepe 2.0 is at risk.
How to Buy Pepe 2.0 Tutorial
We'll walk through a detailed step-by-step for how to buy Pepe 2.0 on the centralized exchange LBank. The process will be similar for other exchanges.
Step 1: Sign Up for LBank
Visit LBank and click 'Register' to create a new exchange account. Users must enter their email and a password, then verify their email.
LBank complies with Know Your Customer regulations. New users must provide their name, address, and phone number. They also must submit a photo of their driver's license or passport and take a selfie to complete the registration process.
Step 2: Buy $USDT
Click 'Buy Crypto,' then choose 'Credit/Debit Card' or 'Bank Transfer' depending on the preferred payment method. Select USDT (Tether) as the cryptocurrency to buy and enter the amount to purchase. Then click 'Buy USDT' and then enter payment information to complete the purchase.
Step 3: Find PEPE2/USDT Trading Pair
Click 'Markets' in the LBank menu and then search for 'Pepe2.' Select the PEPE2/USDT trading pair to open the LBank trading terminal.
Step 4: Buy Pepe 2.0
Under the price chart, select 'Market' to enter a new market order. Enter the amount of Pepe 2.0 to purchase, then click 'Buy' to complete the purchase. The purchased Pepe 2.0 tokens will be available in the LBank account instantly.
Conclusion
Pepe 2.0 is one of the hottest new meme coins and has gained more than 3,000% since launch. However, the token's price action may be stalling, so traders and investors need to be careful or else they could be buying in at the top.
Pepe 2.0 is far from the only promising new token making waves in the crypto market. Check out our full list of the best new cryptocurrencies to find the most exciting crypto investments today.
FAQs
Is Pepe 2.0 the same as PepeCoin?
Pepe 2.0 is based on the same meme as PepeCoin, but they are distinct tokens. Pepe 2.0 was created by individuals that were blacklisted by the creator of the original PepeCoin. The tokens also have different tokenomics and price action.
What exchanges support Pepe 2.0 trading?
Pepe 2.0 trading is currently available on LBank, Bitrue, Bybit, Bitget, and BitMart. KuCoin is accepting Pepe 2.0 deposits ahead of launching trading in this token. Pepe 2.0 is also available on most major decentralized exchanges, including Uniswap.
Should I buy Pepe 2.0?
Pepe 2.0 has generated returns of more than 3,300% since it launched. However, it's unclear whether the token has a second pump coming or whether the current price represents a peak. Investors should approach Pepe 2.0 with caution to avoid buying the top.
Can Pepe 2.0 reach $1 billion?
The original PepeCoin achieved a market cap of almost $1.5 billion at its peak. However, Pepe 2.0 currently has a market cap of only $57 million. The token's price would need to increase by nearly 20X to reach a $1 billion valuation. That's not impossible, but it seems unlikely considering that Pepe 2.0 has already experienced a 3,000% gain and may be losing momentum.
---