How to Buy Bitcoin Anonymously Without KYC
Disclosure: Crypto is a high-risk asset class. This article is provided for informational purposes and does not constitute investment advice. By using this website, you agree to our terms and conditions. We may utilise affiliate links within our content, and receive commission.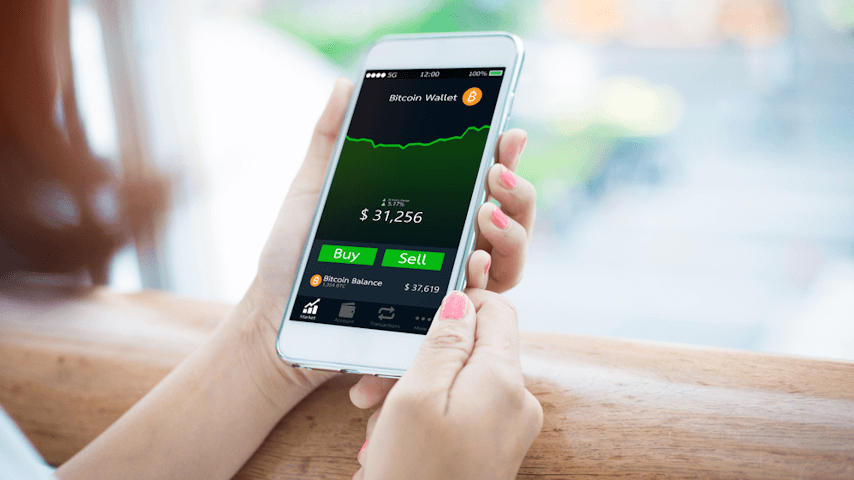 Although Bitcoin offers a way to transact on the internet completely anonymously, buying Bitcoin isn't always anonymous. Most major crypto exchanges require ID to buy Bitcoin, forcing Bitcoin users to reveal their identity before they can access the digital economy. Thankfully, there are ways to buy crypto anonymously.
In this guide, we'll explain how to buy crypto without ID and highlight the best places to buy Bitcoin with no Know Your Customer (KYC) checks.
How to Buy Bitcoin Anonymously Within Minutes
We'll quickly explain how to buy Bitcoin anonymously using Best Wallet in just 3 simple steps.
Step 1: Download Best Wallet. Best Wallet is a Web3 wallet and decentralized exchange that lets users purchase crypto anonymously. Download the Best Wallet app for iOS or Android.
Step 2: Create a Best Wallet Account. Enter and verify an email address to create a Best Wallet account.
Step 3: Buy Bitcoin. Select Bitcoin and tap Buy, then enter the amount to purchase. Click Buy to complete the transaction.
Best Places to Buy Crypto with No KYC Reviewed
We'll highlight 5 of the best places to buy Bitcoin with no KYC in 2023.
1. Best Wallet – New Web3 Wallet and DEX That Lets Users Buy Bitcoin Anonymously

Best Wallet is a new Web3 wallet and decentralized crypto exchange (DEX) that lets users buy Bitcoin, Ethereum, and other tokens with no KYC or personal information required.
All users have to do to sign up for a best wallet account is provide an email address. They don't need to give their name, address, country of residence, or any other information.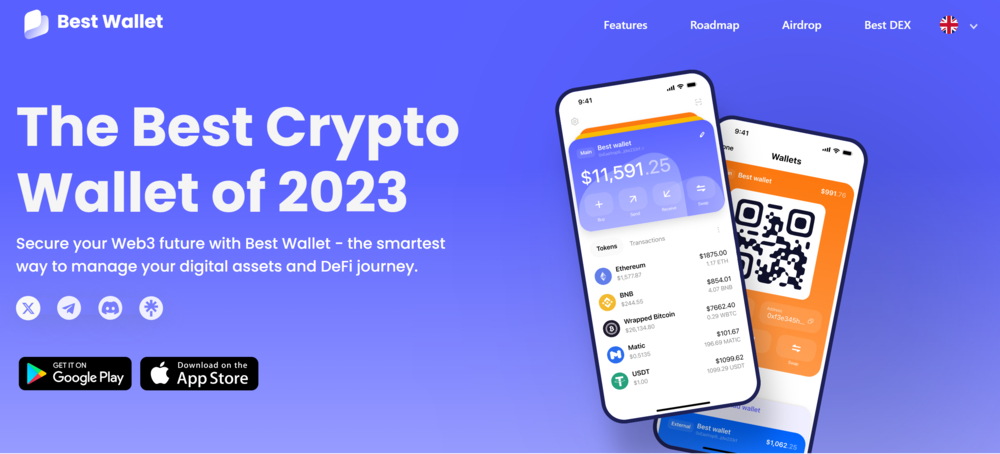 Once signed up for Best Wallet, users can buy cryptocurrency with a credit or debit card thanks to a processing partnership with Wert. The platform charges a 5% transaction fee, which is slightly higher than centralized crypto exchanges (which almost universally require KYC checks), but significantly lower than Bitcoin ATMs.
The whole process of signing up for Best Wallet and buying Bitcoin takes less than a minute, making this a great choice for anyone in a hurry. Plus, since Best Wallet is a crypto wallet, users can buy, sell, send, and manage their crypto all from a single app.
Best Wallet lets users monitor all of their balances and provides a watchlist of major crypto prices. Users can also set up multiple crypto wallets for different purposes and manage them all from the app. Plus, Best Wallet supports NFTs.
Importantly, Best Wallet is highly secure. The app supports biometric authentication and requires all users to create a unique passcode. Users can also set an auto-lock timer to prevent unauthorized access to their wallet if their device is lost or stolen.
Best Wallet is available for iOS and Android devices, and the platform plans to roll out a browser extension in the coming months. Users who buy Bitcoin with Best Wallet will also earn points toward the upcoming $BEST token airdrop, giving early users a chance to earn when they use Best Wallet.
For more information about this trending crypto platform check out Best Wallet's Telegram, X and Discord channels.
Fee for Buying Bitcoin
Top Features
5%

User-friendly mobile app

Supports multiple tokens and NFTs

Earn points towards $BEST airdrop
Pros
Buy BTC with credit or debit card anonymously
Low 5% transaction fee
User-friendly iOS and Android apps
Highly secure with biometric authentication
Users earn points towards $BEST token airdrop
Cons
Browser extension not yet available
2. Bisq – Decentralized Peer-to-peer Trading Platform to Buy Bitcoin with Multiple Cryptocurrencies and No ID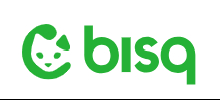 Bisq is a decentralized, peer-to-peer network for trading Bitcoin and other cryptocurrencies. Users can join the platform with no registration required and immediately start trading fiat and digital currencies with other Bisq users around the world.
The software doesn't offer much hand-holding, so it's best for more experienced crypto users.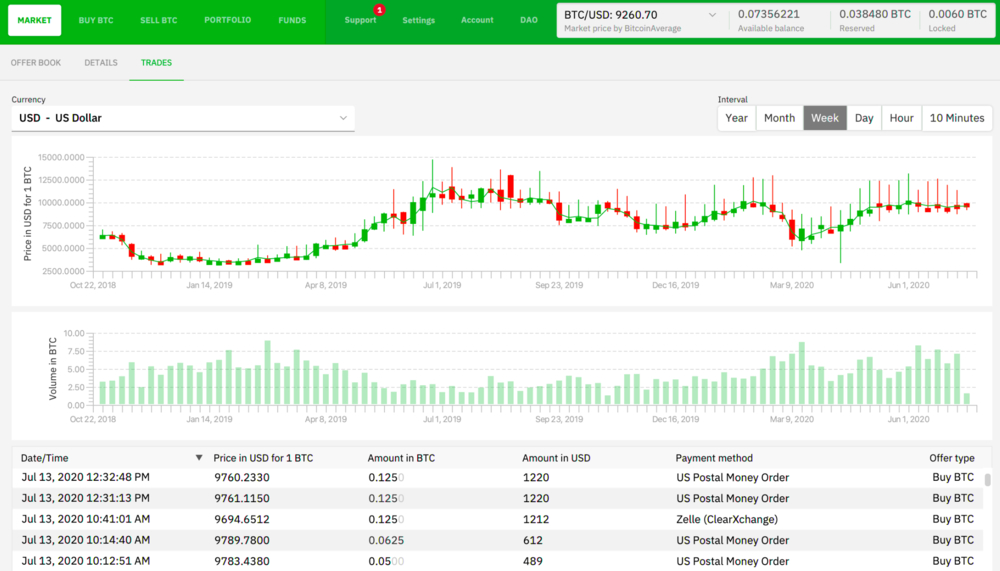 Bisq doesn't have a built-in wallet and never holds users' funds. So, users will need to have their own wallet in order to buy Bitcoin with this software.
The software's highly decentralized nature makes it a great choice for users who don't want to give up their information when buying Bitcoin. Bisq is also fully open-source, enabling security experts to audit its code and ensure that it's safe.
Bisq supports a wide range of payment methods including Zelle, money orders, Perfect Money, Skrill, and more. Note that all transactions require a security deposit in Bitcoin to ensure that users follow the rules and transact safely.
Trading on Bisq is very low-cost, with trading fees of 0.1% for trades that create liquidity and 0.7% for trades that remove liquidity from the network. Trading fees are reduced by 50% if users pay them using Bisq's native $BISQ token.
Fee for Buying Bitcoin
Top Features
0.7%

Fully decentralized and open-source

Supports Zelle payments

Native token for trading discounts
Pros
Decentralized network for peer-to-peer trading
Supports Zelle and money orders
Very low trading fees with discount for $BISQ
Fully open-source software
Cons
3. Local Coin Swap – P2P Bitcoin Marketplace with Support for 300+ Payment Methods

Local Coin Swap is a peer-to-peer crypto marketplace that's coordinated more than $125 million in transactions. The marketplace supports more than 20 popular cryptocurrencies, including Bitcoin, Ethereum, Tron, Tether, USDC, and more.
Users on Local Coin Swap receive a free non-custodial Bitcoin wallet that they can use to start buying and selling Bitcoin. The platform allows more than 300 payment methods, including bank transfers, cash payments, Zelle, PayPal, Skrill, and dozens of other e-wallets.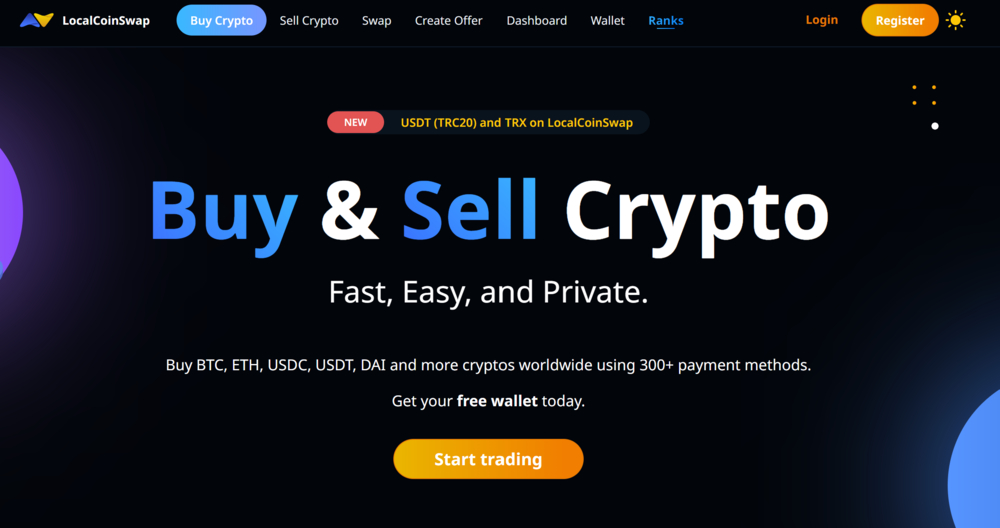 Anyone can go on Local Coin Swap and make an offer to sell crypto. It's easy to sort through current offers on the marketplace by token, payment method, and country. Users can set their own prices for transactions and Local Coin Swap highlights how much over or under the market they are, enabling users to find a great deal on Bitcoin in seconds.
Local Coin Swap charges a 1% transaction fee to sellers, but there are no fees for buyers. Plus, the platform offers 24/7 support and provides access to free crypto trading guides. These features make Local Coin Swap very user-friendly for new Bitcoin buyers.
Fee for Buying Bitcoin
Top Features
None

20+ cryptocurrencies

Free non-custodial wallet

24/7 customer support
Pros
Supports 300+ payment methods
Search Bitcoin offers by payment method and country
No fees for buyers
24/7 support
Cons
Many offers are above market rates for BTC
4. BitValve – Peer Marketplace for Bitcoin Accepting Hundreds of Payment Methods including Gift Cards

BitValve is another peer-to-peer crypto marketplace that supports more than 300 payment methods. What's unique about this platform is that it acts as an escrow, holding funds from both the buyer and seller until the two sides complete their respective transactions.
This approach ensures that transactions on BitValve are safe and completed smoothly, with no risk of sending funds only to receive nothing in return. Unlike on other marketplaces, there's no need to trust the people a user is trading with.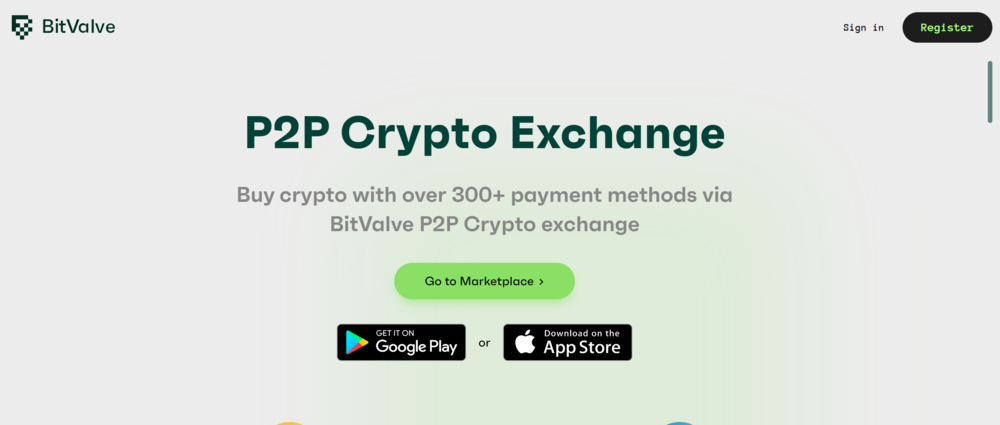 Another nice thing about BitValve is that the platform accepts gift cards as a payment method. Gift cards are very difficult to trace, so using them to buy Bitcoin ensures that a transaction is fully anonymous.
Users on BitValve can jump onto the marketplace with no registration to see what Bitcoin offers are available. It's easy to sort by payment method and currency. The platform displays exchange rates to help users find the best price. In addition, sellers can set their own minimum and maximum limits for each trade.
BitValve currently supports offers for a range of crypto tokens in addition to Bitcoin. Users can also trade privacy-focused tokens like Monero and Bitcoin Cash along with major tokens like Ethereum, Litecoin, Tether, and Ripple.
Fee for Buying Bitcoin
Top Features
None

Escrow for trades

Accepts gift cards

10+ tokens available
Pros
300+ payment methods available including gift cards
Acts as escrow for secure trades
No trading fees
Supports offers for multiple major cryptos
Cons
5. Peach Bitcoin – Set Up In-person Meetups to Swap Cash for Bitcoin with No Identity Verification

Peach Bitcoin is a peer-to-peer crypto trading app that enables users to swap Bitcoin for fiat directly amongst one another. The app doesn't get in the way or act as a middleman. It simply helps connect buyers and sellers and provides the rails to coordinate payments between them.
Peach Bitcoin supports a wide range of fiat currencies, but notably not USD payment methods. So, North American users may have to exchange USD for a European currency in order to start trading on Peach Bitcoin. The upside of that is that this can actually make it harder to trace the origin of Bitcoin transactions.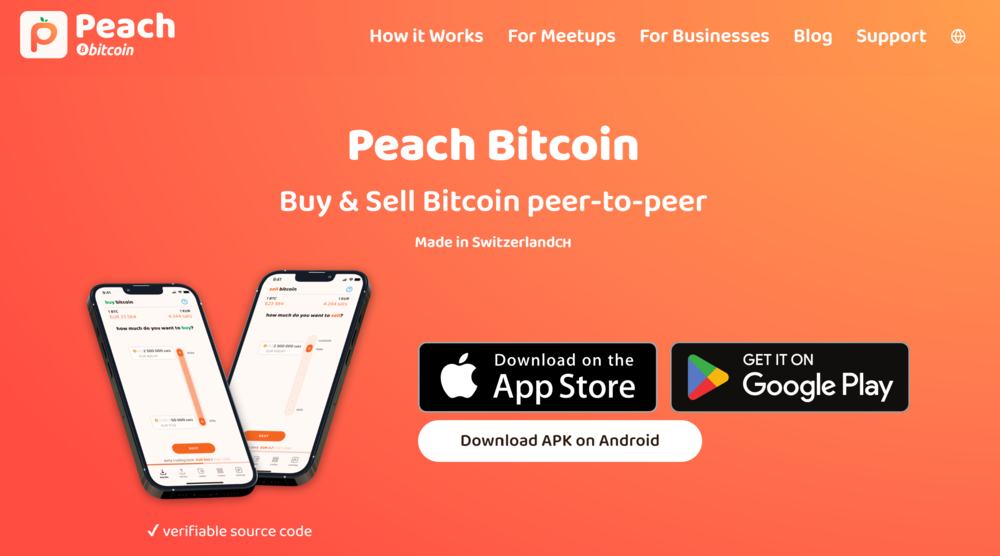 Peach Bitcoin is noteworthy because it allows users to create real-world meetups for people who want to buy and sell Bitcoin. This makes it possible to buy Bitcoin anonymously with cash without going through a Bitcoin ATM. All of the meetups currently on the app are in Europe and Africa.
The app provides its own non-custodial wallet or lets users send Bitcoin to a wallet of their choice. Peach Bitcoin is considered highly safe since it's a Self Regulatory Organization of Polyreg and a fully licensed financial service provider in Switzerland.
Fee for Buying Bitcoin
Top Features
2%

Real-world meetups

Licensed in Switzerland

iOS and Android apps
Pros
Accepts most European fiat currencies
Supports in-person meetups for cash trades
Low 2% trading fee for buyers
Fully licensed in Switzerland
Cons
Doesn't support USD payments
imited customer support
Is Bitcoin Really Anonymous?
Bitcoin is largely anonymous, but it's important to understand the limits of that anonymity.
Bitcoin itself is anonymous, similar to cash. A crypto wallet has an owner, but the identity of that owner is never revealed during a transaction. When they send or receive money, the wallet ID is public, but the wallet owner remains anonymous.
However, since everyone can see the wallet ID, it's possible to trace all of a wallet's transactions. That includes all of the Bitcoin that wallet has ever sent or received. It's possible in some cases to use this transaction data to approximately or exactly identify the owner of a wallet.
On top of that, governments around the world have imposed anti-money laundering rules on crypto exchanges. These rules require exchanges to follow KYC rules and confirm customers' identities before allowing them to buy Bitcoin.
When an exchange knows a customer's identity, it becomes possible to follow their Bitcoin from one wallet to another. As a result, Bitcoin loses its anonymity. While most exchanges don't share information about customers and their wallets, this information could be leaked, stolen, or turned over to authorities.
So, Bitcoin is only truly anonymous if an individual purchases Bitcoin anonymously and then takes steps to ensure activity in their wallet cannot be associated with their personal details.
Why Buy Bitcoin Without ID?
There are several reasons why an individual might want to buy crypto anonymously.
Protect Personal Information
One of the most important reasons why crypto enthusiasts seek to buy Bitcoin and other tokens anonymously is that it protects their personal information. If an individual doesn't put their name, phone number, address, and other details out into the world, they can't be stolen or shared without their permission.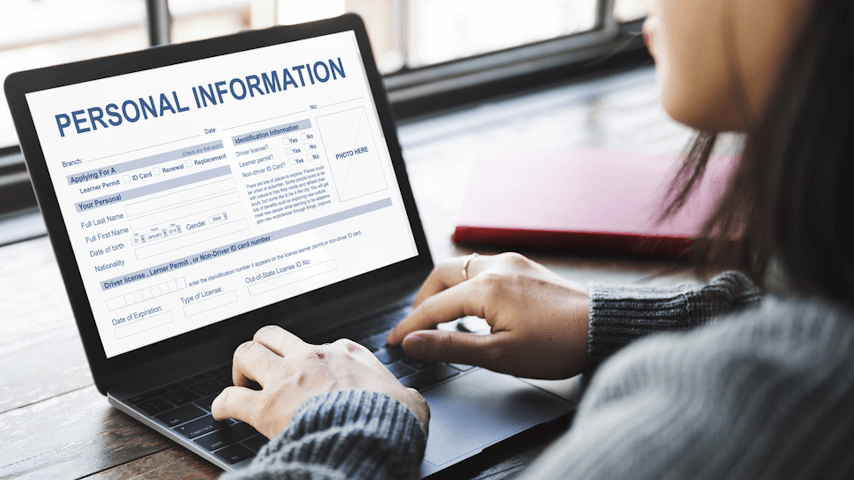 That's especially important today, at a time when numerous crypto exchanges and other crypto service providers have suffered leaks of customers' personal information. Loss of those details can put Bitcoin owners at risk of identity theft.
Reduced Risk of Crypto Theft
When an individual's identity is associated with their crypto wallet, they are at greater risk of theft. That's because bad actors know exactly how much Bitcoin an individual holds, where they hold it, and who they are.
With the Bitcoin owner's personal information available, a thief could potentially show up at an individual's home and threaten them or steal their hardware wallet. They could also use highly personalized phishing tactics to convince that person to send their Bitcoin to a scam address.
When potential thieves don't know who owns a stash of Bitcoin, it's much more difficult for them to target the owner.
Greater Access to Bitcoin
Having the ability to buy crypto without KYC or ID can also increase access to digital currencies in countries where Bitcoin isn't allowed.
For example, certain countries with unstable economies have banned Bitcoin exchanges in order to prop up their own currencies. People in these countries can still buy Bitcoin anonymously without tipping off authorities and use digital currency to buy everyday goods.
Bitcoin can also be used anonymously to buy goods or services that are legal in one country, but not another. While this isn't strictly legal, it does provide people in countries with oppressive laws with more freedom to purchase things they need.
Ways to Buy Bitcoin Without KYC Checks
There are several ways to buy Bitcoin without verification or KYC checks.
Peer-to-peer Marketplaces
One of the best ways to buy Bitcoin anonymously is to use a peer-to-peer marketplace. These marketplaces allow individuals around the world to buy and sell Bitcoin from one another.
Individuals who own Bitcoin can offer their tokens for sale and select what payment methods they're willing to accept. Payment methods could include cash, bank transfers, e-wallets, and more. Buyers can join the marketplace, see what Bitcoin offers are available, and choose the one that's best for them.
Depending on the platform, the marketplace itself may serve as an escrow service. In this case, both the buyer and the seller send their funds to the marketplace, then the marketplace releases them. This ensures that transactions are completed as planned and keeps buyers and sellers safe.
Decentralized Exchanges
Some decentralized exchanges like Best Wallet allow new users to join and buy Bitcoin with a credit card anonymously. Users can then send the purchased Bitcoin to a wallet and remain anonymous throughout the process.
However, note that relatively few DEXs offer the ability to pay with fiat. Most DEXs require users to already have cryptocurrency in order to swap one token for another. This creates a chicken-and-egg problem for individuals who are new to cryptocurrency and want to buy Bitcoin anonymously for the first time.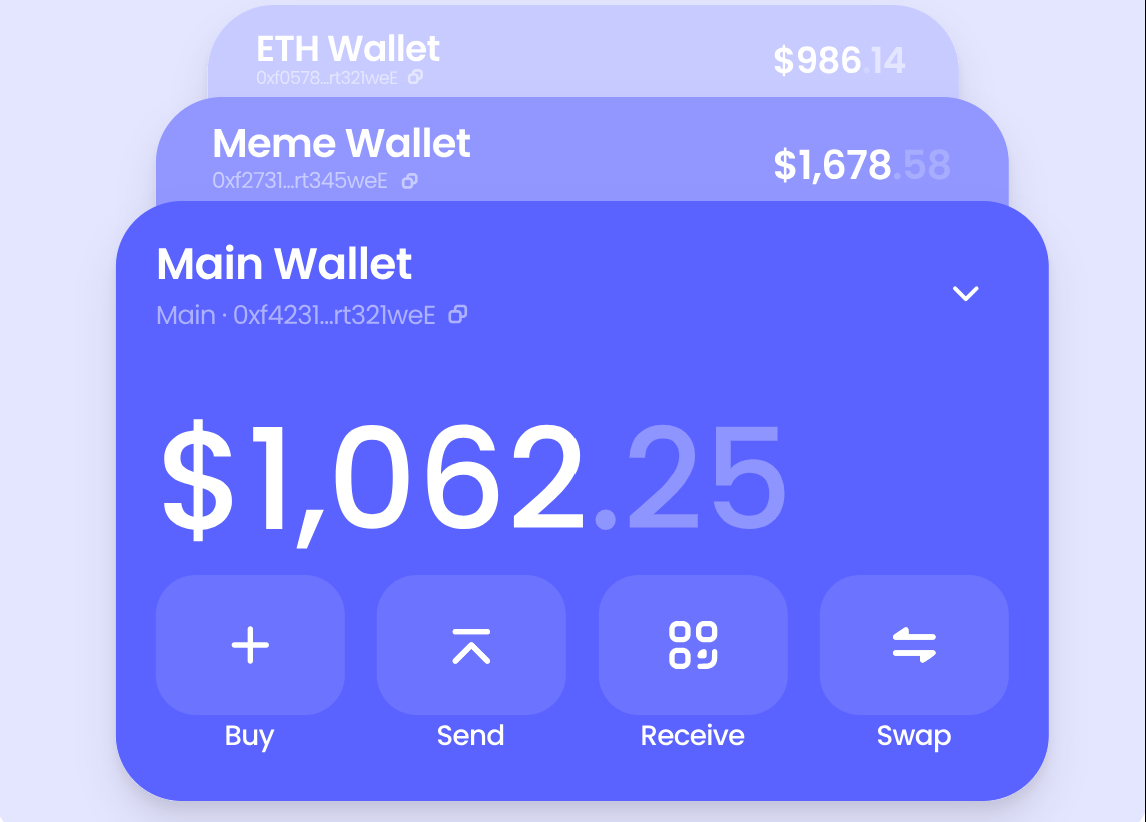 Bitcoin ATMs
Another way to buy Bitcoin anonymously is to use a Bitcoin ATM. Users can deposit cash and receive Bitcoin that they can send to a wallet.
Some Bitcoin ATMs allow users to buy Bitcoin completely anonymously with no personal information required.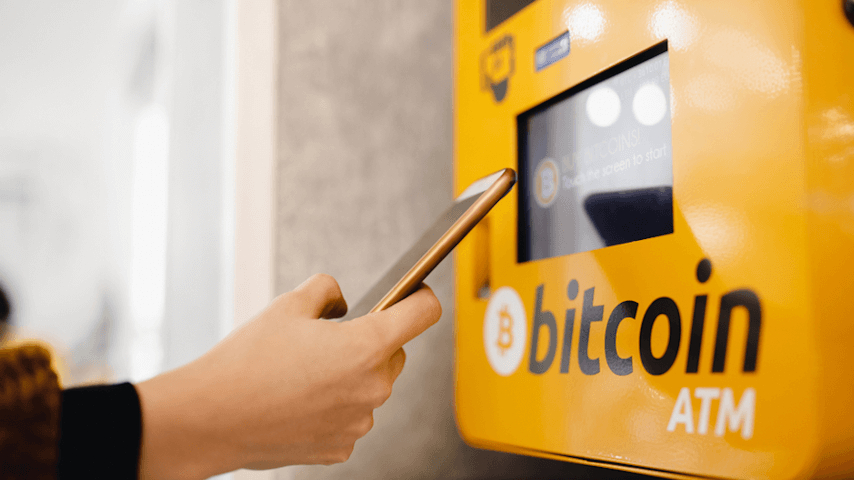 However, as governments crack down on crypto on-ramps to fight money laundering, more and more Bitcoin ATMs require users to set up accounts. These accounts may require personal information or KYC checks.
Another thing to keep in mind about Bitcoin ATMs is that they typically have very high fees. It's not uncommon for these machines to charge transaction fees of 10% or more.
How to Stay Safe When Buying Bitcoin Anonymously
It's important to use a trusted platform when buying Bitcoin anonymously. Otherwise, individuals risk falling prey to scams and losing money.
One way to stay safe is to use a decentralized exchange like Best Wallet that has clear guidelines in place for handling users' funds. Any Bitcoin purchased through Best Wallet is immediately sent to a non-custodial wallet, meaning that users are in complete control of their funds.
For buyers using a peer-to-peer marketplace, look for platforms that hold funds in escrow until a transaction is completed. This eliminates the chance that a buyer will send funds but the seller won't deliver on the promised Bitcoin.
Any Bitcoin users purchase through a peer-to-peer marketplace, DEX, or Bitcoin ATM should be stored in a non-custodial wallet. Bitcoin owners should keep their wallet's seed phrase in a safe location and never share access to their wallet with others.
How to Buy Bitcoin Without ID: Step-by-step Guide
Let's take a closer look at how to buy Bitcoin anonymously using Best Wallet.
Step 1: Download Best Wallet
Best Wallet is available for iOS and Android devices. Download and install the app from the Apple App Store or Google Play.
Step 2: Create a Best Wallet Account
Click 'Get Started' and then enter an email address. Click on the link in the verification email to complete the Best Wallet account setup. There's no additional verification or personal information required.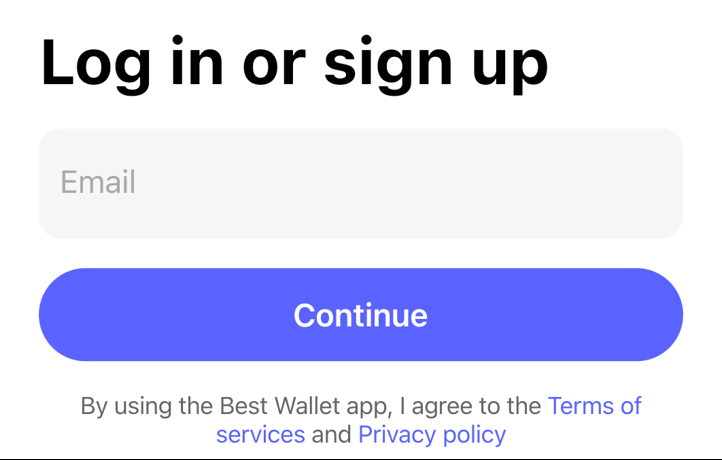 Step 3: Buy Bitcoin
Tap Bitcoin, then tap 'Buy' and 'Buy with card.' Enter credit or debit card details and the amount of Bitcoin to buy in US dollars. Then click 'Buy' to complete the transaction. The purchased Bitcoin will be stored in Best Wallet.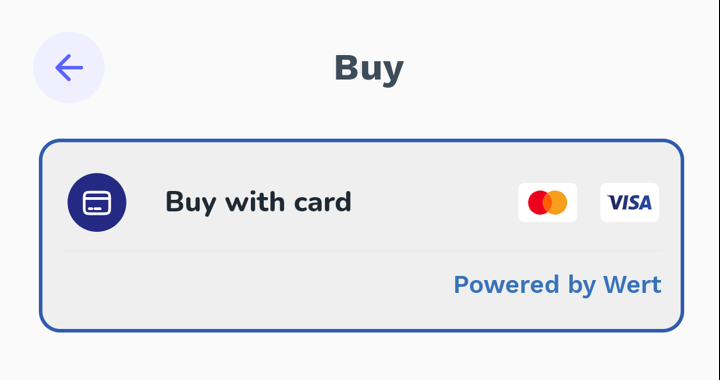 Conclusion
While many crypto exchanges require ID to buy Bitcoin, it's still possible to buy Bitcoin anonymously. Best Wallet is a Web3 wallet app and decentralized exchange that lets users sign up and purchase Bitcoin in seconds with no KYC checks. It's easy to use, charges low transaction fees, and offers a wide range of additional tokens to swap.
Check out Best Wallet today to buy crypto without KYC.
References
FAQs
Can I purchase Bitcoin anonymously?
Yes, it's possible to purchase Bitcoin anonymously without providing your name or other personal information using Best Wallet.
Where can I buy and send Bitcoin without ID?
Best Wallet is a Web3 crypto wallet and decentralized crypto exchange where users can buy and send Bitcoin without providing ID. Users can also buy and send Bitcoin anonymously using a peer-to-peer marketplace.
Is Bitcoin 100% anonymous?
Bitcoin isn't 100% anonymous because it's possible to see all the crypto wallets that have held that Bitcoin. However, if the wallet's owner is anonymous, then the Bitcoin can be considered anonymous.
How do I cash out Bitcoin without KYC?
Some crypto exchanges like ByBit let users cash out Bitcoin without KYC checks. However, the amount of Bitcoin that users can withdraw each month may be limited.
---