Hong Kong's Crypto Advancements Could Boost East Asian Crypto Activity, Says Chainalysis Report
Disclosure: Crypto is a high-risk asset class. This article is provided for informational purposes and does not constitute investment advice. By using this website, you agree to our terms and conditions. We may utilise affiliate links within our content, and receive commission.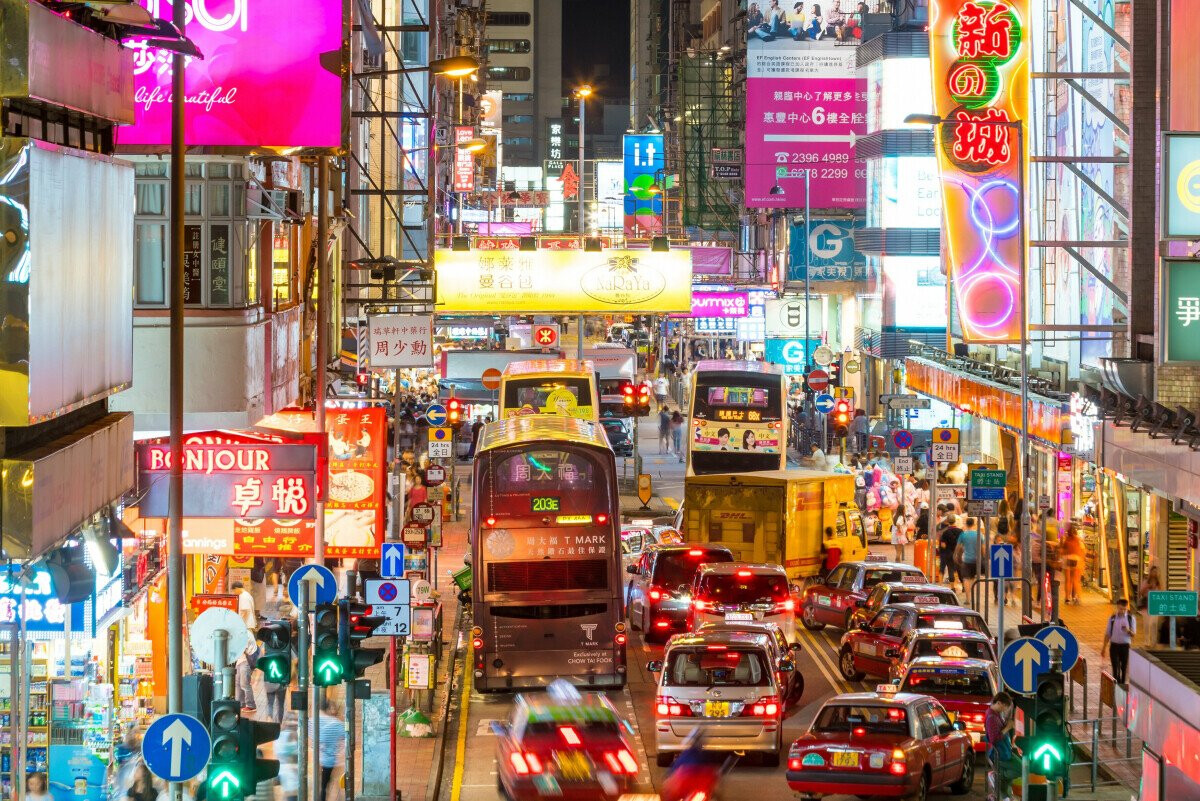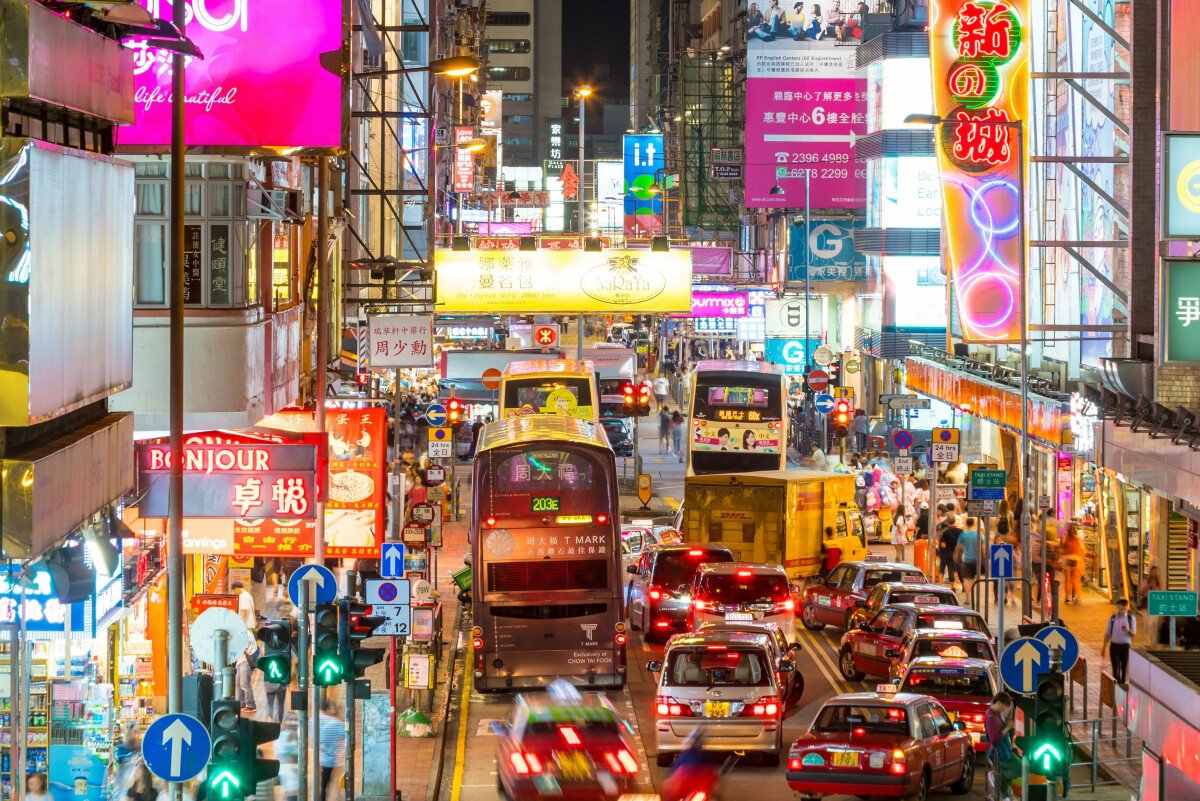 A recent report from Chainalysis suggests that Hong Kong could play a significant role in reviving crypto activity in the East Asian region, which has faced challenges due to a China-wide ban on crypto trading activities since 2019.
As of now, Eastern Asia is ranked as the fifth most active crypto market, contributing to 8.8% of global digital asset activity between July 2022 and June 2023. However, the crypto market in the Eastern Asia region has seen a decline in activity over the past few years, primarily due to the Chinese government's stringent bans on crypto-related activities.
Despite this decline, Hong Kong's recent adoption of crypto-friendly policies and initiatives could act as a "potential tailwind" to boost crypto activity in the region, offering renewed hope for the industry.
Back in 2019, the crypto market in Eastern Asia was significantly driven by extensive trading activities and a thriving crypto mining sector in China. While the market remains substantial, there has been a noticeable decrease in crypto-related activities over the past two years, partly due to regulatory measures implemented by the Chinese government.
However, the recent adoption of crypto-friendly policies and initiatives by the government of Hong Kong is seen as a potential catalyst for revitalizing crypto activity in the East Asian region, instilling a sense of renewed optimism in the industry.
"A potential tailwind for East Asia comes from Hong Kong, where several crypto initiatives and industry-friendly regulations launched over the past year have fostered bubbling optimism."
Hong Kong Ranks Fifth in Crypto Transaction Volume in East Asia, Recording $64 Billion
According to the report, Hong Kong has been ranked fifth in terms of the volume of crypto transactions among East Asian countries, with South Korea, Japan, mainland China, and Taiwan following closely behind.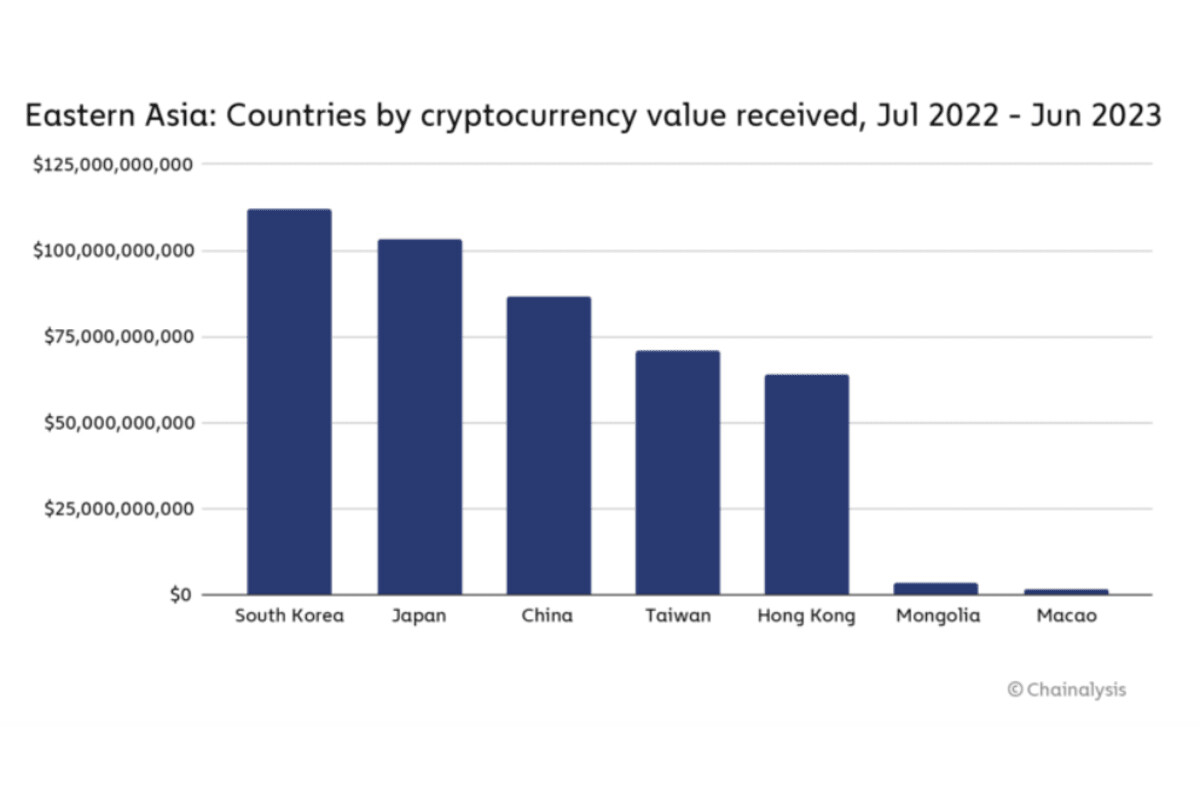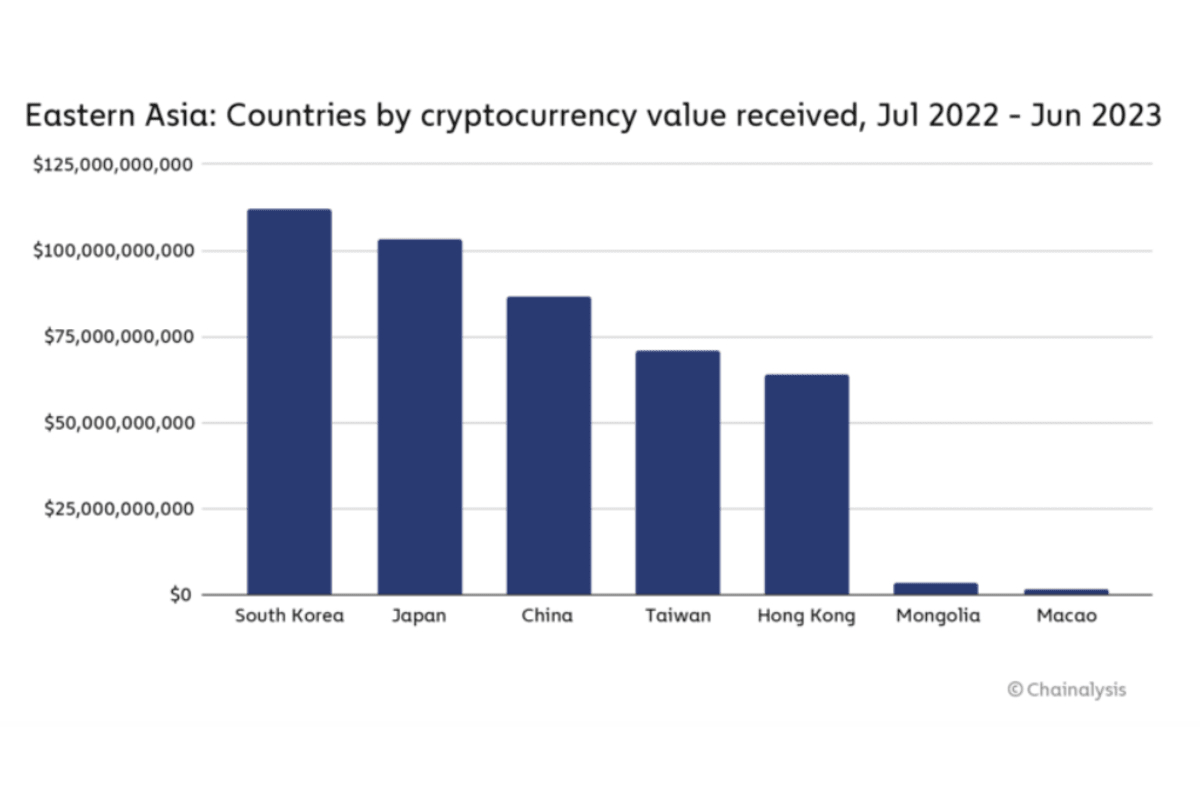 Between July 2022 and June 2023, Hong Kong recorded a transaction volume of approximately $64 billion. This figure, despite being slightly behind the $86.4 billion recorded by China during the same period, is noteworthy considering Hong Kong's smaller population and the ongoing market uncertainties.
Chainalysis attributes the robust performance of the Hong Kong crypto market to its active over-the-counter (OTC) market. This OTC market is instrumental in facilitating large transfers, particularly for institutional investors and high-net-worth individuals.
In the past year, institutional transactions, defined as those exceeding $10 million, accounted for 46.8 percent of crypto trades in Hong Kong. On the other hand, retail transactions, or trades below $10,000, made up 4 percent of the total, which is slightly below the global average of 4.7 percent.
Since October of the previous year, Hong Kong has introduced regulations allowing for retail crypto trading within a regulated framework. The country has also unveiled policies and plans for new virtual asset regulations. These steps reflect Hong Kong's efforts to nurture the crypto industry by offering strong investor protections and permitting licensed exchanges to provide crypto services to retail investors.
Hong Kong's Progressive Stance on Cryptocurrency Contrasts Mainland China's Approach
In 2021, Hong Kong took the lead among major Asian economies by announcing plans to license and regulate crypto exchanges. This move occurred in the same year that China instituted a ban on crypto transactions on the mainland. Despite this, several local courts in China have ruled that cryptocurrency should receive legal protection as property.
In stark contrast to the broader crackdown on cryptocurrency trading and mining in mainland China, Hong Kong has welcomed crypto firms with open arms this year. The city has gone so far as to encourage banks to collaborate with them actively.
In October 2022, Hong Kong authorities issued policy statements regarding cryptocurrencies with the aim of cementing its position as a global financial hub. Then, in December, the Legislative Council of Hong Kong approved an amendment establishing a comprehensive licensing framework for virtual asset service providers, which came into effect in June.
Chainalysis suggests that Hong Kong's progressive approach to crypto regulations could influence crypto activity in the broader East Asia region. Given its status as a significant financial hub, Hong Kong's crypto-friendly policies could make it a more appealing destination for crypto businesses and investors. Moreover, this could set a positive example for other countries in the region, encouraging them to adopt similar crypto-friendly regulations.
---