Hedge Fund Giant Invests In Bitcoin Trust, JPMorgan's CEO On Crypto Regulation + More News
Get your daily, bite-sized digest of cryptoasset and blockchain-related news – investigating the stories flying under the radar of today's crypto news.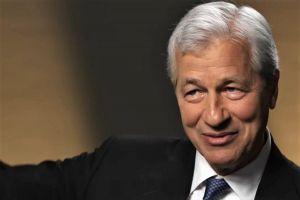 Investments news
USD 48bn hedge fund giant Millennium Management invested in Grayscale Bitcoin Trust (GBTC), TheStreet reported, citing two undisclosed sources familiar with the matter. "While the price premium GBTC long traded at against bitcoin collapsed recently, it's unclear if New York-based Millennium booked any losses on the crowded trade," the report added, without providing any numbers about the investment.
Regulation news
Jamie Dimon, the CEO of JPMorgan, placed the legal and regulatory status of cryptocurrencies on a list of "serious emerging issues that need to be dealt with - and rather quickly." Per a letter to shareholders, others such issues include the growth of shadow banking, the proper and improper use of financial data, the risk that cybersecurity poses to the system, the proper and ethical use of AI, the effective regulation of payment systems, disclosures in private markets, and effective regulations around market structure and transparency.
A collective of Russian crypto and blockchain players has launched a bid to convince politicians not to pass restrictive a new set of crypto laws, per Izvestia. The new campaign has been masterminded by the pro-business pressure group Investment Russia, the law firm the Digital Rights Center and the public organization RosKomSvoboda, a body that claims to support open self-regulatory networks and protection of digital rights of Internet users. The campaign addresses the country's finance ministry, Duma financial chiefs, tax bodies and the Central Bank. A manifesto calls for amendments to draft laws that the parties say "will have an extremely negative impact on the Russian crypto industry" if they are adopted.
NFTs news
Latvian airline airBaltic said that it will become the world's first airline to issue non-fungible tokens (NFTs). The airline will issue limited collector NFTs showcasing an individual Airbus A220-300 with its registration and a piece of art of the Kuldiga city to promote tourism and Latvia in the world. Starting with Kuldīga, the cities and towns which were voted as the people's favorites will one by one be represented on the digital art pieces issued by airBaltic. The initial drop of the first airBaltic limited NFT will be announced later in April.
The seven-time Super Bowl champion Tom Brady is launching an NFT platform called Autograph this spring, CNN reported, citing a representative for Brady. The platform "will bring together some of the biggest names in sports, entertainment, fashion, and pop culture to work with creators to develop unique digital collectibles," it added.
Exchanges news
Mining news
Chinese online lottery company 500.com has acquired Bee Computing, a Hong Kong-registered maker of Bitcoin mining machines, in a USD 100m deal, according to a filing with the US Securities and Exchange Commission (SEC). 500.com will pay Bee Computing USD 35m in stock by the end of the second quarter and send the other USD 65m worth of stock after the company has produced a certain number of 7nm ASIC bitcoin mining machines, as well as made higher performance bitcoin, ethereum (ETH), and litecoin mining machines.
Crypto adoption news
A new deal with the Valencia-based crypto exchange Criptan will allow Spanish travelers to make claims for airline-related delays and other incidents – and receive crypto rather than fiat as compensation. Per El Mundo Financiero, the exchange has teamed up with the Wings to Claim platform. The parties will allow travelers to make claims from travel agencies or airlines in situations whereby customers experience delays of three hours or more, lose baggage, if their flights are canceled or overbooked, or if they miss a connecting flight.
Blockchain news
Daegu, one of the largest cities in South Korea, has introduced a blockchain-powered ID authentication system for users of its online and offline public services. Per the Daegu Shinmun, the new platform makes use of a smartphone app that allows users to reserve city-operated facilities, make use of city-funded electric scooters and borrow library books using blockchain-based innovations. In a separate development, Law Issue reported that the electricity provider Nambu Power will also make use of blockchain-powered ID solutions on its renewable energy certificates platform.
Legal news
Michael Hlady pled guilty before a US Chief District Court Judge to conspiring to extort a startup company for millions of dollars in ethereum. When sentenced, Hlady faces up to 20 years in prison, as well as a fine, said the US Department of Justice. The startup was a mobile-based business that issued cryptocurrency as loyalty rewards for generating user traffic to its clients' products. Hlady and his co-conspirator Steven Nerayoff issued threats to the company executives that included destruction of the company if they did not agree to demands for additional funds and tokens, claims the press release. As a result of this threat, the startup transferred ETH 10,000 to Nerayoff. He has entered a plea of not guilty to extortion charges and is awaiting trial.
___
(Updated at 17:39 UTC with an announcement by the Miami HEAT.)
---