Hedera is Going to Zero as HBAR Price Falls 5% in 1 Hour While XRP20 Surges Past $1.8 Million in Funding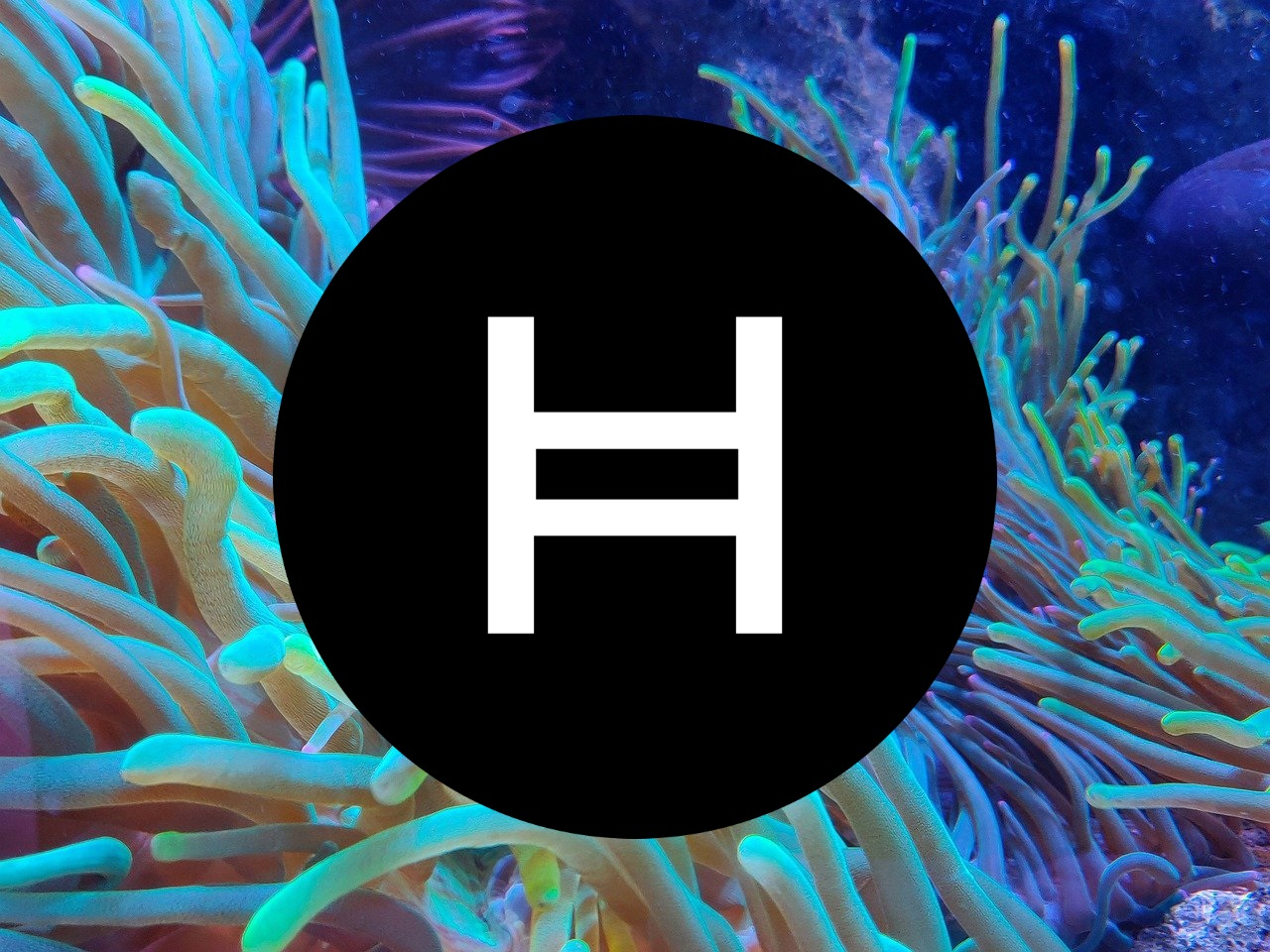 Hedera Hashgraph (HBAR) is facing serious downside risk after rejection from upper trendline resistance triggered a -11.3% retracement move since Wednesday.
The institutionally aimed enterprise-grade layer-1 blockchain has suffered tumultuous price action since 2021, with price action bleeding out -90% since the bull run - and the latest rejection could prove fatal.
HBAR Price Analysis: Hedera is Going to Zero
This week's retracement move has left Hedera price reeling, with HBAR currently trading down at $0.0568 (a 24-hour change of -1.56%).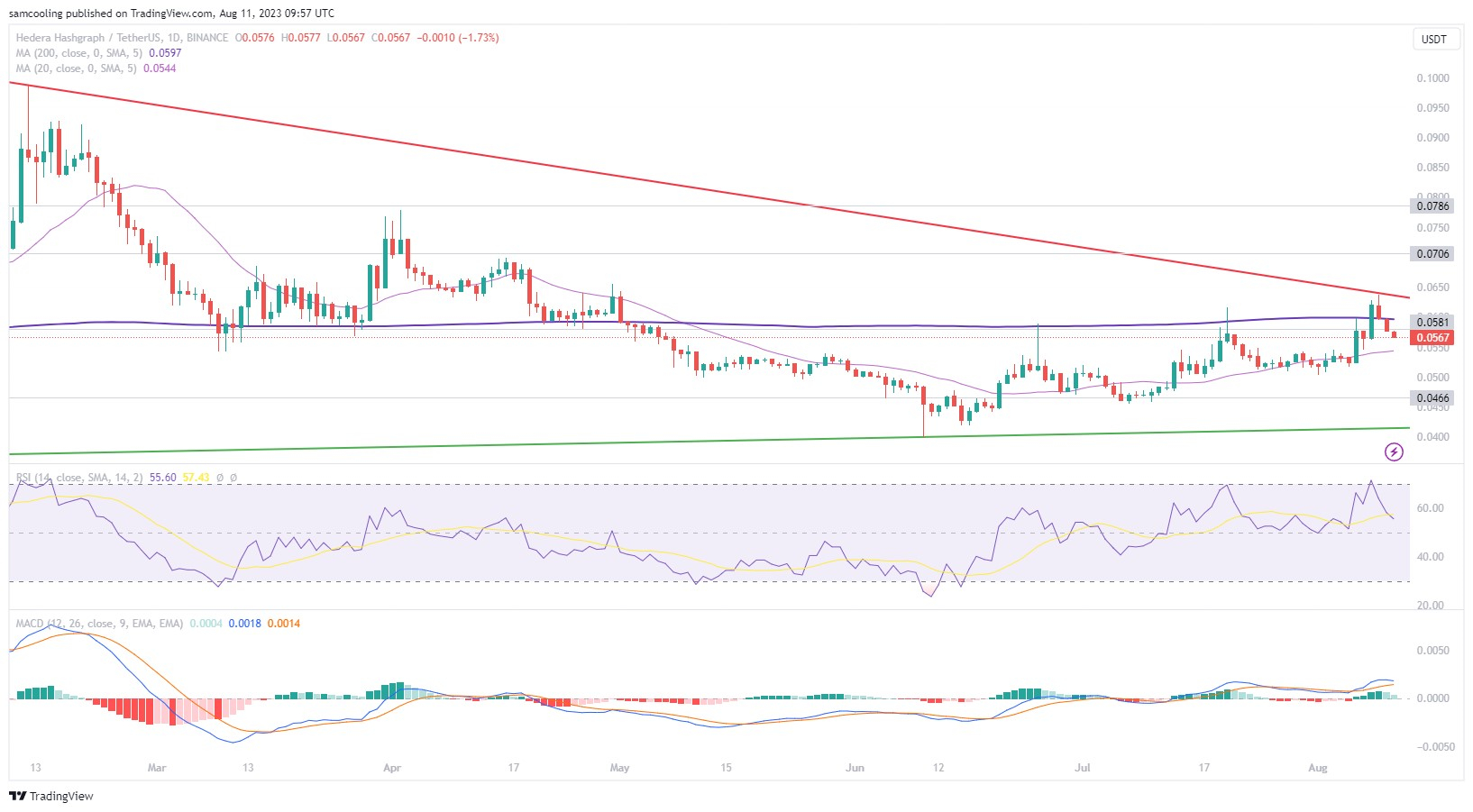 The -11.3% rejection hit worrying depths yesterday, as HBAR crashed through a recently reclaimed support level afforded by the 200DMA.
Now seemingly heading down further, the 20DMA forms the last major support level before HBAR faces a significant drop down to lower trendline support - as the trading channel narrows.
With downside movement dominating the chart, all eyes will be on the 20DMA to see it holds.
But despite the downside move, Hedera could soon enter consolidation according to the RSI indicator, which has cooled off rapidly during the downside move to just a minor bearish divergence at 55.35.
And better still, the MACD is still signaling a bullish divergence at 0.0004 despite the downside trajectory.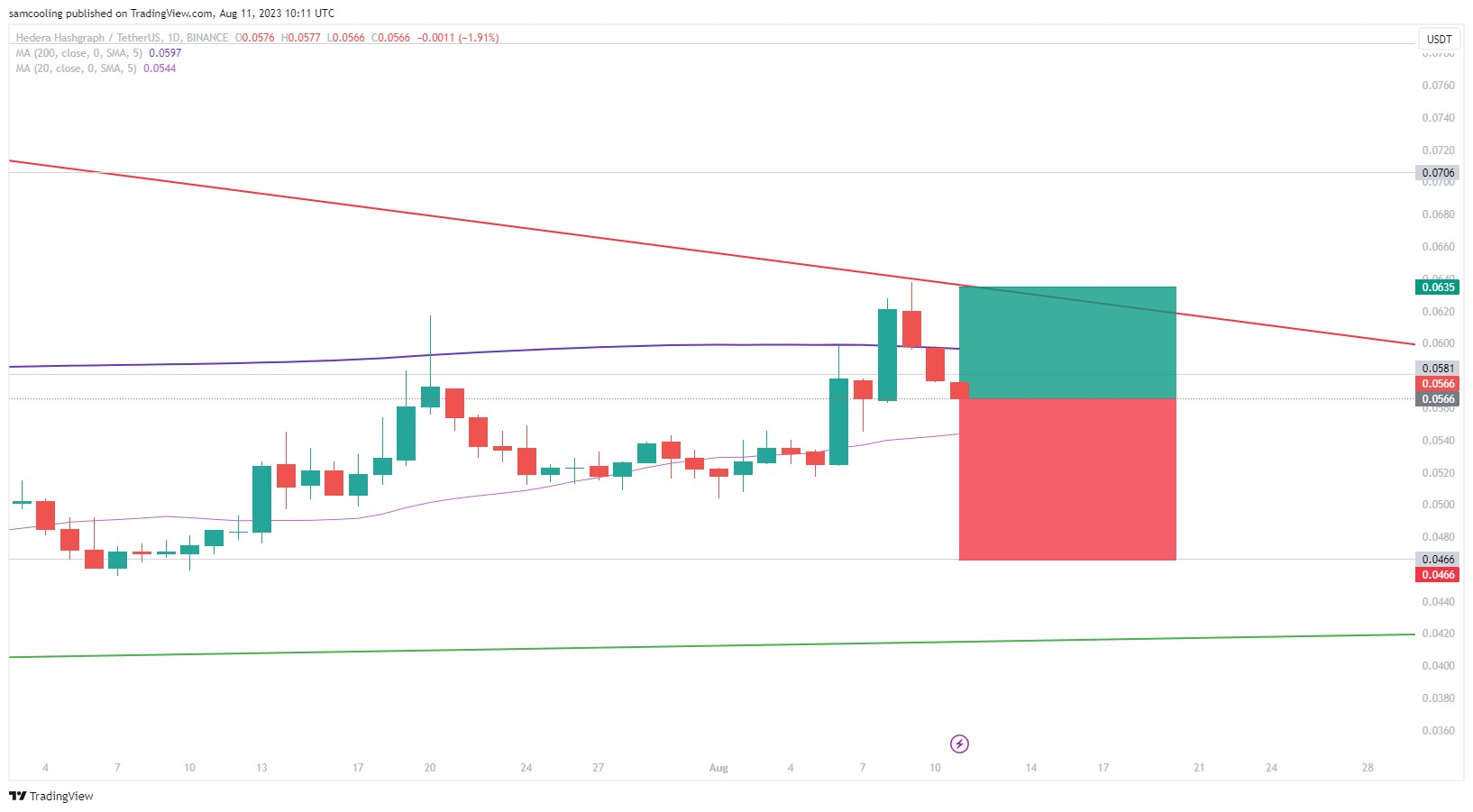 Upside potential has become limited here, with price trading just below tough resistance from the descendant upper trendline - capping upside potential at $0.0635 (+12.2%).
The downside risk is far more prominent here, with a lower support level at $0.0466 (-17.67%) if the 20DMA fails to hold.
This leaves HBAR with a risk: reward ratio of 0.69, a bad entry characterized by significant downside risk.
Yet, while traders are studying HBAR's rejection, astute traders have already clocked onto an emerging presale with significant upside potential, meet: XRP20.
Meet the Revolutionary XRP20: A Breakout From Ripples' Shadow Post-SEC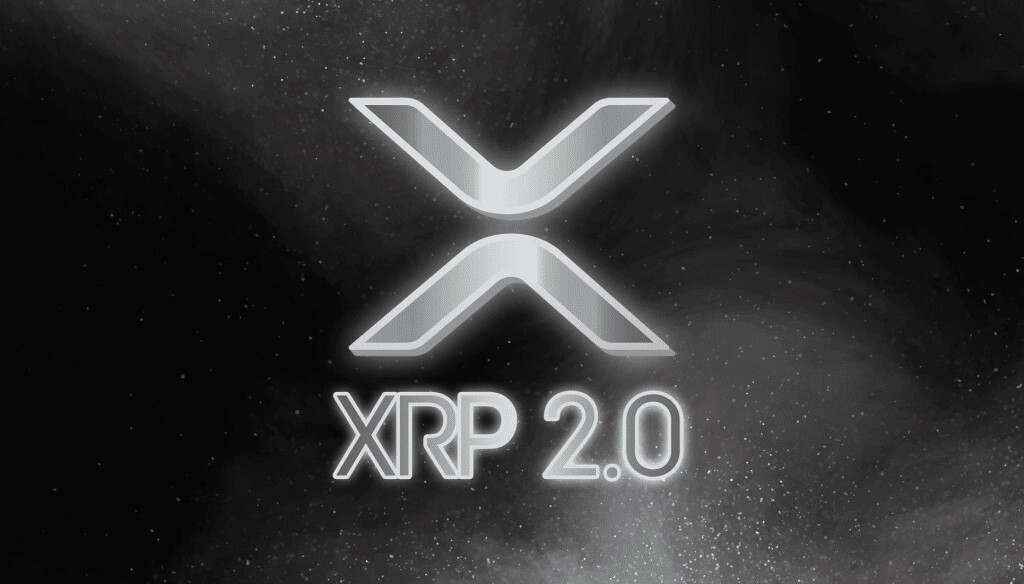 XRP20, a ground-breaking Ethereum-compliant ERC20 token, is capturing the crypto world's attention with its philosophy and tokenomics inspired by Ripple (XRP) but innovatively tailored for the retail markets.
With an impressive surge of over $1.79m raised, it's time to dive into the unique features of XRP20.
XRP20 is not just another '2.0 version' trend, it's an avant-garde project that offers new utility in the XRP space, including staking designed to reward token holders generously.
It's also garnering interest in the wider crypto community due to its promise of passive income from staking and capital appreciation potential that could rival the original XRP.
How Will XRP20 Outperform Ripple's XRP?

Price Comparison and Potential Gains: XRP20's current price is $0.000092, 30 times less than XRP's all-time low, with XRP's historical price increase of 137,000%, XRP20 could offer astronomical gains of up to 6,629x if it climbs to match the current XRP price.
Strong Case in a Shifting Legal Landscape: XRP's partial victory over the US Securities and Exchange Commission and predictions of a possible price fall for XRP further underscore the appeal of XRP20.
Deflationary and Decentralized: Unlike XRP, XRP20 introduces a 0.1% burn mechanism on transactions and a plan to remove 10% of the total token supply over time. This scarcity model adds to XRP20's allure.
XRP20 and the XRP Army: While XRP20 is not affiliated with Ripple Labs or XRP, it's aimed at the massive and loyal XRP Army and those looking for fresh opportunities in crypto. Its decentralized nature and the benefits of the Ethereum blockchain set it apart from Ripple's centralized control, and with the addition of staking the case is clear.
Trending Higher Than XRP: Search term 'XRP20' is trending on Google, even outperforming 'XRP' in the finance category in the United States and leveling with XRP in South Korea.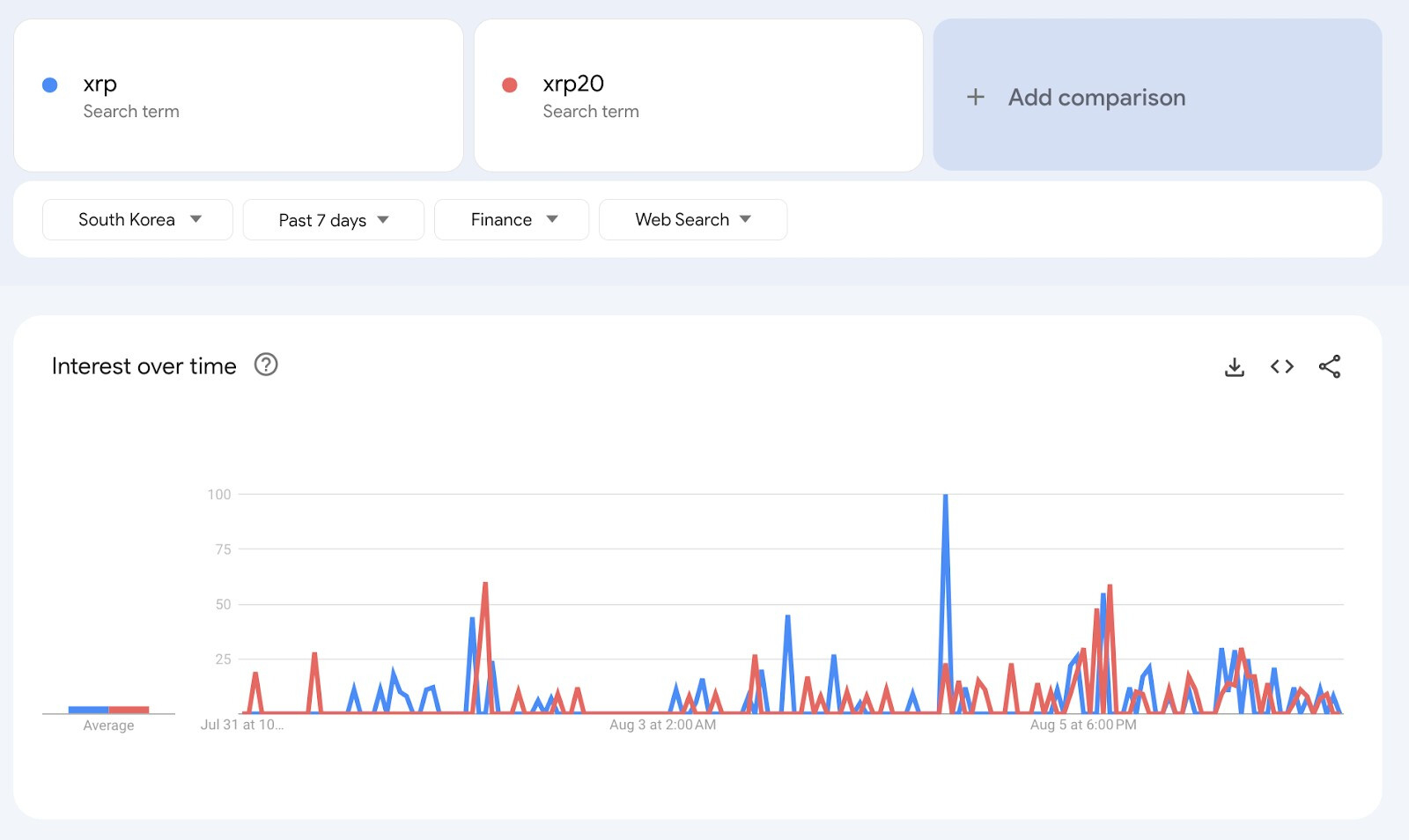 Join the XRP20 presale and partake in what could be a gigantic price uplift, with more than $1.79m already raised and a hard cap of $3.68m, the presale is likely to accelerate further.
To buy XRP20, head to XRP20, connect your wallet, and complete your purchase with Ethereum or USDT.
Stay connected on Twitter and Telegram for the latest updates.
Disclaimer: Crypto is a high-risk asset class. This article is provided for informational purposes and does not constitute investment advice. You could lose all of your capital.
---