A Guide on Staking TRX in NOW Wallet
Disclosure: Crypto is a high-risk asset class. This article is provided for informational purposes and does not constitute investment advice. By using this website, you agree to our terms and conditions. We may utilise affiliate links within our content, and receive commission.
Disclaimer: The text below is an advertorial article that is not part of Cryptonews.com editorial content.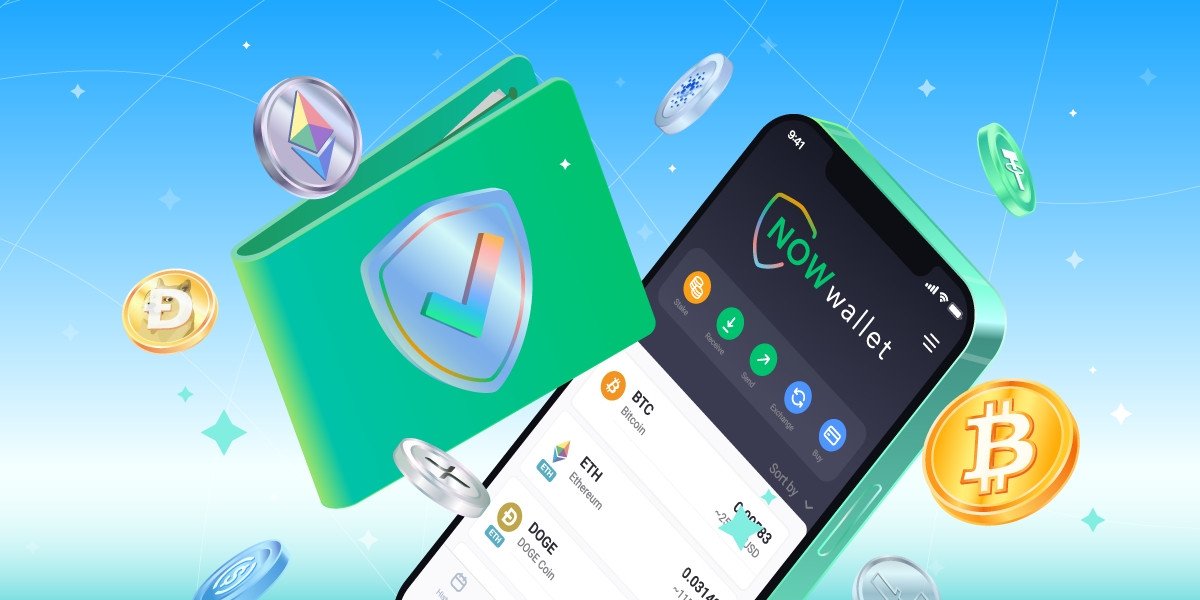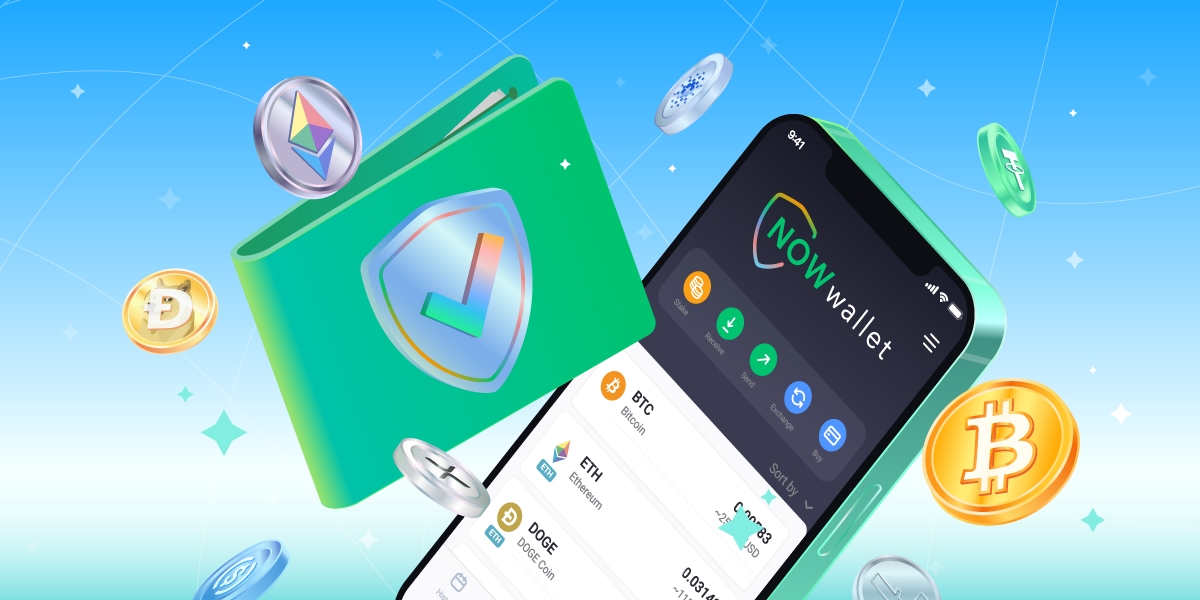 A TRX staking option is now available in NOW Wallet, a non-custodial wallet developed by the team behind ChangeNOW. Staking is an easy and reliable way for crypto enthusiasts to earn passive income. Check out all the possibilities offered by the TRON network.
What Is TRON (TRX)?
TRON is a blockchain system created for the entertainment and gaming industries by facilitating the creation of smart contracts and decentralized applications. The TRX blockchain is based on the idea of decentralization. TRON's network stores data completely free and without centralized control. TRX, TRON's native token, is offered as a reward for posting content.
The blockchain uses a consensus method known as Delegated Proof of Stake (DPoS), which allows users to vote for delegates to influence the network. The transaction history is maintained by 27 super representatives entrusted with validating transactions. The mechanism selects super representatives every six hours, who earn TRX tokens as a reward.
Super Representatives & Super Representative Partners
Candidates for super representatives can apply at any time. There is, however, a threshold of 9,999 TRX for admission to prevent malicious attacks. Every account in TRON's network can vote for SR candidates, but voting requires TRON Power (TP), which is determined by a user's frozen TRX balance.
Super representatives are the top 27 candidates with the most votes. Those ranked 28th to 127th are super representative partners. SRs play an important role in governing the TRON network by ensuring basic functions such as block generation and transaction packing. They receive block rewards as well as voting rewards. Those who vote for super representatives also get voting rewards.
Although super representative partners don't participate in block production, they receive voting rewards along with those who voted for them.
TRON Power (TP) which gives you the right to vote is obtained from TRON Bandwidth or Energy by freezing TRX. Thus, staking 1 TRX earns you 1 TP. Afterwards, you'll be able to cast your votes.
The production of each new block on TRON allows super representatives and super representative partners to receive TRX tokens. Two parts make up the reward:
Block Reward: Each block's production rewards 16 TRX to the super representative who produced the block, and then the super representative distributes the remainder to the voters according to their voting ratio after deducting their commission.
Vote Reward: Each block's production will result in 160 TRX being rewarded to super representatives and super representative partners in proportion to their votes. After deducting their own commissions, super representatives and super representative partners distribute voting rewards to voters based on their voting ratio.
How It Works in NOW Wallet
NOW Wallet is a mobile crypto wallet that allows users to store and exchange crypto assets. More than 20,000+ trading pairs are available in the app, including fiat-to-crypto exchanges. In addition to 26 blockchains, it supports sending, receiving, and storing all existing tokens on 7 networks: Ethereum, Binance Smart Chain, Polygon, Avax C-Chain, TRON, Klaytn, and Solana. In addition, users can store NFTs securely, connect to dApps via Wallet Connect, and stake not just TRX, but also BNB and the platform's native NOW Token.
Freezing resources
NOW Wallet offers a more advanced version of TRX staking than other wallets, with all the features and functionality that TRON has to offer. Staking in NOW Wallet allows you to choose which resources you want to freeze and receive.
The TRON network supports two resource concepts: bandwidth points and energy points.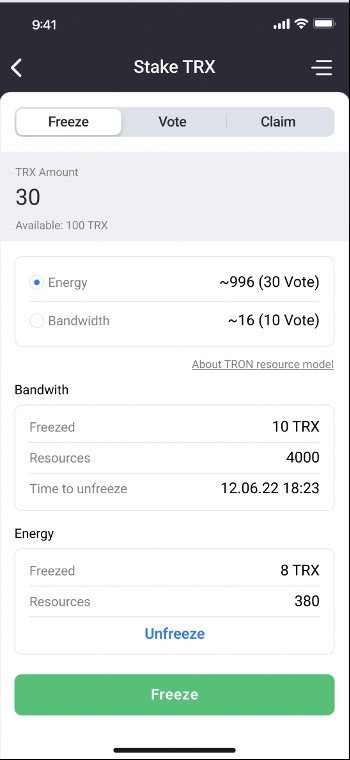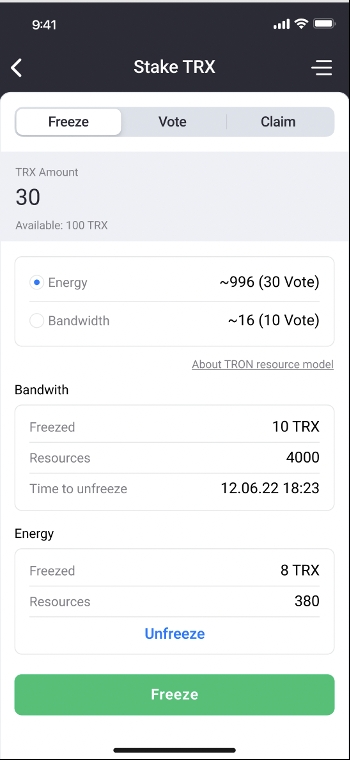 Bandwidth Points – represent Bandwith – the fixed quota of free transactions per day
Using bandwidth points, transactions can be made without paying TRX network fees. It can help you increase your daily transaction volume. It is also crucial to have adequate bandwidth when using DApps, because you may want to make several smaller transactions without wasting your TRX tokens.
Using your bandwidth points, you can also vote for super representatives and super representative partners and receive a vote reward in return.
As an alternative to paying a fee, you can unstake your TRX with bandwidth points as well.
Energy: represents CPU (central processing unit) and Storage.
This is a CPU resource consumption that applies to TRON smart contracts.
Tokens built on TRX can be exchanged for Tron-based tokens using energy points, for instance.
Putting all this together:
Users of NOW Wallet can choose which resource they would like to receive as a result of staking based on their needs. Other wallets do not offer this option – they credit a resource by default.
Usually, users choose bandwidth points as they are universal – they allow users to save on unstaking and avoid paying fees.
By using Energy, users can trade tokens within the Tron network at a lower cost and execute smart contracts.
Voting
In NOW Wallet, you can vote for super representatives and super representative partners from all existing ones in the Tron network. The wallet offers the entire list, whereas its peers only provide three to seven.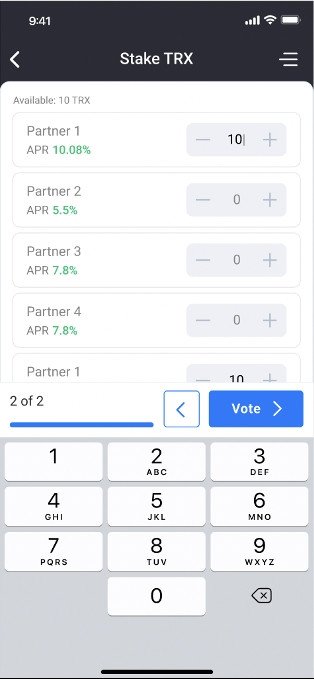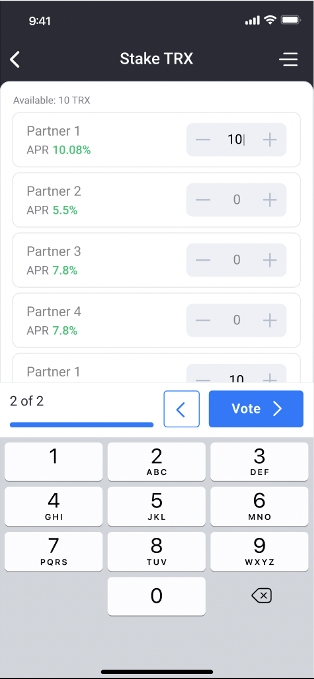 Getting Rewards
Users can start receiving rewards already in six hours after voting for delegators. However, the staked amount of TRX is frozen for three days. When the period expires, the deposit can be withdrawn.
How to stake TRX in NOW Wallet
STEP 1. Download NOW Wallet mobile app
STEP 2. Deposit TRX to your balance
STEP 3. Go to the TRX staking section
STEP 4. Choose the resource you want to freeze and set the amount of TRX
STEP 5. Pick the representatives you want to vote for
STEP 6. Start getting your rewards in 6 hours!
STEP 7. You can withdraw the amount of staked TRX in three days.
Conclusion
Besides earning passive rewards, staking TRX tokens ensures the network's stability and gives you a chance to directly influence its operations. Moreover, the rewards can be used for other operations on the TRON network. While others are doing nothing with their TRX, you can stake it right now and take advantage of this opportunity.
---