Golteum (GLTM) and Toncoin (TON) Are Cryptocurrencies Resisting Market Downtrend
Disclaimer: The text below is a press release that is not part of Cryptonews.com editorial content.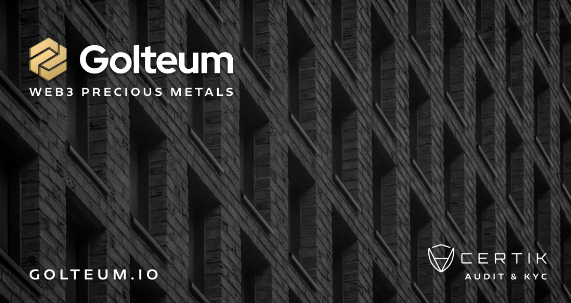 The crypto industry has been particularly volatile this year due to a number of issues, including failing projects and liquidity exits, which were made worse by the abrupt crash of FTX late last year.
During the past few months, many important assets reached historic lows.
However, most investors have been drawn to assets like Toncoin (TON) and Golteum (GLTM), which post gains despite the current economic climate.
Golteum (GLTM) Could Be A Big Player In The Industry
Golteum's GLTM utility token is unquestionably an excellent option if you're seeking for a means to reduce the risks connected with fluctuating cryptocurrency assets.
This currency maintains the Golteum ecosystem and offers holders a variety of advantages.
By simplifying precious metals ownership integrated with crypto trading, Golteum aims to revolutionize the cryptocurrency industry.
Working with Fireblocks Web3 engine makes using this type of blockchain technology possible.
This integration makes it simpler for the Golteum ecosystem to handle crucial transactions like tokenization and management of all precious metals-backed tokens.
Contrary to other existing platforms, the Golteum platform has an enhanced encryption technique and an improved smart contract design, which reduces the probability of security breaches.
Some members of the team have been KYC verified and the smart contract has been audited by Certik to ensure the network and presale are safe to interact with.
Golteum's (GLTM) Prospects Ahead
The total market value of tokenized illiquid assets might reach $16.1 trillion by 2030, that is with respect to estimates by Boston Consulting Group (BCG).
Pre-IPO stocks, earnings from small and medium-sized businesses, investment funds, commercial bonds, and many other illiquid assets were studied.
According to this bullish prediction by experts, GLTM, an illiquid asset will increase to $5 when launched on significant exchanges.
GLTM will be a store of value for the Golteum platform and will allow holders exclusive rewards and discount offers.
High net worth holders will also gain membership to the exclusive wealth club with several other perks.
The successful first presale round for the token is presently ongoing and valued at $0.012.
Golteum also offers a 15% bonus on top of entry to the platform's extremely valued precious metals-backed services.
Our estimates, which put GLTM at $0.55 by the end of the presale, are supported by the technology's enormous potential and the recent media attention it has attracted.
It ranks among the few coins whose value is expected to rise by 700% soon.
Toncoin's (TON) Rising Influence
The goal of TON is to create a network with decentralized services, storage, and a domain registration system to enable an elaborate payment mechanism.
A proof-of-stake (PoS) agreement approach is used in its tokenomics to ensure the dependability and scalability of the network.
A user-friendly program that can be used to buy, transfer, and keep money is what the Toncoin platform seeks to offer.
Transaction costs are paid in TON, the local currency, which is also used to validate transactions.
Toncoin's (TON) Price Prediction
Toncoin escaped the $2.30 resistance zone recently. The next resistance levels for Toncoin, if the rising trend is maintained, are $2.74 and $3.70.
However, a daily closing below $2.30 would strongly suggest a negative trend.
In this outlook, the present breakout would only last a short time, and a subsequent downward wave would soon begin.
For the majority of 2023, Toncoin traders have been bullish, but that trend is about to change.
Toncoin offers a layer-1 blockchain which was developed by the founders of messaging app, Telegram.
After being dropped, the venture was later taken up with the TON Foundation.
Based on the recent review of the market, Toncoin (TON) has been substantially more stable than the crypto market.
Overall, Golteum offers better utility-driven, secure, and scalable options.
Through an enhanced platform structure that allows users to explore profit opportunities in the ecosystem backed by their tokenized precious metals, the possibilities to make more are endless.
Buy GLTM now from Golteum presale at $0.012 and earn a 15% bonus on your purchase.
For more information about the GLTM Presale:
---