Gold Faces a Very Physical Problem; Bitcoin To the Rescue!
Bitcoin's competitor, gold, found itself in a peculiar situation due to the current pandemic: it's getting increasingly difficult for it to move. Fears of stranded bullion led to London spot gold prices dropping far below U.S. gold futures.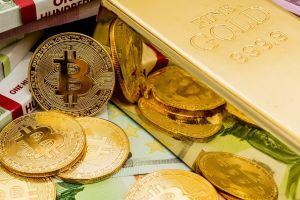 Source: Adobe/EwaStudio
"There's plenty of gold [...] But it's immobilized," Reuters quotes an unnamed banker at a major gold-trading bank as saying.
While the U.S. Federal Reserve promised unlimited stimulus Monday, resulting in the jump in gold prices, there's still the issue of lockdown countries, closed refineries, air travel restrictions, shut down airports, and nobody to work on transferring the gold bullion where its needed. What's more, many dealers are worried to even try sending a shipment as it may potentially get stranded, says the Los Angeles Times.
And at the same time the Covid-19-related anxieties are leading people to gold as a safe haven, a question is raised if there's enough gold in New York City to deliver against futures contracts traded on the CME Group-operated Commodity Exchange, better known as Comex.
As of Monday, open interest in the April gold contract stood at 195,604 contracts, which equals to 19.6 million ounces, while the total deliverable stocks in Comex warehouses were 8.7 million ounces, reports the Los Angeles Times. On the other hand, writes Reuters, the price difference between London (the key storage and home to thousands of tonnes of gold for physical gold trading) spot gold and March futures on the Comex exchange was USD 42 on Tuesday, surpassing even USD 70 at one point, while they normally trade within a few dollars. Today (11:00 UTC), that difference is USD 12.
Gold price chart: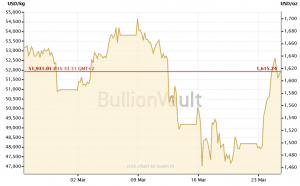 Source: bullionvault.com
Bitcoin price chart: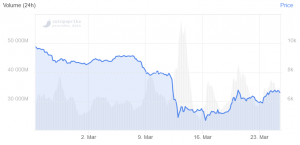 Source: coinpaprika.com
Another issue is that Comex accepts 100-ounce bars, while there's not enough people in London to melt their 400-ounce ones to meet that requirement. The above-mentioned banker also stated that the difference between spot prices and U.S. futures will probably remain until refineries reopened and transport resumed, or Comex altered its rules to allow 400-ounce bars to be used to settle its contracts. The London Bullion Market Association (LBMA) and several major banks that trade gold have asked CME to allow these heavier gold bars to be used, in which case the metal wouldn't be altered and would stay in London's vaults, while the ownership would be transferred, reports Reuters, citing two sources involved in the discussions who find this would fix the problem.
Meanwhile, bitcoiners are responding to the situation, offering another solution.
Some have been thinking that, if there's lack of gold, goldbugs may turn to BTC. "Availability matters," writes user Zender, and in the absence of physical gold, "investors will see Bitcoin as an interesting alternative for a hard asset because of the 24/7 availability. Also the market will be a global, online one, while the physical market for gold will be very local." In case of hyperinflation, he argues, physical gold would not be an option for transactions, but there will likely be a digital currency backed by gold. "I find it hard to believe that this currency will not suffer the same faith and fall into FIAT again," he concludes.
___
Learn more:
Do We Need Both Gold and Bitcoin?
The Gold vs Bitcoin Debate: Anthony Pompliano vs Peter Schiff
---