Get Ready for 'CeDeFi' While Crypto CEO Warns of a DeFi Bubble
Major crypto exchange Binance announced that they are attempting to bridge decentralized (DeFi) and centralized finance (CeFi) via a new support fund, prompting discussions of the creation of "CeDeFi." At the same time, crypto market data provider Messari CEO warned of a DeFi bubble pop coming sooner than expected.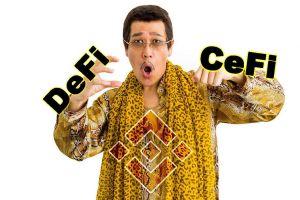 Binance said it's "establishing a USD 100 million seed fund to empower emerging projects and drive collaboration" between CeFi and DeFi. DeFi projects will soon be called to submit their proposals, said the company, with "strong projects" competing to win "up to USD 100,000 in funding," while "high-quality projects may even have the opportunity to participate to be listed on Binance."
Among other ways they're trying to bridge CeFi and DeFi, the exchange said it's working with the Binance Smart Chain community through the Token Canal project, announced several days ago, to help developers connect the Binance Smart Chain (the exchange's own dual-chain architecture) with other public chains, enabling tokens on those other chains to be connected to Binance's, including Bitcoin (BTC) and Ethereum (ETH).
And then, the new term 'CeDeFi' was born in the Cryptosphere. Binance CEO Changpeng Zhao said that "DeFi is great. I love it. But CeFi is about to give it a run for its money." There are two advantages CeDeFi offers, he said:
"Exchange vetted projects/tokens. Not bulletproof, and sometimes may even be negative (depending on the centralized exchange, or CEX), but a reputable CEX is financially incentivized to maintain it.
With DeFi, you have to choose a single project. With CeFi, BNB staked on Binance can/will earn multiple yields/tokens simultaneously. 1x vs Nx. Hard to ignore."
However, Dovey Wan, Founding Partner of California-based investment company Primitive Ventures, said that Changpeng Zhao is not correct when he's talking about these two CeDeFi advantages.
Wan argued that an "exchange is incentivized to maintain pumpability of coins it list hence its users are willing to stay". As for the second advantage, she added that DeFi "pools of capital can do [the] same without central authority and fund custody."
"What's most important, users can only expose to [an] asset they want to hold long term instead of rushing market buy BNB driven by [an] event, reduces allocation friction/portfolio shift," Wan stressed.
Jay Hao, CEO of a competing exchange, OKEx, chimed in, saying that CeDeFi is something this platform is working on too. "[In my opinion] the fierce competition between DeFi projects far exceeds that of CeFi, but CeFi can help high-quality DeFi projects stand out," he wrote.
The Cryptoverse was quick to react. "Hearing disturbing rumors that some people are trying to make "CeDeFi" a thing," said Arjun Balaji, Investment Partner at Paradigm. And while some are sticking to their "standards," others argue that "its always more profitable to trade in CeFi." The third camp offered another point of view, that "without Fiat Onramp adoption will take much longer."
However, multiple industry players argued that CeDeFi is just usual centralized finance.
Yet some suggested that there might be some benefit in this CeFi-DeFi cocktail:
Meanwhile, crypto market data provider Messari CEO Ryan Selkis was discussing a DeFi bubble, warning that it will pop sooner than expected, drawing a comparison with the 2017 initial coin offering (ICO) boom. The latter boomed because people thought there'd be a coordinating utility token for every industry, said Selkis, while DeFi is "just one big pool of capital sloshing around a small group of insiders and mercenaries who will soon run out of victims to fleece."
And while it's an interesting experiment, in which "smart people are making a killing," he wouldn't recommend DeFi to most people, he added.
Though many seem to agree with him, Selkis was promptly criticised by some who claimed that he does not understand the DeFi space, calling him "an amateur Defi player."
At the same time, research analyst at Messari Ryan Watkins argued that "going full degen pays dividends."
All that said, some, like Managing Director of IDEO CoLab Ventures Ian Lee, argue that "CeFi is going to be eaten by DeFi from the ground up."
Setting aside the paradox of having something called "centralized decentralized finance," and the 'centralized' component being the exact reason DeFi was created in the first place, it still remains to be seen if the concept will live only within the name, or if it will take an actual form.
---