The Future of Gaming: Generating Income through Alex The Doge (ALEX) & Tamadoge (TAMA)
Disclaimer: The text below is a press release that is not part of Cryptonews.com editorial content.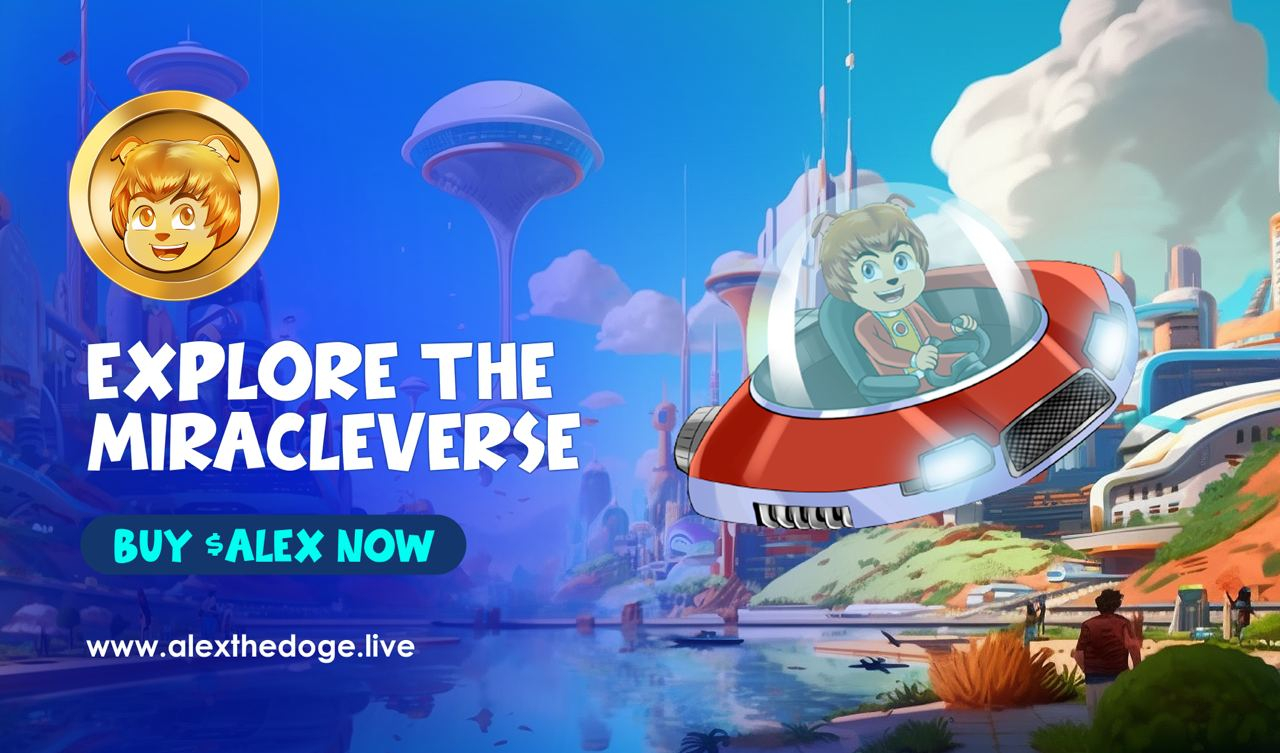 The gaming industry has come a long way since the era of arcade machines and home consoles. The surge of blockchain technology has created an entirely new paradigm: Play-to-Earn (P2E) gaming. It combines the thrill of gaming with the economic advantages of cryptocurrencies. Two trailblazers in this field are Alex The Doge (ALEX) and Tamadoge (TAMA), both of which are revolutionizing the gaming industry and offering players an exciting way to generate income.
Alex The Doge (ALEX): Retro Gaming Meets Crypto
Alex The Doge (ALEX) is a prime example of how blockchain technology can revitalize classic gaming experiences. Inspired by the legacy of SEGA's game "Alex The Kidd", the Alex The Doge (ALEX) team set out to create a retro P2E game that brings back nostalgic feelings while rewarding players with ALEX tokens.
Built on the scalable, fast, and secure Polygon blockchain, Alex The Doge (ALEX) introduces the "miracleverse" - a digital gaming world that combines P2E gaming rewards, De-Fi, and Social Trading. Users can immerse themselves in the Alex The Doge (ALEX) universe, playing games, earning rewards, and exchanging them on De-Fi platforms. This integration of gaming and cryptocurrency components is designed to captivate both existing and retro gaming communities.
In terms of token acquisition, Alex The Doge (ALEX) allows users to purchase ALEX tokens directly via their Web3 wallet. The maximum supply is set at 1 billion tokens, offering a vast pool for investors and gamers alike. Upon creation, ALEX will be launched for trading on Uniswap v3.
Tamadoge (TAMA): A Unique Fusion of Meme Culture and P2E Gaming
Tamadoge (TAMA) is another innovative player in the P2E gaming landscape. While meme coins have their own appeal, Tamadoge (TAMA) takes it a step further by integrating P2E elements. This unique fusion opens up an avenue for investors and gamers to earn TAMA tokens while enjoying the lighthearted meme culture.
Tamadoge (TAMA) understands the power of community, and therefore, it not only offers P2E gaming but also facilitates various community activities, which can boost the token's value and distribution.
Generating Income: The P2E Revolution
Alex The Doge (ALEX) and Tamadoge (TAMA) represent a significant shift from traditional gaming models. Instead of spending money on in-game purchases that offer no return, P2E gaming allows players to earn real-world value. By playing games, participating in challenges, or contributing to the gaming ecosystem, users can earn ALEX or TAMA tokens. These tokens can then be traded for other cryptocurrencies or fiat currencies, creating an income stream for players.
In addition, the communities around these tokens also provide social trading opportunities. Users can share trading strategies, collaborate on gaming tactics, and build friendships, making the entire P2E gaming experience more enjoyable and profitable.
The Future of Gaming
The P2E model pioneered by tokens like Alex The Doge (ALEX) and Tamadoge (TAMA) is set to reshape the gaming landscape. It not only introduces a new way to engage with games but also provides an economic incentive to play. As the P2E trend continues to gain traction, the line between gaming enthusiasts and investors will increasingly blur, marking the birth of a new generation of 'player-investors.'
As we venture deeper into the era of blockchain gaming, it's clear that projects like Alex The Doge (ALEX) and Tamadoge (TAMA) are not only part of the future of gaming but also the present. They embody the exciting possibilities of P2E gaming and present a compelling case for the lucrative fusion of gaming and cryptocurrencies. With such initiatives leading the way, the future of gaming seems both thrilling and rewarding.
For more information about Alex The Doge (ALEX) presale use the links down below:
Website: https://alexthedoge.live/
Telegram: https://t.me/alexthedoge
Twitter: https://twitter.com/AlexTheDoge_p2e
---