FTX Unveils Reboot Plan for New Offshore Exchange under New Leadership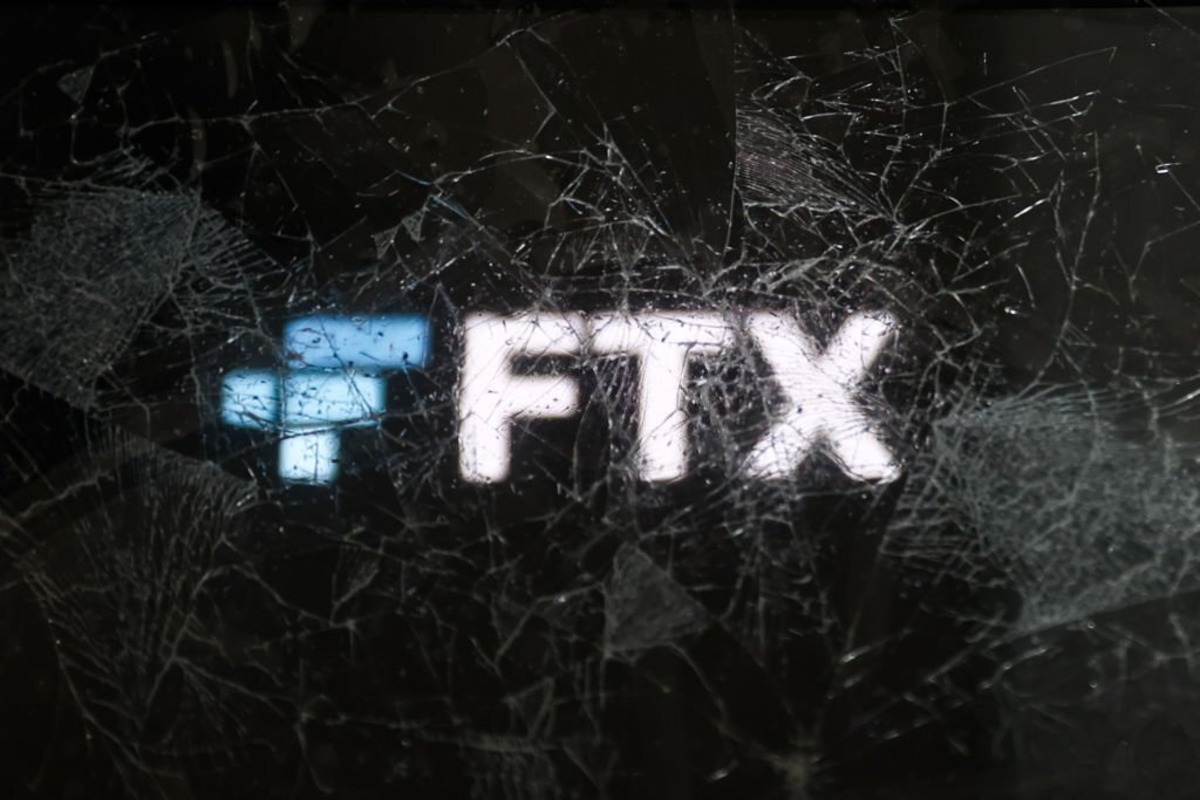 On July 31st, under its new CEO, John J. Ray III, the bankrupt cryptocurrency exchange FTX Trading Ltd. submitted a draft plan to "reboot" the collapsed crypto exchange.
The proposal was unveiled on Monday, presenting FTX.com claimants with the option to hold equity securities, tokens, or other interests in a newly established offshore company.
The filed dockets presented a draft reorganization plan detailing the company's intended strategy to resolve an extensive and intricate collection of claims. For this, Claimants will be categorized into specific groups.
Users of the FTX.com offshore exchange will be referred to as "Dotcom customers," while FTX US users will be identified as "US customers."
The claims are categorized into 13 distinct classes, which include Other Priority Claims, Secured Claims, Separate Subsidiary Claims, General Unsecured Claims, Dotcom Convenience Claims, U.S. Convenience Claims, General Convenience Claims, Intercompany Claims, Intercompany Interests, Subordinated Claims, FTT Claims, Preferred Equity Interests, Section 510(b) Claims, Other Equity Interests, and Pool Claims comprising Dotcom Customer Entitlement Claims, U.S. Customer Entitlement Claims, and NFT Customer Entitlement Claims.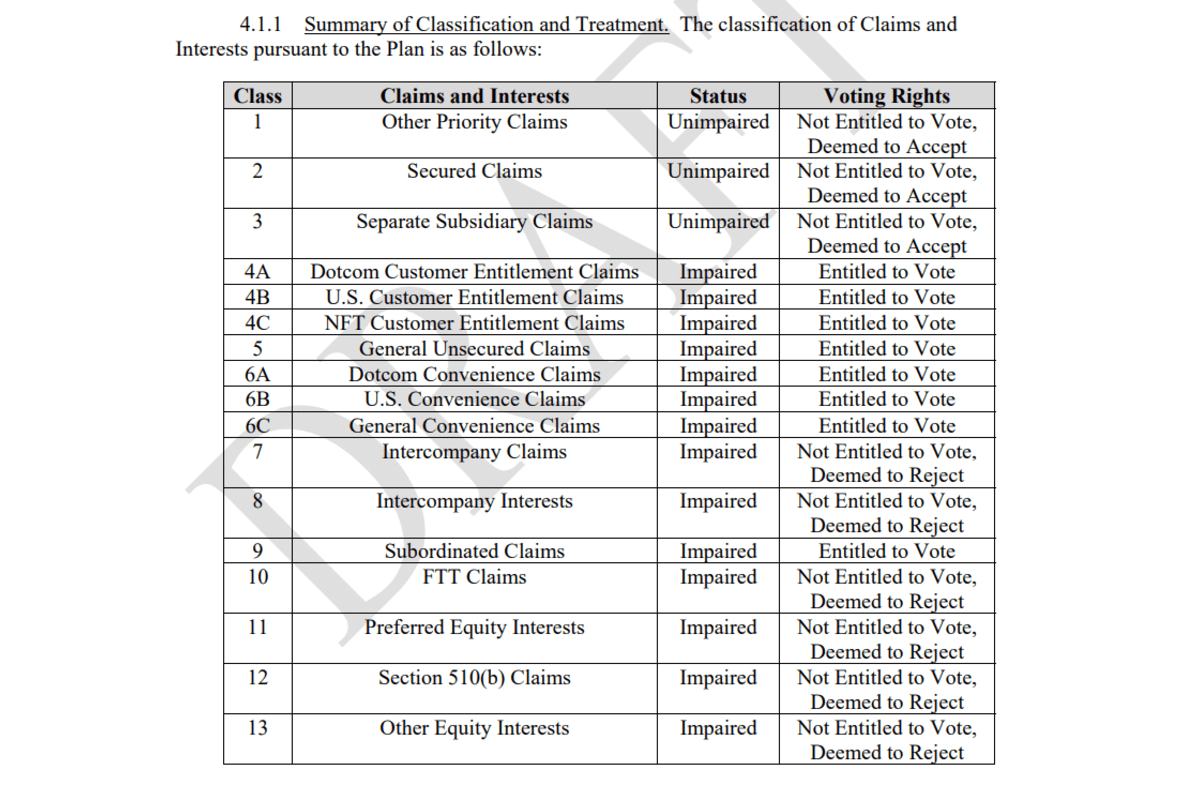 The proposed plan outlines the creation of three main recovery pools: the Dotcom Customer Pool, the US Customer Pool, and the General Pool, encompassing all assets associated with FTX.com and FTX US.
The Dotcom Customer Pool consists of claimants of the FTX.com offshore exchange, while the US Customer Pool comprises customers of the US exchange. General claims include those from Alameda's lenders or trading partners, while subordinated claims encompass taxes and fines from penalties.
The priority of these claims will be determined based on "waterfall priorities," with each class receiving a pro-rata payout from the remaining pool after the preceding class is settled.
The specific order of payouts will be determined through negotiations with stakeholders.
FTX Considers Reboot: Draft Plan Raises Questions on FTT Holders and Addresses Non-Customer Claims
For the Dotcom customer pool, a new company will be established with third-party investors to operate a "rebooted" offshore platform exclusively for Dotcom customers, excluding US investors.
"Rather than all cash, the Debtors may determine that the Offshore Exchange Company remit non-cash consideration to the Dotcom Customer Pool in the form of equity securities, tokens, or other interests in the Offshore Exchange Company, or rights to invest in such equity securities, tokens, or other interests," the document reads.
Each Dotcom customer will receive a share of the proceeds from FTX.com assets after expenses and the Dotcom customer convenience class deduction.
Each holder of a dotcom customer entitlement will receive a pro-rata share of the proceeds from a pool of assets associated with the FTX.com exchange, net of distributions to the dotcom customer convenience class and expenses, according to the plan.
However, it is worth noting that the proposed restructuring plan does not account for the allowance of FTT holders, as it was deemed a security by the SEC in a December complaint filed against FTX co-founder Gary Wang and former Alameda Research CEO Caroline Ellison. Also, non-customer claims, like regulatory penalties and taxes, will be prioritized less.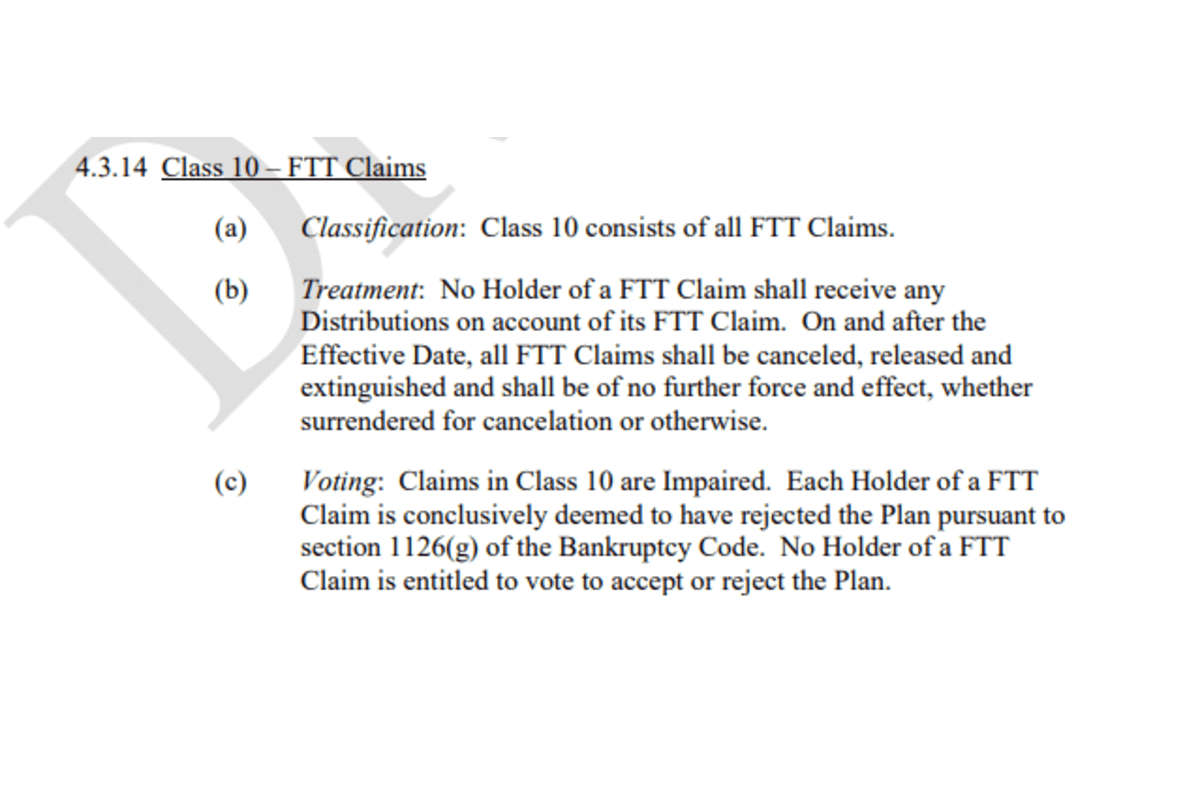 The draft plan is open to amendments based on feedback from Consulting Parties and other stakeholders, offering a unique approach to resolving the complex issues surrounding the collapsed cryptocurrency exchange.
---