Fantom Coin is Going to Zero After Multichain Bridge Hack but Crypto Whales are Accumulating This Other Coin Instead – Just 10 Days Left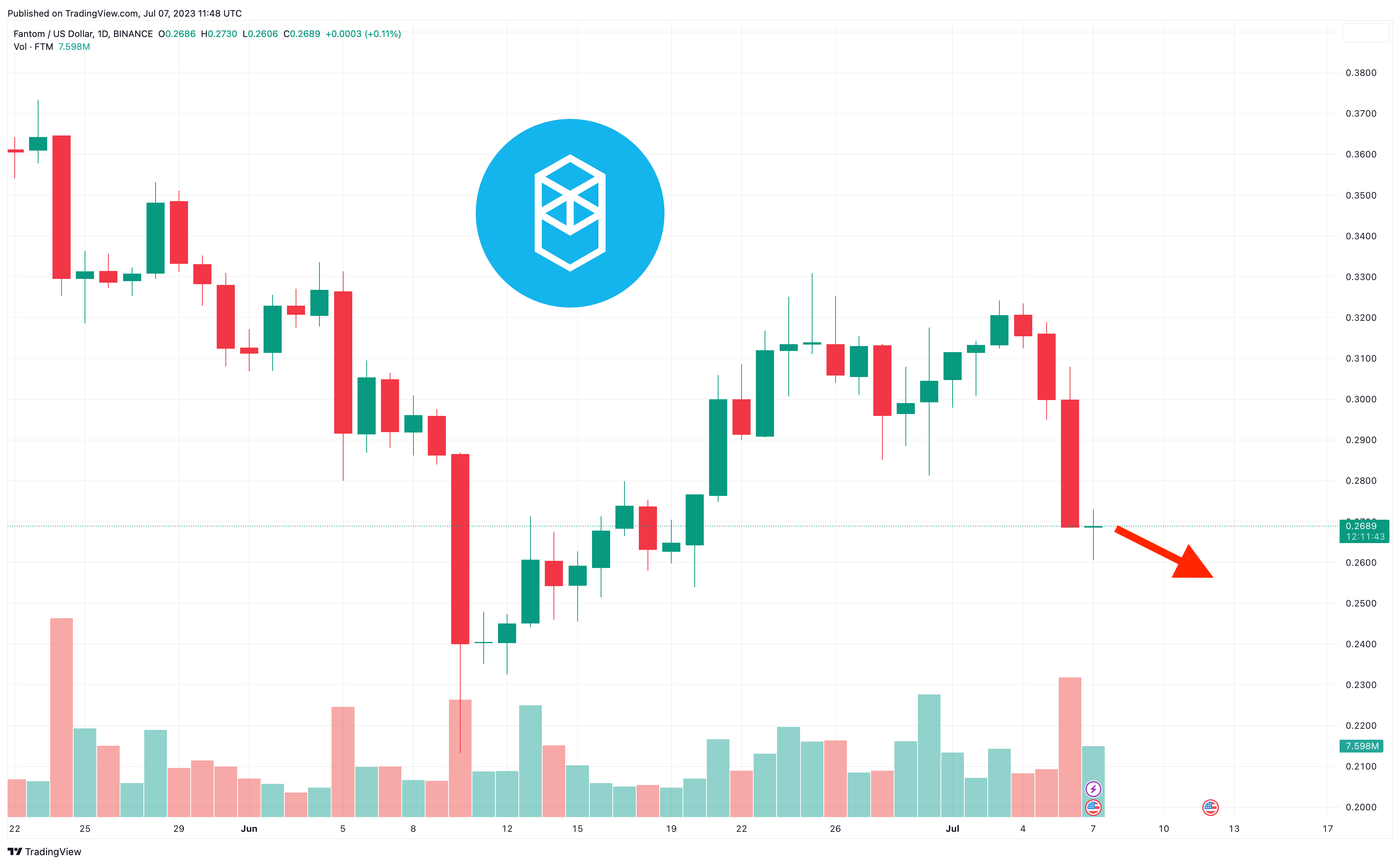 The price of Fantom Coin (FTM) has dived by 11% in the past 24 hours, after a hack of Fantom's Multichain bridge resulted in a loss of cryptocurrencies worth upwards of $126 million.
At $0.266907, FTM is now down by 14% in a week and by 10% in the last 30 days, with the altcoin remaining up by 33% since the beginning of the year.
However, with certain commentators advising holders to take their assets out of the Fantom ecosystem, the hack could result in sustained losses for FTM, which would suffer severely from an exodus of users.
Of course, there are alternative altcoins to invest in for traders looking for assets with more potential, with Thug Life Token (THUG) raising expectations of a strong listing after its presale reached a new milestone today.
Fantom Coin is Going to Zero After Multichain Bridge Hack
Unsurprisingly, FTM's chart and indicators are in a real position of weakness, and looks as though there's still plenty of pain left in store for it.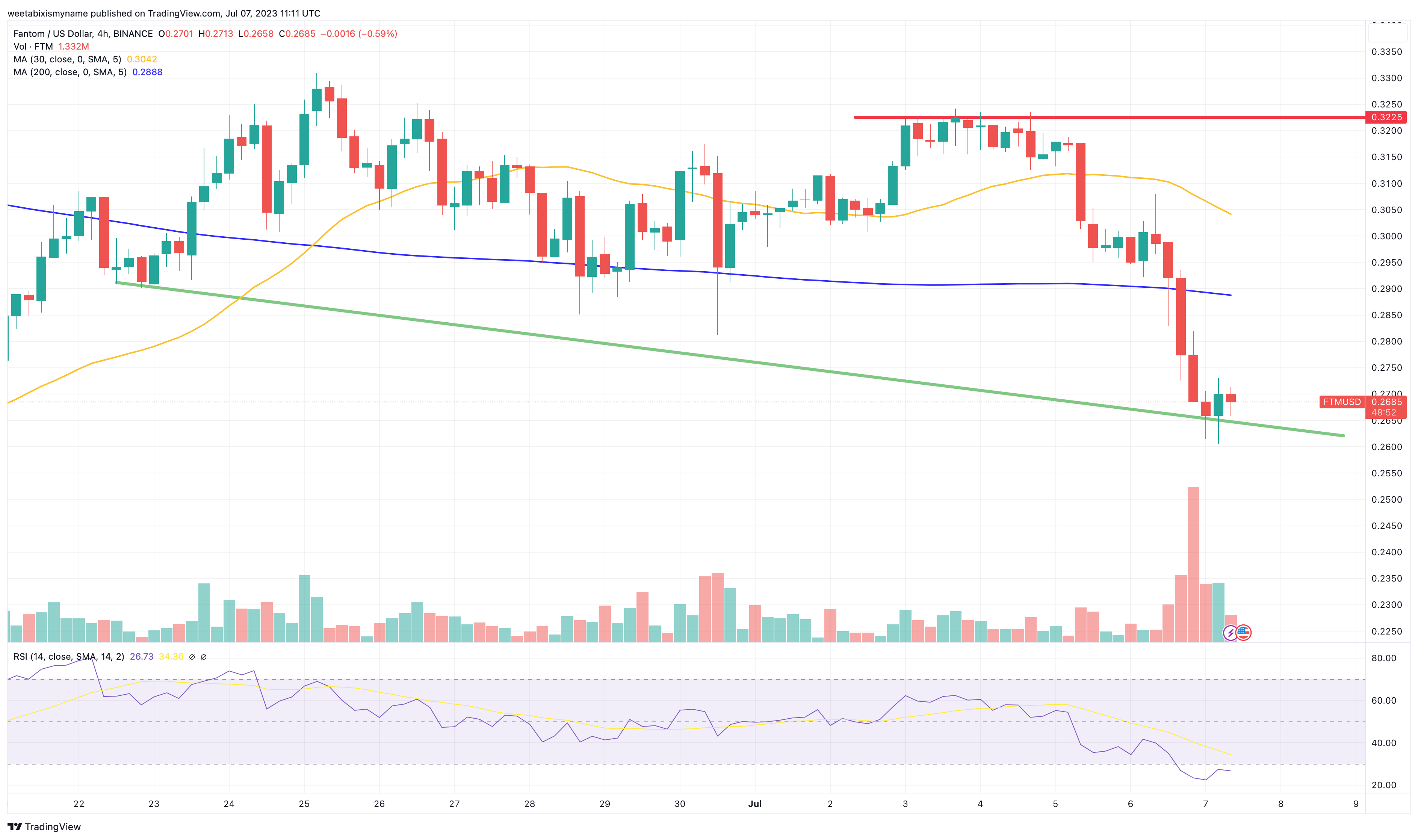 For one, FTM's 30-day moving average (yellow) has begun falling towards its 200-day average (blue), and while it seems very likely that it will fall all the way below the longer-term indicator, it still has some way to get there.
FTM's relative strength index (purple) is also very weak right now, with its level (under 30) indicative of strong selling pressure, with the metric showing little signs of improving in the near future.
Indeed, the altcoin's support level (green) is perhaps the most alarming feature here, with it dropping to new lows and suggesting that a big selloff is underway.
As mentioned above, the reason for this selloff is a major hack of Fantom's Multichain bridge, which normally enables users to transfer assets from one chain to another.
However, it has just fallen foul of a serious exploit, which has resulted in around $126 million in virtual currencies being stolen.
It almost goes without saying that this breach could be devasting for Fantom, with blockchains often depending on bridges such as Multichain to help them attract greater liquidity, as well as more usage and adoption.
But with Fantom's major bridge now being exposed as unsafe, development and adoption could really end up halting.
Because of this, several experts have advised staying away from Fantom, which many people are clearly doing (judging by FTM's plummeting price).
Crypto Whales are Accumulating This Other Coin Instead – Just 10 Days Left
There's little doubt that FTM still has falling left to do before it bottoms out, which means that traders would be advised to look elsewhere for gains at the moment.
And even with the overall market down today, there's still good potential if you know where to look, with presale tokens being one way of securing above-average profits in a market that still remains at least semi-bearish.
One such token with strong potential is Thug Life Token (THUG), an ERC-20 meme coin that has already raised more than $600,000 in its presale, which opened only last week.
As its name indicates, THUG has aligned itself with the gangsta rap and hip-hop communities, with its stylings helping it to attract buyers and followers from a wider demographic than that enjoyed by many other similar tokens.
Also helping it attract followers is its fairly high level of decentralization, with the presale being allocated 70% of its total maximum supply of 4.20 billion THUG (with this number being a nod to 4/20 culture).
Clearly, buyers are aware they will have a greater stake in THUG than they might have indirectly listed meme tokens, something which has helped them to participate in the sale with greater confidence.
New investors can participate by going to the official Thug Life Token website and connecting their software wallets, with 1 THUG costing $0.0007.
They will need to act quickly though as the sale is due to close in just under ten days, once it has reached its hard cap of $2,058,000.
From there, THUG will then list on exchanges, with the early successes in its presale suggesting that it could have a very good rally ahead.
Disclaimer: Crypto is a high-risk asset class. This article is provided for informational purposes and does not constitute investment advice. You could lose all of your capital.
---