eTukTuk Price Prediction 2023 - 2030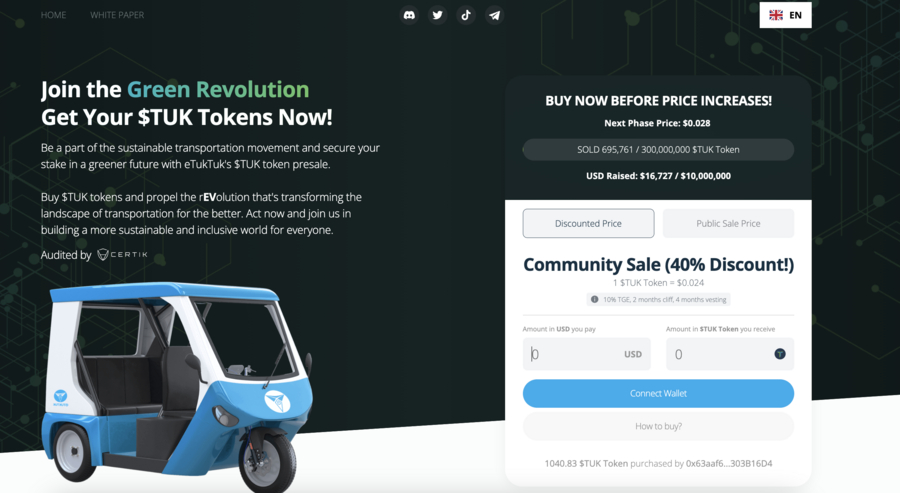 eTukTuk is an emerging green crypto aiming to reshape the future of transport. Leveraging blockchains, they aim to create sustainable transport solutions while reducing the global economic divide.
Their strategy involves developing cost-effective charging stations and an electric vehicle network to cater to a mass audience.
With global trends shifting toward greener alternatives, many investors are looking for eTukTuk price prediction to gauge its upside potential. This article offers a $TUK price forecast from 2023 to 2030.
eTukTuk Price Prediction Summary
End of 2023: eTukTuk's mission of reducing carbon emissions and its unique take on transport could attract more users and boost token demand. $TUK, currently valued at $0.024, can reach $0.07 by the end of 2023. The surge is possible due to the platform's promising roadmap, the introduction of the $TUK Token on CEX, and the support of the Sri Lankan government.
End of 2025: eTukTuk's plans to introduce Power Staking and their Layer 2 Sidechain and their sustainable vision and active community efforts could lead to further adoption and potential price appreciation. The platform's future advancements could see $TUK reach $0.16 by 2025.
End of 2030: eTukTuk's ambitious milestones, like setting up the first charging stations in Sri Lanka and developing the Driver and Passenger Apps, could drive substantial price growth. As the EV charging market grows, eTukTuk's alignment with global sustainability and economic equality goals could see $TUK hit $0.9 by the end of 2030.
eTukTuk Price History
eTukTuk is a promising player in the electric vehicle charging infrastructure (EVSE) sector that recently launched its native token, $TUK.
This BEP20 token operates on the BNB Smart Chain and aims to promote green transport, reduce carbon emissions, and provide financial inclusion, especially in developing nations.
The platform's Initial Coin Offering (ICO) has been structured to offer early participants and community members favorable terms while progressively offering fewer discounts to latecomers. This gradually increasing pricing structure has created a fair and transparent token distribution model.
Key highlights in the eTukTuk token's coin offering are:
Maximum Supply: The eTukTuk whitepaper outlines that the maximum supply for $TUK is 2 billion. The token's design creates community involvement and ensures fair distribution.
ICO Launch and Community Sale: The ICO started with a community sale. Each $TUK was priced at $0.024, allowing early eTukTuk community members to get on board at a fair price. The community sale accounts for 0.5% of the total token supply.
Presale Rounds: Following the community sale, eTukTuk will initiate the presale phase, which is structured into multiple rounds, each with a decreasing discount percentage. This phase will offer 9.75% of the total tokens.
Public Sale: The final phase was the public sale, accounting for 5% of the total tokens. Here, the price per $TUK increased to $0.04, significantly increasing from the initial community sale.
Token Generation Event (TGE): After the public sale, a TGE took place, with tokens airdropped to eligible wallets. This will occur three months post the public sale initiation.
eTukTuk Price Prediction 2023
The $TUK token from eTukTuk, currently priced at $0.024, is expected to gain momentum with a probable listing later this year, which could boost its market presence and price.
Over recent months, eTukTuk has achieved some significant milestones, showcasing its prototype, revealing its Power Staking Paper, and expanding its global footprint with offices in Sri Lanka and Singapore.
It also partnered with the Capital Maharaja Group (a prominent Sri Lankan conglomerate) for its Sri Lanka launch. The platform is working on its Driver App, a crucial piece in its digital ecosystem, and plans to introduce $TUK Token on CEX (Tier 1 and Tier 2), aided by the Sri Lankan government.
Moreover, the planned launch of eTukTuk merchandise will further improve its brand awareness.
The confluence of these factors could attract more users to the platform, thereby creating a demand surge for the $TUK token. An increased user base and successfully implementing the project's roadmap plans can help the token appreciate.
eTukTuk's core mission is to reduce carbon emissions while promoting financial inclusion. The brand's new take on transportation and its use of blockchain for scale and security can help it stand out.
Considering these factors, it could attract more users, and it's reasonable to foresee $TUK hitting $0.07 by 2023's close.
eTukTuk Price Prediction 2025
eTukTuk's aggressive growth strategy includes introducing Power Staking to reward network supporters, likely boosting $TUK token adoption.
Moreover, they also plan to launch their Layer 2 Sidechain, which hints at faster transactions and better scalability – key growth indicators to attract new users. The platform will also aim to start its charity donations to the local community to improve lives.
The procurement and upgrade of their first production site, along with the debut of the prototype EV charging station, will further help the platform reach closer to its vision of a green future by providing a network of EV charging stations.
Assessing these factors, it is likely that they will positively impact the value of $TUK. The project's focus on sustainability, technology, and community is aligned with current market trends and fosters a strong, value-driven growth strategy.
Also, crypto tech updates can significantly boost a platform's growth. Further tech innovations could help eTukTuk increase its user base.
Consequently, the $TUK token price could reach $0.16 by the end of 2025, given the successful implementation of these roadmap plans and assuming favorable market conditions.
eTukTuk Price Forecast 2030
The global EV charging market is projected to grow to $111.90 billion by 2028 - a CAGR of 30.26%. This uptick could directly benefit eTukTuk's $TUK token.
By 2030, eTukTuk's milestones - like setting up the first charging stations in Sri Lanka, official government rollout, and kickstarting eTukTuk production, could draw more users and investors.
Moreover, the launch of the Driver App and ongoing Passenger App development can improve $TUK's utility and popularity.
By 2030, as eTukTuk's eco-friendly transport solutions gain traction in emerging markets, $TUK might see substantial price growth.
eTukTuk's pledge to cut carbon emissions and promote financial inclusivity aligns with worldwide sustainability and economic equality goals, potentially appealing to ESG (Environmental, Social, Governance)-oriented investors.
Also, $TUK is supported by the Binance (BNB) Chain, leveraging its security, efficiency, and scalability. This integration with eTukTuk's mission to improve lives and create economic change could positively influence $TUK's market perception.
So, assuming a growing market, $TUK could hit $0.9 by the end of 2030. However, it's crucial for potential investors to thoroughly study market trends and assess their risk tolerance before making any decisions.
Potential Highs and Lows of eTukTuk
Given eTukTuk's vision to redefine the future of transportation while leveraging Blockchain's power to reduce the economic divide, it could become one of the top low-cap cryptos on the market. Here's a quick overview of the eTukTuk price potential highs and lows;
| | | |
| --- | --- | --- |
| Year | Possible Low | Possible High |
| 2023 | $0.02 | $0.07 |
| 2025 | $0.09 | $0.16 |
| 2030 | $0.4 | $0.9 |
What is eTukTuk?
eTukTuk is an ambitious project to revolutionize the transportation sector, particularly in developing countries. The heart of this venture lies in implementing an eco-friendly EVSE and introducing an affordable electric TukTuk (eTukTuk).
The prime focus of eTukTuk is to combat carbon emissions and their associated health issues. Traditional internal combustion engine (ICE) TukTuks, often used for mass transportation in many countries, are infamous for emitting more CO2 than a standard car. By substituting these vehicles with eTukTuks, the project aims to deliver a cleaner, healthier alternative.
eTukTuk uses a decentralized sharing economy model built on Binance's BNB Chain, ensuring scalability, security, and efficiency. Core values like sustainability, innovation, and economic change drive the platform.
eTukTuk's game-changer lies in its combination of an affordable electric vehicle - the eTukTuk, and a vast network of innovative EVSE charging stations.
These stations are designed to provide fast, efficient charging to eTukTuks and other compatible electric vehicles (EVs). Further, solar charging stations ensure sustainable operation while reducing ecosystem expenses.
eTukTuk seeks to contribute to financial inclusion globally by leveraging blockchains. Drivers can use TUK tokens or other selected currencies via a dedicated Driver App to pay for charging their vehicles.
The platform also enables the creation of digital identities, which could be a step towards banking the unbanked, estimated to be around 1.4 billion adults worldwide.
You can enter the eTukTuk Telegram channel to get the latest updates.
What Influences the eTukTuk Price?
Many internal and external influences can affect eTukTuk's price. Here are some of the key points to understand them;
Adoption of EV: As eTukTuk is an electric vehicle project that focuses on providing affordable EV charging infrastructure, the adoption and success of EVs and EV infrastructure in developing countries can influence the demand for their services and, in turn, impact the price of $TUK tokens.
Partnerships: Strategic partnerships with Territory Partners or other organizations can also influence the $TUK token's value. Positive partnerships that expand the eTukTuk network or increase its capabilities could increase $TUK's price.
Regulatory changes: Changes in crypto or environmental regulations can also affect the price of $TUK. Positive regulation or subsidies for green projects can positively influence, whereas stricter regulation on crypto/electric vehicles can negatively impact the eTukTuk price.
How to Buy eTukTuk?
Certik, a trusted blockchain security firm, has thoroughly audited the $TUK contract. Moreover, eTukTuk's credibility is further increased due to support from respected investors like the Capital Maharaja Group and Asian Token Fund and partnerships with major players like Binance.
Now, let's break down the four simple steps to purchase $TUK tokens:
Step 1 - Get Your Wallet
First, get a digital wallet compatible with eTukTuk's platform. MetaMask is a reliable choice, having a handy app and browser extension. You can also access multiple other wallets, including Trust Wallet, via the Wallet Connect Widget.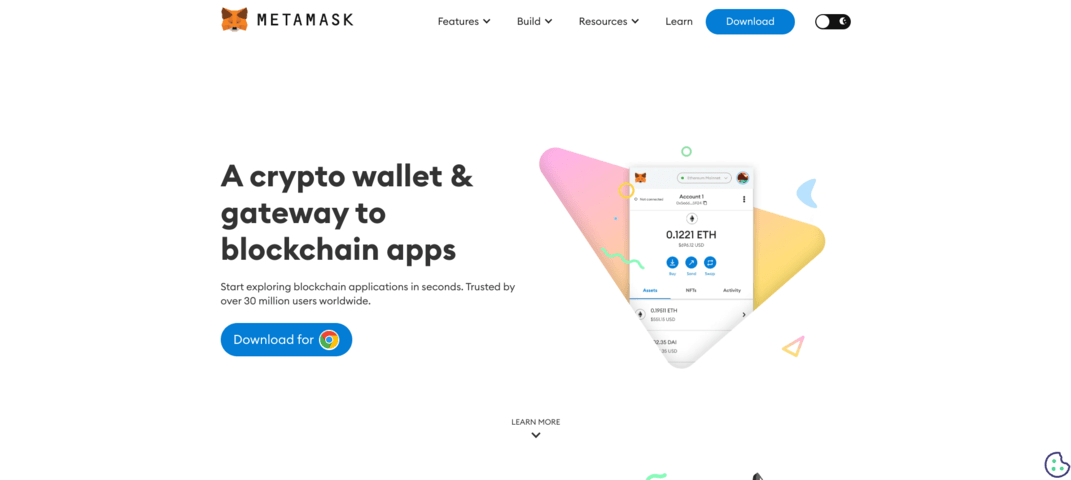 Step 2 - Link Your Wallet and Specify the Amount
Once your wallet is ready, connect it to eTukTuk's platform by hitting 'Connect wallet.' Pick MetaMask or any other preferred wallet and connect it. After you've connected your wallet, enter the amount of $TUK tokens you would like to buy.
Step 3 - Purchase eTukTuk ($TUK)
Now, you're all set to buy $TUK tokens. Input the amount of the selected crypto you want to exchange, then tap 'Buy $TUK Tokens.' Proceed by following the instructions to authorize the transaction.
Step 4 - Claim Your $TUK Tokens
After your purchase, the $TUK tokens will stay on eTukTuk's platform until the sale concludes. To claim your tokens, visit the platform, click 'Claim,' and approve the transaction (be aware of potential gas fees).
Upon the Token Generation Event (TGE), which occurs three months after the public sale, tokens will be airdropped to the wallets of eligible holders.
You can access your tokens via the token dashboard post-TGE until the final airdrop. Make sure your wallet is appropriately set up to receive your tokens. Stay connected with the latest updates by following the eTukTuk Twitter handle.
Conclusion
eTukTuk's future seems promising, given its partnerships and commitment to sustainability and financial inclusion. Given the rise in the adoption of electric vehicles, eTukTuk's ambition to provide an accessible green EV charging infrastructure aligns well with future market trends.
At the time of writing, buyers can grab the $TUK token for $0.024 via its ongoing community sale that offers the token at a 40% discount compared to the public sale of $0.04.
References
https://www.globenewswire.com/news-release/2022/07/18/2480838/0/en/Electric-Vehicle-Charging-Station-Market-Size-Worth-USD-111-90-Billion-Globally-by-2028-at-30-26-CAGR.html
https://www.worldbank.org/en/news/podcast/2021/12/22/how-crypto-technologies-could-revolutionize-development-the-development-podcast
https://money.usnews.com/investing/cryptocurrency/articles/will-cryptocurrency-regulation-affect-crypto-prices
FAQs
What is the eTukTuk token?
eTukTuk token, $TUK, is a BEP20 token on the BNB Smart Chain launched by eTukTuk. It's part of a project to promote green transport and financial inclusion, specifically by developing electric vehicle charging infrastructure.
Is eTukTuk a good investment?
As an investment, eTukTuk could present promising potential due to its focus on green transport and financial inclusion. It's crucial, however, to assess market trends and risk tolerance before investing. The token's growth also depends on the successful execution of eTukTuk's plans and favorable market conditions.
Disclaimer: The Industry Talk section features insights by crypto industry players and is not a part of the editorial content of Cryptonews.com.
---