Ethereum Price Prediction: ETH Rockets Up 8% – $2,000 ETH Incoming?
Disclosure: Crypto is a high-risk asset class. This article is provided for informational purposes and does not constitute investment advice. By using this website, you agree to our terms and conditions. We may utilise affiliate links within our content, and receive commission.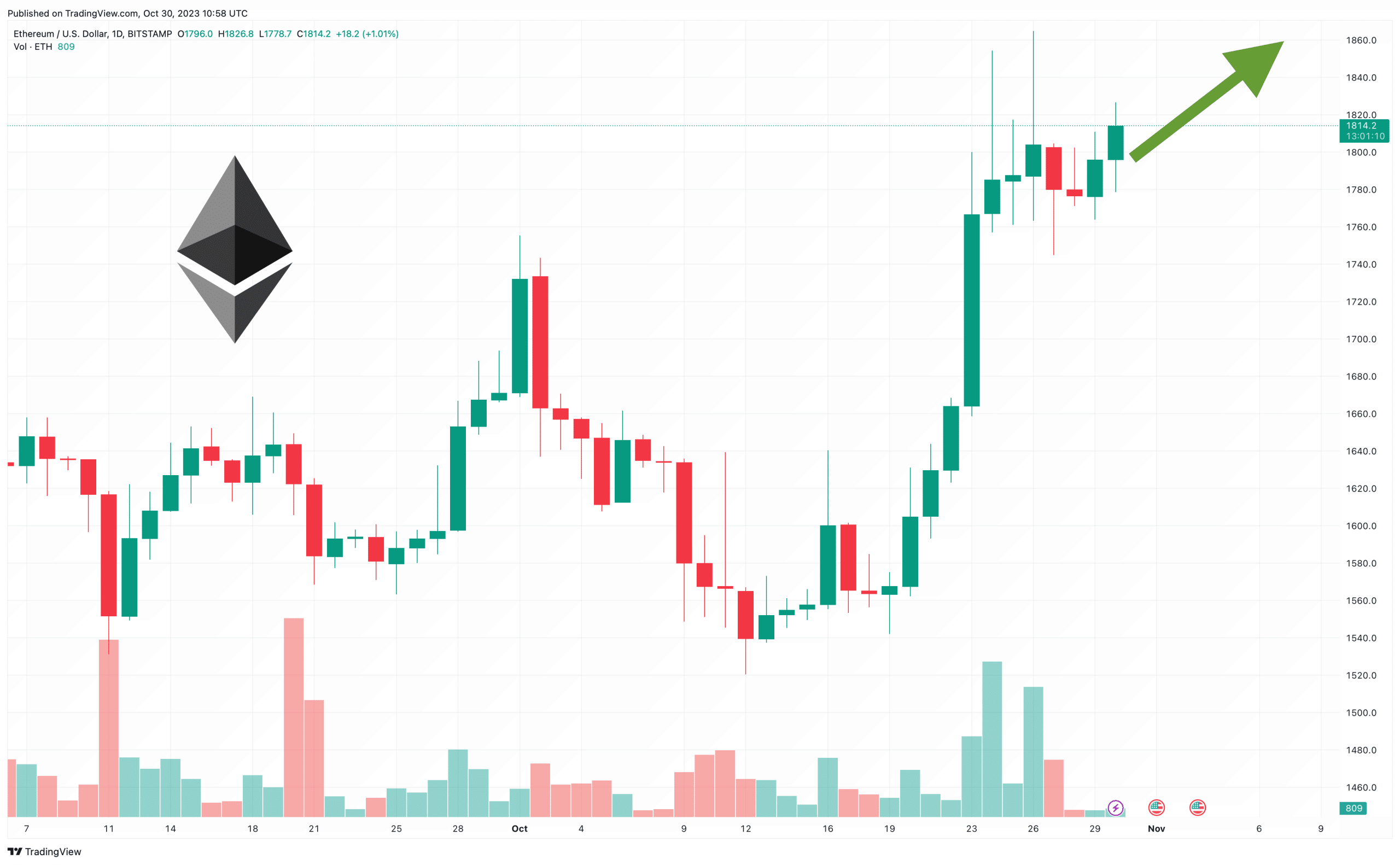 The Ethereum price has risen to $1,815 today, gaining by 1.5% in 24 hours and 8.5% in the past week amid rising investor positivity.
ETH has also risen by 14.5% in the past fortnight, while the altcoin is up by 51% since the beginning of the year.
This makes it one of the best-performing major tokens since January, and with its fundamentals and momentum remaining strong, it could easily see additional gains in the coming days and weeks.
Ethereum Price Prediction: ETH Rockets Up 8% – $2,000 ETH Incoming?

Ethereum's indicators continue to look very strong, with both its relative strength index (purple) and 30-day moving average (yellow) signalling further rises.
Its RSI has risen back above 70 after dipping a little a few days, implying that buying pressure remains very much with the coin.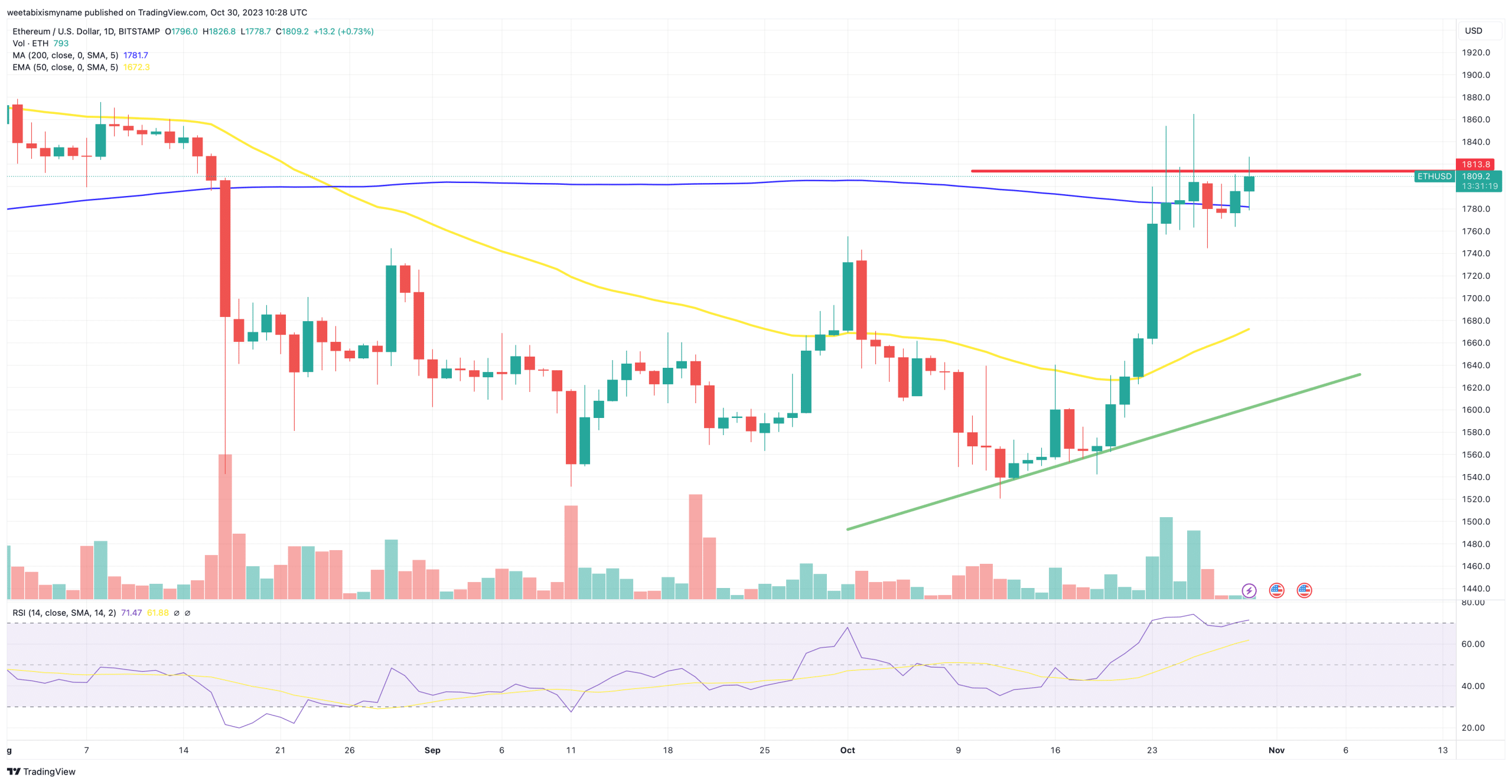 Likewise, ETH's 30-day average is climbing strongly towards its 200-day average (blue), with conventional wisdom suggesting that the current rally won't peak until the shorter term average is noticeably higher.
The coin's support level (green) also points to additional rises, while this indicator also suggests that ETH won't fall back down to its pre-rally level if it corrects in the near future.
ETH continues to be strong as a result of investor positivity regarding Bitcoin ETFs, with the SEC looking increasingly like it will approve a number of recent applications at the start of the next year.
Such positivity has fed into the rest of the market, with ETH recovering in the past week or so after investors spent a couple of months overselling it.
Fundametals

The coin's fundamentals weighed heavily against the selling it witnessed, yet now it has moved into a position where it's ready to make up for lost ground.
And it should rally more than pretty much any over alt if and when the Bitcoin ETFs are approved, and for various reasons.
For one, the approval of Bitcoin ETFs opens the door to the approval of Ethereum ETFs, with institutions interested in ETH more than any other altcoin.
Secondly, Ethereum continues to be the biggest layer-one blockchain network by some distance, with its total value locked in accounting for roughly 55% of the entire DeFi sector.
This percentage doesn't include Ethereum-based layer-two networks, which would bump its total to around 63%.
On top of this, Ethereum has also attracted the highest-profile adoption in recent months.
This includes Visa's stablecoin trials, as well as PayPal's Ethereum-based stablecoin, and not to mention Coinbase's own layer-two network.
Given such ongoing interest, the Ethereum price is likely to reach $2,000 in the next few weeks.
From there, it could end 2023 at around $2,500.
Other Altcoins With Strong Potential

While ETH looks set to continue rising, it isn't the only high-potential altcoin in the market right now.
A number of presale tokens also look very promising, with some of these likely to witness big rallies when they list on exchanges in the coming weeks.
Perhaps the favorite the rise the most is Bitcoin Minetrix (BTCMTX), a tokenized cloud mining platform that has already raised over $2.7 million in its presale.
#BitcoinMinetrix hits another major milestone! 🌟

Successfully raising more than $2,600,000. pic.twitter.com/hP6PLnjUcI

— Bitcoinminetrix (@bitcoinminetrix) October 30, 2023
Bitcoin Minetrix has been able to attract plenty of investment already because it offers something unique with the crypto ecosystem.
Namely, its platform will offer users the ability to mine Bitcoin (BTC) by staking its native token, BTCMTX.
Users who stake BTCMTX receive tokenized mining credits in return, which they can use to purchase cloud-based mining space.
In turn, this can earn them freshly mined Bitcoin, while staking BTCMTX also earns them new BTCMTX.
As such, Bitcoin Minetrix could end up being highly profitable for investors, especially if adoption causes BTCMTX to rally.
Exploring all the options with #BitcoinMinetrix! ⚒️

A simple path to cloud mining:

✨ Easy of entry for beginners
💵 Cost-effective without hardware expenses
🌆 No worries about space, noise, or heat
🚀 Smooth upgrades#Bitcoin #CryptoMining pic.twitter.com/ZxRDAzqj6m

— Bitcoinminetrix (@bitcoinminetrix) October 27, 2023
The coin will have a max supply of 4 billion BTCMTX, with new buyers able to join the presale by going to the official Bitcoin Minetrix website.
1 BTCMTX currently costs $0.01130, although this will rise to $0.01140 in the just over two days.
It will also rise to $0.01190 by the time of the sale's tenth and final stage, while it could jump even higher once trading platforms add it.
Disclaimer: Crypto is a high-risk asset class. This article is provided for informational purposes and does not constitute investment advice. You could lose all of your capital.
---