Ethereum Price Prediction as ETH Drops Below $1,700 – Will ETH Keep Falling?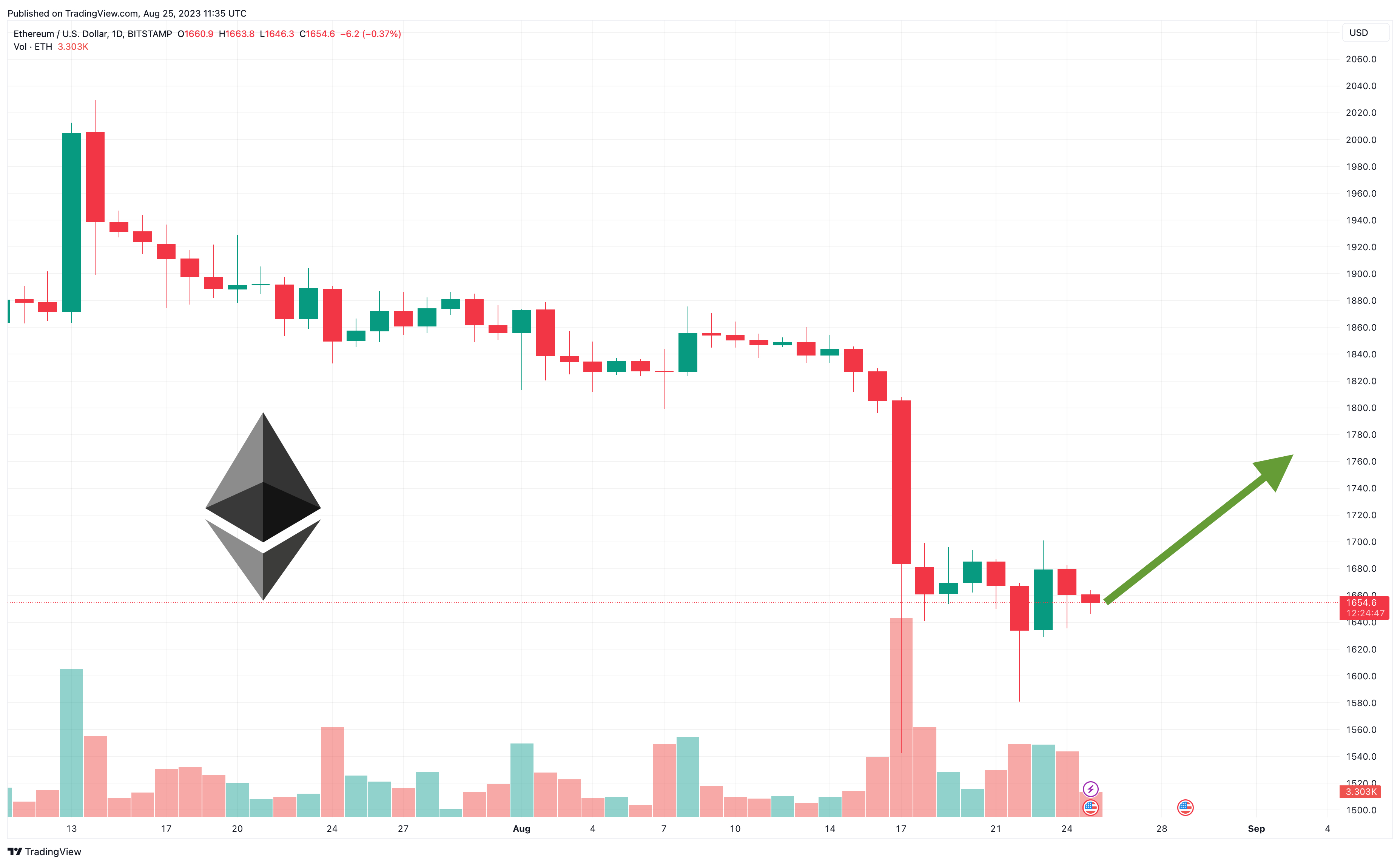 The Ethereum price has dipped by 1% today, with its fall to $1,653 coming amid a similar loss for the cryptocurrency market as a whole.
ETH is now down by 2% in a week and by 10% in the last 30 days, with the market's biggest altcoin remaining up by 38% since the beginning of the year.
Given the uncertain state of the wider market (especially in relation to ongoing regulatory actions), it remains possible that ETH could slip a little further in the coming days, especially when it has recently fallen below the key support levels of $1,800 and then $1,700.
However, ETH's solid fundamentals will ultimately translate into a recovery somewhere down the line, especially when Ethereum continues to attract more adoption than the vast majority of its rivals.
Ethereum Price Prediction as ETH Drops Below $1,700 – Will ETH Keep Falling?
Ethereum now looks very close to hitting a bottom, with its indicators running out of space to fall and looking as though they could turn positive at any minute.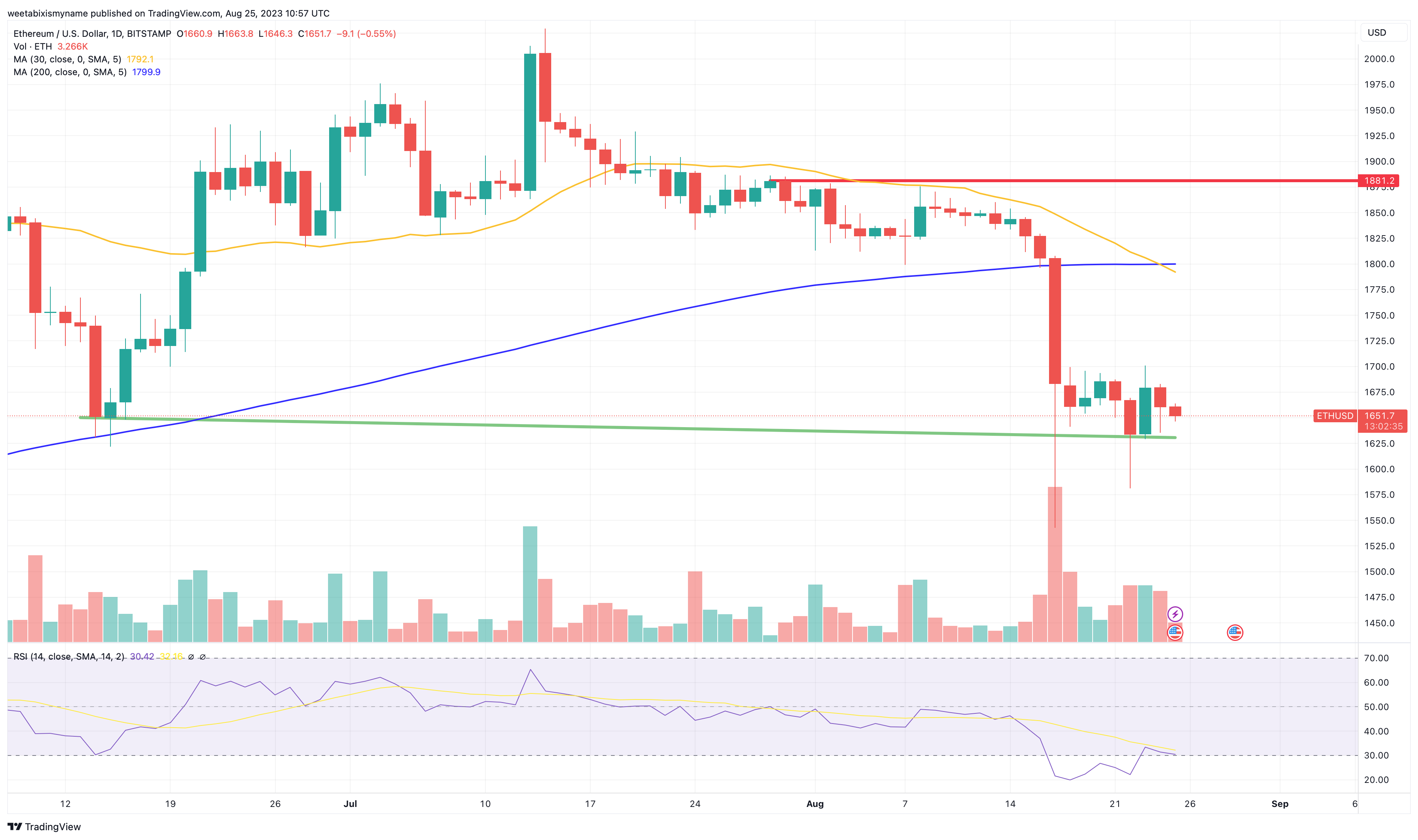 Most notably, the coin's 30-day moving average (yellow) has dropped below its 200-day average (blue), forming a 'death cross' that can signal more losses in the short-term.
However, such a cross is often a necessary precondition of any significant rebound and recovery, with ETH's relative strength index (purple) also in a low position that should lead to fresh rallies anytime soon.
Such rallies may not follow immediately, however, sine ETH's support level (green) has repeatedly failed to hold up against repeated selling pressure, having dropped below the all-important $1,800 last week
This fall below $1,800 created a weakness that resulted in ETH then dropping below $1,700, implying that it may also struggle to resist a fall below $1,600.
Some investors have recently predicted that ETH could sink as low as $1,400 before correcting, although it's possible that it has suffered enough in recent weeks and that its recovery is closer than some might think.
That said, the wider market remains in a precarious condition, with investor sentiment lowered by the ongoing SEC cases against Coinbase and Binance, as well as by fears surrounding the state of China's economy.
Indeed, with Coinbase's Brian Armstrong revealing at the end of last month that the SEC apparently regards all altcoins (including Ethereum) as securities, it may be some time before things become decisively more positive.
But this doesn't change the fact that Ethereum remains one of the strongest altcoins in the market, with the platform continuing to account for more than half of the DeFi sector in terms of total value locked in (especially when its layer-two networks are added).
Ethereum has also celebrated some important adoption news in recent weeks, with PayPal launching its own stablecoin on the blockchain, and with Coinbase recently launching its own layer-two network for Ethereum this month.
In view of this, ETH should return to $1,700 and $1,800 in the next few months, before potentially closing the year near $2,000.
Other High-Potential Altcoins
Ethereum isn't the only high-potential altcoin in the market, while there are also a number of newer alts which have the potential to rally big sooner than ETH.
This includes various presale tokens, which can perform better than directly listed new tokens because their sales provide them with the opportunity to accumulate supporters and holders before becoming tradeable.
And probably the biggest presale token in the market at the moment is Wall Street Memes (WSM), a new ERC-20 cryptocurrency that has raised more than $26 million since kicking off its sale in June.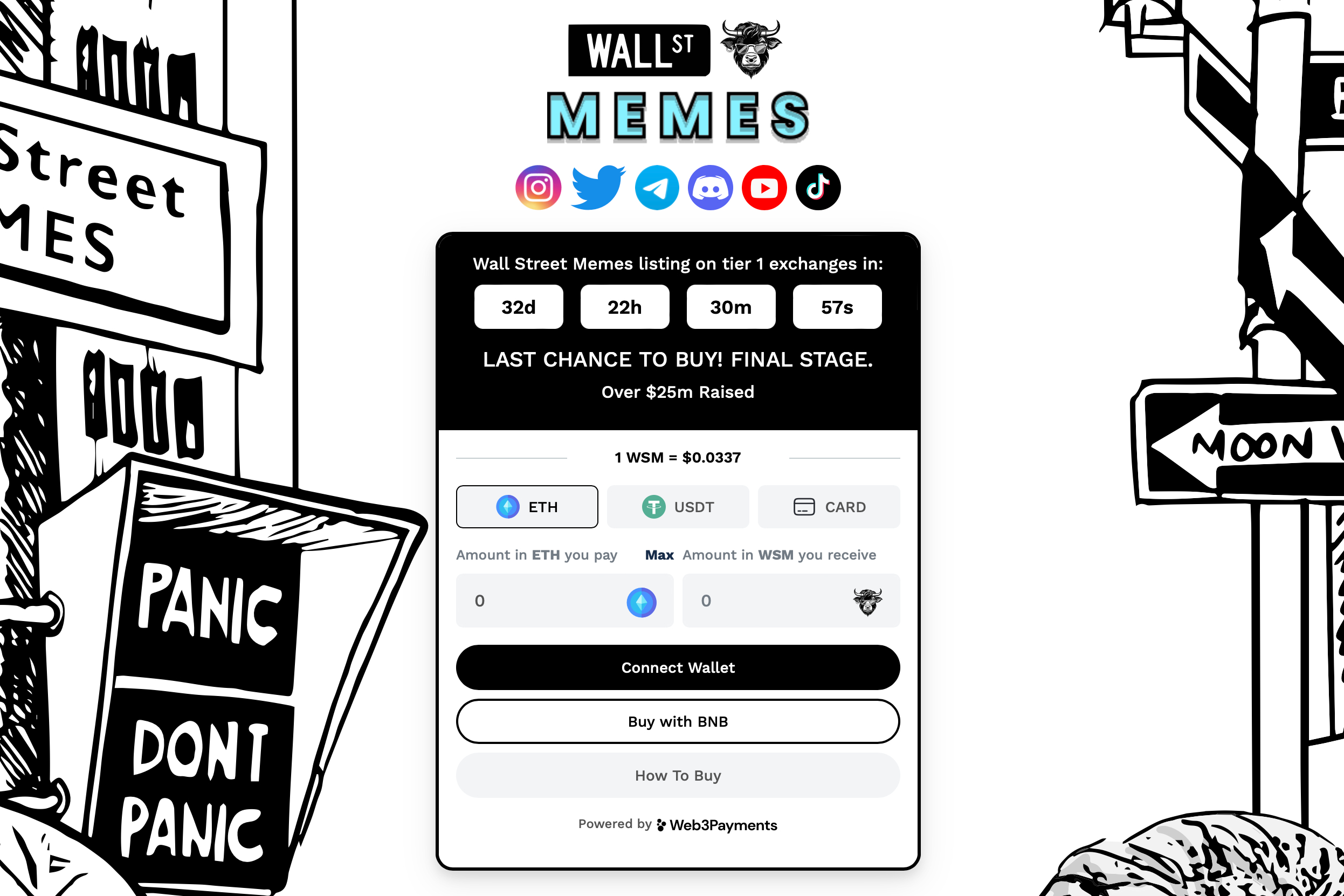 Rising out of the meme stocks movement that was responsible for the 2021 GameStop rally, Wall Street Memes has been able to raise so much money so quickly because of the strong online community it already has around it.
With a Twitter account that boasts over 260,000 followers, WSM clearly already has plenty of support, something which will be critical if the meme token is to have an enduring lifespan full with rallies and price appreciation.
WSM also boasts comparatively decentralized tokenomics, with a max supply of two billion tokens, of which 50% has been reserved for the presale and 30% for community rewards.
This distribution has helped WSM attract more investors, who have also been attracted by the ability to earn a passive income from the token via staking.
This means WSM has all the necessary ingredients to be a hugely successful meme token, with buyers still able to join its presale by going to the official Wall Street Memes website.
The sale will end in just under 33 days, at which point the coin will list on exchanges and potentially surge.
Disclaimer: Crypto is a high-risk asset class. This article is provided for informational purposes and does not constitute investment advice. You could lose all of your capital.
---