Ethereum Price Prediction as ETH Chart Forms Golden Cross on Weekly Candles – Best Time to Buy?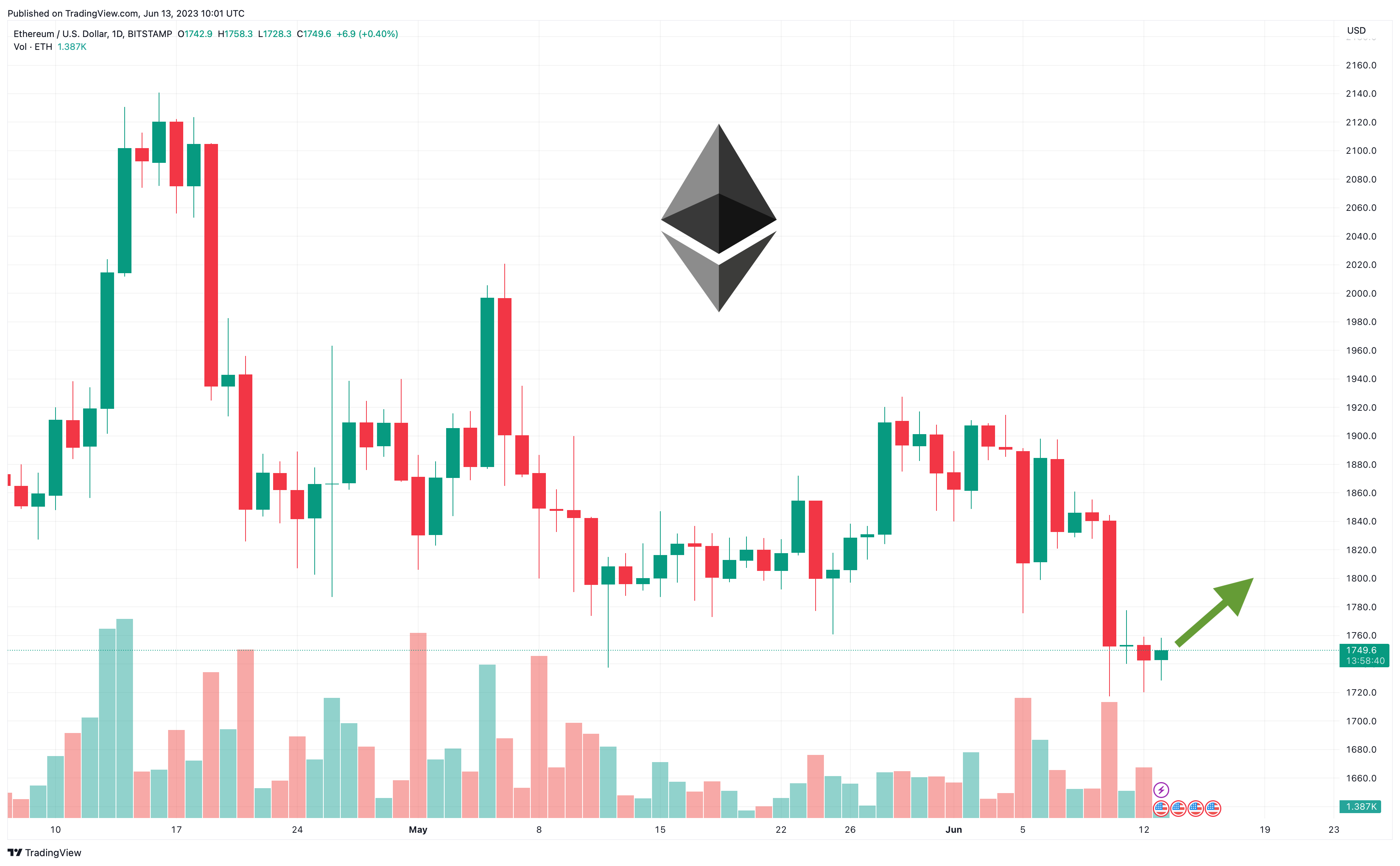 The price of Ethereum (ETH) has barely moved in the past 24 hours, with its position at $1,750 representing a 3.5% loss in a week and an 8% dive in the past fortnight.
However, ETH remains up by a healthy 46% since the beginning of the year, while analysts have noted that the altcoin has formed a weekly golden cross, with its short-term moving average rising above its long-term average for the first time since 2019.
This could mean that ETH is in line for a big rally in the coming months, although with the SEC vigorously pursuing legal actions against Binance and Coinbase (among numerous others) the situation may remain uncertain in the near future.
Still, with ETH's fundamentals remaining among the best in the market, it's only a matter of time before another big rally happens.
Ethereum Price Prediction as ETH Chart Forms Golden Cross on Weekly Candles – Best Time to Buy?
Looking at ETH's chart over a shorter time span, its indicators continue to show weakness as it tries to recover from last week's big market-wide selloff.
ETH's 30-day average (yellow) recently fell below its 200-day (blue) over the weekend, and is still declining, meaning that the current downturn hasn't quite played itself out yet.
At the same time, the coin's relative strength index (purple) remains below 50 after spending the past few days close to (or below) 30, again signaling a lack of positive momentum.
That said, indicators can change depending on the timeframe used to create an asset's price chart, and if you look at ETH over the span of the past few years, its position looks more bullish.
Indeed, the chart tweeted above shows ETH's short-term average overtaking its long-term average for the first time in several years, suggesting that the altcoin is at the very beginning of a new bullish cycle.
Of course, with all the regulatory upheaval currently impacting the market right now, it may still be several months before this purported new cycle really makes itself known.
This means that investors currently have some time to buy ETH at a big discount before it experiences another period of sustained gains.
And based on ETH's fundamentals, it really should enjoy substantial rallies in the not-too distant future.
For one, it was interesting to see that, unlike a large number of other altcoins, ETH wasn't cited as a security in the SEC's complaints against both Coinbase and Binance.
This potentially clears the ground (of any regulatory intrusions) for future ETH rallies, with the coin also helping its own position for a couple of fundamental reasons.
Firstly, its introduction of staking and (more recently) staking withdrawals has resulted in a big increase in locked-up ETH, which by being taken out of circulation, increases demand relative to supply.
Secondly, Ethereum continues to attract more mainstream use and adoption than rival platforms, something which its avoidance of SEC attention is only like to amplify in the future.
This includes Societe Generale using Ethereum for its own euro-based stablecoin, as well as Visa trialling the Ethereum blockchain for USDC payments.
As such, ETH is in a strong position to recover lost ground once the dust has settled with regards to the SEC's latest actions.
From its current price of $1,750, it could easily make it back up to $2,000 in the latter half of the year.
And if it is correct to say that the altcoin is at the very beginning of a new bullish cycle, the end of 2023 and the beginning of 2024 could see it rise toward $3,000.
Presale Tokens for Quicker Profit
As strong as the next Ethereum rally may be, holders may be waiting some time before they find themselves in significant profit.
As such, traders may find i advisable to diversify their portfolios into newer altcoins more susceptible to quick gains, with presale tokens -- which can rise vigorously upon initial exchange listings -- being among the most ripe for such gains.
One particularly hot presale token right now is ecoterra, an Ethereum-based recycle-to-earn platform that has raised more than $5 million.
Due for launch in the second half of this year, ecoterra's platform rewards users for recycling their household waste at participating recycling points.
Users will receive the native token ECOTERRA for their recycling, something which could greatly incentivize greener behavior and lifestyles.
On top of this, ecoterra's platform will reward users for generating their own green energy, while also providing them with NFT-based carbon offsets for doing so.
Such offsets will be tradeable on ecoterra's own NFT marketplace, providing yet more incentive for going green.
So in contrast to certain tokens which still have a bad reputation environmentally, ecoterra aims to spearhead a greater focus on green issues within crypto.
This helps explain why rising numbers of people have joined the ECOTERRA presale, with new investors able to participate by going to the official ecoterra website and connecting their software wallets.
1 ECOTERRA currently costs $0.00925, although this will rise to $0.01 in just over 15 days, giving investors limited time to buy up the coin at the cheapest possible prices.
---