Ethereum Price Prediction as ETH Breaches $1,800 Level – Time to Buy?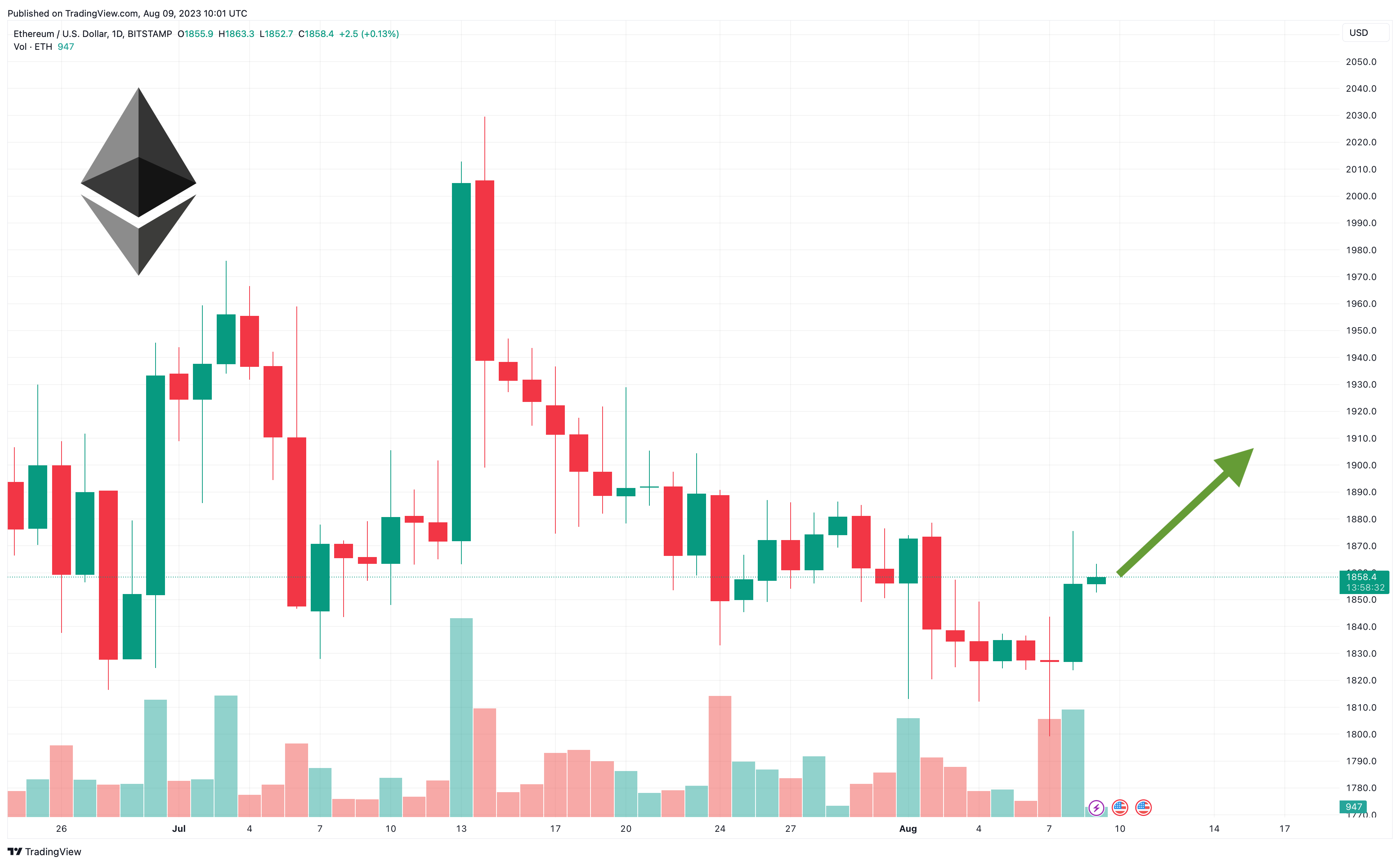 The price of Ethereum (ETH) has risen by 1.5% in the past 24 hours, surpassing $1,800, as increasingly positive expectations surrounding a Bitcoin ETF helped the cryptocurrency market as a whole to rise yesterday.
ETH is now in the green – although only just – over the past week, fortnight and month, with the altcoin also having risen by 55% since the beginning of the year.
Given that ETH has been sold heavily in the past couple of weeks, it's due to rise strongly in the near future, with the coin remaining distinctly undervalued in relation to Ethereum's size and importance as a network.
Ethereum Price Prediction as ETH Breaches $1,800 Level – Time to Buy?
After several weeks of declines, ETH's chart and technical indicators have finally picked up some momentum, and are in a position where they could continue to rise in the shorter term.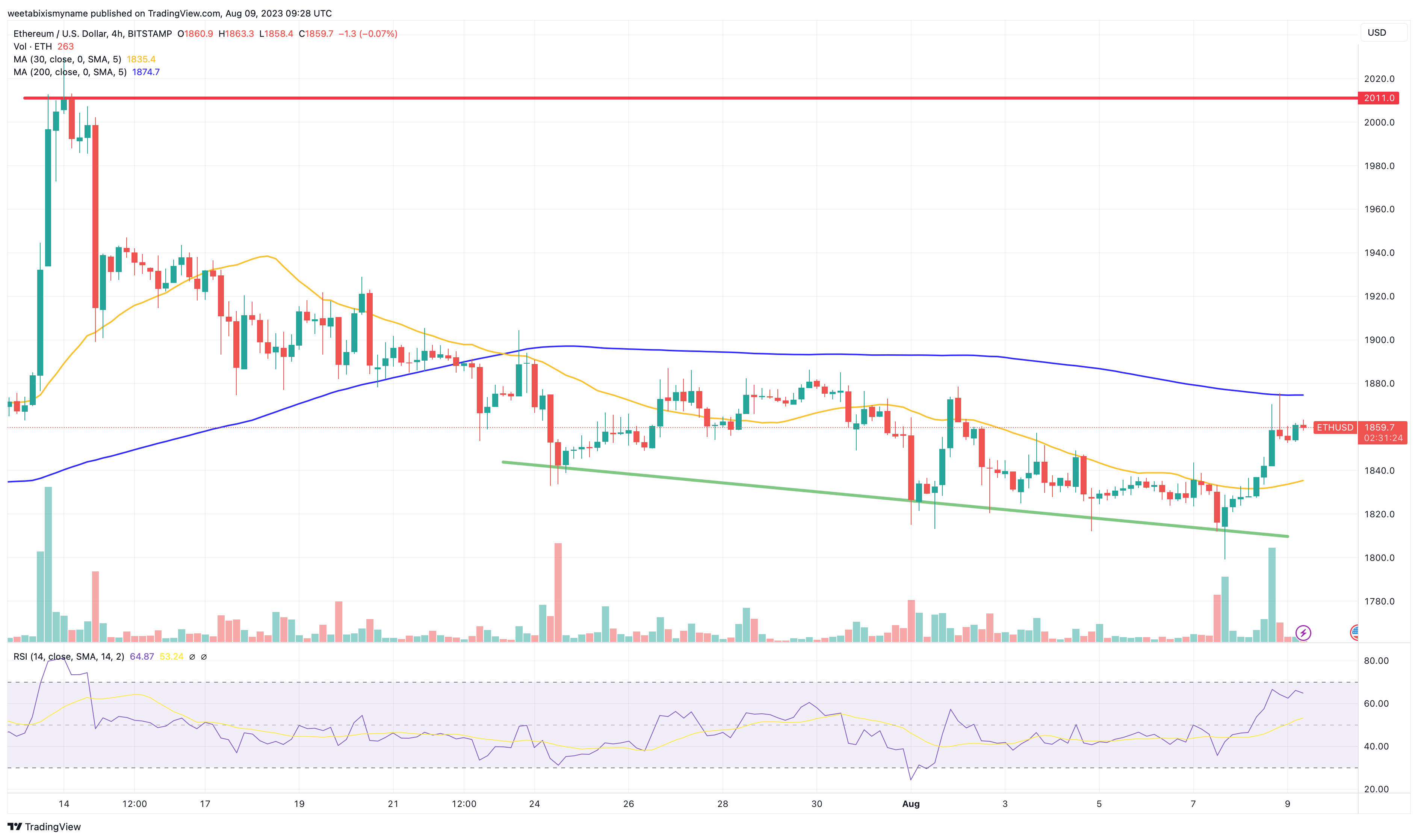 For one, ETH's relative strength index (purple) has surged to almost 70, indicating some strong buying pressure that hasn't been overdone just yet.
It's a similar thing with the coin's 30-day moving average (yellow), which is in the process of moving towards its 200-day average (blue), and which should point to further price rises for as long as it continues its ascent.
While ETH's support level (green) has fallen steadily since the middle of July, it's entirely arguable that it's likely to reach higher levels over the next few days, given just how oversold the coin had been.
As noted above, claims from a couple of high-profile investors – Mike Novogratz and Cathie Wood – have raised expectations that it's only a matter of time before the SEC formally accepts a spot Bitcoin ETF.
While this would primarily be beneficial to BTC itself, it would also lift up the cryptocurrency market as a whole, given how bull markets tend to follow breakthroughs for Bitcoin.
And one of the chief beneficiaries of a market rally would be ETH, especially when the latter has been sold way beyond what it's really worth.
Indeed, the bear market of the past year or so hasn't changed the fact that Ethereum remains the biggest layer-one blockchain network in terms of total value locked in, with its TVL accounting for 57.6% of the entire DeFi/crypto sector.
There's also its bullish tokenomics to consider, with ETH's overall supply actually shrinking since it transitioned to a proof-of-stake consensus mechanism in September 2022.
And to top this all off, PayPal has announced this week that it will be launching its very own stablecoin, which will run on Ethereum.
This is massively bullish for Ethereum, with ETH likely to reach $1,900 in the next few weeks, before potentially seeing out the year at around $2,500.
Newer Altcoins for Newer Rallies
As strong as Ethereum remains on a fundamental level, holders should be prepared for the possibility that, as an established token, its gains will be mostly incremental, without any dramatic surges.
However, the market has provided no shortage of newer altcoins this year with which to make some tidy short-term gains, with presale tokens proving particularly promising.
And the biggest presale at the moment undoubtedly belongs to Wall Street Memes (WSM), a new ERC-20 token that has raised more than $22.5 million since launching its sale in June.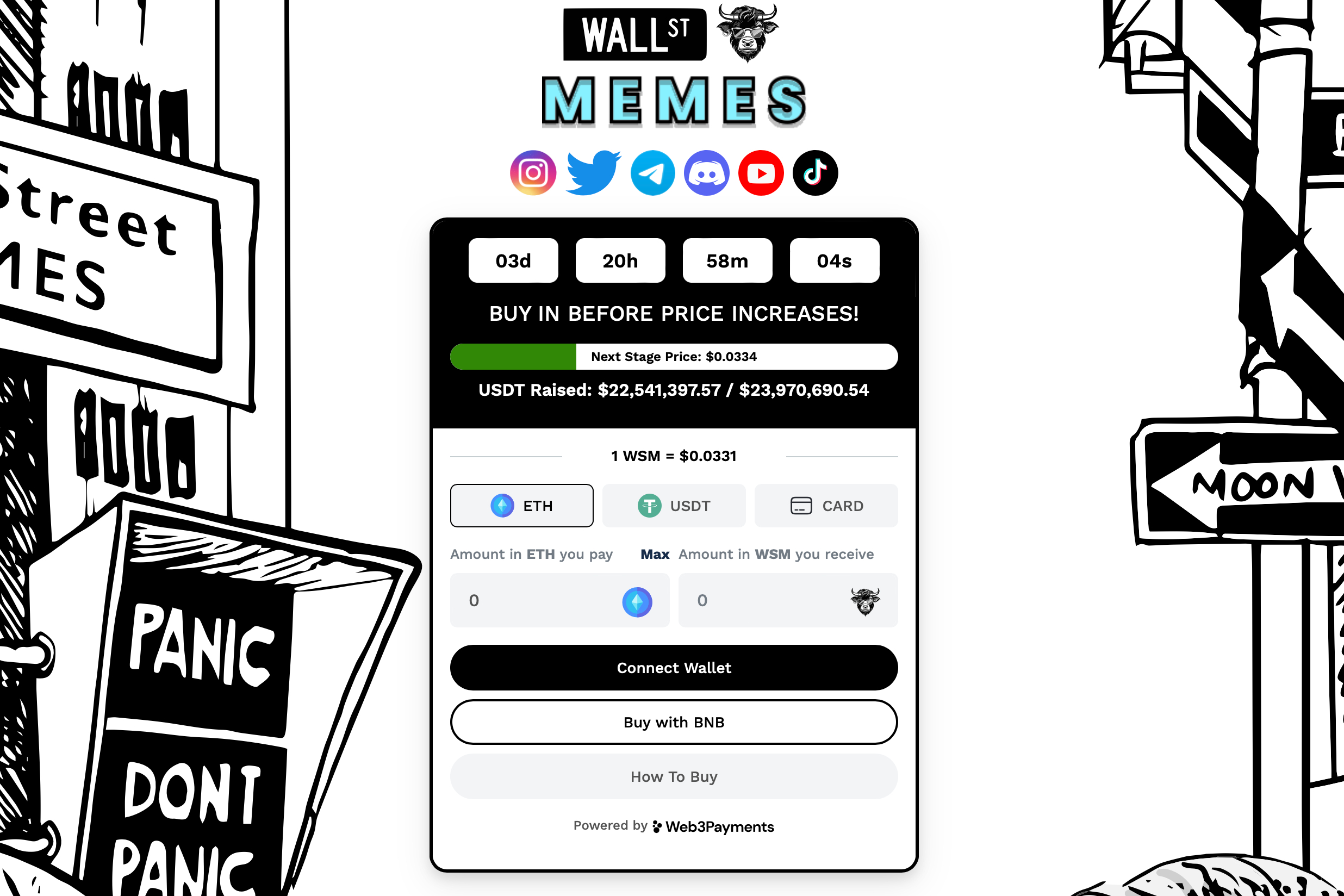 The secret of Wall Street Memes' success is that it has roots in the meme stocks movement that was responsible for the 2021 GameStop rally, an association that has provided it with a large online community to buy into its presale.
A clear indication of the growing size of its community is its Twitter profile, which now boasts over 258,000 followers, a number that should go some way to providing the meme token with sustained rallies and price support once it lists on exchanges.
Community involvement is also encouraged by WSM's decentralized tokenomics, with 50% of its two billion max supply being reserved for its presale, and with another 30% going towards community rewards.
This helps explain why investors have taken to WSM in a big way, with the wider distribution of the coin not only giving holders a bigger stake in its future, but also helping to reduce the threat of large dumps or selloffs.
New investors can join WSM's sale by going to the official Wall Street Memes website and connecting their crypto wallets, with 1 WSM currently priced at $0.0331.
The sale will end with WSM reaching a price of $0.0337, at which point the coin will list on trading platforms, potentially enabling its early investors to make a hefty profit.
Disclaimer: Crypto is a high-risk asset class. This article is provided for informational purposes and does not constitute investment advice. You could lose all of your capital.
---