Ethereum Price Prediction as Bulls Hold $1,600 Level – Where is ETH Heading Now?
Disclosure: Crypto is a high-risk asset class. This article is provided for informational purposes and does not constitute investment advice. By using this website, you agree to our terms and conditions. We may utilise affiliate links within our content, and receive commission.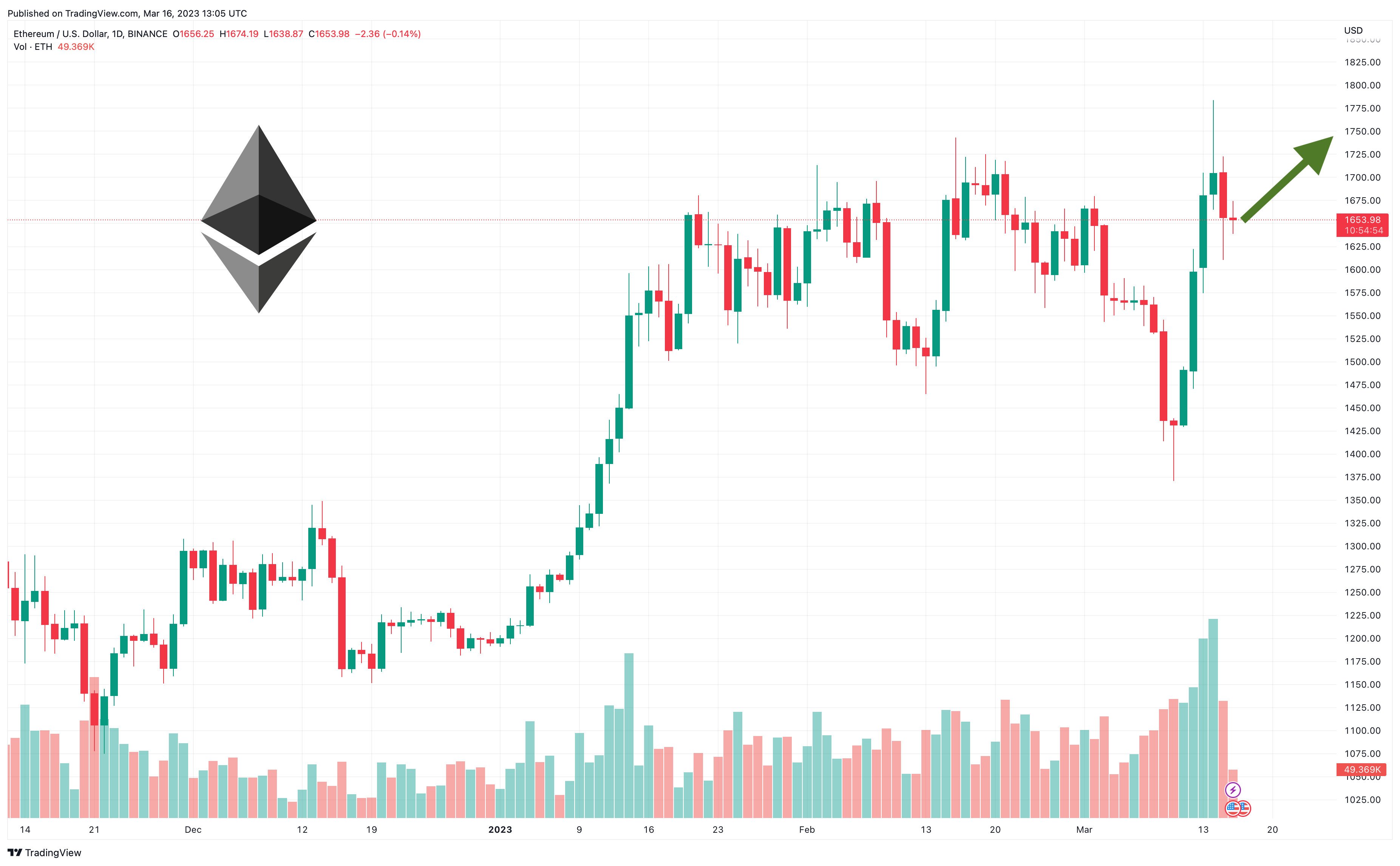 The price of Ethereum has dropped by 1.5% in the past 24 hours, dipping to $1,663 as the market drops by 0.5% within the same timeframe.
Despite today's loss, ETH is up by 8% in the past week and by 10% in the last 30 days, with the biggest altcoin in crypto also having risen by 39% since the start of 2023.
And even though Ethereum has fallen amid market concerns over the global banking system, it has held strongly to its $1,600 support level, providing it with a good foundation for incoming gains.
So too does the upcoming Shanghai upgrade, which will enable staking withdrawals once it goes live in mid-April, effectively de-risking staking for retail and institutional investors alike.
Ethereum Price Prediction as Bulls Hold $1,600 Level – Where is ETH Heading Now?
ETH's chart still looks pretty bullish at the moment, given the status of its main technical indicators.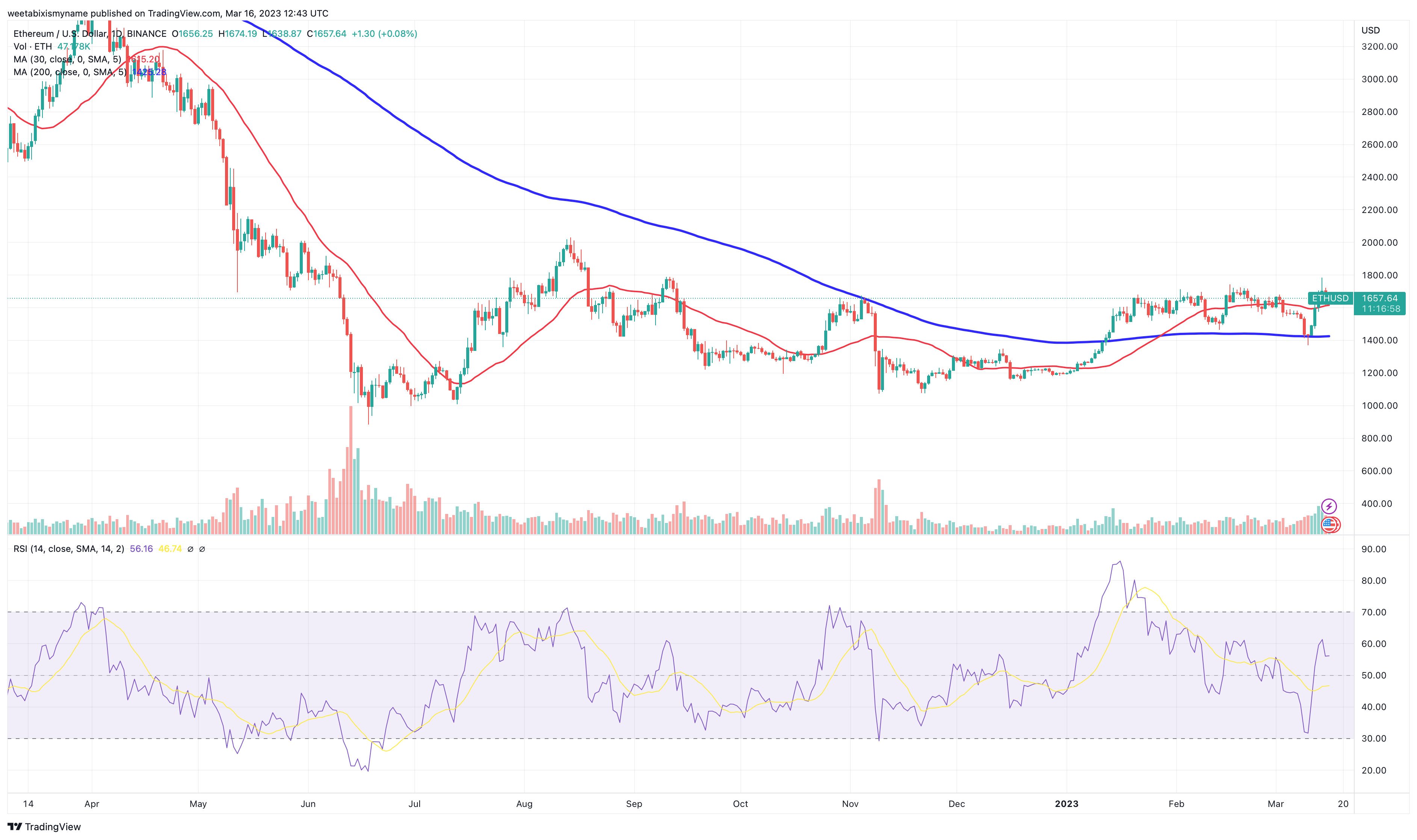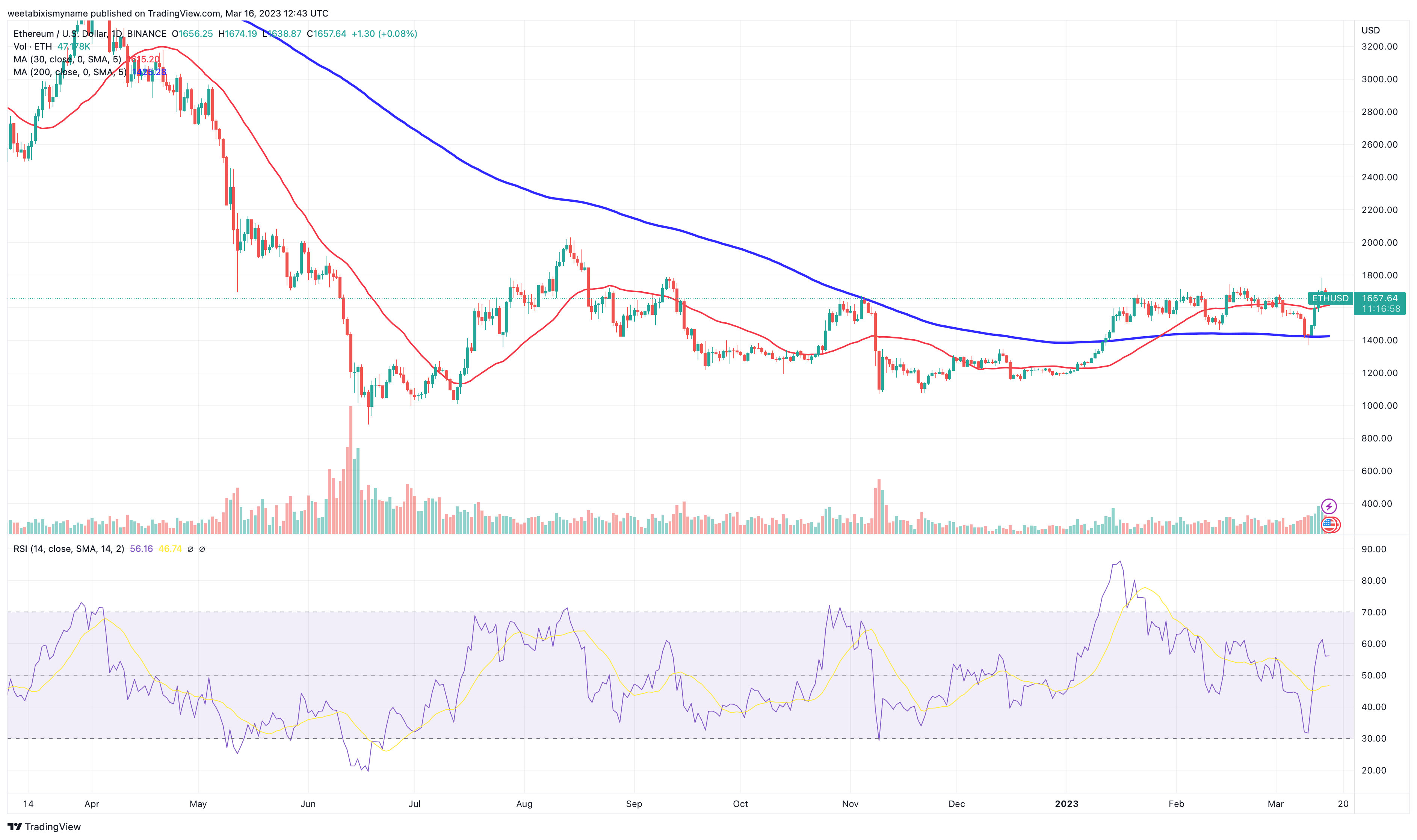 Its relative strength index (purple) has jumped up to 60 in the past couple of days, having stood at an oversold 30 a little earlier this month.
Likewise, ETH's 30-day moving average (red) has begun rising upwards again, putting more distance between it and the coin's 200-day average (blue), signaling further gains.
It would be an encouraging sign if ETH could decisively rise above $1,700 and stay there, suggesting that threats of further losses had been forestalled.
Cost of insuring against Credit Suisse's default remains at distressed level even after SNB's liquidity pledge. Bank will borrow as much as 50 billion Swiss francs from SNB. BUT 5y CDS price >1000bps, meaning to secure €10,000 in CS paper you have to pay €1,000. #CreditSuisse pic.twitter.com/cOWTSQAxiQ

— Holger Zschaepitz (@Schuldensuehner) March 16, 2023
Of course, with Credit Suisse still in a difficult position (even with a loan from the Swiss central bank), their European and global financial system remains at risk of further shocks.
And if more shocks do arrive, crypto — along with ETH — may take further beatings, even if the rally earlier this week might suggest that the market is insulated from fears over the stability of banks.
Assuming that the situation stabilizes from here on out, Ethereum is set up nicely for some gains, particularly next month.
This is when the Shanghai update is due to roll out, with the upgrade already running on the Goerli testnet.
Shanghai upgrade on Goerli is a success, and you are still fudding withdrawals?

Oh sweet summer child

— odin free 🦇🔊 (@odin_free) March 14, 2023
As we've written before, Shanghai will enable the withdrawal of staked ETH, and while some have argued that the update will result in a surge of selling pressure, it's likely that the negative impact of the upgrade will be relatively contained.
This is because withdrawals of staked ETH cannot happen at once, with developers setting daily limits of how many validators can withdraw 32 ETH per day (this limit is currently at 1,800).
Because of this, Shanghai is much more of a positive than a negative for Ethereum.
This is largely because it de-risks staking for users, in that many will be encouraged to stake ETH, safe in the knowledge that they will be able to un-stake at any time.
Shanghai will also provide some of the technical underpinnings for future Ethereum upgrades, including sharding, which will enable parts of the Ethereum blockchain to process separate batches of transactions in parallel.
As such, Shanghai is more likely to boost ETH's price, rather than pull it down.
At the same time, it's worth remembering that ETH has had deflationary tendencies ever since last year brought us the Merge and EIP 1559, meaning that it often burns more ETH than it issues (especially during peak periods).
In a month's time, we will have a fully digitally native currency (ETH) with a 4% to 5% yield in its local currency terms, and a deflationary monetary policy, along with a liquid money market curve out to 12 months and is inversely correlated to the central bank balance sheets

— Raoul Pal (@RaoulGMI) March 16, 2023
Other bullish news for Ethereum is that Coinbase continues to support the network.
Not only did the exchange announce last month that it's launching its own layer-two sidechain for Ethereum (called Base), but it has also revealed that it will begin processing unstaking requests within 24 hours of Shanghai going live on the blockchain's mainnet.
5/ If you'd like to unstake, Coinbase will begin taking unstaking requests about 24 hours after the upgrade completes. All unstaking requests are processed on-chain, and we'll pass the unstaked funds and staking rewards to you once released by the Ethereum protocol.

— Coinbase 🛡️📞 (@coinbase) March 15, 2023
Coinbase's support of Ethereum also comes in addition to Visa's, which in February revealed it's trialing USDC stablecoin payments on the Ethereum blockchain.
While this is only a test, it underlines how Ethereum is likely to be the main winner in attempts by the wider cryptocurrency ecosystem to attract mainstream and enterprise adoption.
This makes the future look exceedingly bright for ETH, with the coin likely to rise back up to $2,000 in the next few months, assuming that the current banking crisis doesn't develop into a full-blown financial crisis.
From there, it could easily witness new heights in 2024, helped by renewed bullishness triggered by the next Bitcoin halving.
---