Ethereum Price Prediction as Bulls Defend $1,800 Level – Time to Buy?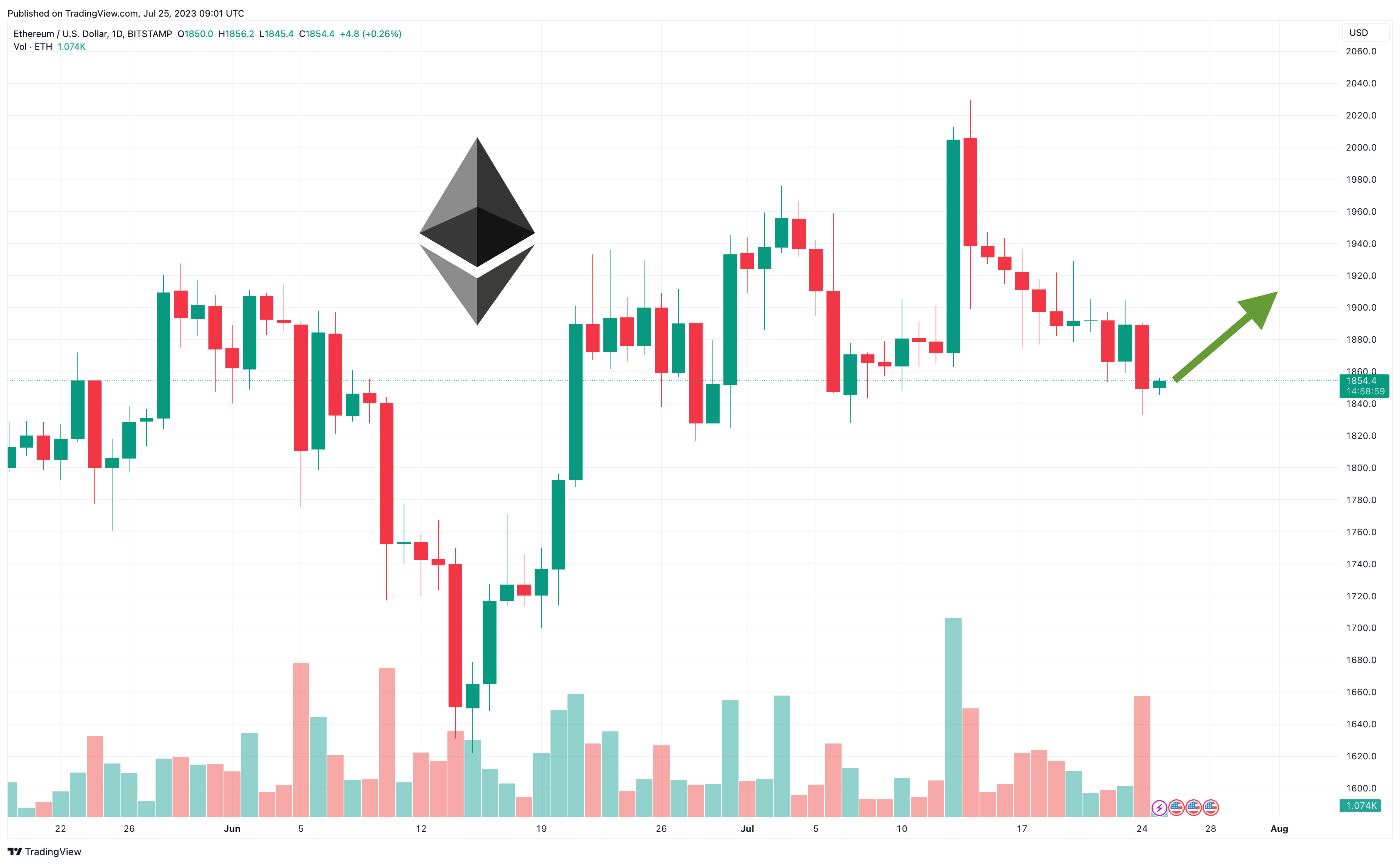 The Ethereum price has fallen by 1% in the past 24 hours, dropping to $1,851 amid a market-wide slip caused by rate-hike fears.
ETH is now 2.5% down in the last seven days and 3% down in the past month, although the market's biggest altcoin remains up by 54% since the beginning of the year.
It's likely that today's drop will be short-lived, given that it appears to be caused by a combination of the market correcting itself after big gains and of investor sentiment turning negative in the face of yet another Federal Reserve hike.
And with ETH remaining one of the most fundamentally strong coins in the market, it will sooner or later return to growth, helped by its increasingly deflationary tokenomics.
Ethereum Price Prediction as Bulls Defend $1,800 Level – Time to Buy?
Despite its falls today, ETH's chart suggests that it could bounce back strongly soon.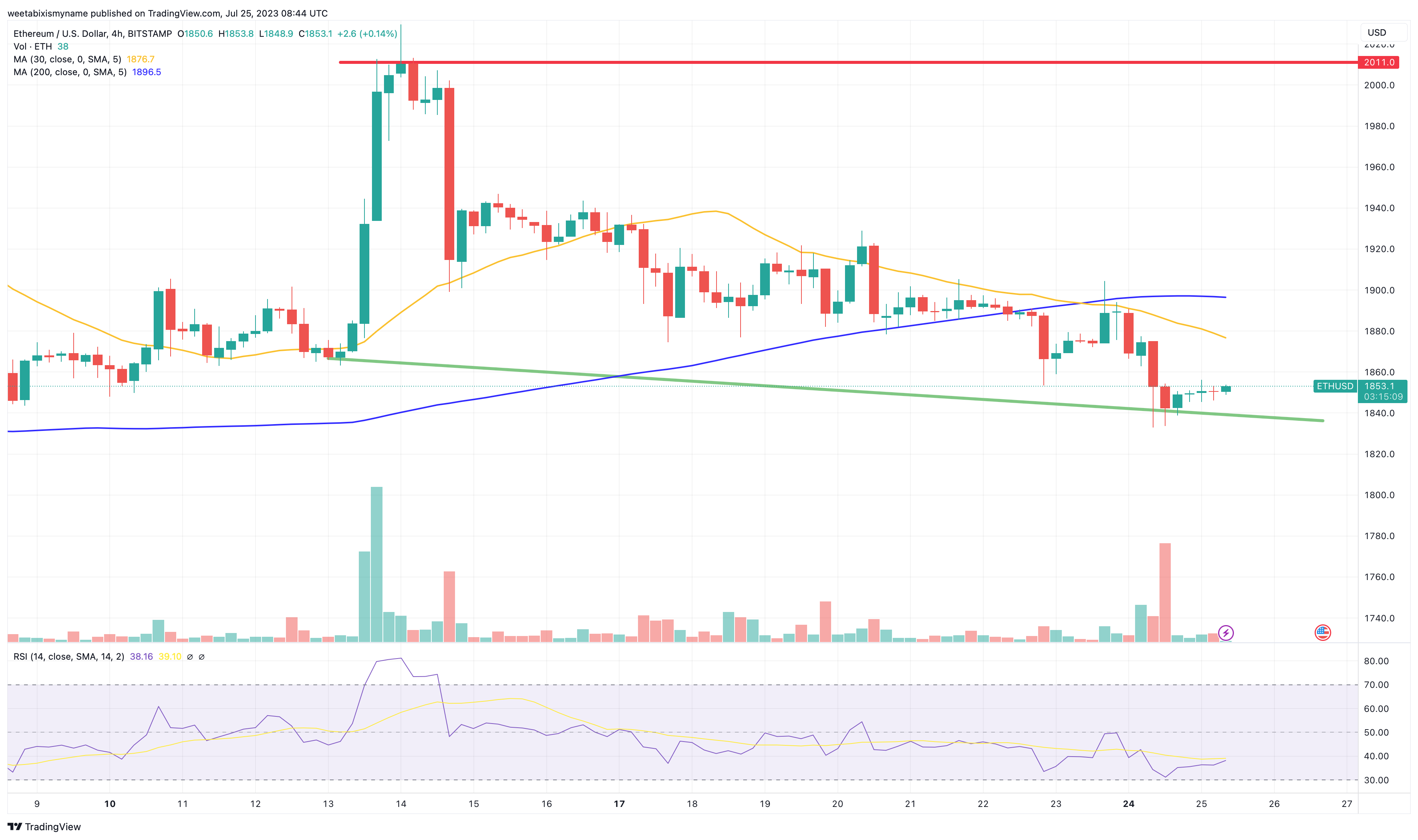 After dropping to 30 overnight, the altcoin's relative strength index (purple) has begun rising back up towards 40, in a sign that the market may take the opportunity to buy it at a discount.
Likewise, ETH's 30-day moving average (yellow) has fallen substantially below its 200-day average (blue), a move that will signal a rebound once it bottoms out.
But while a rebound is all-but inevitable, ETH's support level (green) continues to slide downwards today, implying that further falls in price may be likely before the coin corrects itself upwards.
It will therefore be interesting to see if ETH protects its $1,800 support, with a move below potentially setting of an additional cascade of sells.
Regardless, Ethereum's fundamentals remain completely unchanged in the face of today's market-wide dip, which has been caused largely by the threat of the Federal Reserve lifting its base rate by another 0.25 basis points.
On the one hand, Ethereum remains the biggest layer-one blockchain network by a wide margin, with its total value locked in standing at $25 billion, or 58% of the entire DeFi sector.
On the other hand, Ethereum's tokenomics are increasingly bullish, with data now showing that some 24.6 million ETH – or 20% of its total circulating supply – is now locked up via staking.
At the same time, ETH's net issuance has declined since it introduced staking and base fee burning, with other data showing that it has supply has actually declined by roughly 330,000 ETH since September 2022.
This makes Ethereum bullish in terms of adoption and in terms of its growing status as hard money, something which points to long-term price appreciation.
As such, the market can expect ETH to return to $1,900 in the next few weeks, before potentially reaching $2,500 by the end of the year.
Presale Tokens As High-Potential Alternatives
Because ETH may require some time to mount a full recovery, some traders may prefer to look to newer alternatives that show more potential in terms of enjoying quicker and stronger gains.
In fact, some traders evidently already area, with a number of presale tokens proving successful in attracting funding as they promise to rally big once they list on exchanges.
One of the most successful presale tokens at the moment is Wall Street Memes (WSM), a new ERC-20 token that has already raised more than $17.5 million in its presale.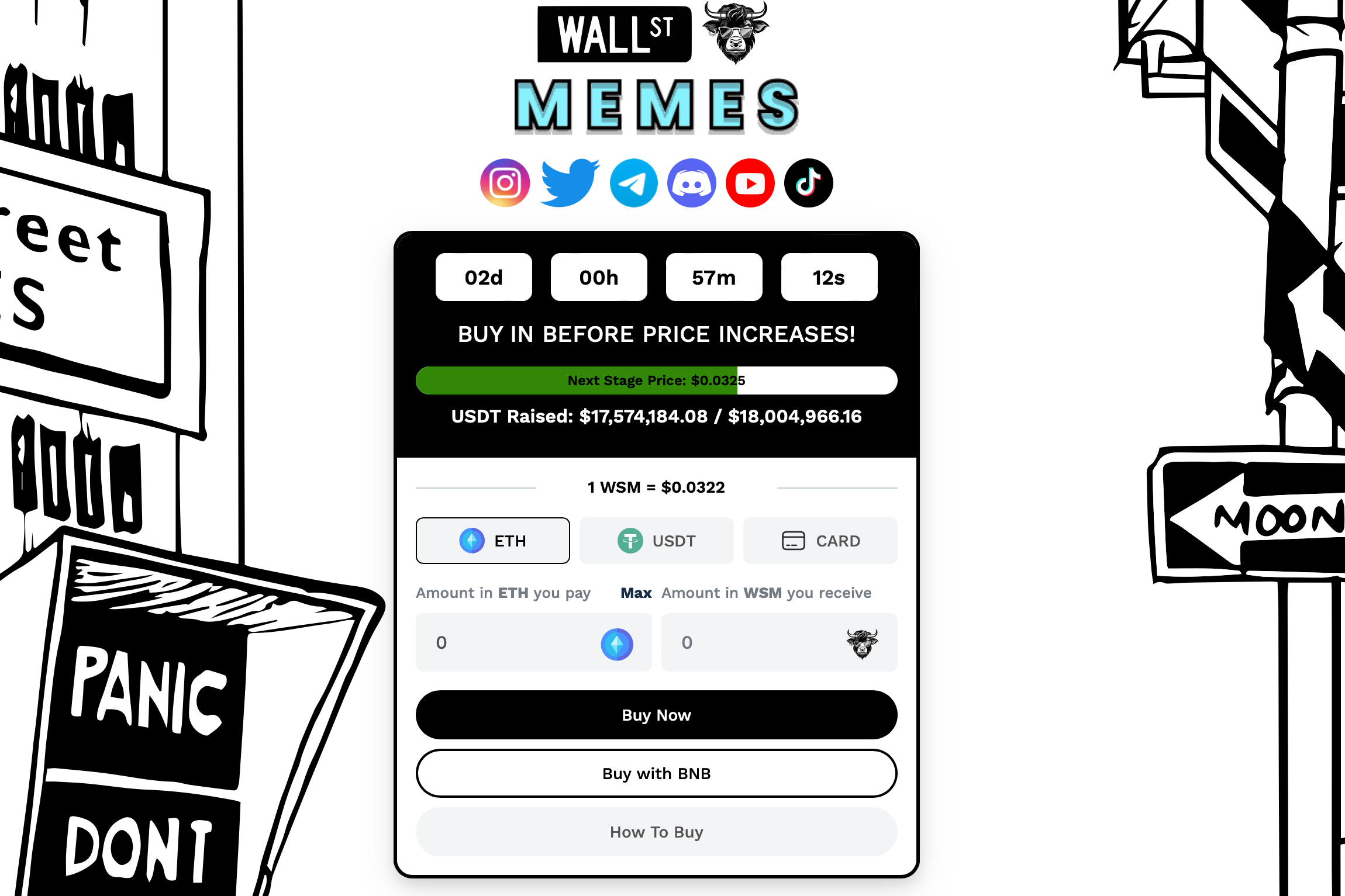 With its Twitter account now boasting more than 255,000 followers, Wall Street Memes has its roots in the meme stocks movement responsible for the 2021 GameStop and AMC rallies.
Its links to this community is one of the main reasons why it has been able to raise so much money so quickly, and it will also likely prove to be the main reason why it ends up becoming a successful meme token once it lists on exchanges.
Helping it to attract a strong online following is the fact that 50% of its supply has been allocated to its presale, with another 30% going towards community rewards, thereby incentivizing greater community involvement.
New investors can join its presale by going to the official Wall Street Memes website, with 1 WSM now selling at $0.0322.
This will reach $0.0337 by the end of the sale, with WSM holders potentially sitting on big profits when the token lists on trading platforms.
Disclaimer: Crypto is a high-risk asset class. This article is provided for informational purposes and does not constitute investment advice. You could lose all of your capital.
---