Ethereum Price Can Hit $3,000 This Month, and Ecoterra Can Raise $3 Million – Time to Buy?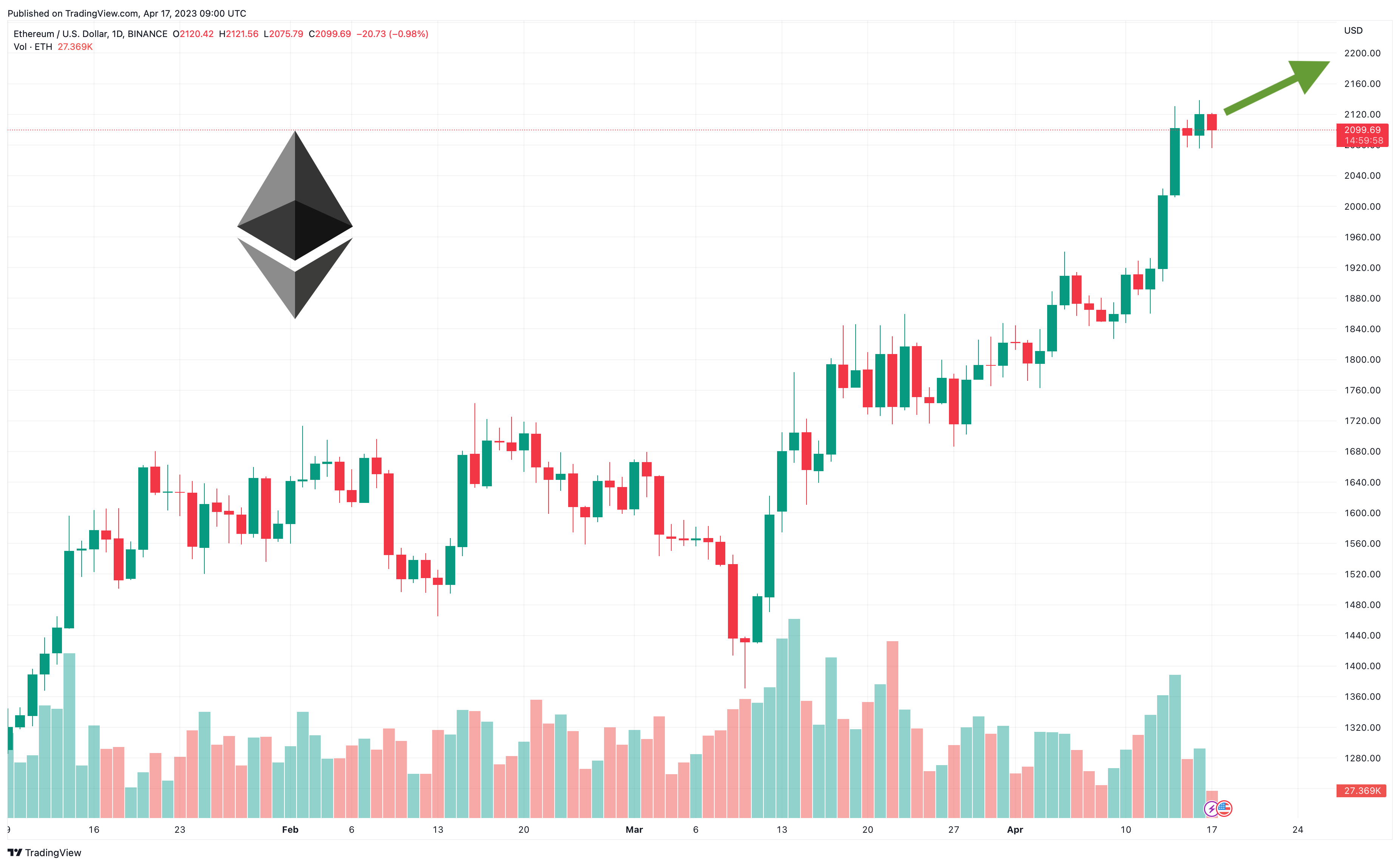 The Ethereum price has dropped by a slight 0.4% today, although at $2,092, the leading altcoin remains up by 12.5% in the past week, following the successful rollout of the long-awaited Shanghai upgrade.
ETH is also up by 16.5% in the last 30 days and by 75% since the start of 2023, making it one of the best-performing cryptocurrencies in the top 100 (by market cap).
And with Shanghai adding to September's Merge and 2021's EIP 1559 update, Ethereum has arguably become one of the most fundamentally strong cryptocurrencies in the market, with a tendency to deflate in supply during periods of peak activity.
However, as bullish as ETH looks right now, it isn't the only promising altcoin in the market right now, with decentralized recycle-to-earn platform Ecoterra on course to raise $3 million in its increasingly popular presale.
Ethereum Price Can Hit $3,000 This Month
Shanghai's deployment was a massive boost for ETH, which is still riding plenty of ongoing momentum, even with today's little dip.
As of writing, ETH's 30-day moving average (yellow) continues to rise substantially above its 200-day average (blue), suggesting that further increases may come in the next few days.
On the other hand, the coin's relative strength index (purple) has begun to sag a little bit, dropping from an overbought 75 to 70 in the past few hours.
This could indicate an incoming correction, with $2,000 being the key support level to watch out for here.
However, it seems that ETH has consolidated above this support, so any correction is likely to be minor and temporary.
Indeed, the short- and long-term prospects as far as ETH is concerned are very good, with the coin likely to witness a sustained (if not 100% continuous) increases over the coming months.
As noted above, this is because of Shanghai, which enables the withdrawal of staked ETH.
Despite fears that the completion of the Shanghai upgrade would result in a cascade of ETH withdrawals, it has largely been positive for the coin's price.
This is for two reasons: 1) Shanghai has shown that Ethereum staking now works exactly as it should for stakers/validators, something which will encourage more staking; and 2) developers have placed daily limits on staking, so it will be impossible to withdraw all 16.3 million ETH staked at once.
Indeed, some $1.6 billion in Ethereum is now pending withdrawal, which is arguably a significant quantity in light of how Shanghai hasn't even been live for 24 hours yet.
Since Shanghai's deployment on Thursday, one million ETH (worth approx $2 billion) has been queued for withdrawal, while 377,000 ETH (approx. $754 million) has been deposited for staking.
To put this differently, Shanghai's public rollout has already led to a substantial number of new stakers, with data compiled by Dune showing that the validator count has increased from around 512,000 (pre-Shanghai) to 579,000.
This kind of quick increase boosts claims from some analysts that Shanghai could eventually result in around 60% of Ethereum's total supply ends up being staked.
Almost needless to say, such a staking rate would take millions of ETH out of circulation, something which could boost the coin's price massively.
This is why there has been an ETH rally in the past few days, with the market buying ahead of an expected steady increase in staking and in the coin's price.
From its current level of $2,000-ish, it could easily rise to $3,000 in the next few months, and assuming favorable conditions in the wider market and global economy it could even return to $4,000 by 2024.
Ecoterra Can Raise $3 Million – Time to Buy?
And speaking of Ethereum, the blockchain remains host to a growing number of promising new projects, with many of these having native tokens that could see big gains this year.
One of the most promising of these is ecoterra, a soon-to-be-launched platform that will enable users to earn rewards for recycling.
It launched its presale several weeks ago, and has already raised just over $1.3 million to date.
This sale is currently in its third stage, with 1 ECOTERRA costing $0.0055, although this will rise to $0.006250 in the offering's fourth stage.
Ecoterra is aiming to sell a minimum of $2 million ECOTERRA and a maximum of $6.7 million, with its sale more than on its way to passing its soft cap.
Investors have taken to its presale for various reasons, yet it's the innovation and originality of its platform that's likely drawing in the most participants.
Its platform will enable users to recycle various household recyclables at designated reverse vending machines, with users able to receive ECOTERRA in exchange for registering recycled objects via the official ecoterra app.
Ecoterra will further incentivize recycling by opening its ECOTERRA token up to staking, meaning that holders will be able to earn a passive yield from buying the token and/or recycling.
The last major feature of its platform will be a marketplace for carbon credits, which can be purchased using ECOTERRA and exchanged for NFTs.
As a whole, this all makes Ecoterra a very interesting new project, and with the platform also set to sign partnerships with a variety of retailers (for recycling clothing), it could end up being very popular once it launches later in the year.
Disclaimer: The Industry Talk section features insights by crypto industry players and is not a part of the editorial content of Cryptonews.com.
---