Is Ethereum Classic Going to Zero? ETC Price Drops 7% as This New Crypto Project Raises $800,000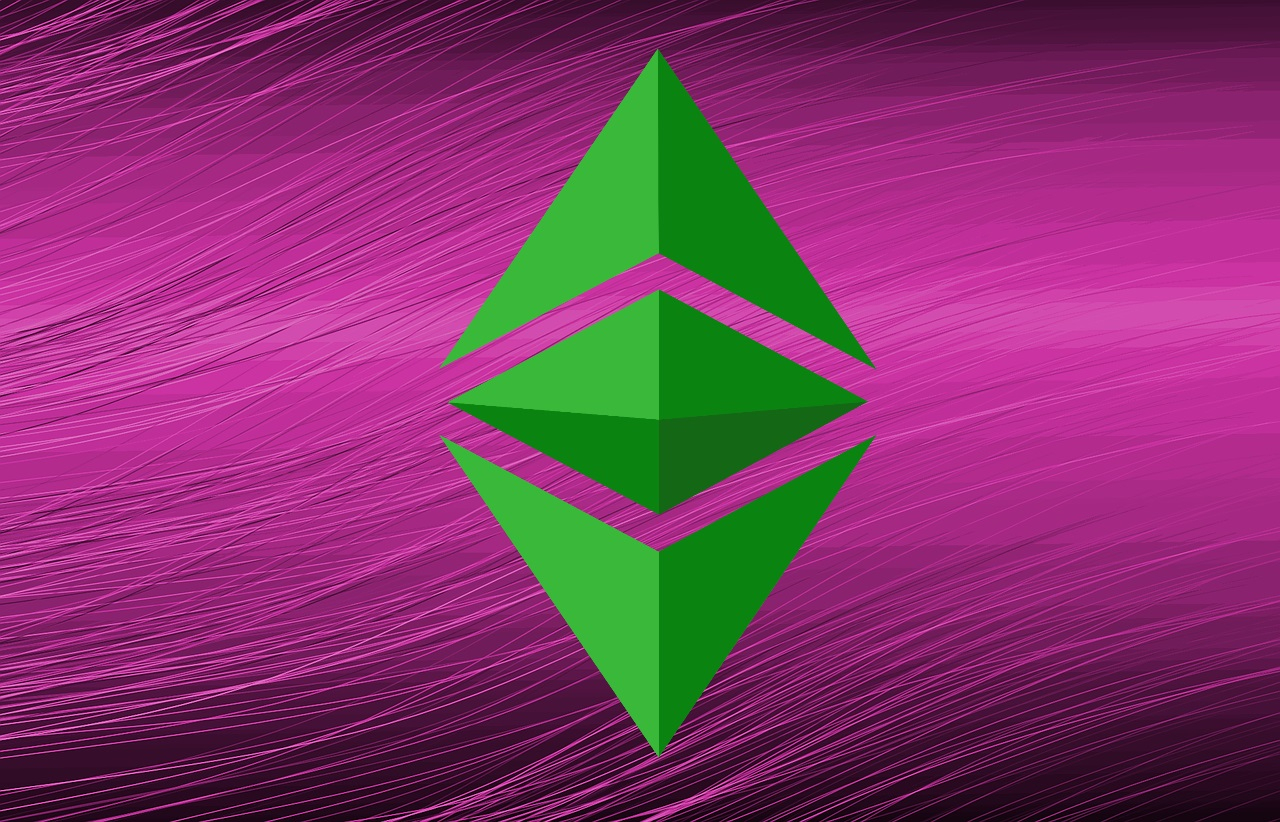 Ethereum Classic (ETC) has tumbled -7% in a dramatic rejection from severe resistance around the 20DMA, but as network activity slows - is Ethereum Classic going to zero?
The sudden fall comes amid a hard-fought resurgence for Ethereum Classic, which has been caught in a tumultuous downside slide since July 1.

Indeed, the Ethereum Classic network has seen a significant decline in activity since the last bull market in 2021 - with the number of active addresses falling to bear market levels.
And this comes as revelations emerge on Crypto Twitter suggesting that the Ethereum Classic network generated just $26 in fees over the past 24-hours - painting a bleak image of ecosystem growth.
ETC Price Analysis: Is Ethereum Classic Going to Zero?
Ethereum Classic remains reeling from the sudden decline, although steadfast support above $16 has caught the tumble with price currently trading at $16.00 (representing a 24-hour change of -0.06%).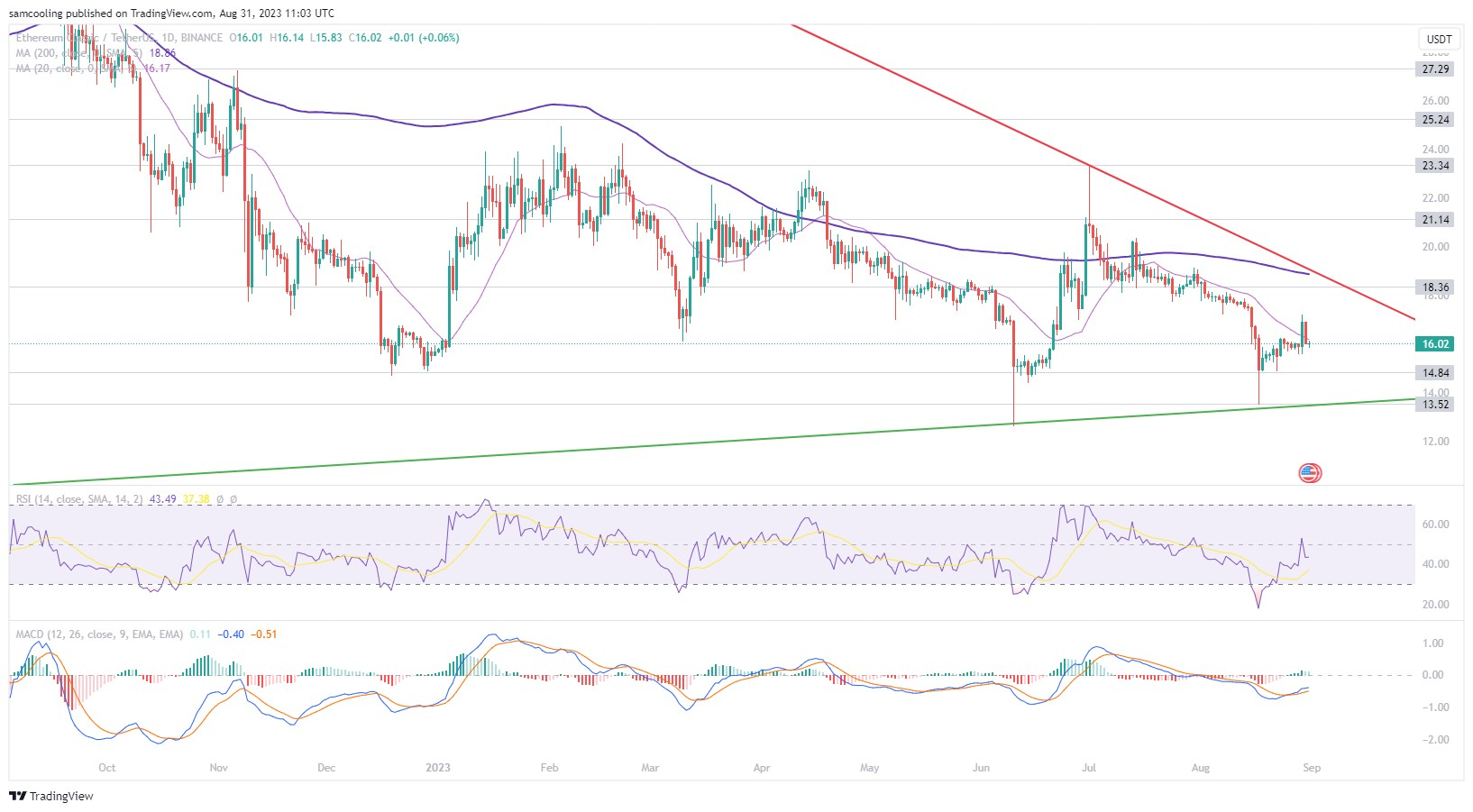 The -7% drop comes after price shot-up +10.3% on August 30, in a major re-test of resistance from the 20DMA - which has suppressed upside price action for 48 days.
Despite the tumultuous rejection, support appears to be strong at $16 - this follows more than a week of consolidation at this key price level.
The 200DMA is still sat high above price action around $18.90, however, this is directly above a support level at $18.35 - forming an upside target for ETC.
Ethereum Classic's indicators provide some relief, with the RSI remaining cool at 43.49 - suggesting ETC is oversold at these levels.
While the MACD also showcases continued bullish divergence at 0.11 - further signalling that upside pressure remains.
With indicators leaning bullish, it seems Ethereum Classic will continue to consolidate and test the 20DMA.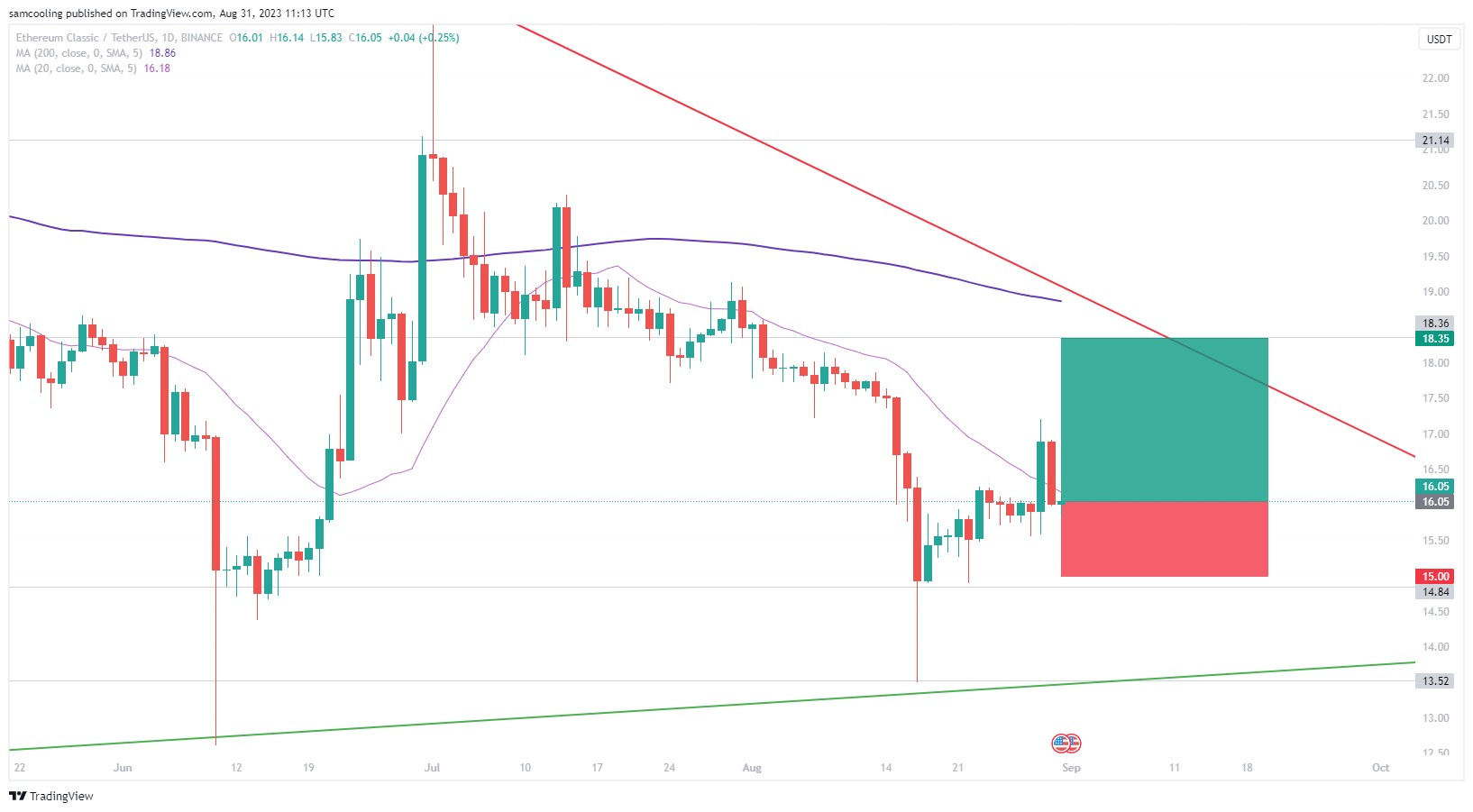 To the upside, if Ethereum Classic bulls successfully crack resistance, then ETC has an upside target at $18.35 (a potential +14.33%), poised and ready to face resistance at the 200DMA.
While to the downside, rejection from this key level would likely see ETC fall back to $15 (a possible -6.54%).
Overall, this leaves Ethereum Classic with a risk: reward ratio of 2.19 - a good entry dependent on the 20DMA.
However, while ETC traders are stuck watching the 20DMA, smart money have been flooding into an emerging breakout meme coin presale which has already amassed $800k.
Sonik Coin Skyrockets as Meme Coin Presale Unlocks Viral Success with Almost $1M Raised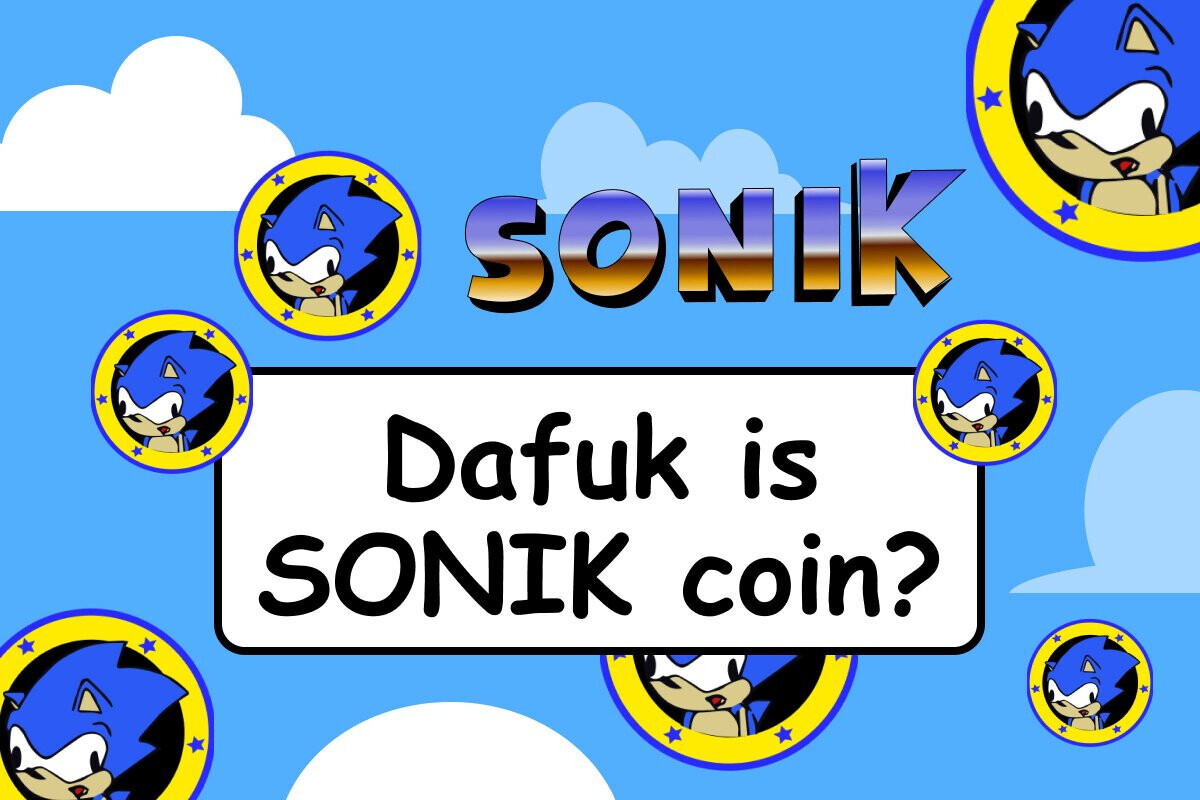 Sonik Coin ($SONIK), which is not only making waves in crypto markets, but also racing - with the audacious goal of exploding when the presale ends in just 5 days.
And given the current trajectory, this aspiration may soon be a reality - as this rockstar presale has surged to a jaw-dropping +$848,000 raised in less than a week.
But what has got markets so excited about the unlikely Sonik coin? The answer is in the APY - let's dig down into this further.
Sonik Presale 'Gotta Go Fast' as Investors Flood-in to Claim 91% Staking APY

An intriguing 50% of the mammoth 300 billion $SONIK supply has been allocated for early investors, making it a limited-time golden opportunity.
With each token priced at a meager $0.000014, enthusiasts have the perfect entry point, especially before its much-anticipated debut on Uniswap post-presale.
This decentralized exchange is a powerhouse, and $SONIK's presence there will undoubtedly amplify its visibility manifold.
But Sonik Coin is more than just another meme coin, the staking APY of an astounding 91% speaks volumes about its potential returns.
Staking not only adds an avenue for passive income, but its inclusion also showcases the team's commitment to longevity and stability.
The idea? By staking, holders are encouraged to hold onto their tokens for more extended periods, thus mitigating volatile price swings and cementing a firm foundation for steady growth.
Sonik Coin Follows in Early Footsteps of PEPE in Pursuit of Viral Success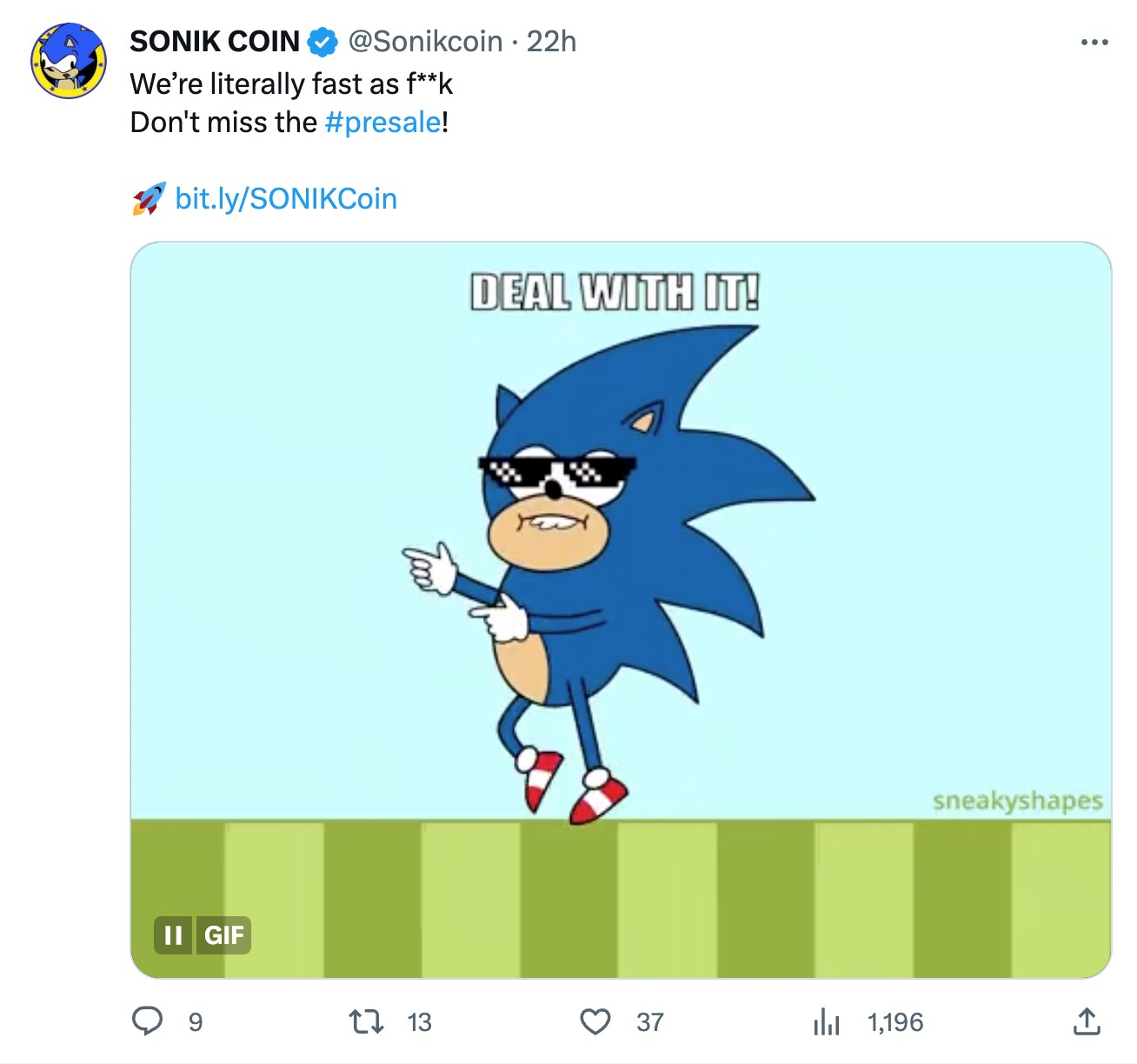 Now, let's talk about $PEPE, Pepecoin's astronomic growth—delivering jaw-dropping returns of over 10,000% to early backers— has set a precedent.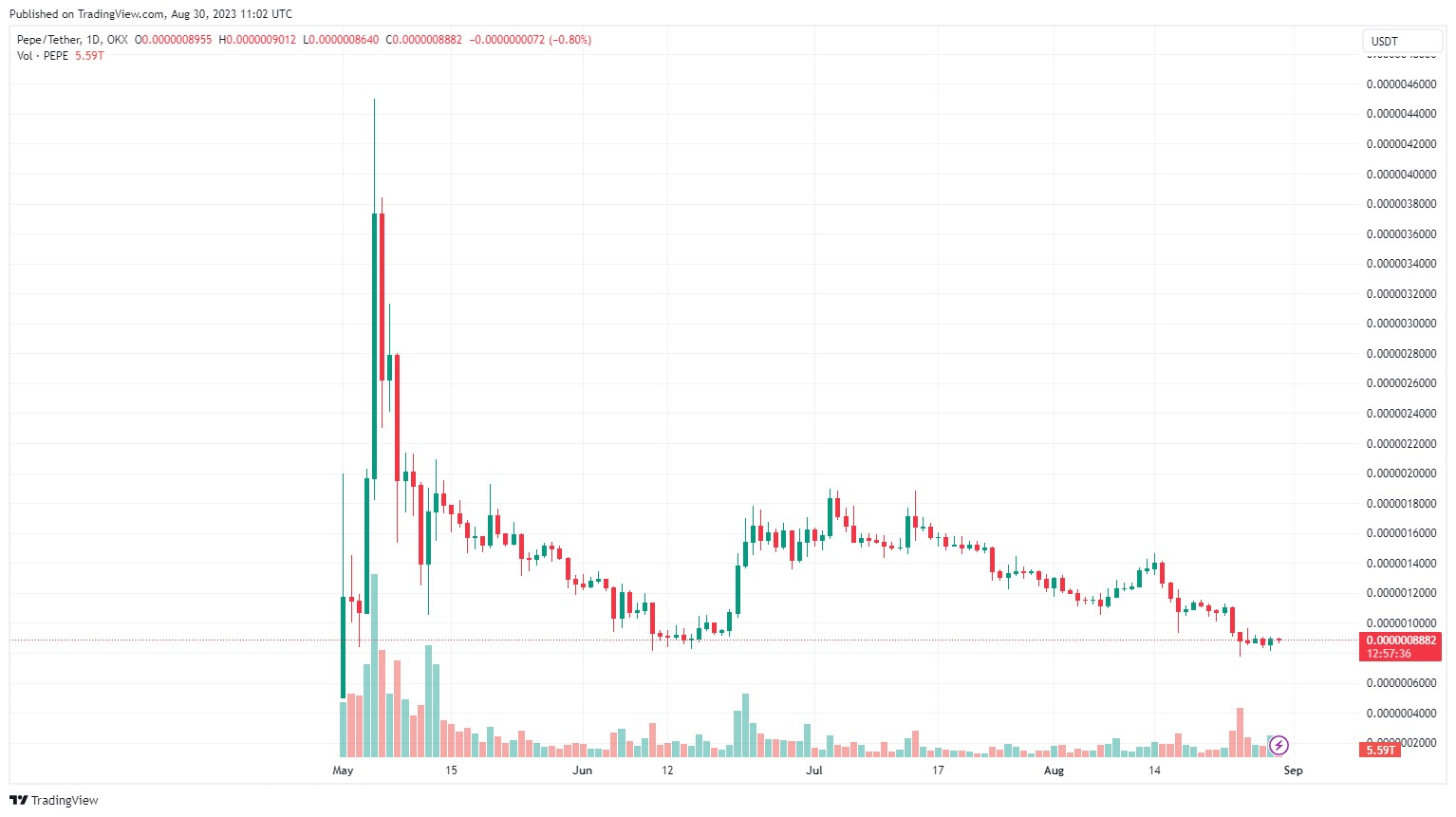 Given $SONIK's innovative staking model and the infectious enthusiasm around its branding (a nod to the ever-popular Sonic the Hedgehog), it's poised for a similar, if not more impressive, trajectory.
The transparent, community-centric vision of the Sonik Coin's founders, paired with its tantalizing staking rewards and the buzz it has already generated, sets it apart in a sea of meme coins.
Check out the Sonik Telegram and Twitter here.
If history and market patterns tell us anything, the early bird catches the worm. Or in this case, rides the supersonic wave.
Disclaimer: Crypto is a high-risk asset class. This article is provided for informational purposes and does not constitute investment advice. You could lose all of your capital.
---