EOS Price Spikes Upwards After Block.one Settles with SEC
EOS prices are climbing rapidly after the blockchain's developer successfully settled a legal dispute with an American financial regulator – with the altcoin now outperforming all top ten cryptocurrencies.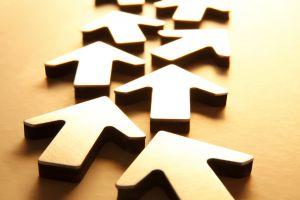 The token has climbed to USD 3.06 (current price at pixel time of 5:22 UTC), for a market capitalization ranking of 7 (USD 2.8 billion), and 24-hour growth of some 10.7%. Bitcoin, by contrast, has climbed by around 6% in the same time period, with leading altcoins such as Ethereum posting growth rates of around 8%.
The price surge saw the token break the USD 3 mark for the first time since September 25.
EOS price chart: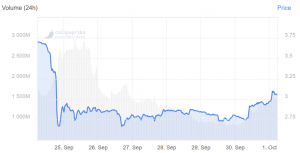 The regulatory Securities and Exchanges Commission (SEC) posted news of the settlement on its own website, stating that the EOS operator, Block.one, had agreed to pay a USD 24 million fee "for conducting an unregistered initial coin offering of digital tokens (ICO) that raised the equivalent of several billion dollars over approximately one year."
The tokens in question were circulated between June 26, 2017, and June 1, 2018, but the fine represents a mere drop in the ocean compared to what EOS earned from the sale – a staggering USD 4 billion.
The SEC claimed,
"Block.one did not provide ICO investors with the information they were entitled to as participants in a securities offering."
Furthermore, as the tokens in question were Ethereum-powered ERC-20 coins, they are no longer in circulation, after the operator migrated from the Ethereum blockchain to Block.one's own EOSIO platform not long after the ICO ended – a fact that effectively draws a line under the case.
Barely able to contain its glee, Block.one posted that it was "excited to resolve [its] discussions with the SEC," adding that it was "committed to ongoing collaboration with regulators and policymakers."
The EOS developer added,
"The settlement resolves all ongoing matters between Block.one and the SEC."
Reactions:
---